From curating your art collection to planning the layout and hanging it all up like a pro, we have the tips & tricks and the do's & don'ts of creating a gallery wall you'll love.
A captivating gallery wall can turn your boring, blank walls into a statement. The task of creating a gallery wall (and putting all those holes in your wall) can be somewhat intimidating. There's a lot to consider beyond just finding the right art pieces to include in your collection.
In this guide you will learn how to:
This guide also discusses how to locate the right space in your home for a gallery wall. And you will find plenty of examples, ideas and inspiration for different gallery wall types and spaces in your home, including:
Last but not least, we include links to helpful tutorials, guides and additional resources, should you need them, so you can make your gallery walls just right.
[button icon="fa-arrow-right" target="_blank" hover_type="default" text="Shop Custom Wall Art" link="https://www.personalizationmall.com/Personalized-Canvas-Prints-Wall-Art-g4.lp?did=419430″]
Armed with the right knowledge, creating a gallery wall you'll truly love can be a fun and exciting way to express yourself and grow your collection over time.
Finding Your Gallery Wall Style
When creating a gallery wall, the possibilities are truly endless. Many people consider their gallery walls a "work in progress," where pieces are added, removed or moved around periodically, resulting in a genuinely collected look and feel.
There are two well defined gallery wall styles:
Grid – Linear Style
The grid style gallery wall relies heavily on proportions, symmetry and balance. This style is ideal for modern interiors with straight lines or spaces that aim for a clean, formal or minimalist aesthetic.
Casual – Eclectic Style
This is a more informal style, combining different art genres, techniques, a variety of frames and even 3D objects. Mastering this style depends on how pieces interact with each other. Some refer to it as the salon style.
No matter which gallery wall style you choose, finding the right space is the first step. Think about the feeling you want to achieve with your design. The way the pieces are arranged is as important as what they display.
Keep in mind, you don't need a lot of wall space to create an interesting gallery wall. Small spaces are perfect for small collections and can help give the room more depth and visual interest without taking up any floor space.
Gallery Wall Ideas & Examples
There's an overwhelming abundance of gallery wall ideas available, which makes it easy to find what you like. Trying to replicate the design in your own home may prove to be more difficult. Start with the space for your gallery wall and go from there.
Below, we offer a few simple yet impactful gallery wall examples for different spaces in your home.
Staircase Gallery Wall
When working with a gallery wall in a stairway, start by deciding where your collection will start and where it will end. Marking off this space with masking tape can help you visualize the space you're working to fill. Consider art and items that are relatively flat so your staircase can remain functional when you're carrying things up or down the stairs.
In this example, the staircase gallery wall mimics the incline of the stairs in a subtle way, ensuring all pieces are visible from the ground floor.
Living Room Gallery Wall
Family room and living room gallery walls can be as big or as small as you like. Consider the space you're working with and how you want to fill it. Finding the theme or subject matter for your collection is key. Do you want it to be all about family or the art you love? Your collection can be inspired by your travels, the music you love, nature, vintage pieces, a favorite hobby or pastime, or simply a vignette of your favorite photographs.
Below, we created a family themed gallery wall that features family photos, names, their home state map, zip code and a canvas print that includes all of the special moments this family of four shares together.
Kitchen Gallery Wall
A gallery wall in the kitchen or dining room can add a homey, relaxed feel. Alternatively, it can make a sophisticated and refined statement, depending on the style and art pieces you choose.
To achieve a formal, polished look consider a grid gallery wall with large statement pieces in a common theme. Look to create clean lines with modern frames, all arranged in a perfectly balanced or symmetrical composition.
For a more cozy, informal design go with a variety of fun, eclectic finds, like in our example below. Add visual interest with 3D objects, like the wooden spoon & fork, galvanized steel letters and decorative planters. Incorporate a chalkboard or a letter board that can be updated and refreshed regularly and other personal pieces your family will enjoy while you all sit down for your meals together.
Shelf or Mantel Gallery Wall
A shelf, ledge or a mantel is the perfect space to experiment with a gallery wall without making it a permanent installation. You can easily swap and rearrange pieces according to the seasons, holidays or special occasions. You can install a ledge above a couch or bed, a desk or console table, or even multiple ledges on a blank wall.
A gallery wall on a ledge should include items of different heights, sizes and frame styles. Place the tallest piece in the back and work to add dimension with medium and smaller pieces in the front. In our example below, a large unframed canvas print is the centerpiece of the mantel accented with a framed photo, personalized wall tag, wood wall art and other accents. Feel free to add candles, plants, small sculptures and other decorative pieces to your collection.
Small Space Gallery Wall
Even a small space can be transformed by a gallery wall. The entryway, hallway, powder room or the spaces between windows are all ideal for small gallery wall installations.
A linear arrangement is ideal for a small gallery wall, but a casual design can also work, depending on the items in your collection. Choose fewer pieces instead of all small items – a small space gallery wall shouldn't be a miniature version of a large gallery wall. In our example below, we chose one large, vertical piece accented with three matted picture frames aligned in a grid for a clean, minimalist look.
Gallery Wall Layouts & Templates
There are countless gallery wall layouts and templates available out there and in many instances, they can be extremely helpful in helping you find an interesting arrangement for your gallery wall design. The problem with adhering to a pre-planned template is that it might not match the artwork that you would like to include in your collection. The template might also not be ideal for the space that you're working with.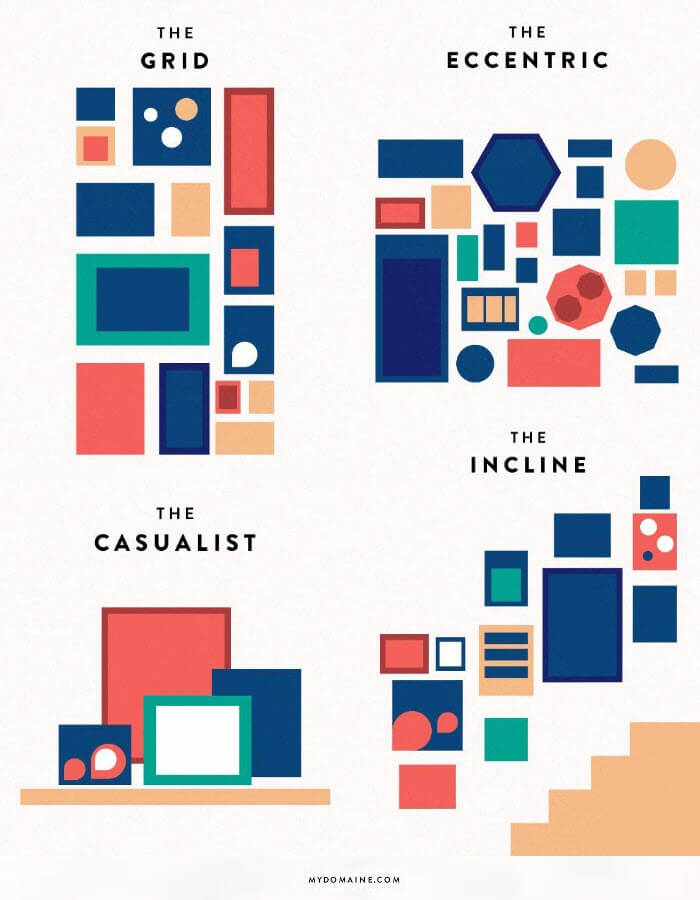 If you already have items that you'd like to include in your gallery wall, it's best to use templates as inspiration to help you create your own layout. The different templates can help you identify the layouts you like and dislike, guiding you in the right direction towards your design goals.
On the other hand, if you're starting fresh, or if you're working with a collection of photographs and you haven't purchased any frames, the right template can be a nice shortcut in creating the perfect gallery wall in record time. Before you go out and purchase items for your template, make sure that the layout will work with your space. Go as far as measuring out each item, tracing it on a piece of paper and putting it up on the wall with masking tape to see how the arrangement will look on your wall.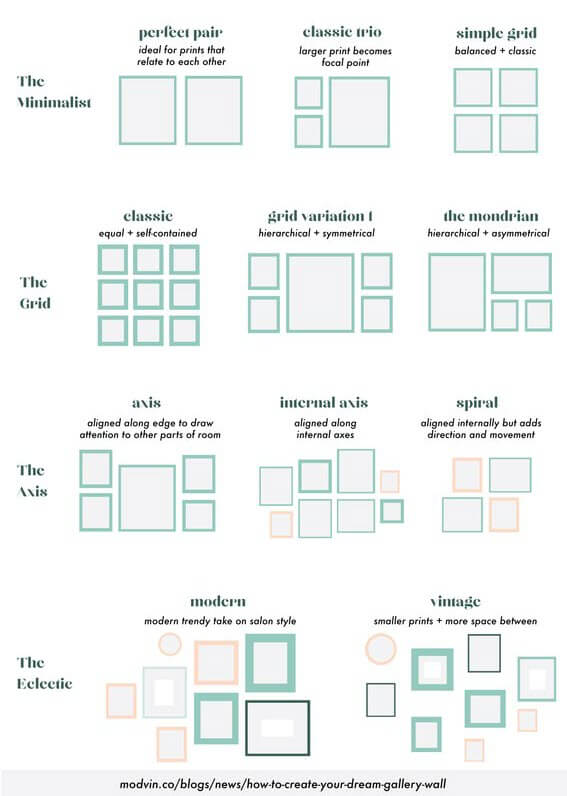 If you're looking to start with a gallery wall template or layout, Pinterest, Google Image Search, and of course blogs and sites like MyDomaine and MODVIN (shown above) can be a great resource.
Gallery Wall Do's & Don'ts
We have scoured the web for the best tips, secret tricks, expert know-how and the most important do's and don'ts when it comes to creating your own gallery wall. Below you'll find references to more in-depth guides and tutorials on nailing your gallery wall (pun intended). If you find other great tips that aren't on our list, please let us know so we can add them in to our comprehensive gallery wall guide.
Do's & Don'ts: Designing A Gallery Wall
Do: Make sure your collection is either all consistent or all different. For example, all black & white photographs, or a diverse collection of prints, paintings, words and more. For the eclectic style, feel free to mix framed family photos with artwork, signs, letters, wall decals and 3D objects, like antlers, letters, clocks. Add a pop of color or something unexpected. Most importantly, focus on showcasing the things you love, the pieces that define you and your family, and items that feel at home with your aesthetic.
Don't: Spend a lot of money on expensive artwork. Your gallery wall doesn't have to cost a lot to look great. Have your favorite photos enlarged at a local photo center. Frame your children's drawings, paintings or souvenirs from your travels. Shop second hand stores, garage sales and flea markets for vintage artwork or consider affordable online art galleries like Artfinder or Society6 that work with independent artists. The same goes for frames; you can easily repurpose old frames from a thrift store. If they're not the ideal color, simply spray paint them with whatever color you like.
Do: Start with the center piece or the focal point of your gallery wall and work outward. As you incorporate your pieces, work in a circular pattern adding around the edges on each side to keep the balance of the design as you go.
Don't: Wait until you have your complete collection to put your gallery up on the wall. Or worse yet, buy pieces just to put them all up at the same time. You can grow your gallery wall over time by adding new pieces you love throughout the year. Check out these tips on growing your gallery wall collection from Maggie Overby Studios.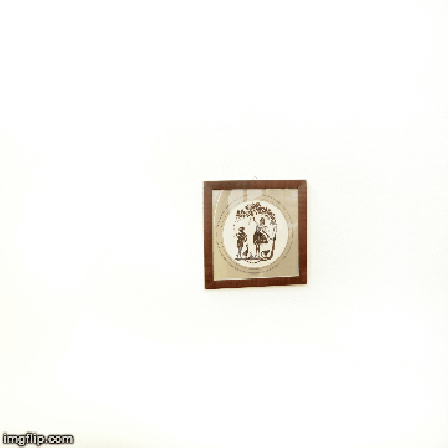 Do: Consider your color selections. If you can, stick to the same color scheme and take into account the color of your wall, which serves as the background for your gallery. For example, a gallery wall of black and white photographs looks best against a deeper hue. Art that features subdued tones works well with vibrant shades, creating contrast. Alternatively, bright statement pieces will stand out more with a muted paint color behind them. To stay on the safe side, choose neutral paint colors that will compliment your artwork.
Don't: Forget to create a visually balanced arrangement. Don't hang all of your large frames on one side and all smaller ones on the other. Rearrange items around until you achieve a design that's proportional and visually pleasing.
Do: Group smaller, similar items together instead of scattering them around. Two or three smaller frames placed together will be viewed as a single, cohesive piece.
Don't: Feel the need to match every frame. Create interest and variety with different frame sizes, styles and colors, as long as they look good next to each other. This is especially true if you're going for the eclectic style.
Do: Find a common theme in your art, especially if you're designing a symmetrical or grid gallery wall. Consider including all photographs (either all in color or all black and white), nature or botanical prints, portraits, etc. to create cohesive, uniform look.
Don't: Create an entire gallery wall full of text. Incorporating some pieces with letters, words, numbers or phrases can be impactful, especially if they hold meaning. But they can easily become overwhelming if every single item has a lot of words to read.
Do: Add interest with unexpected pieces. Consider adding a clock, mirror, large letter or number, a word, date or zip code, keys, arrows, a clipboard, a growth chart, a plaque, a decorative weaving or textile art, embroidery hoop art, wall planter, wall decals, sconce and more.
Do's & Don'ts: Hanging A Gallery Wall
Do: Leave an even amount of space between individual wall art pieces on all sides. About 2-4 inches is ideal, depending on the size of the art. The rule of thumb is that the larger the piece, the larger the blank space around it.
Pro Tip: Use post-it notes as quick spacers in between pieces instead of measuring. Regular post-its are exactly 3 inches and will work great for your large and medium pieces; small post-its are 2 inches wide and are ideal for smaller pieces.
Don't: Hang pieces too far apart from each other. The whole concept behind a gallery wall is that the collection is viewed as a single cohesive unit, even if it includes a wide variety of wall art and different decor pieces.
Do: Use matted frames for some of your artwork or photographs. Smaller pieces and photographs will stand out more in a matted frame. Take a look at this handy guide from Simply Framed on when to choose a mat and when to go full bleed, which offers great examples and advice.
Don't: Hang artwork too high. The vertical center of your gallery wall should be at eye level, or at about 60 inches from the ground up. Unless of course, you're working with very tall, multi-story walls. In this instance, getting the right scale is key – big walls require big, statement pieces. If your gallery wall is above furniture, it should be hung 4-6 inches above the piece.
Do: Plan the layout of your gallery wall by first placing the items on the floor to see how they look next to each other. Then, use wrapping paper or newspaper to cut out each frame or item and tape them to the wall with painter's tape so you can get an idea of what the collection will look like on the wall. This step will help you experiment with different layouts and tweak your design before you commit to putting holes in the wall.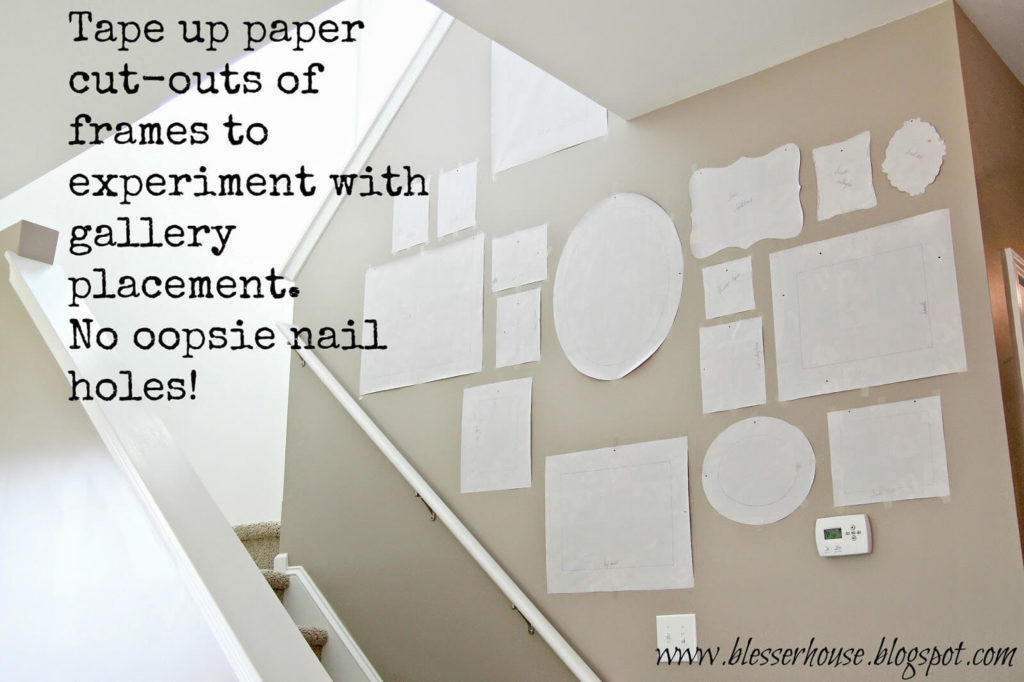 Pro Tip: The paper cutouts will also help you figure out where to put the nail holes in your wall. Simply mark each traced frame with dots for the nails and once you are happy with your gallery wall design, hammer in your nails directly on the paper.
Don't: Rely just on your level when hanging your installation. Instead, measure down from the ceiling. Some ceiling lines, especially in older homes, may not be level and your gallery wall may look off even if it's perfectly level.
Pro Tip: Use picture hanging hooks instead of large wall anchors, nails or screws. Picture hanging hooks are designed to go in between wall studs and make holes that are much smaller and easier to patch up, if needed. They can hold up to 50 or even 100 pound pieces and you can easily use two hooks per piece, which will make it remain level.
Do: Hide doorbell boxes, thermostats, light switches and other wall features by including them in your gallery wall planning.
Share Your Gallery Wall Tips & Tricks
Send us your favorite gallery wall tips & tricks, do's & don'ts and we'll add them to our comprehensive guide as a resource. Leave a comment with your favorite tips and how they helped you create a gallery wall you love.