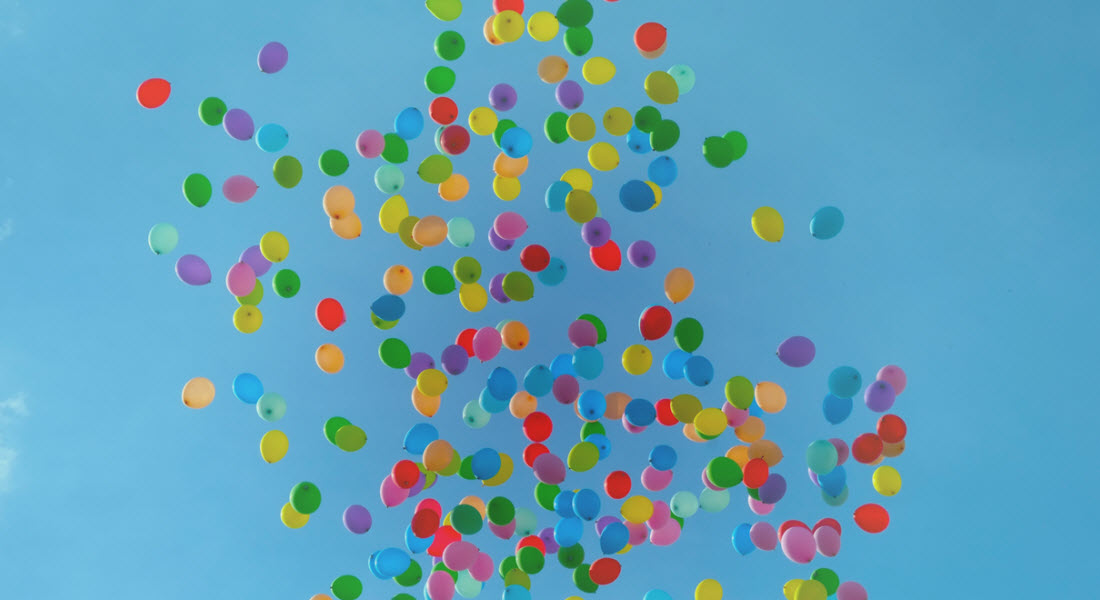 10 Feb

Finally 21! 21 Fun Ideas For 21st Birthday Gifts

Make it a birthday to remember with these fun and memorable ideas for 21st birthday gifts for a sister, brother, girlfriend, boyfriend, nice, nephew or your best friend.

A 21st birthday is an especially memorable event — cake, friends, family, party, and plenty of booze, of course. Most of us will remember our 21st birthday celebrations fondly, although some of those memories might be a bit blurry.

If you're looking for some fun ideas for 21st birthday gifts, we've rounded up our top 21 picks that will work for your sister, brother, girlfriend, boyfriend, niece, nephew or your best friend. From amusing to meaningful, below you'll find personalized birthday gift ideas that will put a smile on any newly minted 21-year old.
21 Unique Ideas For 21st Birthday Gifts
DIY Booze Cake
Funny Birthday Shot Glass
Custom Flask
Special Birthday Beer Mug
Whole Bottle Wine Glass
DIY Hangover Kit
Bottle Cap or Wine Cork Shadow Box
Birthday T-Shirt
Picture Frame or Photo Album
Custom Birthday Canvas Print
Beer Pong Drinking Game
Photo Beer Labels & Six Pack Carrier
Photo Wine Bottle Labels
Custom Birthday Socks
Mini Photo Book
Birthday Necklace
Engraved Pocket Knife
Custom Birthday Gift Bucket
Giant Hangover Mug
21st Birthday Glass
21st Birthday Postcard
1. DIY Booze Cake
One of our favorite DIY birthday ideas is a homemade booze cake or booze gift basket. Instead of a typical cake or gift basket filled with sweets, you can surprise the brand new 21 year old with a lovely assortment of drinks, mixers, beer and whatever else you think the birthday guy or gal will enjoy. There are plenty of photos on Pinterest if you're looking for ideas on how to put something like this together. Here are just a few to get you inspired.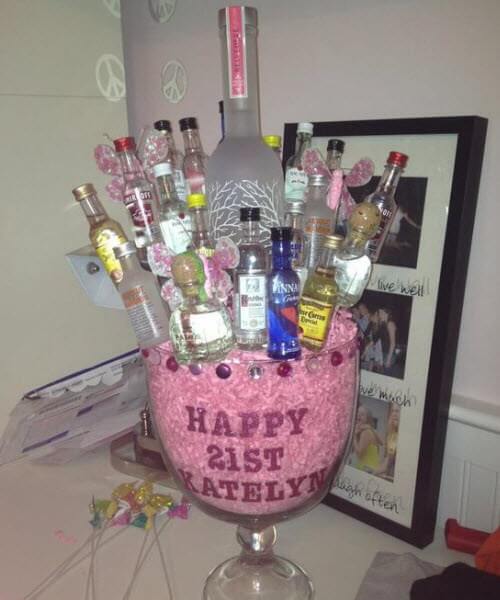 2. Funny Birthday Shot Glass
If you're planning on birthday gift idea #1, then you'll definitely need a funny, personalized shot glass to go along with your booze cake or gift basket. This shot glass can be personalized with up to three lines of text of your choice. Add their name and a fun message to make this one shot glass they'll keep around as a fond memory of their 21st birthday.
3. Custom Flask
Instead of a shot glass (or in addition to one) you can customize a pocket flask. These party quotes custom flasks come in your choice of 10 funny quotes and you can add a name in the banner below.
4. Special Birthday Beer Mug
Life is too short to drink beer from a plastic cup. And this personalized beer mug says it all. Designed to celebrate special birthdays, like the momentous 21st birthday, the glass mug is deep etched with a unique design that you get to customize from top to bottom. The traditional style mug holds 25 oz. and will make a great addition to a six pack of celebratory beer.
5. Whole Bottle Wine Glass
If wine is more of their choice of drink, personalize the Big Vino wine glass, which can fit an entire bottle of wine, holding an impressive 750ML! Add their name and a short two-line message or choose a funny wine quote.
6. DIY Hangover Kit
If you know they'll be spending their birthday celebrating with a bang (and a few drinks), you can put together a simple hangover kit to help them recover from the night's festivities. A bottle of water, some Advil or Tylenol, eye drops, mints, mouthwash and a quick snack that will help them recover is all you need. It might not be a gift they think too much of at first, but once they're finally up the next morning they'll definitely appreciate it.
7. Bottle Cap Or Wine Cork Shadow Box
Now that they're legal, let them show off their drinking accomplishments with a personalized beer cap or wine cork shadow box. Each shadow box has a hole on top so beer caps or wine corks can be easily added and it opens from the back so they'll be able to empty the contents once they've filled the boxes up. Of course, you can personalize the shadow box with a funny quote or message and their names.
8. Birthday T-Shirt
Create a custom t-shirt, tank top or hoodie that they can wear to celebrate their milestone birthday. Use this fun 21 beer bottle design and add their name or create your own unique design for the birthday guy or gal.
9. Personalized Picture Frame Or Photo Album
Help them remember their big birthday celebrations with a personalized picture frame or photo album. These days we tend to let our photos go forgotten on our phones and computers. But with a custom photo frame or album, they'll be able to proudly display their fun memories of these once-in-a-lifetime celebrations.
10.Custom Birthday Canvas Print
If you're looking for more of a keepsake gift, this custom history canvas print offers a fun and unique option. Simply add their name and birth date and the canvas print will include all of the interesting and important events for that specific date, including the major events of the month, the most popular songs and movies, and memorable sports results. The print also lists other famous birthdays along with a comparison chart of the cost of living between then and now.
11. Beer Pong Drinking Game
Help them take their beer pong game to the next level with this custom beer pong drinking game setup. Customize it with any text and colors to make it truly one-of-a-kind for hours of fun for the new 21-year old and his friends.
12. Photo Beer Bottle Labels & Six Pack Carrier
Make their first official six pack of beer extra special with custom photo beer bottle labels and bottle carrier. This set of six beer bottle labels can be customize with any three photos and text, so you get two labels with each photo, while the six pack holder is customized separately. Find memorable, funny or embarrassing photos from their childhood and have fun creating a six pack they will never forget!
13. Photo Wine Bottle Label
You can do the same with their first official wine bottle. Customize this photo wine bottle label with any photo, text and colors to create a fun and unique birthday gift they can enjoy and remember for many birthdays to come.
14. Custom Birthday Socks
Custom socks are all the rage these days and these fun birthday socks won't disappoint. Customize photo socks of the happy birthday gal or guy or personalize birthday socks with a fun message they can enjoy wearing during their birthday celebrations and beyond.
15. Mini Photo Book
Turn those awesome Instagram friend photos into a mini photo book for the birthday friend in your life for a memorable and truly special 21st birthday gift. Upload 21 photos and add your favorite quotes, fun memories, inside jokes, hashtags, your friend's best sayings and anything else to make this mini photo book extra special.
16. Birthday Necklace
Surprise the birthday girl with a delicate 21st birthday necklace she'll cherish for years as she celebrates her official entry into adulthood. Choose a heart or infinity necklace in gold or silver and customize the message card with her name and a special birthday wish just for her.
17. Engraved Pocket Knife
Commemorate his milestone birthday with a gift he can remember for many years to come, like this custom engraved pocket knife that includes his monogram or name and the date he'll turn 21. This is especially a great gift for those who love hunting, fishing, camping and the great outdoors.
18. Custom Birthday Gift (or Beer) Bucket
Fill this birthday gift bucket with all their favorites for a fun, personalized birthday gift basket. This metal bucket comes in a variety of colors and can be customized with your own text and colors for him or her. Turn it into a spa gift basket with lush bath essentials, a sweet treat bucket with their favorite confections, or a beer bucket with a sampling of brews they can enjoy while officially 21.
19. Giant Hangover Mug
This giant birthday hangover mug will not only help them recover the morning after a big party with a good amount of coffee, it also serves as the perfect container for a variety of small gifts and treats. Fill it with a mini hangover kit that includes some aspirin, alka-seltzer, eye drops, mints or gum, lip balm, a granola bar or other snacks. Or simply fill it with mini-liquor bottles, candy or other treats you know they'll enjoy on their 21st birthday.
20. Custom 21st Birthday Glass
Let them say cheers in style with their very own custom 21st birthday wine glass. This is more than just an ordinary wine glass, it's a memento of their coming of age celebrations, weather it's a wild party or a simple get-together with family and friends. Each year as they get older, this personalized gift will help them remember this very special day.
21. Engraved 21st Birthday Postcard
This heartfelt gift might make the newly minted adult swell with love and joy as he or she realizes the significance of this very special birthday. Customize this engrave birthday postcard with a loving message to create a memorable gift they'll hold deer for many years to come.
Bonus: Birthday Banner
Surprise them with a big birthday banner hanging in front of the house as they arrive or inside the home as they wake up on their 21st birthday. Add a baby photo to the banner to make it fun along with a special message that will make it memorable for them.