Create the perfect space for your baby boy or girl with these 3 must-have nursery decorating tips and 17 creative and unique nursery decor ideas popular in 2023.
Decorating a baby's very first room is exciting for every parent. But with so many options and decisions to make, it can easily get overwhelming for the new mom or dad. Before you get swept up in all the details, consider these simple guidelines for putting together a safe, inviting and comfortable nursery to be your baby's first home. Continue on to get inspired with over a dozen beautiful nursery themes perfect for any little boy or girl.
Top Nursery Decor Ideas & Themes in 2023
In 2023, "neutral" is key when decorating any nursery. Today, parents are drawn to creating a gender neutral space that doesn't rely on the traditional gender signifiers. Natural and neutral decor elements dominate the nursery designs in 2023. Parents are choosing muted and neutral color schemes that fit both baby boys and girls. Many of the popular traditional nursery themes now have a more modern look and a bit of a grown-up feel. Colorful baby rooms utilizing bright pops of color, rainbow themes, and pastels are also popular.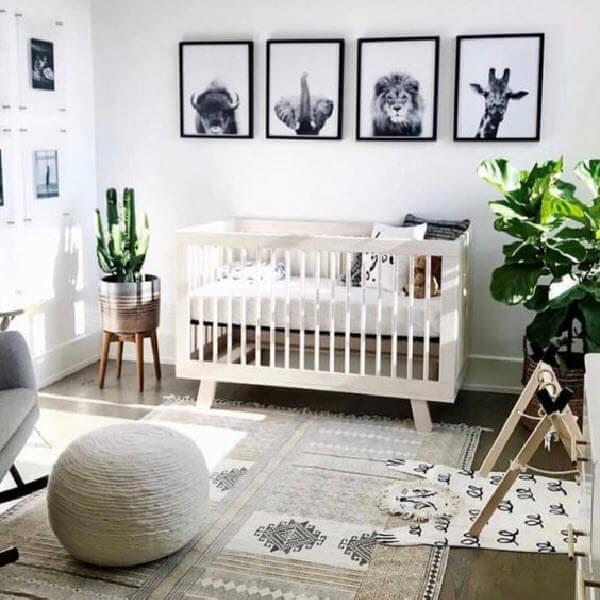 Here are the top nursery decor themes for 2023:
Gender Neutral Nursery
Woodland Nursery
Outer Space Nursery
Modern Boho Nursery
Safari & Jungle Animals Nursery
Dinosaur Nursery
Elephant Nursery
Black & White Nursery
Colorful Rainbow Nursery
Moon & Stars
Floral Nursery
Nautical Nursery
Princess & Unicorn Nursery
Adventure & Travel Nursery
Rustic Nursery
Sports Nursery
Noah's Ark Nursery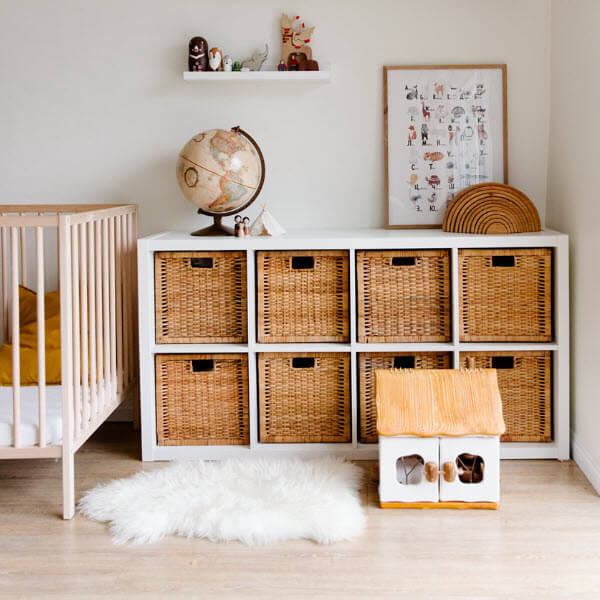 3 Must-Have Nursery Decorating Tips
Before you choose the paint colors or your baby's nursery theme, follow these top 3 tips to ensure the room you're creating is both functional and comfortable.
1. Less Is More
It's incredibly easy to fill a baby's room with too many toys, books and adorable accessories. On top of everything decorative, you also have to fit all the practical items for the baby, like a changing table, rocking chair or glider, laundry hamper and more. When you're just starting out, it's best to avoid clutter and focus on creating a safe, comfortable space for you and your baby.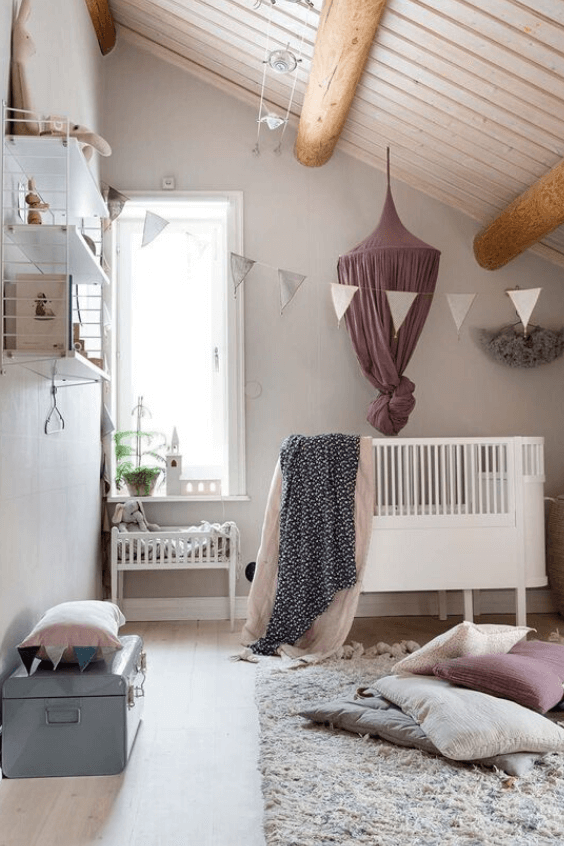 Start small and include only the items that truly serve a purpose. You can always add on more decorative accents as your baby grows and you get used to spending more time in the nursery.
2. Choose Quality Furniture & Functional Storage
You'll be spending more time in that rocking chair than you ever wanted, so make sure it's comfortable. Choose each piece of furniture carefully and opt for a classic look with clean lines and neutral colors so everything coordinates without having to match.
Good nursery storage is essential. You'll want to keep everything you need within reach of the changing table so you never have to leave baby unattended. Finding a good storage solution for all of baby's essentials, toys, books and other items should be a top priority when decorating the nursery.
3. Create A Space That Will Grow With Your Baby
Add decorative accents in small doses so they can be easily switched out without having to redo the entire room. Choose a paint color that will last for years and incorporate nursery wall decor or removable wall decals instead of painting a mural or choosing a color scheme that will look too babyish by their preschool years.
Don't try to incorporate the nursery's theme into items you want to keep in the room for years, like the furniture, window treatments or rug. Instead, add the theme to easily replaceable items like throw pillows, baby blankets, picture frames, wall art and other small accents that can be updated as your baby grows and the room's theme evolves.
17 Creative & Unique Nursery Decor Ideas
Now that you know what's truly important when decorating your baby's nursery, here are our top nursery decor themes and unique ideas for making the room feel and function just right.
1. Muted & Neutral Nursery Decor
Gender neutral nurseries are big in 2023, and many of the popular nursery themes from years past now have a more muted, neutral look. Traditionally neutral themes, like woodland, safari, adventure and travel are still very popular and remain in our top list for 2023. However, other nursery themes, like space, dinosaurs and modern black and white now have gender neutral options when it comes to decor.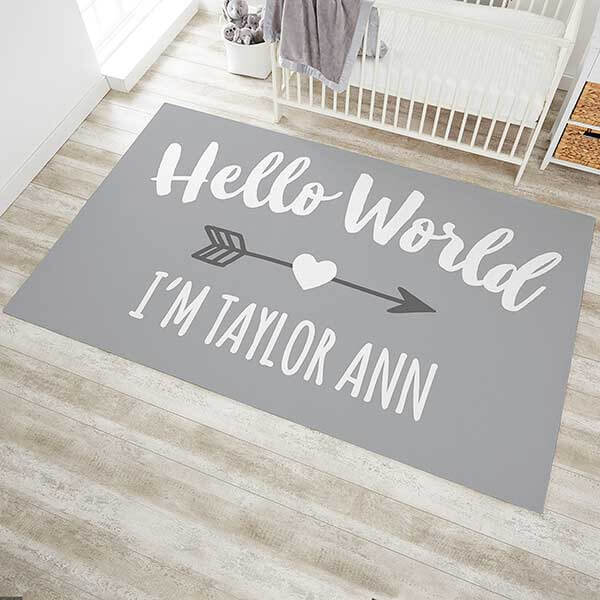 Shop: Hello World Nursery Rug | Neutral Baby Blankets | Alphabet Nursery Wall Art | Nursery Throw Pillows
2. Forrest Creature & Woodland Nursery Decor
Woodland animals make another classic theme for a baby nursery that will never go out of style. A woodland nursery can work just as well for girls as it can for baby boys with subtle differences that won't look too girlish or boyish. This year, the most popular woodland creatures are fox, owl, bear, deer, bunny and raccoon, but there are also other decorative accents that work well within the rustic, woodland theme. This is a very creative nursery decor choice with unlimited possibilities.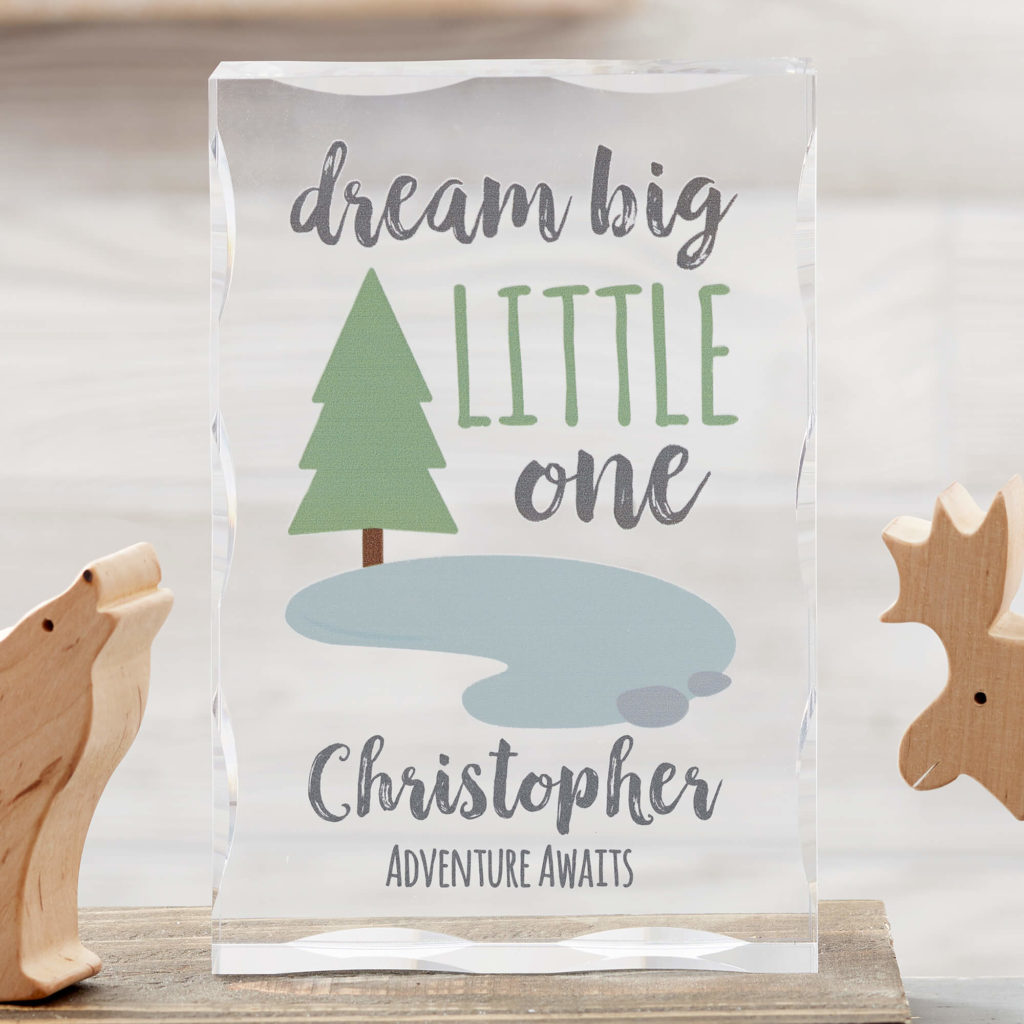 Shop: Woodland Nursery Keepsake | Woodland Bookends | Woodland Animals Memory Box | Woodland Nursery Throw Pillows
3. Outer Space Nursery Decor
Space, planets, rocket ships and astronauts are becoming a popular trend in nurseries, with colors and themes for boys and girls. This is great nursery theme that can transition well into an older kids room and will always look interesting for a child. Nursery decor and wall mural ideas are popping up everywhere with galaxies, constellations, moon, stars and the solar system as the central themes. If you're thinking of incorporating some outer space themed quotes, you'll find no shortage of ideas, including "the sky is the limit," "reach for the stars," "explore the universe," and more.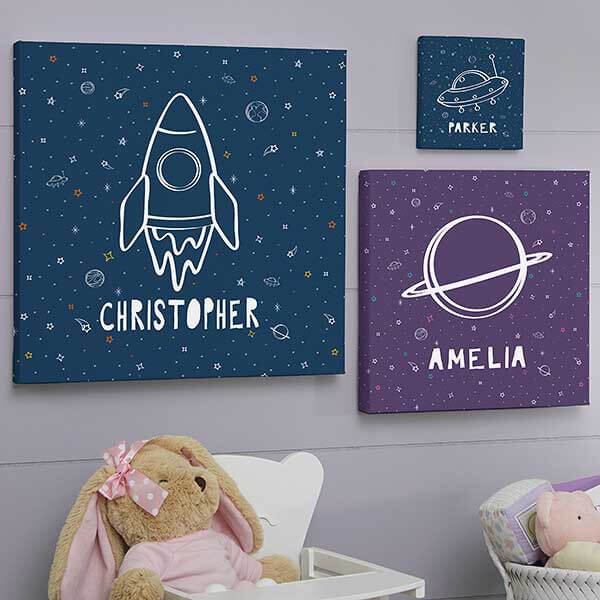 Shop: Space Nursery Wall Art | Space Nursery Area Rug | Space Milestone Blanket | Space Throw Pillows
4. Modern Boho Nursery Decor
Boho nurseries have an eclectic feel and are often inspired by various bohemian, hippie or travel themes with colorful, comfortable and carefree undertones. Warm earthy colors combined with rich jewel tones and bright metallic accents dominate the boho design. Vintage, mismatched and second hand accents add to the collected vibe along with treasured family heirlooms, travel souvenirs and handmade items, all of which have a story to tell. The boho nursery decor is often geared towards baby girls, but can work just as well for a boy's room with subtle changes to the color scheme and decorative accents you choose.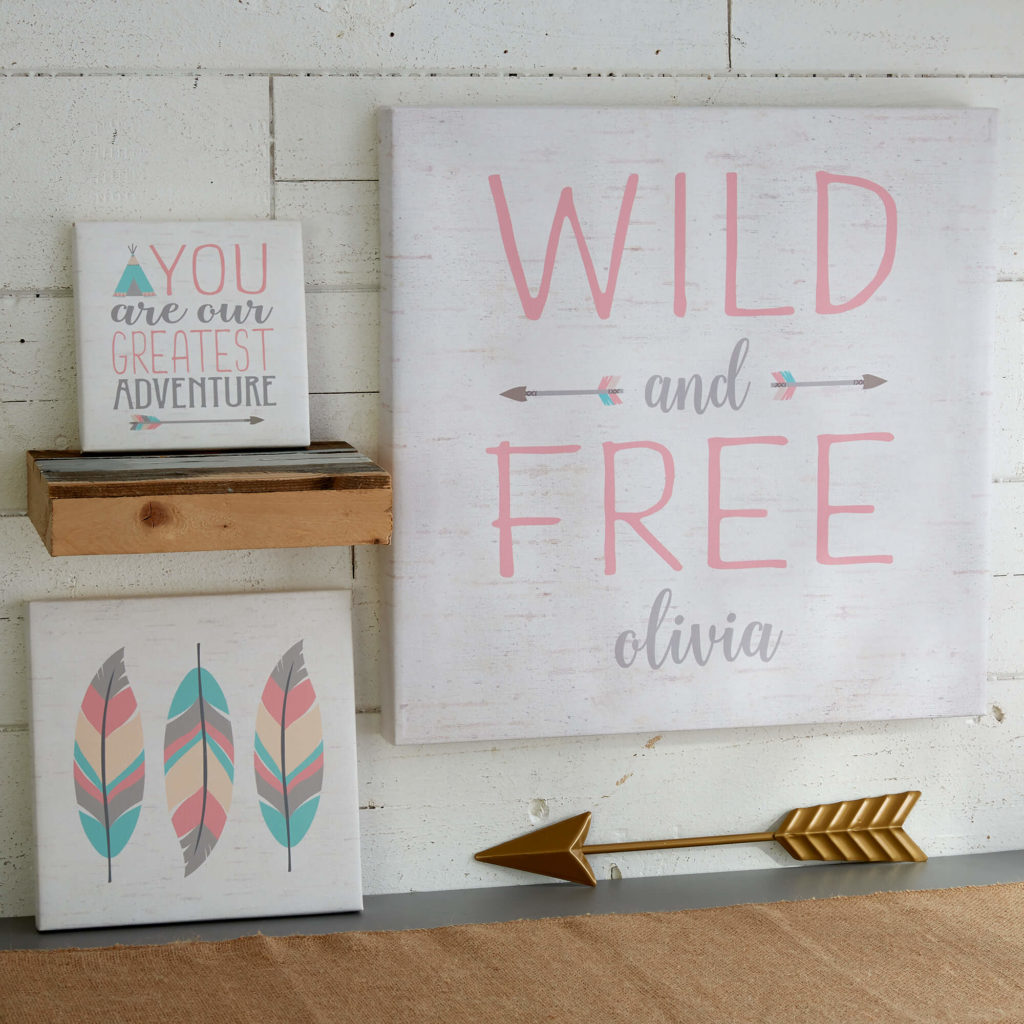 Shop: Boho Nursery Canvas Art | Boho Baby Throw Pillows | Boho Nursery Baby Blanket | Boho LED Shadow Box
5. Safari & Jungle Animals Nursery Decor
A jungle animal nursery theme is another timeless classic that will never go out of style. It's great for girls, boys and for those going for a more gender neutral feel. You can choose to focus on a single animal design or a variety of different jungle creatures to create a whimsical display the baby will enjoy while learning about the animal kingdom. This fun, colorful nursery theme can be easily extended to the bathroom or playroom and is easily complimented with a variety of baby toys that include an animal design.
There are plenty of creative wallpaper murals and vinyl decals available for this theme as well.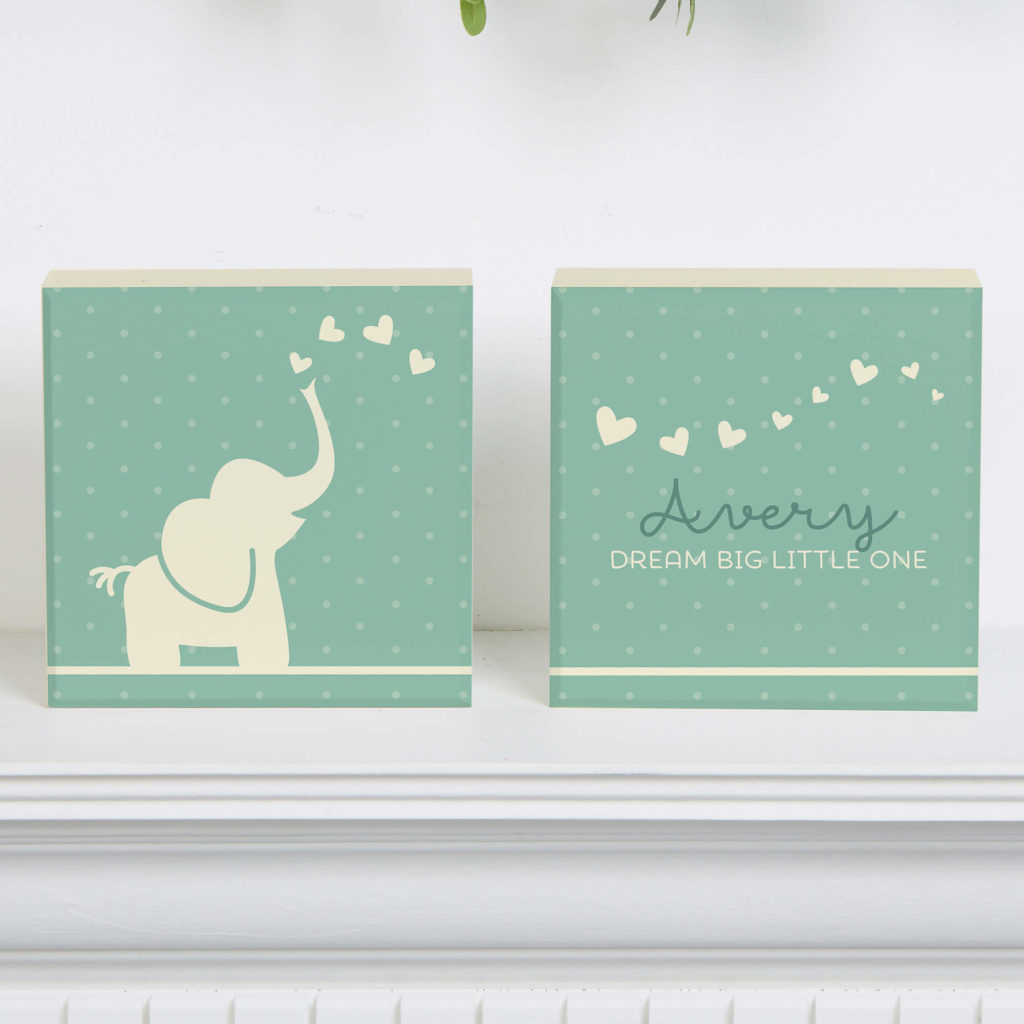 Shop: Jungle Animals Shelf Blocks | Safari Nursery Rug | Safari Storage Canisters | Jungle Animals Picture Frames
6. Dinosaurs Nursery Decor
Dinosaur nurseries are making a comeback with gender neutral and pink dino decor taking over the traditional boy's nursery color palettes. This adorable theme is a kid favorite, adding cuteness, fun, curiosity and adventure. Nursery decor with colorful dinosaurs, dino eggs, volcanos, plants, dinosaur footprints and other dino inspired details will delight and amuse. Add some prehistoric charm to your little one's room with dino wall art, murals, decorations, bedding and other unique accessories.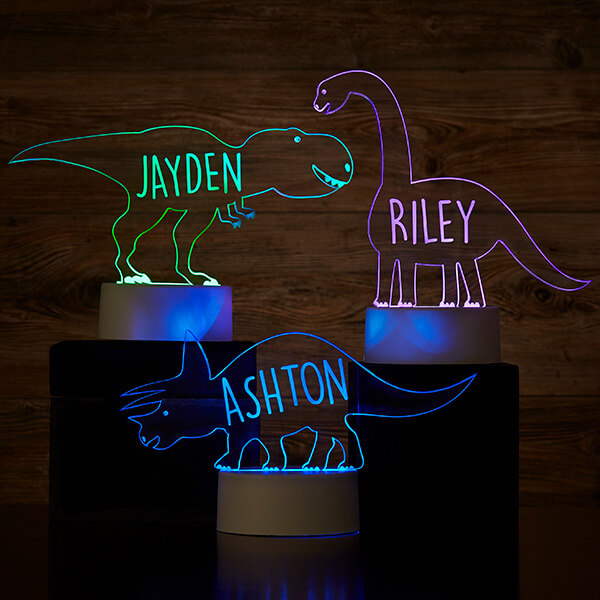 Shop: Dinosaur LED Sign | Dinosaur Wall Growth Chart | Dinosaur Nursery Throw Pillows | Dinosaur Baby Blanket
7. Elephant Nursery Decor
Elephants make a classic and timeless nursery theme that works well for baby boys and girls in blue, pink or gender neutral grey tones. The best part about this popular theme is that it's so incredibly easy to coordinate. There's a wide variety of elephant baby decor to choose from in many different styles, color schemes and unique concepts.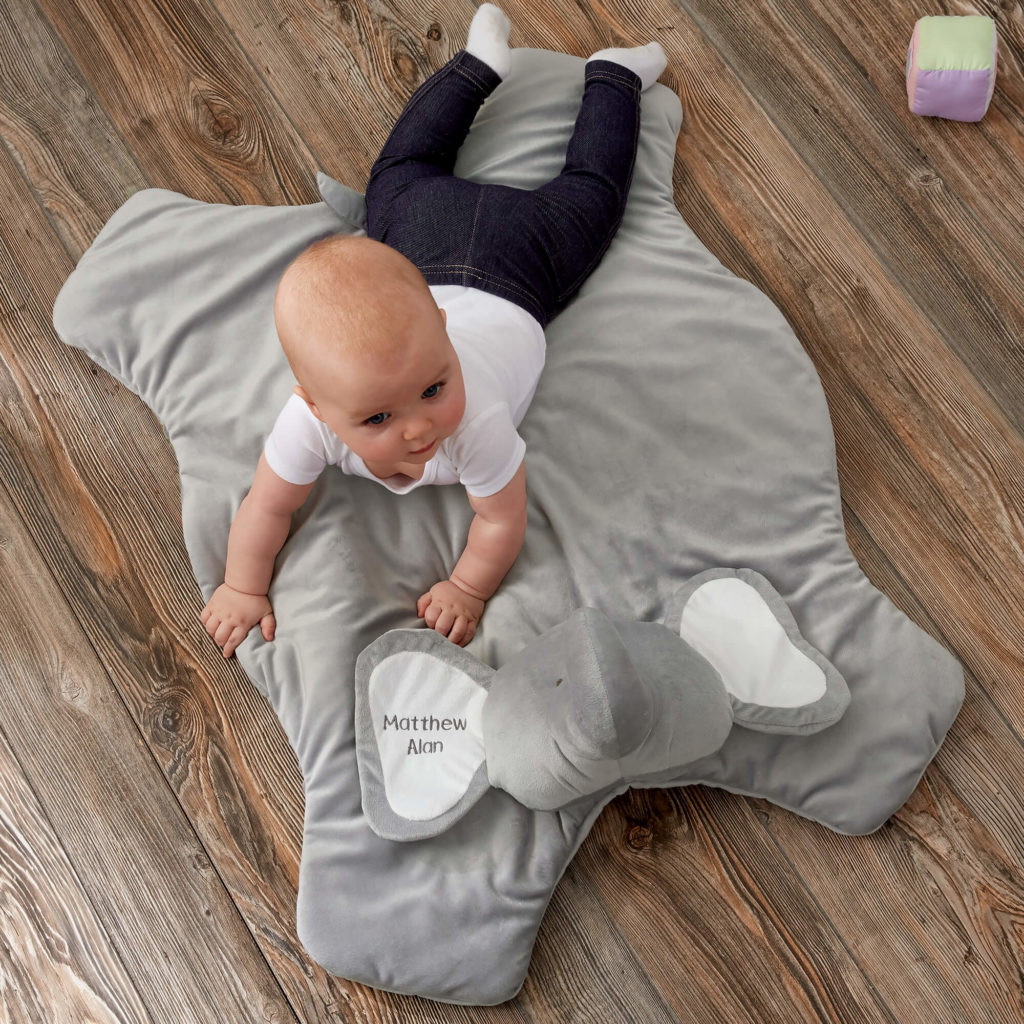 Shop: Elephant Playmat | Elephant Baby Lovie | Elephant Nursery Wall Decal | Elephant Plush Chair
8. Modern Black & White Nursery Decor
A black and white nursery theme offers a modern and minimalist yet striking and sophisticated look. To achieve this style, choose big, bold black and white patterns, which dominate this design, with grey, natural wood or metallic accents added in small doses. This can be a surprisingly fun theme for a nursery that will be easy to transition to an older child's room later on and can work just as well for boys as it can for girls. This is also an easy theme to modify simply by introducing a new accent color or two.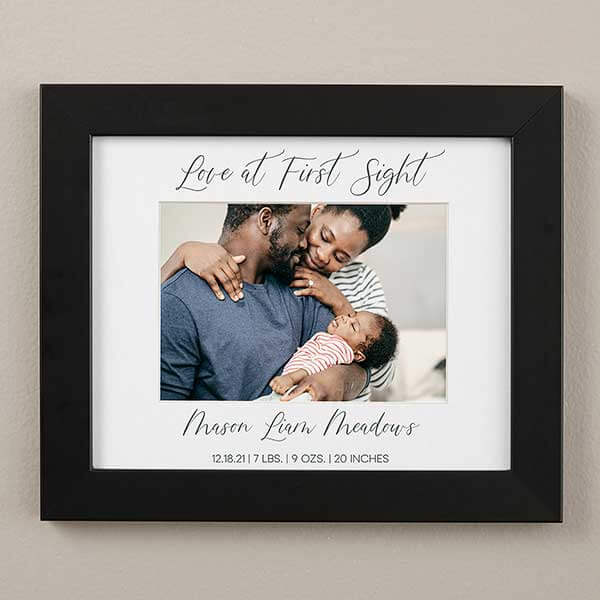 Shop: Custom Matted Picture Frame | Black & White Bookends | Black & White Baby Blanket | Black & White Buffalo Check Rug
9. Colorful Rainbow Nursery Decor
A bright, happy nursery full of whimsy and color is sure to elicit feelings of happiness and wellbeing. Plus, what kid doesn't love rainbows? Adding vibrant colors and patterns to an otherwise neutral space will bring life and energy to your design that your child is sure to love. You can chose bright primary or softer tone pastel colors, or limit your color palette to a select few hues. A colorful rainbow room is also gender neutral and can easily evolve to a big kid's room as your child grows. If you happen to have a rainbow baby, then this fun colorful nursery theme is the perfect option.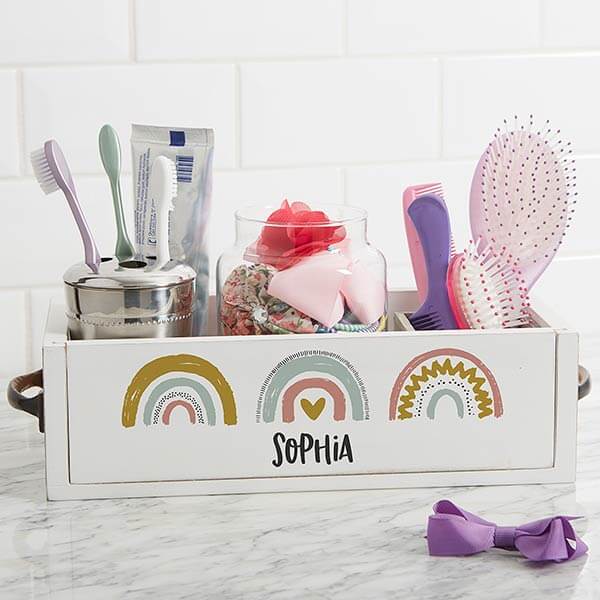 Shop: Boho Rainbow Storage Box | Rainbow Baby Blanket | Rainbow Name Kids' Art Display | Rainbow Name Floor Pillow
10. Moon & Stars Nursery Decor
The moon and stars nursery theme is making a comeback with an updated, clean, almost minimalist feel and the addition of white fluffy clouds. "Twinkle, twinkle little star" and "love you to the moon and back" quotes are often incorporated into this popular design, which has a very calm and serene feel. Moon and star wall decals or wall art are a good option when decorating, however star wall paper and night sky painted murals are also very popular and can work well when you decide to transform the nursery into an older child's room. Many moon and stars nurseries have a gender neutral feel and can work well for both boys and girls.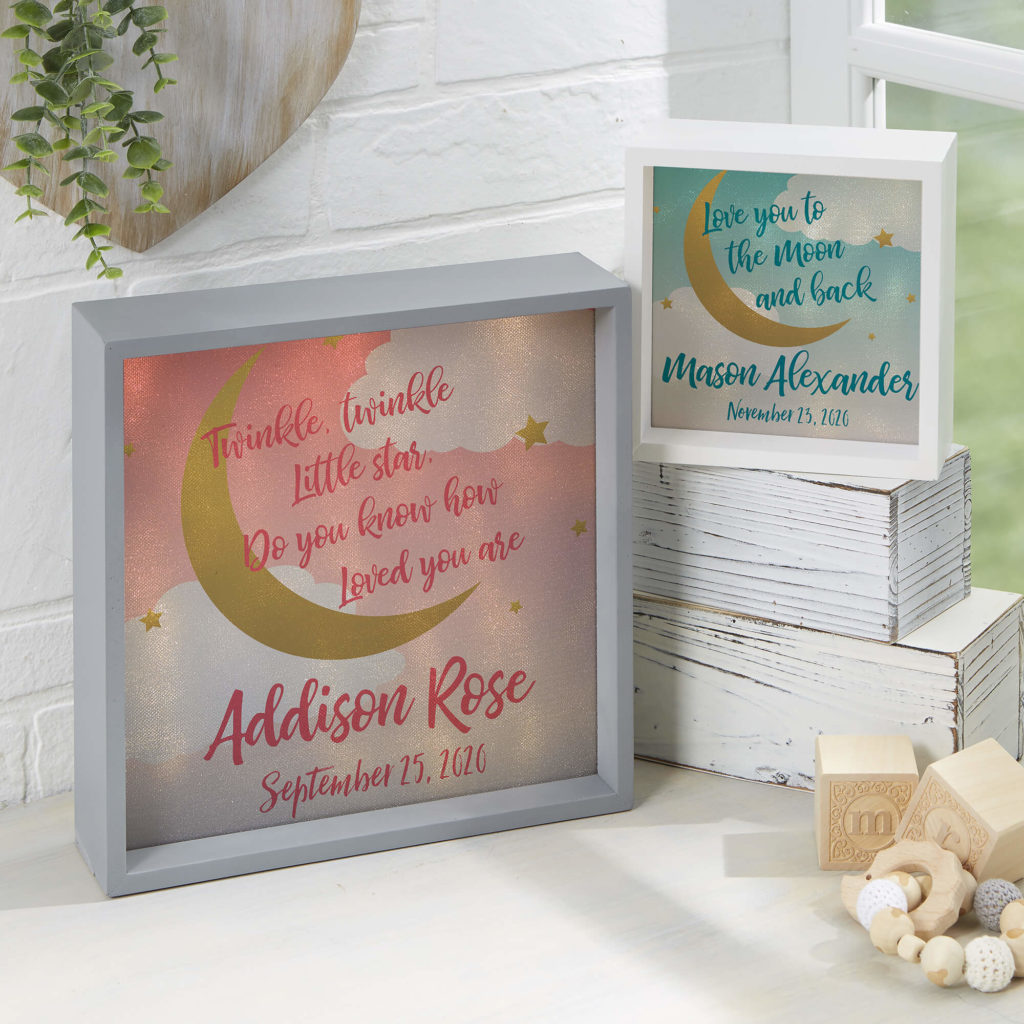 Shop: Moon & Stars LED Shadow Box | Moon & Stars Throw Pillows | Moon & Stars Wall Art | Moon & Stars Night Light
11. Floral Nursery Decor
Floral nursery decor is decidedly more feminine and geared towards girls. At this time, delicate watercolor floral motifs are the popular choice for baby girl nurseries. These are sometimes incorporated with the woodland creature theme, most commonly with beautiful flower crowed animal designs and flower wreaths. Floral nursery decor will carryover well into toddler, preschool and even school age years. It's a theme that will stand the test of time, won't look too babyish and will coordinate well with other themes later on.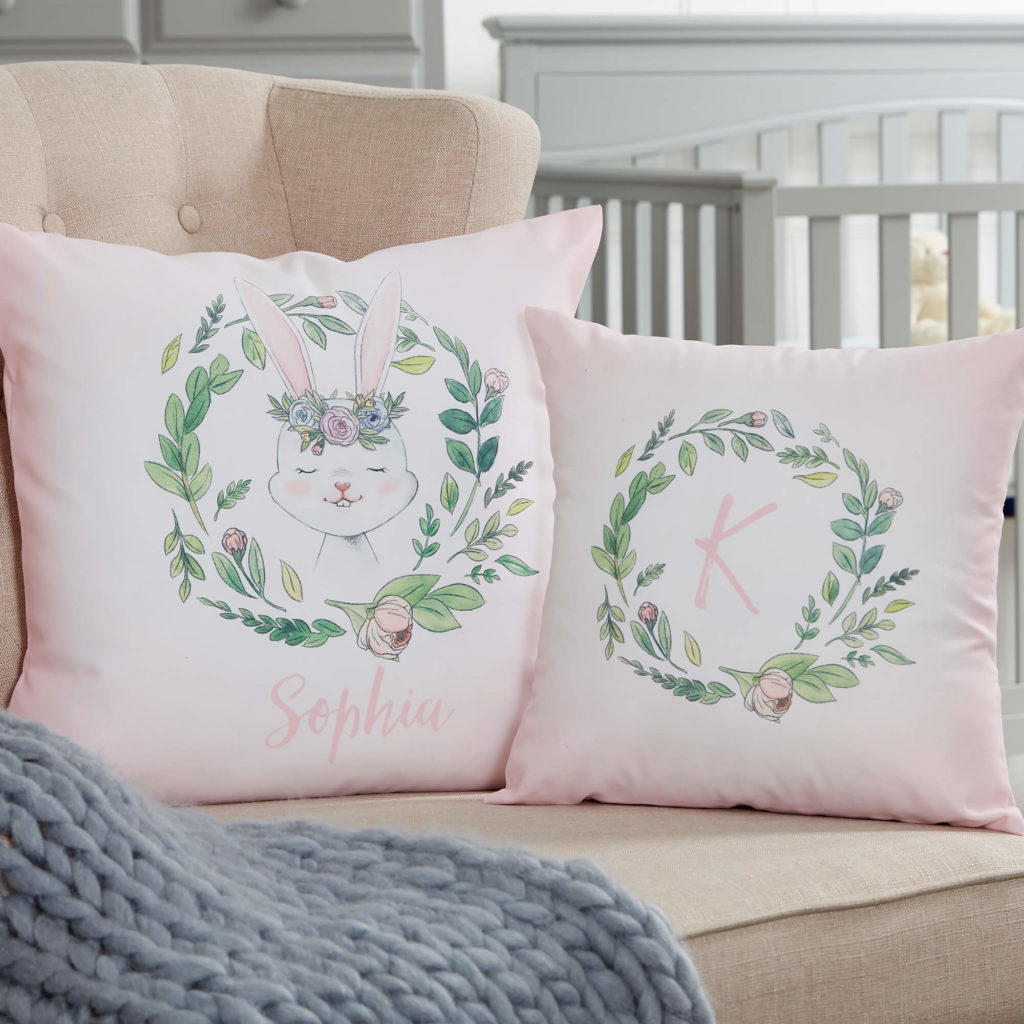 Shop: Woodland Floral Baby Throw Pillows | Floral Baby Picture Frame | Floral Nursery Wooden Shiplap Sings | Floral Nursery Baby Blanket
12. Nautical Nursery Decor
Sailboats, anchors, whales and other sea creatures are a popular option for an underwater or nautical nursery theme. Because of the strong presence of blue colors, this nursery theme is most often chosen for baby boys, but can easily work for baby girls with small adjustments to the color scheme or choice of decorative accents. This is another enduring theme that will never go out of style and transitions well to a toddler or older child's room.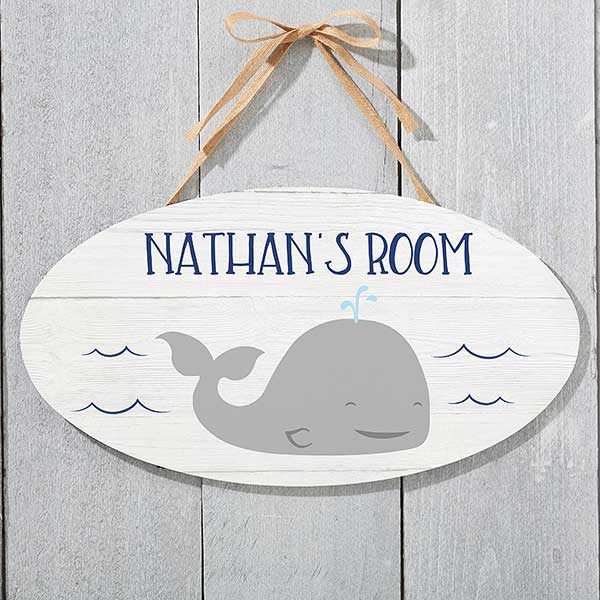 Shop: Whale Baby Sign | Sailboat Nautical Baby Blanket | Under the Sea Baby Book | Whale Wooden Shiplap Sign
13. Unicorn or Princess Nursery Decor
What little girl doesn't love princesses and unicorns? This popular nursery theme has been trending for a number of years with no signs of stopping. Often, the unicorn theme is incorporated with colorful rainbows, butterflies, fairies, princesses, clouds, stars and other mysterious and sparkling elements creating a magical, enchanting feel to the nursery decor. A unicorn nursery can be simple and elegant or elaborate and frilly; it's all in how you approach this fun nursery theme. The unicorn theme offers a creative update or addition to a princess nursery.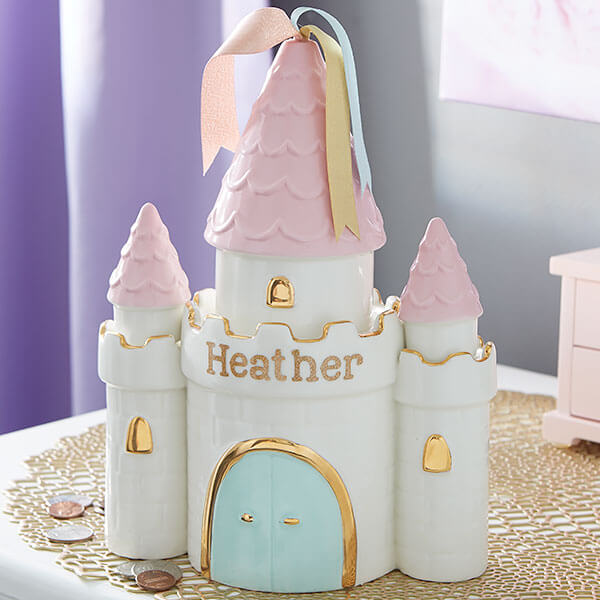 Shop: Princess Castle Piggy Bank | Magical Unicorn Wall Art | Little Princess Canvas Print | Unicorn Flip Sequin Pillow
14. Adventure & Travel Nursery Decor
Travel and adventure nurseries are certainly more popular for boys than they are for girls, but they can easily work well for both genders. "Explore the word," "Adventure awaits," and "Life's a journey" are popular quotes to display in wall art and decorative accents. "You are our greatest adventure," along with "Oh the places you'll go" are also new parents' favorites for this theme. World maps, globes and mountains are often incorporated into this theme in various ways. Travel and adventure nurseries can easily take on a vintage vibe with antique maps, old travel accessories and other timeworn accents, but they can also have a more modern look with bold black and white details and a minimalist color scheme.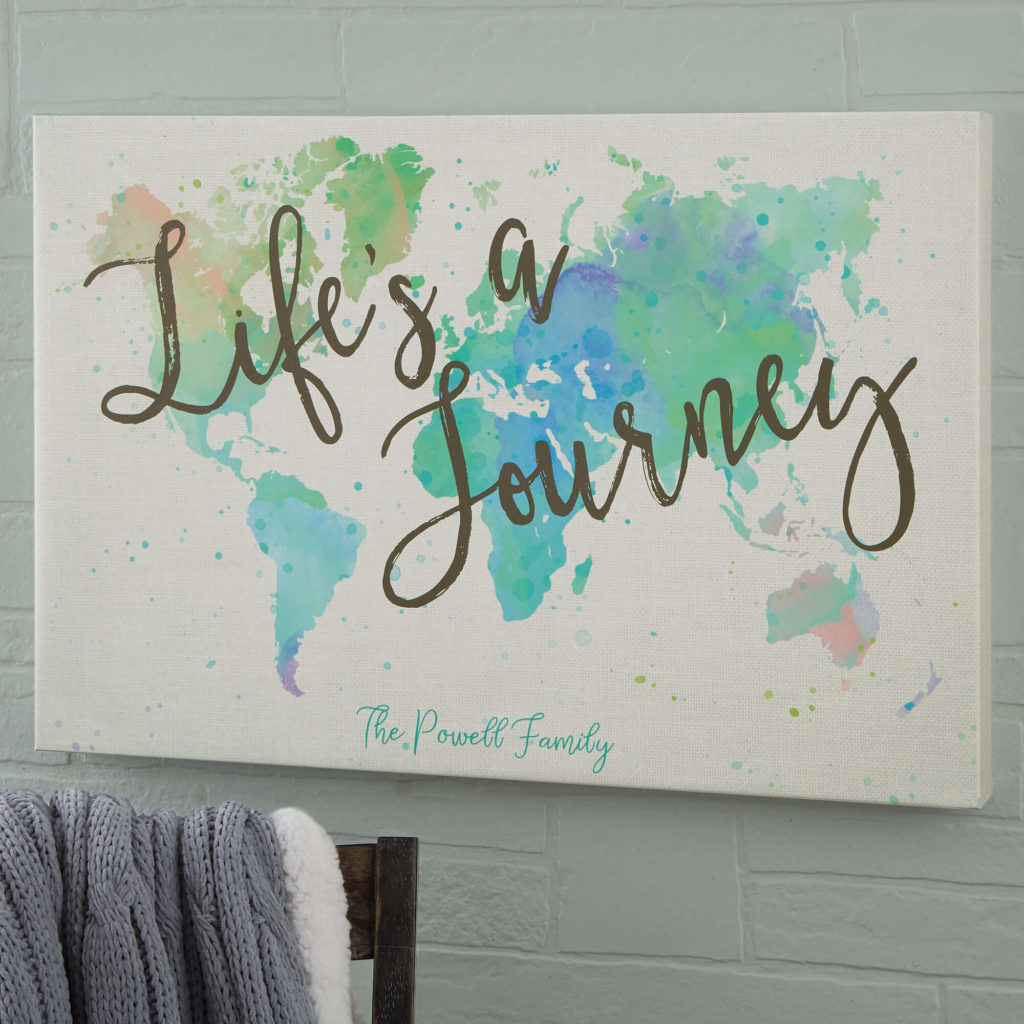 Shop: Watercolor World Map Canvas Prints | Adventure Nursery Throw Pillows | Wooden Adventure Signs | Adventure Awaits Baby Picture Frame
15. Rustic Nursery Decor
Rustic baby nurseries are seeing renewed interest with a fresh, modern look that often combines other design elements from boho, adventure, woodland or floral themes described above. Although rustic nursery decor is more popular with baby boys, it can work just as well for girls, especially when floral or boho elements are added. Rustic nurseries can have a warm, cozy and almost cabin like feel with tons of natural wood accents, often incorporated in a floor to ceiling accent wall. Soft faux fur, plaid and knit fabrics help soften the hardwood feel adding extra coziness and comfort to the space. A country or farmhouse look can also be incorporated into a rustic nursery with whitewashed or distressed wood accents, vintage furnishings and bucolic accessories that add a homey, rural feel.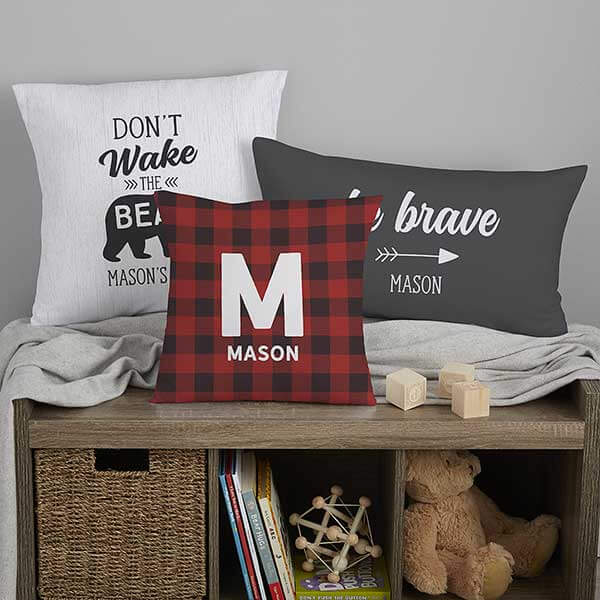 Shop: Buffalo Plaid Nursery Throw Pillows | Rustic Woodland Nursery Wall Art | Rustic Wood Tribal Inspired Coat Rack | Rustic Nursery Reclaimed Wood Decor
16. Sports Nursery Decor
Sports and transportation nursery themes are both very popular options for baby boys that are simple and easy to pull off. Both of these themes also transition well into older boys' rooms and don't need to be updated as often as other nursery decor themes. They also offer unlimited options and opportunities to get creative, depending on what you choose to focus on. Keeping the themes more general, for example focusing on all different sports or varied transportation methods, instead of just baseball or just trains will also help make the decor last longer.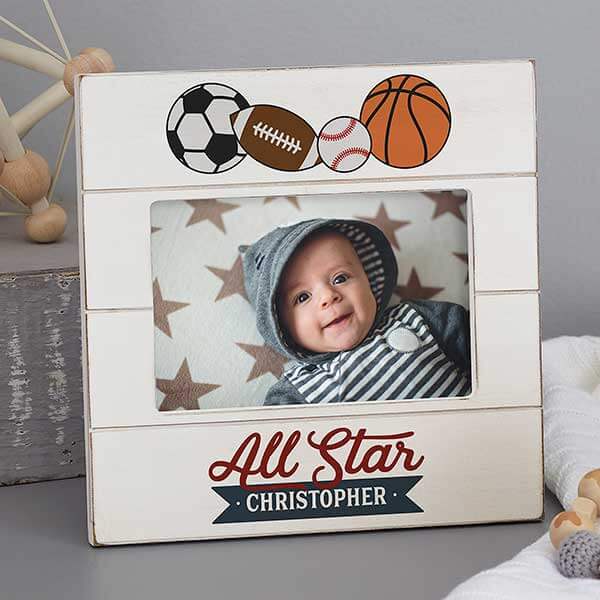 Shop: Sports Shiplap Picture Frame | Personalized Baseball Keepsake | Baseball Nursery Wall Art | All-Star Sports Baby Nursery Throw Pillow
17. Noah's Ark Religious Nursery Decor
If you're interested in incorporating a religious Christian theme in your baby's nursery, you'll find plenty of unique decor items for both boys and girls. Look for wall art with your favorite bible verses, psalms or hymns incorporated into the designs. Baby animals, sun, moon and stars, floral and woodland motifs are all common design elements. You can also rely on a popular bible theme, like Noah's Ark, which is particularly popular to baby nurseries.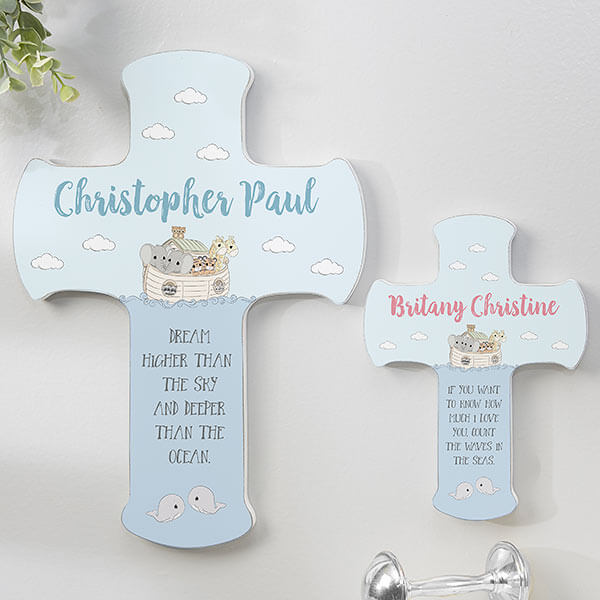 Shop: Personalized Baby Cross | Noah's Ark Throw Pillows | Noah's Ark Baby Blanket | Noah's Ark Picture Frame
Share Your Favorite Nursery Decor Ideas for 2023
Which nursery theme is your personal favorite? Which one did you choose to decorate your little one's room? Share your nursery décor ideas and inspiration in the comments below or on social with hashtag #pmallgifts.