08 Aug

Pack A Fun School Lunch With These Great Tips

It's Back to School season and PersonalizationMall.com is having a huge sale on all of our personalized back to school gear!

We have a wide selection of Personalized Lunch Totes designed for teens and pre-teens and Personalized Lunch Bags that feature cute designs for younger kids in grade school but since the teens and pre-teens may be too old for "cute" lunches, we thought we'd focus today's tips on the younger kids' lunches.
Support No Kid Hungry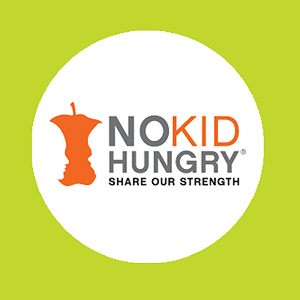 The best part about personalizing our adorable Personalized Lunch Bags is that for every bag purchased, $1.00 goes to the charity No Kid Hungry. Every dollar that's donated helps the No Kid Hungry campaign start or improve school breakfast programs, recruit and expand summer meals sites and teach families how to shop for and cook healthy meals on a limited budget. Since the summer of 2011, No Kid Hungry efforts have helped bring more than 34 million additional meals to kids who need them and they continue to engage the public to make ending childhood hunger a national priority.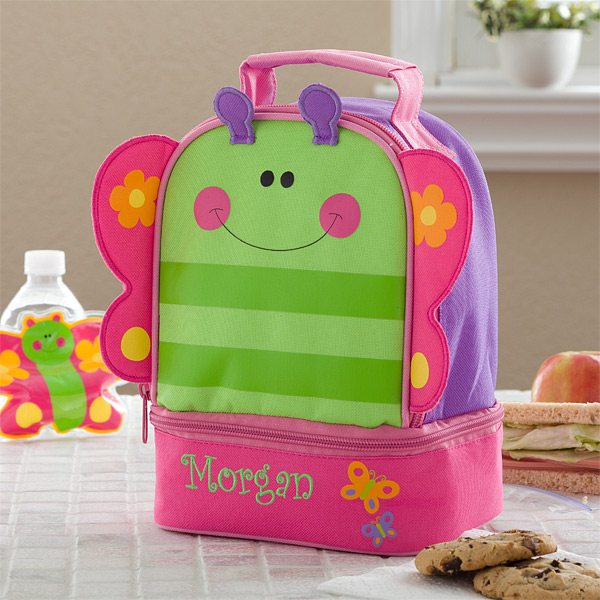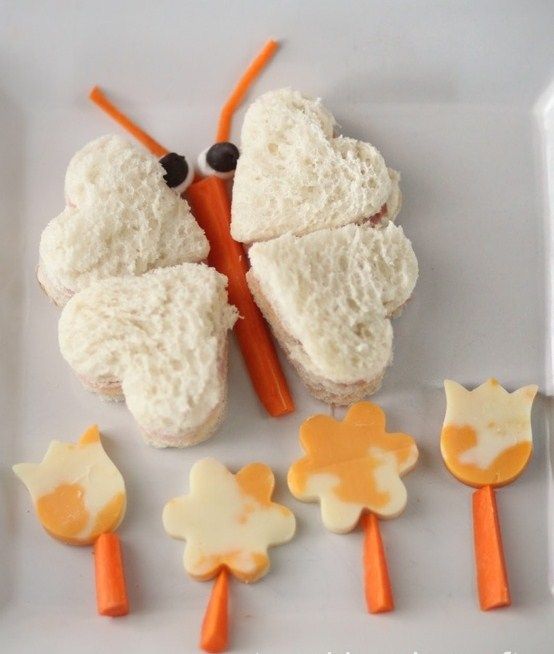 Now that you know all about the No Kid Hungry campaign, lets look at these cute lunch ideas! It's easy to see why the Butterfly Embroidered Lunch Bag is one of our customers' favorites. The bright and colorful bag features an adorable butterfly design that can be personalized with any name right on the front so her delicious lunch won't be mistaken as anyone else's. It is fully insulated to keep food both warm and cold and has two compartments for storing extra goodies. Moms especially love all of these bags because they're made of a durable and washable material that makes clean-up nice and easy! If your little girl loves butterflies this lunch bag is perfect for her and the only thing that would make it more perfect is if you filled her new personalized lunch bag with this cute butterfly sandwich (right) that we saw on Pinterest! All you have to do is make her favorite sandwich and use a heart-shaped cookie cutter to create the butterfly's wings. Add a carrot for the body and raisons for the eyes and you're done!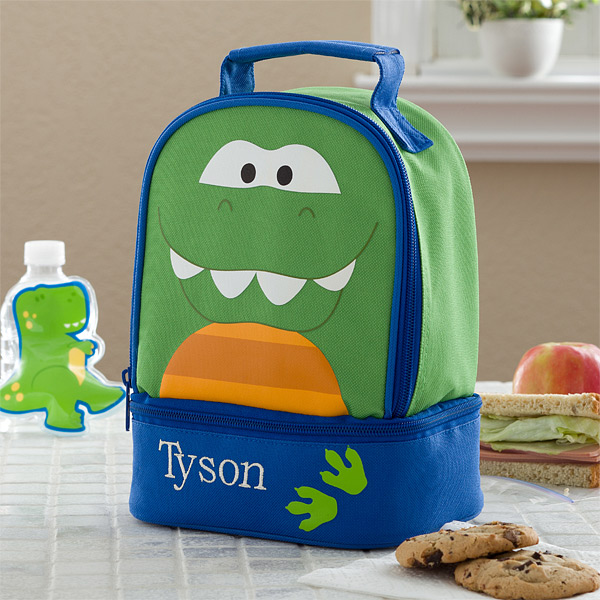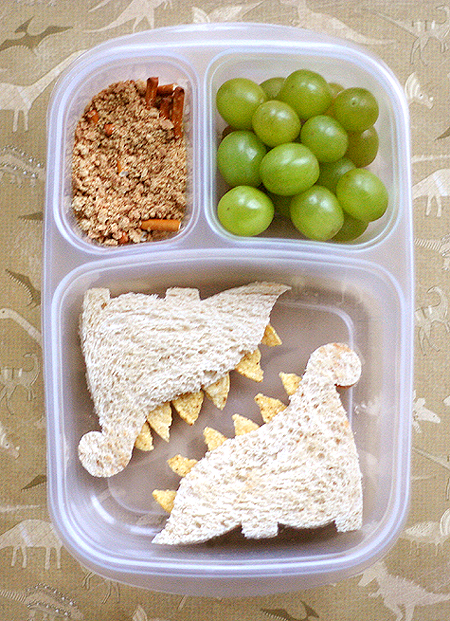 If you have a little boy at home, the Dino Embroidered Lunch Bag is the best way to go. We'll embroider your son's name on the front of the bag, right next to the dinosaur foot prints! And if your son is going to have a dinosaur lunch bag, then you should give him a dinosaur sandwich! This dinosaur sandwich is probably the coolest one we saw on Pinterest. Once you've used a dinosaur cookie cutter to make the shape of the sandwich, break off the tips of their chips and stick them on the dinosaurs back to create edible spikes! Your little guy will have a blast showing all of his friends the cool lunch his mom made!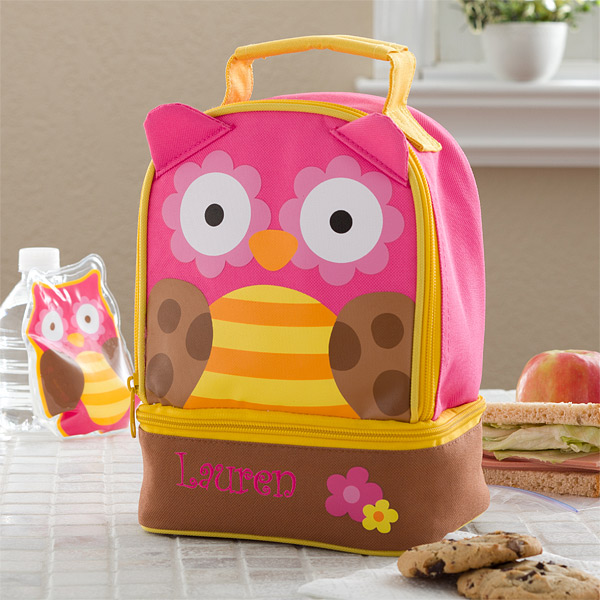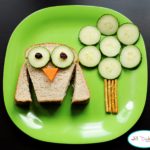 Owls are the hot new trend and if your little girl is up on the latest fashion, she'll love the Sweet Owl Embroidered Lunch Bag (at left). Just like the other bags, we will embroider her name on the front of the bag, next to the pink and yellow flower design.
The owl's big eyes are easy to imitate for your little one's lunch (see the photo example at right). Just add two slices of cucumber and two raisons to the top of the sandwich, cut out a carrot for the nose and use a knife to create the wings. You can use the leftover cucumber to form cute flowers or add pretzel sticks to create a tree!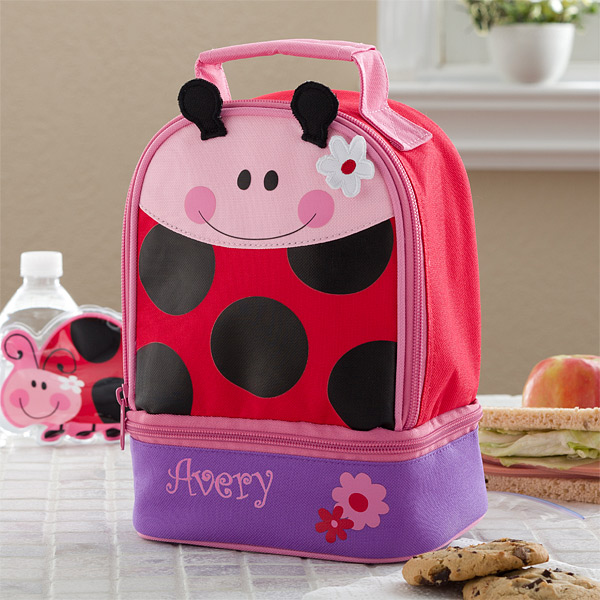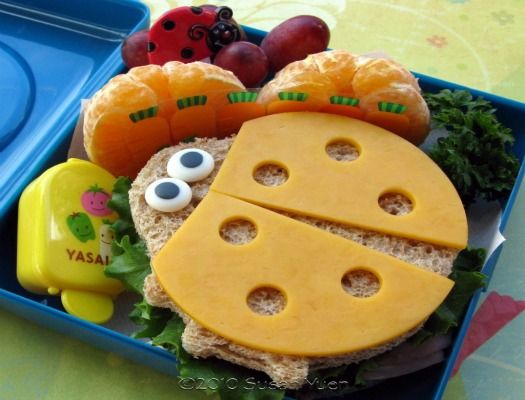 Last but not least we have the Ladybug Embroidered Lunch Bag, which your little "lovebug" is sure to love! Once you've added her name to the front of the bag, you can fill it with her favorite sandwich that you will turn "inside out" so it becomes a ladybug! Build her favorite sandwich and cut around the bread so it takes a circular shape. Then take the cheese out from between the two slices of bread and place it on top. Cut little circles out of the cheese or use swiss cheese and you'll have formed the perfect ladybug wings!
We hope you enjoyed all of these fun lunch tips! We'd love to hear any tips you may have or we'd love to see any of your own personal fun lunch creations! Post them in the comment section below or send them to social@pmall.com.
Be sure to check out our Back to School shop and remember that when you personalize these lunch bags you won't just be putting a huge smile on your child's face, you'll also be helping put food on the table for children all over the nation!