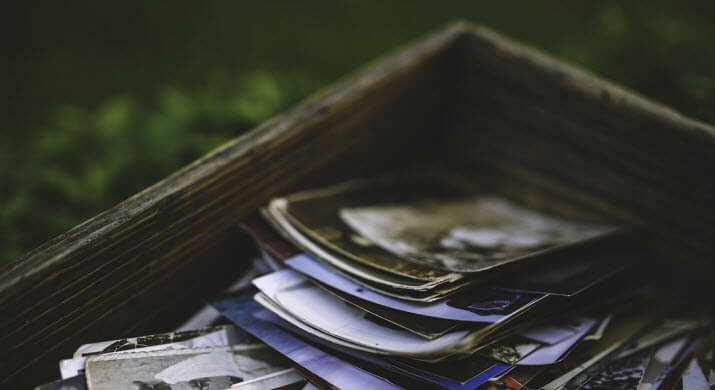 15 Mar

5 Fun & Creative Memory Box Ideas

Most people are in the habit of preserving memories. Many of us save our favorite photos in albums, photo books, scrapbooks and even digital albums that include photos and video clips. We collect souvenirs from places we visit and mementos from special events like weddings and family reunions. We do it all to remember the most important moments in our lives so that we have something to look back on and reminisce about.

One great way to preserve memories from a specific point in time is to save them in a memory box. A memory box, or a keepsake box, is like a personal time capsule where you can save photos and small souvenirs from a specific point in time, like a wedding or the birth of a baby.

You can use a beautiful personalized keepsake memory box, like the ones we offer, or any box that you have at hand. You can even create your own special keepsake box from an old shoe box, cigar box, gift box or a plain box you can get at a craft store. It is a good idea to make the box look special so that it doesn't get accidentally misplaced, lost or thrown away. But what matters most is what you put inside the box.

Below, you'll find some fun and creative ideas on how to put together memory boxes full of keepsakes you'll treasure for a lifetime.
Wedding Memory Box Ideas
Creating a wedding memory box is a wonderful way of remembering the details of your important day. Your keepsake box should be large enough to hold important items, like your wedding cake knife & server, champagne glasses or the cake topper. You can also include one of the wedding favors you gave to your guests, personalized matches, coasters, napkins or any other custom details you created for the ceremony or reception. Many couples make a program that lists everyone who is in the wedding; this is another great keepsake to include in your memory box in addition to the wedding invitation and other personalized stationery.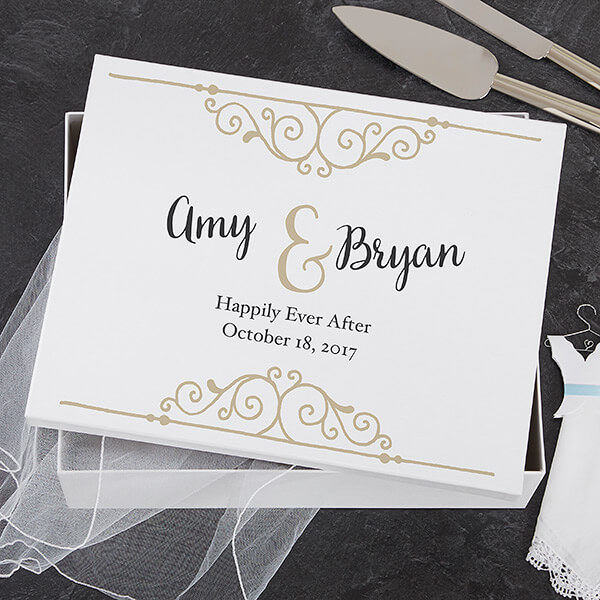 Other wedding accessories worth preserving include wedding flowers from the bride's bouquet or the groom's boutonniere, or the vows you spoke written down on paper. Some couples also save the cork from the first champagne bottle they enjoyed as husband and wife. The bride and groom should each contribute one item that they wore or had with them on the day. For the bride, this can be the handkerchief or garter; for the groom, it can be the tie bar or cuff links.
If you'd like you can include souvenirs from your honeymoon here too, or create a separate memory box just for those mementos.
Newborn Baby Memory Box Ideas
For a newborn baby, there are tons of precious things you can store in a memory box. Many parents like to create shadow boxes so that the items can be displayed in a frame, but this means that what you put in the box has a limit. With a bigger box, you can include the baby's first blanket, first outfit, first toys and much more.
Feel free to start off your baby memory box with any items you collected prior to baby's birth, like baby's ultrasound photos, baby shower mementos, baby reveal souvenirs, etc. Next, move on to baby's birth to include baby's hospital tag, first cap, mittens, booties, socks, first pacifier, and anything else you hold near and dear. You can also include the newspaper from the day the baby was born or baby's first book.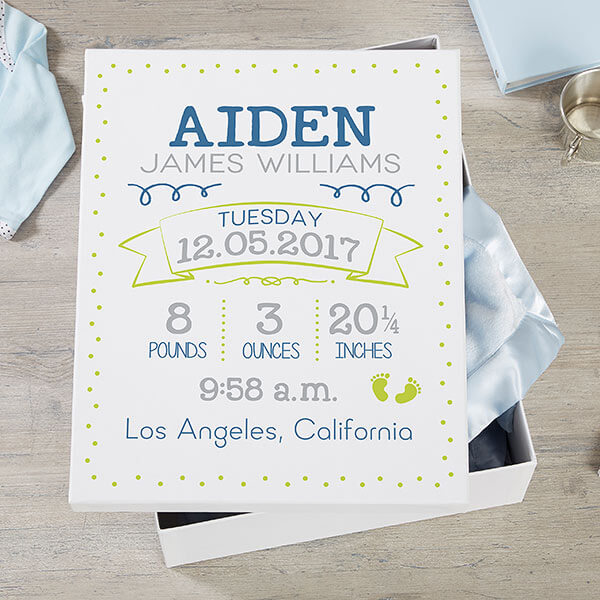 Other fun items to preserve in your baby memory box include the baby's birth hand print and foot print, birth announcement, newborn photos (the photo of baby on the hospital scale is a classic) along with any congratulation cards you received from close friends and family. Once you have the important things, get creative and include fun items that you want your sweet baby to have one day.
Kids' School, Camp, Vacation & More Memory Box Ideas
Kids' memory boxes can be a lot of fun. You can use them to store keepsakes from an entire school year, a special vacation, summer camp or another memorable time in the child's life. What the kids will decide to store in their memory boxes can be up to them, but you can guide them on which items are worth preserving.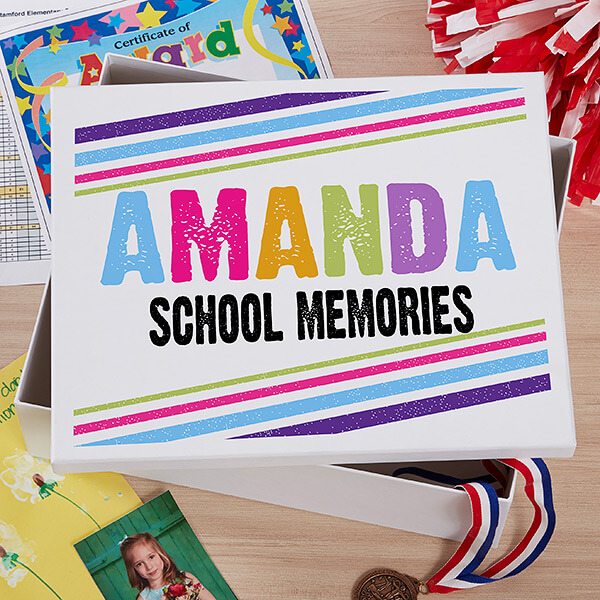 The keepsakes can include photos, awards, medals or certificates of accomplishment, report cards and special notes and letters from friends and family. You can include some of their drawings, art projects or things they made and anything handwritten. You can even include some of their favorite small toys and accessories, like a favorite hat they've outgrown or hair accessories. If the keepsake box is from a vacation or trip, include postcards or souvenirs from the places they visited and random things they've found or collected, like seashells, rocks, leaves, etc.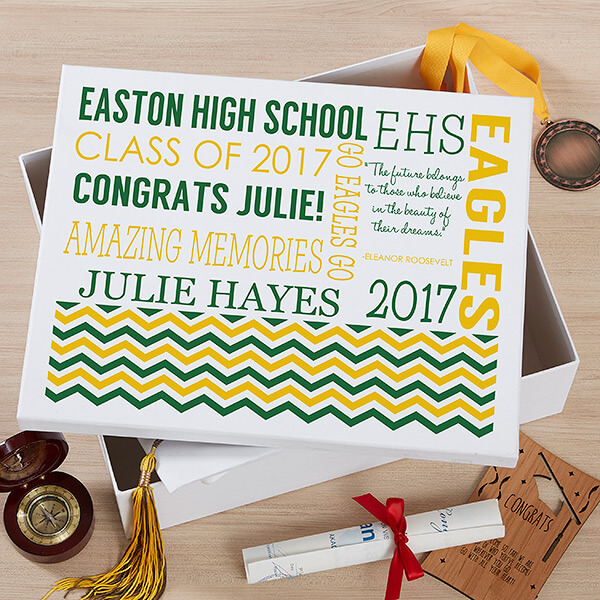 Letting the kids decide on what to put in their memory boxes is a good idea because it will help them think about what's important and what they want to remember. Once they add in their keepsakes you can figure out what else to add to the memory box before placing it in storage. It's also a fun idea to decide when this memory box will be opened in the future; you can set aside a special birthday or a specific day in time.
Baptism, First Communion & Confirmation Memory Box Ideas
A child's Christening, First Communion and Confirmation are important occasions that deserve to be remembered. Memory boxes provide the perfect way to save special keepsakes and souvenirs for kids.
A baptism memory box can contain the baptism clothes, bib, hat and shoes that the child wore to receive the sacrament along with baby's blanket and any other accessories. You can store the candle that was lit during the ceremony and any other mementos from the service. You can also preserve items from the party or celebrations that followed, like the invitations, the cards the baby received, the favors that were given to guests, etc.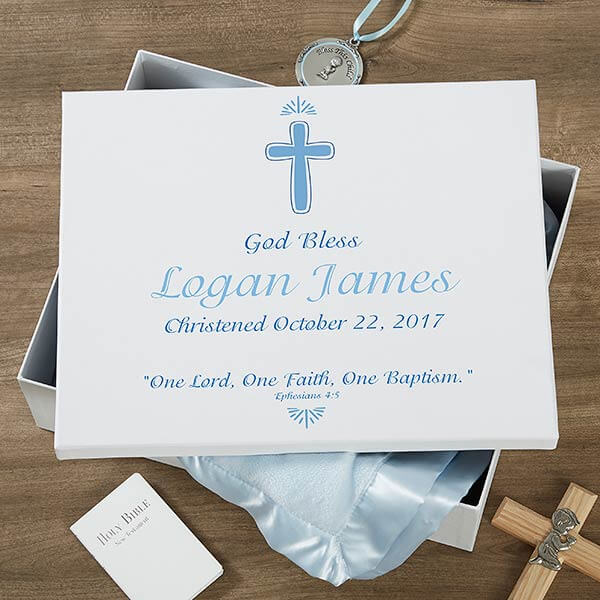 First Communion and Confirmation are also important events in the child's spiritual life to preserve. Save the child's first rosary, first holy bible or cross so that they have them forever. First communion and confirmation clothes and accessories, or at least the child's veil, flower wreath or tie are things that you can easily store. Photos, invitations, cards and any other memorable items from the important day can be saved as well.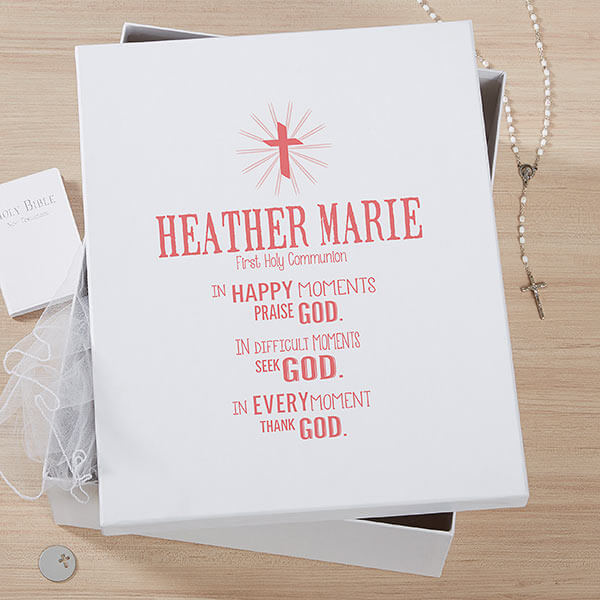 Memorial Memory Box Ideas
When a loved one passes, it's important to keep their memory alive and one great way to do that is with a memory box. In addition to photos and letters you can keep some of their favorite or most used items, like grandmother's favorite earrings or grandfather's smoking pipe he used daily. If they were frequent travelers, save their passport with stamps to all of the places they visited. If they were avid sports or music fans, keep some of their ticket stubs from memorable events. If they were artistic, keep some of their art projects or crafts.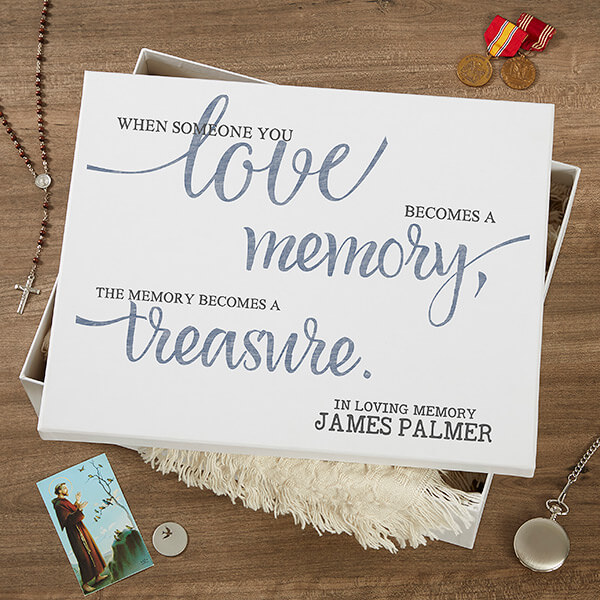 No matter what you decide to store in your memory box it will be worth the effort. Memories are important to preserve, especially for once in a lifetime events like a wedding, the birth of a baby, and the child's important religious sacraments, like Baptism, First Communion and Confirmation. Memory boxes are also a wonderful way to remember our loved ones and keep them forever in our hearts.