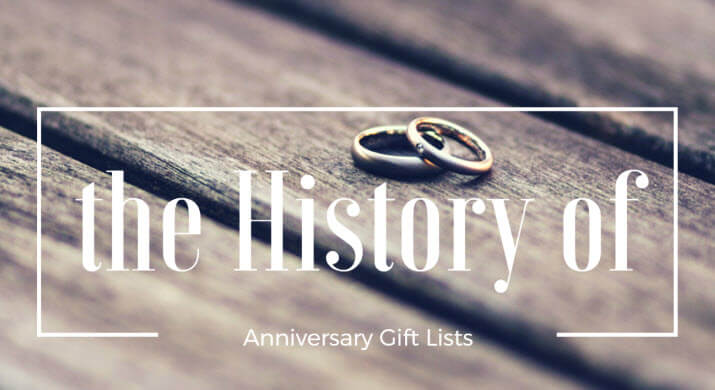 27 Jun

The History Of Traditional & Modern Anniversary Gifts By Year

How did the traditional and modern wedding anniversary gift lists originate? Learn about the history and where to find creative and unique ways to follow the tradition.

If you have celebrated a wedding anniversary or shopped for an anniversary gift for another couple, you have probably heard about the traditional and modern anniversary gift lists. These lists tie a symbol, material or theme with each anniversary year. For example, paper and clocks for the first year anniversary, cotton and china for the second year, leather and crystal for the third year, and so on.

However, the tradition of giving themed wedding anniversary gifts by year dates all the way back to the Middle Ages. Some scholars believe that the symbols were chosen to bring good luck and good fortune to the married couple. Others have concluded that the specific materials correspond to the strengthening of the marriage and the investment that the couple has made in their relationship with each gift gradually increasing in both substance and value.

Here's what we do know about anniversary gifts by year and how the tradition started.
A Short History Of Anniversary Gifts By Year
During the medieval times of Central Europe husbands would crown their wives with a wreath of silver or a wreath of gold on their 25th and 50th wedding anniversaries. And still today, the 25th anniversary is known as the "silver anniversary," while the 50th anniversary is often referred to as the "golden anniversary."
"The practice of observing the wedding anniversary, while primarily an excuse for gift-giving, probably has underlying it a belief in the correspondence of certain luck-bringing substances with a distinct number of years." ~ Funk & Wagnalls Standard Dictionary of Folklore, Mythology, and Legend.
The tradition of symbolic anniversary gifts for each year of marriage really started to take off and become popular during the Victorian times. Although no one is sure how the traditional symbolic gifts were chosen, many can be traced back to the Victorian era.
For example, the traditional gift of wood, celebrated on the fifth anniversary, can be traced back to 1875. While the 60th diamond anniversary came into custom when Queen Victoria celebrated her 60-year reign with a Diamond Jubilee in 1897. Before that the 75th anniversary was the diamond anniversary.
By the 20th century, it was common for couples to celebrate their milestone anniversaries with themed anniversary gifts. And the tradition continues today with traditional and modern anniversary gifts for each year of marriage.
Traditional vs. Modern Anniversary Gifts
Today's traditional wedding anniversary gift list is largely based on Emily Post's list published in 1922 in her her Blue Book of Social Usage. In her book, Post listed eight wedding anniversaries that everyone must know because they were so widely acknowledged. These milestone anniversaries included 1st, 5th, 10th, 15th, 20th, 25th, 50th and 75th anniversaries. Post also listed symbolic anniversary gifts for the first fifteen years and for every five years after that.
In 1937 the American National Retail Jewelers Association expanded and updated many of the traditional gift suggestions with more modern versions. The modern list included gift suggestions for years one through twenty and then one for every five years after that.
As you might have noticed, the modern list included many more practical symbolic gifts, such as clocks, silverware, appliances and desk sets.
During this time additional gift suggestions were decided on by society and the trend of giving spouses and other married couples symbolic gifts for each anniversary continued.
Today, you'll also find lists with wedding anniversary colors, flowers, jewelry and gemstones to help guide your gift decisions and plan anniversary celebrations. Learn more about anniversary colors, flowers and jewelry choices for each year.
Should You Follow The Gift Lists?
Although the symbolic anniversary gifts are widely known, you're not obligated to follow them. There are many ways to celebrate with your spouse or offer a thoughtful and meaningful gifts to your parents, grandparents or another couple that doesn't follow the gift lists.
But if you do like the idea of following tradition, there are many creative, unique and inventive ways to incorporate the symbolic gifts from these age old lists in your gifts.
Check out our Anniversary Gift Ideas for Every Year to learn about all of the symbols attached to each anniversary year, including gift suggestions for her, for him and for couples.