Make sure they remember your Christmas cards for years to come with our fun, cute and clever Christmas card photo ideas.
Last year we shared some Cute & Clever Christmas Card Photo Ideas with you to help inspire your family's Christmas card photo.
Because we received such a great response from our readers after last year's post, we thought this would be the perfect time to share some more Christmas card photo inspiration. And since our Christmas Card Sale is going on now, you can find just the right card to go with your cute and clever family photos!
Fun And Funny Family Photo Ideas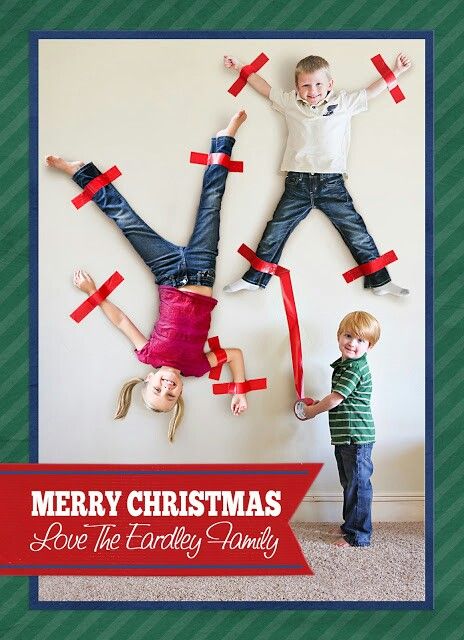 Some of our favorite photo ideas have a funny theme behind them, such as this cute photo of the kids goofing around with tape. We love the idea of playing up the fact that the holiday season can turn into a crazy and busy time for everyone. Your family and friends will be able to relate and will love your sense of humor.
Your family's Christmas cards will be sure to get a smile and even a laugh out of everyone!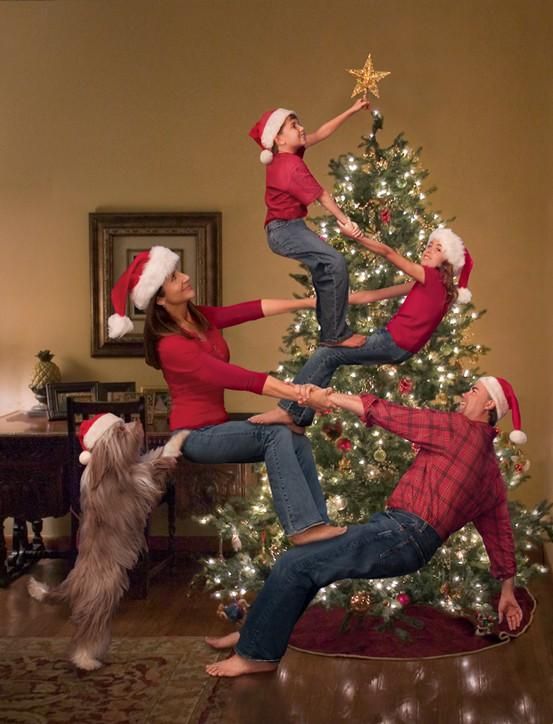 It's the fun photos like the kids with duct tape and the photo of the acrobatic family (both of which we found on Pinterest), that really help spread Christmas cheer. They're eye-catching and are sure to stand out from the dozens of stock holiday cards that your family and friends will be receiving from other people this year.
Have fun and get creative with photos — and don't be afraid to include the whole family and pets — it doesn't have to just be the kids!
Cute And Adorable Family Photo Ideas
If you'd rather go for a cute Christmas photo instead of a funny one, don't worry, we have some ideas for you, too. The photo of the siblings blowing snow together is adorable and makes a beautiful Christmas card photo.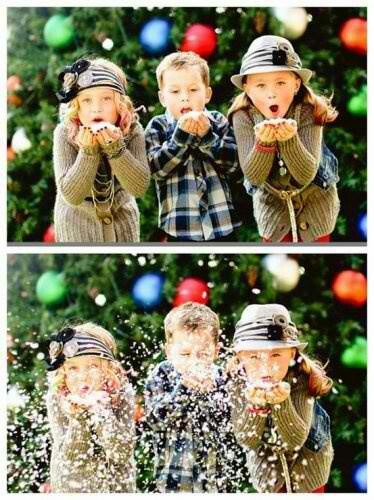 It's a cute, cheap and easy photo to coordinate and execute and the kids will have fun taking the photos, as well. You could try using real snow once it arrives, but we have a feeling that the photo would turn out much better if you use a fake, glittery snow substitute that you can find at any store that sells Christmas decorations. It may require a little clean up afterward but it will totally be worth it!
Once you've taken the photos and picked out your favorites, head over to our Personalized Christmas Card Store and check out all the great designs available in our Photo Cards department. With our wide selection of unique designs and fun holiday themes you'll be able to find the perfect card to match your family photo. You'll be able to upload your photo(s) and customize your card to your liking in just a few quick and easy steps.
Once you've finished your family's Christmas card, don't forget to preview it before you purchase. You get to see how it will look before you order it, so you can still go back and make any changes you'd like before placing the order.
In addition to personalizing your Christmas Cards, you can also personalize a set of Return Address Labels that match your card design. Or check out our Personalized Self-Inking Return Address Stampers — they'll save you plenty of time and money when addressing your cards.
If you like the photo examples we found and included in this post, be sure to check out our Christmas Card Ideas Board on Pinterest, where we've been non-stop pinning every cute and clever photo idea we see!
If you have a clever family Christmas photo idea that you'd like to share with us and our fans, let us know! We can't wait to hear what you think of these fun photos!