Today marks a historic day for Chicago Cubs fans as thousands of people [editor note: make that 5 million people, as we found out later, making it one of the largest crowds ever recorded!] are celebrating the 2016 World Series Champions in a parade to honor the winning team. Huge crowds have gathered to march from Wrigley Field to Grant Park to celebrate with the World Series champions, Chicago Cubs.
It's a parade that Chicago Cubs fans have waited for 108 years. The team clenched the title on Thursday, November 3rd after an epic game that began on Wednesday night in Cleveland, Ohio. The 8-7 victory over Cleveland's Indians in Game 7 finally ended the Cubs' 108-year World Series title drought, much to the amazement and utter delight of loyal Cubs fans.
If you're a Chicago Cubs fan still pinching yourself with disbelief that the century long wait is finally over, celebrate this momentous event with a little piece of Cubs history—personalized, of course.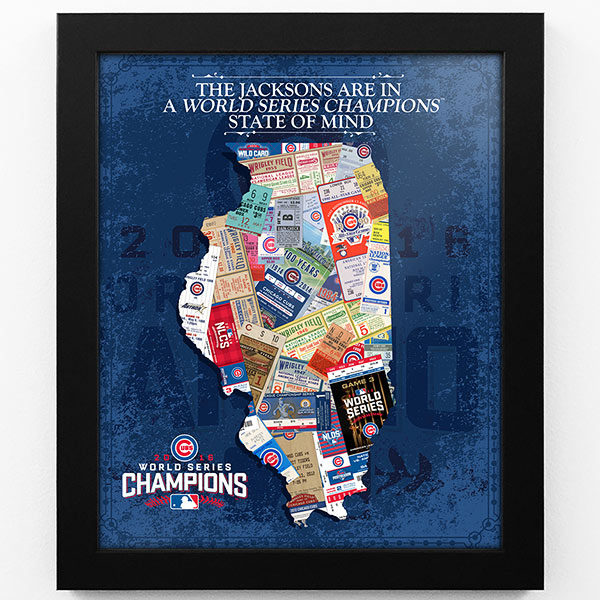 The newest addition to our store is a beautiful Chicago Cubs World Champions print that features a collage of historic Chicago Cubs ticket stubs in the shape of the state of Illinois on a rich, cobalt blue textured background. The top of the print can be personalized with any first name, family name or multiple names (up to 25 characters) above the phrase "in a Word Series Champions State of Mind." The bottom left of the print prominently displays the 2016 World Series Champions and Chicago Cubs logos. This one-of-a-kind, quality print comes in a black frame with a glass front and is officially licensed by the MLB.
Whether you're buying it as a gift for the diehard Cubs fans in your life, or personalizing it for your own wall, this Chicago Cubs World Champions Personalized Framed Art Print will surely commemorate this momentous event in Chicago's sports history for many years.