14 Jun

Bachelorette Party Ideas: How To Make Her Last Night Out Her Best Night Out

Now that it's wedding season, all of you maids-of-honor and bridesmaids should get started on planning your bride's bachelorette party. We know you want to make sure that your friend or sister has the best, last night out as a single girl – that's why we're here to help with some fun ways to personalize her bachelorette party, making her last night out, her best night out … ever!

No party is complete without a fun dessert, which is why we had to share this photo of high heels cookies that we found on Pinterest! Aren't they fun!? We love how each cookie has it's own colorful design. But you don't need to go to that extreme if you plan on making a cute, girly-themed dessert for your party.

You can save time and money by decorating each of the high heels in the same color and style or you can create other styles of cookies, such as lipstick bottles, lingerie, martini glasses, etc. that fit the girly theme just as well as the cute pumps, too!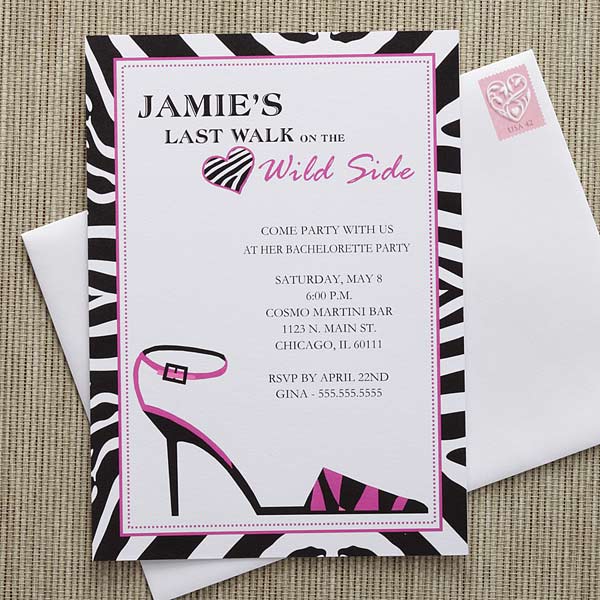 If you like the high heels cookies as much as we do, you'll love PMall's Wild Side Personalized Bachelorette Party Invitations! The invitations feature a fun & flirty zebra-striped shoe design that will get all of the girls excited and pumped out for the night of fun! They are sold in sets of 24 and can be custom personalized with all of your party info – you barely have to lift a finger (except for typing 🙂 )! Once you get the invitations personalized and sent out you'll be ready for the next step – bachelorette party games!
There are a ton of bachelorette party games out there that people like to use, but our favorite has to be the bachelorette party truth or dare!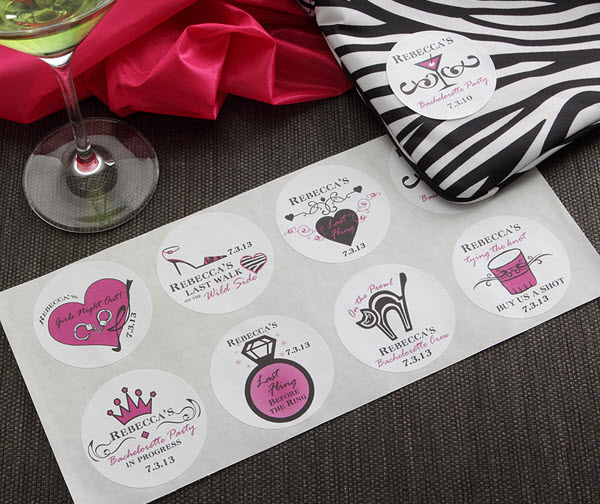 We like to make our own Truth or Dare topics because the game will be much more fun when you tailor it to the taste and personalities of the bride and her guests. Plus, when you personalize your own truth or dare questions, you can make sure that they'll fit with all of your party plans, such as location, time, and the activiities you have planned for the night.
All you have to do is write down 10-20 (or more depending on how many guests will be attending the party) dares and truth questions and put each of them in envelopes that are labeled so you'll know which one to hand out when the time comes. Make sure to seal the envelopes with the Bachelorette Personalized Party Stickers so no one can peek! These fun stickers help add a personal touch to the game that the bride will really appreciate. She may have been to several bachelorette parties where they've plaid a similar game, but when she sees her name on the cute stickers she'll be truly touched that you spent the extra time and effort to make it special. Have each girl continue to pick a card and answer a truth question, such as, "Who was the first boy you kissed?" or complete a dare, such as "Dance with the first guy you see at the bar!" Once they have successfully completed their task, hand them a sticker to wear for the rest of the night! It'll show that they're part of the fun party and that they've already participated in the fun!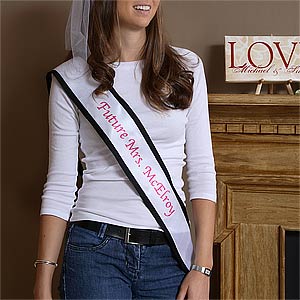 Everyone will notice when your group of girls enters the room once you're all wearing the fun, pink stickers, but don't forget to make the bride stand out! Personalize the Bachelorette Bash Satin Sash to say "Bachelorette (her name here)," "Future Mrs. (groom's last name here)" or anything you'd like! You can have it personalized in one of 10 colors – we think pink or purple look great, but you can also select a color that matches her wedding colors for that extra special touch! Make sure the bride keeps her sash on the whole night, that way everyone around you will know to congratulate her throughout the night – and she may even get a free drink or two out of it!
It's adding little personal touches like these that will make her last night out, one of the best of her life. She'll know that you spent the extra time to make it special for her and she'll never forget it!
So head on over to PMall.com now to get started on planning and have a great night out with the girls!