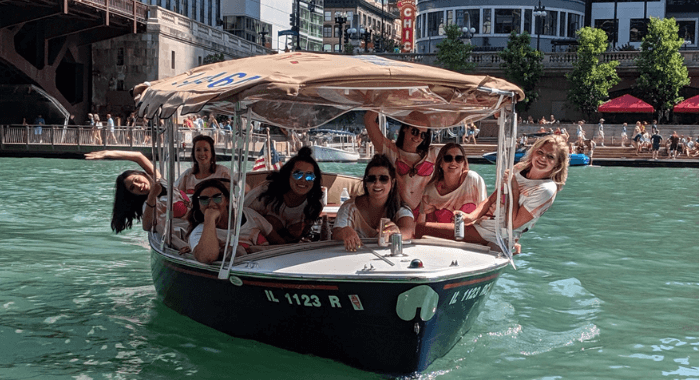 28 Jun

How To Plan An Unforgettable Bachelorette Party

Here's everything you need to know to plan the perfect, unforgettable bachelorette party for the bride-to-be. Learn how to find the right party theme, location, games and activities, food and drinks, party favors and more.

Hi! My name is Jocelyn and I am a graphic designer at Personalization Mall. I am also a type-A person by nature. I love combining my creativity and organizational skills to plan events and parties for the people I love the most. Right now, I am busy planning my sister's bachelorette party in Chicago, IL. This is the fourth bachelorette party I have had my hand in planning. It's going to be so much fun, but I know not everyone enjoys the planning process as much as I do.

Is your favorite girl getting married and you don't know where to start? No need to stress. With lots of preparation and attention to detail, I can help you plan the most epic bachelorette party!
The Bride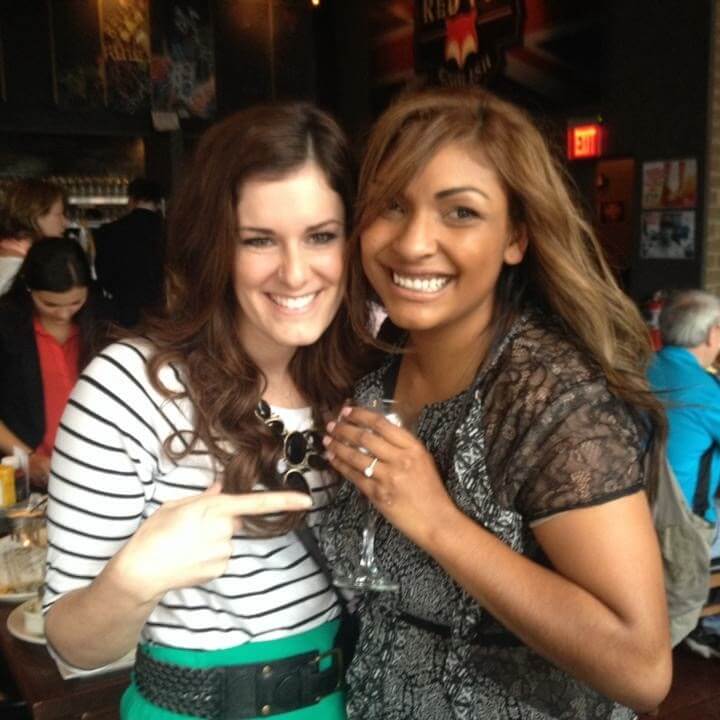 The key to any successful bachelorette party is to plan something that really fits the Bride's style. Some girls want a wild soiree, while others are more low-key and just want a chance to relax with their best friends.
Each Bride has a unique idea of a good time, so the first step is to have a conversation with her. You don't have to talk specifics if you want it to be a surprise, just make sure you're on the same page. Now that you have all this information, it's time to start planning!
The Guest List
Bachelorette parties are an amazing opportunity to get all the bride's favorite people together to have fun! You might not know everyone from every stage of the bride's life, so ask her to help with the guest list.
Make sure to think about who's attending when choosing the theme and location. You'll want to make sure that everyone feels comfortable and included. Also remember that people have crazy schedules, so try and give your guests lots of notice, especially if you are traveling or planning a whole weekend of events. You will also need to have a head count well in advance to book any reservations, classes or housing arrangements.
The Budget
Money is always an awkward topic to talk about, so clear communication is key when planning a bachelorette party. Everybody will be in different financial situations, so make sure to have a rough quote on the total cost when sending out invitations.
If there are concerns about the costs getting out of hand, consider scaling back activities or keeping the party closer to home. If you are planning a multiple day event, you can also offer the guests the option of only attending a few activities to cut costs.
Be careful to avoid any conversations about money around the bride. She will be enjoying her party and should never feel guilty about the cost.
The Theme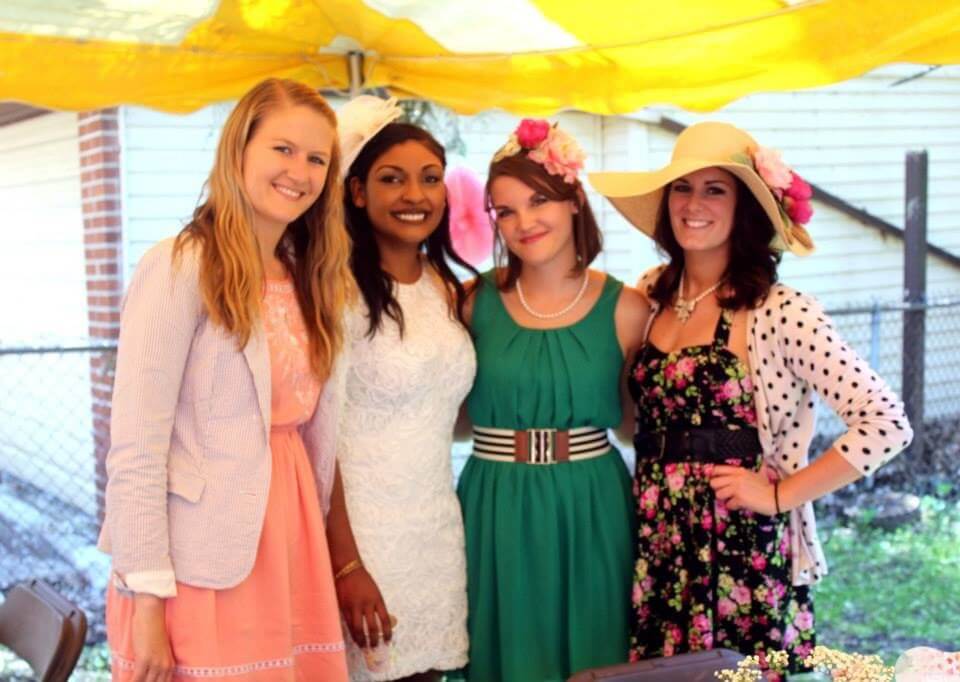 A unique theme is key to creating the perfect bachelorette party, and really sets the tone for the rest of the details. Again, this party is all about the bride and the theme should reflect her personality as well. Here are some of the bachelorette party themes that I am really loving lately.
Beachy: Since many weddings take place in the summer or fall, going for an ocean or lakeside vibe is the perfect festive tone to set for a bachelorette party. You could take this theme many different directions – vintage deco, nautical, or tropical. This theme is also great for a destination bachelorette party.
Boho: Good vibes only, perfect for the chill, earthy bride-to-be. Think floral crowns, muted colors, and gold accents for your bride and her tribe.
Feminine: Classic bachelorette colors with a touch of elegance – pink, white, black and gold – this theme never goes out of style. I especially love incorporating fun patterns like stripes and polka dots. This theme pairs especially well with a bottle of pink bubbly.
Fiesta: If the bride is a fan of Mexican food and tequila, why not make it the center of the party? You can decorate with bright, festive colors, cacti, and pinatas. This theme is another great option for a warm weather location.
The Location
The location will depend on the size of the party, your budget, the theme, and what activities you want to participate in during the event. Check to make sure that this location is available to fit in as many people's schedules as possible.
Also make sure the bachelorette party doesn't fall too close to the wedding, so the bride can get some beauty sleep before her big day.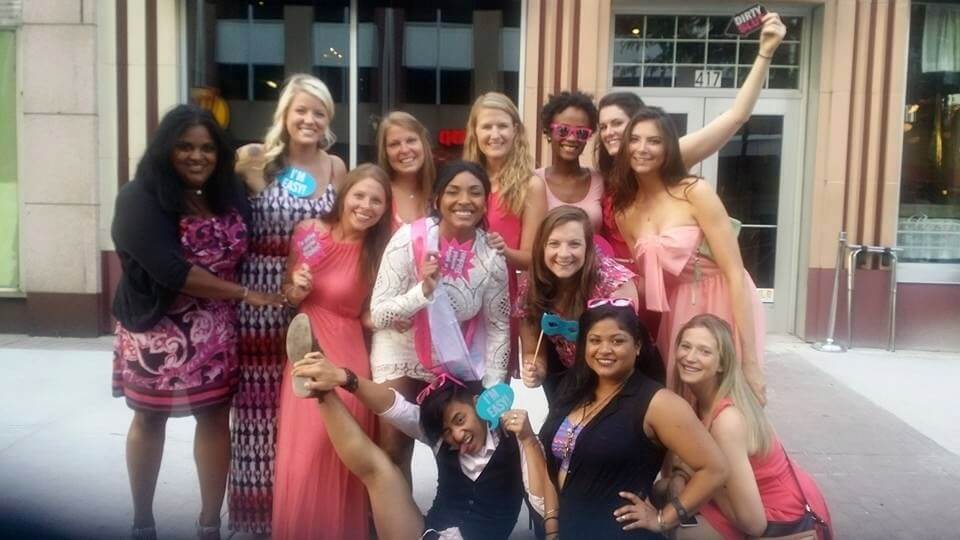 The Activities
Whatever activities you decide on for the bachelorette party, make sure they suit the Bride's style. As fun as a bar crawl is, it is also fun to try something memorable and unique! Remember that not everyone will always know each other beforehand and it might be nice to break the ice at the beginning of the party with something easy and light.
Here are a few ideas of some bachelorette party activities that I thought could be fun.
Games: Get to know the other ladies by participating in a scavenger hunt, bridal jeopardy, groom trivia, and more! Feel free to search around the internet for inspiration too!
Experiences: Try something new! Wine tasting, renting a boat for the day, attending a concert, seeing a comedy show, or booking a city tour are all great group activities.
Classes: Learning a new skill really brings people together and is so much fun! Sign your guests up for classes to learn how to dance, paint, or cook. You could also try a workout class or a make-your-own ceramics studio.
Low-Key: Wild and crazy not your bride's style? Spa treatments, a day at the beach, a relaxing pool day, a yoga class, or a movie marathon are some great ways to kick back and relax.
Make sure to give the itinerary to all your guests in advance so they can bring appropriate clothing options. Even if you want to surprise the bride, make sure she is prepared with the necessary essentials for the party. A sash, tiara, or veil for the bride is another touch to make her feel extra special.
Additionally, consider scheduling free time in your itinerary. Especially when planning a weekend of festivities, make sure that you don't pack your schedule too tightly. The more people in the party, the more difficult it will be to wrangle everyone to move on to the next activity.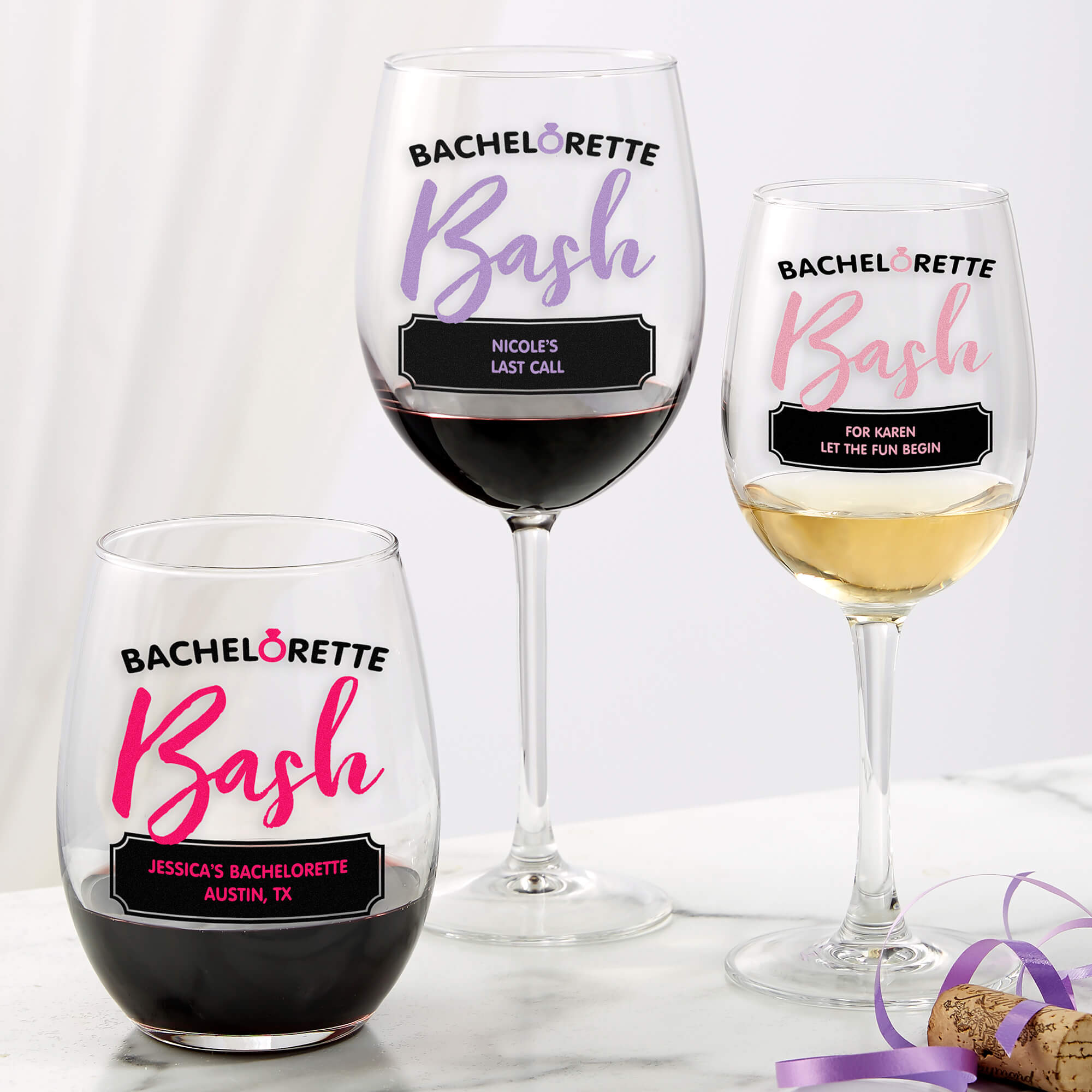 The Food & Drinks
Your choice of food and drinks will depend on the itinerary of your party. Usually, we think of bachelorette parties going hand in hand with lots of alcohol. If the bride likes to get boozy, consider making a large batch of something festive so guests don't have to worry about mixing their own drinks. Also, jelly shots are a fun and colorful way to get the party started. A new favorite of mine, especially for outdoor activities, are canned sparkling hard seltzers.
Don't forget that you should have some type of food selection if alcohol is being served. You don't want anyone over-indulging because they have an empty stomach. If you're not confident in the kitchen, there's no shame in buying pre-made trays from the store or getting food catered. I've put together a few of my favorite food go-to's depending on the time of the day your event takes place.
Snacks: These are a great way to keep everyone from getting too tipsy or hangry. Light fare like fruit and veggie trays, charcuterie boards, chips and dips, etc. are easy to eat while socializing. Also, sweet treats like cookies, cupcakes or chocolate covered strawberries are always welcome at parties.
Breakfast: If you're planning a weekend getaway or just want to get the festivities started early, providing breakfast for your guests is important. Easy buffet-style ideas like a bagel bar and build-your-own yogurt parfaits can look impressive without a lot of effort. Also, fancy donuts or muffins can be great grab-and-go options. Bonus points for offering mimosas or bloody Mary's!
Lunch: For a mid-day meal on the go, pack a cooler of pre-made sandwiches. You can even buy a party tray from restaurant or supermarket deli. I usually like to include some sides like chips or a cold salad to go along with this. You could also grill up burgers and hot dogs, or order takeout from your favorite spot.
Dinner: A meal out on the town is a great way to ease in to the night. Be sure you call the restaurant ahead of time and make reservations to accommodate your group. Some places may do group pricing or packages, which could save time and money. If staying in is more your style, ordering pizza is always a good choice. A build-your-own taco bar is another great option when keeping dinner casual.
When planning your menu, it's also nice to ask the bride what some of her favorites are. Consider including a personal touch such as a bottle of her favorite wine, a nostalgic snack you used to eat together, her Mom's cookie recipe, or dinner out at her favorite restaurant.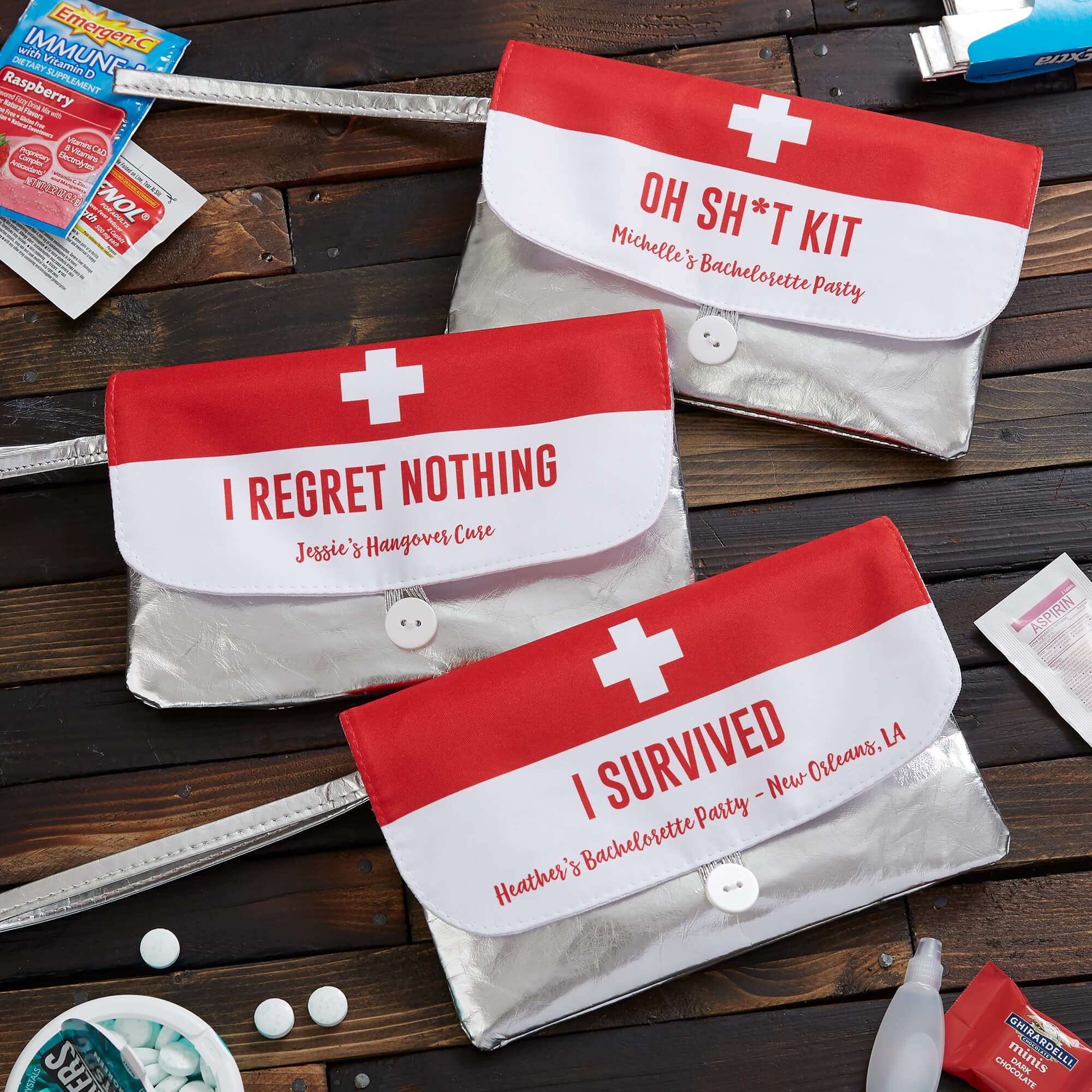 The Favors
It's always considerate to give out a little something special to your guests to thank them for attending your event. There's a few routes you can take when thinking of bachelorette party favors.
One idea is to give out welcome bags with the essentials for the weekend. Ideas of items for a welcome bag include t-shirts, Ring Pops, temporary tattoos, mini bottles of liquor/wine/champagne, bottle openers, cozies, flasks, personalized wine glasses, etc.
Have a big night of drinking planned? Give your attendees a Hangover Recovery Kit to use the next morning. Some fun hangover recovery kit ideas include eye de-puffing patches, hair ties, make-up removing wipes, mints/gum, pain reliver, Emergen-C, mini water bottles/sports drinks and snacks.
Want your guests to feel pampered after a long weekend of celebrating? Give them a spa kit as a parting gift. Some spa kit ideas include DIY sugar scrub, bath bomb, nail polish, lip balm, chocolate, candle, slippers, pillow spray.
Also, don't forget to leave the bride with something extra special to remember this celebration of her pending nuptials. Something tangible like a guestbook, advice notes, or a framed photo of the group are all great ways to commemorate the occasion. Bonus points if you can think of a fun or creative hashtag to use on social media so the bride can re-live her perfect party while scrolling through photos.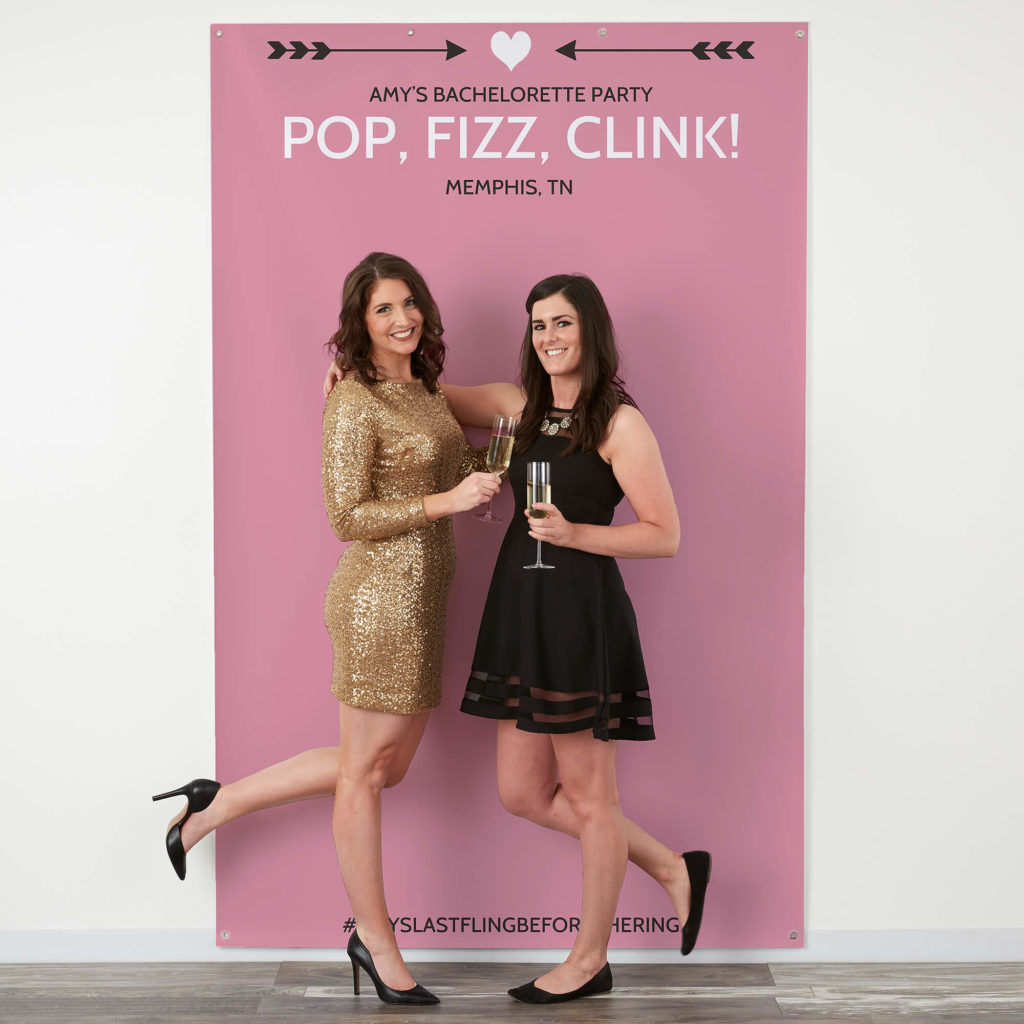 Remember: The Bachelorette Party Is All About The Bride
I know I've said it over and over, but remember, the bride is the most important part of the event. The purpose of the bachelorette party is to have a blast, bond with the other girls, and make the bride feel super special and loved. Try not to let any drama, stress or shenanigans get in the way of that.
If planning really isn't your strong suit, reach out to other guests and ask for some help. Make sure to keep all lines of communication clear from start to finish. And most importantly, try to have fun with the planning process!