A rustic-inspired theme for a bridal shower is a wonderful way to bring a relaxed, homey, country feel to your celebration. It can also be achieved on a budget with lots of creative do-it-yourself (DIY) projects and decorations inspired by nature.
Rustic bridal shower decor means lots of natural wood accents, tin buckets for flowers instead of vases, burlap instead of satin, twine instead of ribbons, mason jars instead of fancy wine or cocktail glasses, and anything with a home-made, farm or country feel.
If you're planning a rustic bridal shower, take a look at some of these custom-made and DIY decorating ideas and inspiration for your special event. Whatever your budget may be, you'll find plenty of options for party favors, invitations, bridal shower games and decor that will help you pull everything together.
Rustic Bridal Shower Invitations
These days you have plenty of options when it comes to custom party invitations. Rustic themed invitations will typically come in a brown or beige color with a wooden or burlap background. Some designs might also incorporate flowers, mason jars or lace. Our simple rustic design has a weathered wood background with white lettering and elegant leaf-like scrolls.
If you're going the DIY route, search for free invitation printables that have the look and feel that will coordinate with your party. Here are some beautiful options from Wedding Chicks that are available for free.
Rustic Bridal Shower Party Signs & Banners
Party signs and banners offer an easy way to decorate and direct guests to where they need to go. A weathered wood textured background or actual wood material is one popular option, as is burlap for a hanging banner, however chalkboards work just as well and fit perfectly within the theme.

Choosing to create your own signs and banners will add a charming home-made touch to your event. You can easily purchase a ready-made piece of wood or chalkboard and then simply add the text you desire. A DIY burlap banner might take a bit more effort and creativity, but it can also be done fairly easily with just a few, simple materials. Here's a great DIY tutorial on how to make a burlap banner from Rustic Wedding Chic.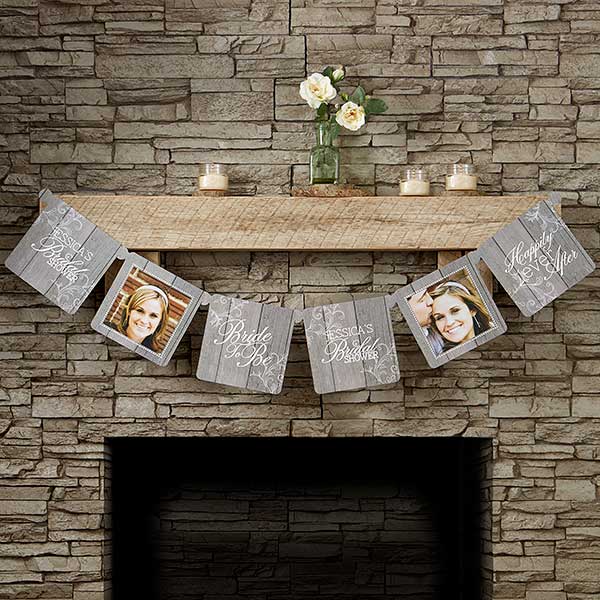 If you're looking for something custom-made, you can opt for our rustic bridal photo banner (pictured above), or a large heavy-duty vinyl banner that's great for indoor or outdoor use. We also have wood plank signs and rustic garden stakes that can be personalized with any text you choose.
Rustic Party Accents
You can easily create your own rustic party accents and decorations with ordinary things and items that are available at most craft stores. Use burlap from the fabric store along with a thick lace ribbon to create a table runner, which will work any type of table. Serve drinks in mason jars instead of glasses and display sweets in wooden crates instead of cake stands.

Browse sites like Pinterest to find easy DIY ideas for adding small decorative accents to your party that have that rustic, farmhouse look you're going for.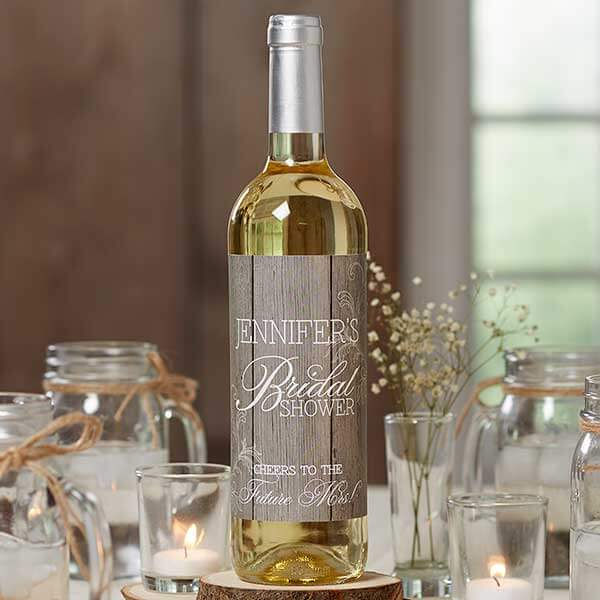 Of course, you also have custom party accents you can customize to make your event stand out. Customize mason jar glasses for the bride to be and her bridal party as a special souvenir from the event, or personalize wine bottle labels or water bottle labels to place on every table.
Bridal Shower Games With A Rustic Feel
During any bridal shower party, it's great to keep guests engaged and entertained. One way to do that is with games and activities where everyone can participate. Ask guests to share their favorite recipes or advice for a happy marriage with the bride and groom to be, or have them write down their best date ideas for the future Mr. & Mrs. To create that rustic feel, use wooden popsicle sticks or wood heart cutouts you can get from a craft store.

You can also get custom bridal shower scratch off games for each guest or invite guests to play bridal shower bingo on personalized bingo cards — all with a rustic look.
There are plenty of great bridal shower games that can easily fit a rustic bridal shower theme. Here's a list of over 20 bridal shower games from The Knot that explains how to play the game and what you need to prepare for it.
Rustic Party Favors
Adding a rustic feel to your party favors will help you tie everything together, leaving your guests with a memorable souvenir from the event. If you're going the DIY route, you have tons of great options. Fill a mason jar with popcorn or candy, or your own hot chocolate mix or another recipe that fits in a jar. Tiny plants or succulents are another easy option that will look stunning as a display. And you can't go wrong with a jar of fruit jam or preserves, especially if it's homemade!

There are also lots of beautiful custom party favors that you can purchase to tie in to your rustic party decor. Our favorite option includes these rustic drink coasters that can be personalized with names and an optional date. You can also just buy custom gift tags or stickers to put on your DIY party favors, or order ready-made candy bar wrappers.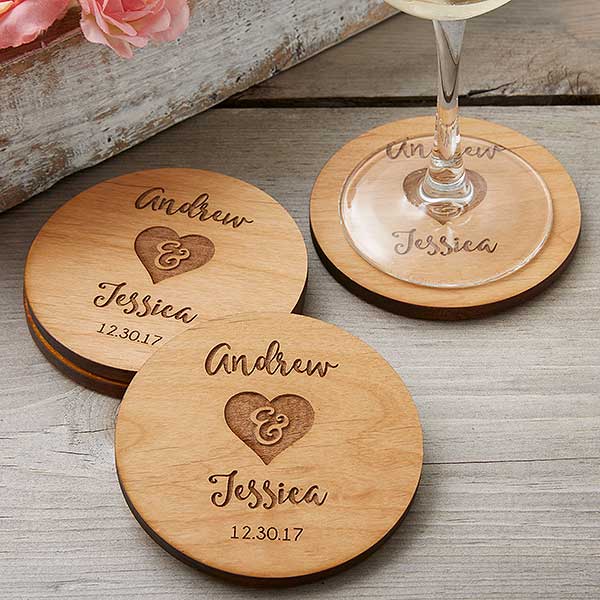 A rustic bridal shower theme is perfect for brides that love nature and who are drawn to a natural, farmhouse look. Finding country and rustic-inspired party decorations and DIY ideas is easy with so many great options and handy DIY tutorials available out there. There are entire sites dedicated to nothing but rustic weddings and party ideas. If you're going for the rustic style, you and your guests won't be disappointed.