This month is Breast Cancer Awareness Month and Personalization Mall has joined the fight to find a cure! We will donate 20% of the purchase price of all our Breast Cancer Awareness gifts to BreastCancer.org to aid in the fight against breast cancer.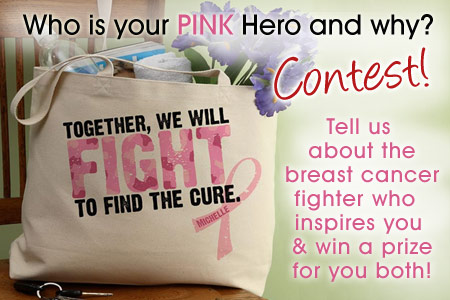 As you can see by looking through the selection of gifts, a lot of our "Pink" products encourage common themes of strength, determination, optimism, support and bravery – all of which are essential in the fight against breast cancer.
Only one word comes to mind when we see all of those attributes together: Hero. And that's exactly what every person who is fighting breast cancer is – our hero! One of the greatest things a hero can do is to inspire other people, and that's what we're looking for with our Pink Hero contest.
Pink Hero Contest
We want to hear all about the Pink Hero in your life! Tell us about the breast cancer fighter who inspires you and you could win a prize for you both!
To enter, please send an email to Social@pmall.com with the subject line "My Pink Hero" describing who your Pink Hero is and why they inspire you. Make sure you include your and your Pink Hero's full name and your email address so we know where to contact you if you are the winner.
The winner of the most inspiring story will be awarded two Fight To Find A Cure Personalized Canvas Totes, one for the winner and one for their Pink Hero!
All submissions must be in by midnight October 31st, 2011 and the winner will be announced here on November 1st.
Don't forget to check out all the Pink Ribbon products at Personalization Mall. We have several inspiring designs, such as the "I Will Never Give Up," "Fight To Find A Cure," and "Courage & Strength" themes that are featured on popular personalized gifts.
You can browse through and find picture frames, T-shirts, candles and more! The Courage & Strength Personalized Pink Mug is just one of several beautifully crafted coffee mugs that you can purchase to show your support of breast cancer awareness.
We can't wait to hear your inspiring stories! Good luck!