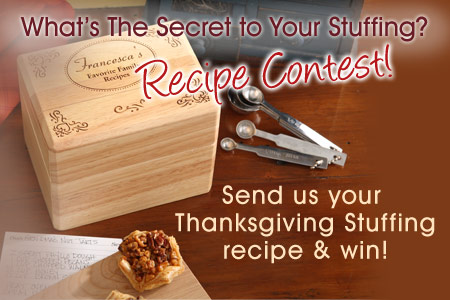 Thank you to everyone who submitted their delicious Thanksgiving Stuffing recipes to our "What's the Secret to Your Stuffing?" Contest. After drooling over all the entries, the A Personal Touch staff finally narrowed it down and found our favorite recipe!
The winner of the most original "What's the Secret to Your Stuffing?" contest recipe is Michele Lange with her Sage Sausage Stuffing!
Here is the winning recipe for your enjoyment:
Sage Sausage Stuffing Recipe
Ingredients:
1 lb sage breakfast sausage (Jimmy Dean's)
5 stalks chopped celery
2 medium onions, chopped
2 medium/large red delicious apples, diced
1 package Pepperidge Farm corn bread dressing crumbs
1 package Pepperidge Farm sage and onion dressing crumbs
2 – 32 oz boxes of chicken broth
1 stick of butter
3 eggs (beaten)
Directions:
Fry sage sausage. When medium done, add chopped celery, onion, diced apples (do not peel), and butter. Finish cooking until sausage and cooked through, about 10 more minutes. Add dressing crumbs to sausage mixture and mix thoroughly. Add one box of chicken broth and mix. Add eggs and mix well. Add half to 1 full box until desired wetness. Spray non-stick spray in 9 x 13 pan. Bake at 350 for 40 minutes covered and 10 more minutes uncovered. Serve with your Thanksgiving best!
This stuffing is fabulous because of the secret ingredient…sage sausage. It is also easy to make which is exactly what you want when you are cooking up a storm on Thanksgiving Day.
Thank you!
Michele Lange
We'd like to thank Michele and all of the A Personal Touch readers for sharing their secret ingredients with all of us … we can't wait for Thanksgiving to come around again so we can try them all ourselves!
We hope everyone had a lovely Thanksgiving and don't forget to keep checking in at PersonalizationMall.com for all your Holiday shopping needs. There will be great deals and sales on our beautiful and unique selection of personalized gifts throughout the rest of the Christmas shopping season!
Happy Gifting!