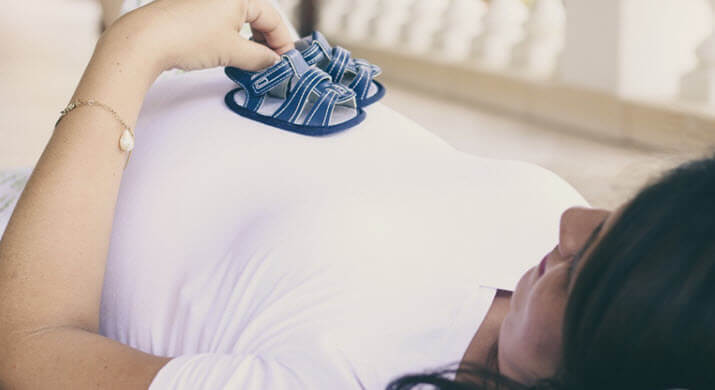 03 May

5 Thoughtful Mother's Day Gift Ideas For Expecting Moms

Surprise the Mommy-to-be with a loving gift that will make her Mother's Day relaxing, enjoyable and full of fond memories. Create thoughtful Mother's Day gift ideas for expecting moms to help them feel loved.

Pregnancy takes a big toll on moms. That's why this Mother's Day expecting moms should get all the love, kindness and pampering they deserve. Whether the expectant mom is anticipating her first bundle of joy or growing her happy family once more, she'll be thrilled to get attention and appreciation on Mother's Day.

So listen up partners and Dads: it's up to you to make this Mother's Day special for your expecting partner!
What Are The Best Mother's Day Gifts for Expectant Mothers?
Looking for tips to make her Mother's Day relaxing, fun and enjoyable? It doesn't take much to make her day more pleasant and relaxing.
Start by making sure she's able to get plenty of rest by letting her sleep in with no guilt. If she's getting to the point where sleep is uncomfortable, spring for a pregnancy pillow or a support wedge, like the Snoogle body pillow, that will give her some support for hips, back, neck and the growing tummy. Then surprise her with a healthy breakfast or brunch from her favorite restaurant or better yet – a breakfast in bed, complete with flowers and a card with a loving message.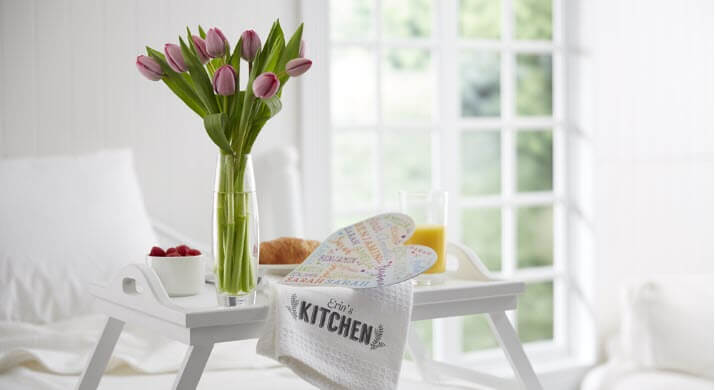 Carrying a developing child is uncomfortable and exhausting for most expecting moms, so find small ways to help her unwind and rejuvenate throughout the day. If the weather permits, help her get some fresh air, a bit of sunshine and some exercise, even if it's just a short stroll through the park or a picnic in your backyard. The fresh air and sunshine will instantly improve her mood and a bit of exercise can give her more energy to enjoy her Mother's Day.
Once you create a good start to her day, make Mother's Day even more memorable by honoring the Mom-to-be in a special and thoughtful way. You don't need to shower her in expensive gifts; make her feel special by being understanding, caring and considerate.
Here are 5 simple and thoughtful Mother's Day gifts for expecting moms.
1. Gifts That Pamper
Make the whole day just about her by finding the perfect Mother's Day gifts that will help her relax and feel pampered. One great option is a gift certificate for a prenatal massage, especially if she's been in chronic pain or discomfort. Another gift that she'll be able to use throughout her pregnancy and beyond is a foot spa. You can find them at most stores, including Amazon, ranging in prices from $20 to well over $100.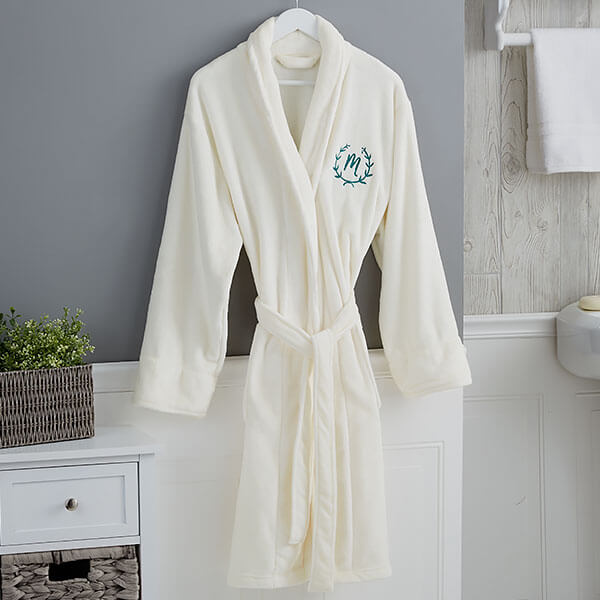 If you're looking for a personalized gift, consider an embroidered luxury fleece robe, a scented photo candle with the baby's Sonogram photo and a sleep mask. She'll be able to enjoy these gifts long after Mother's Day is over and you'll be able to create a loving reminder of a very special day.
2. Gifts For A Healthy Pregnancy
If the Mom to be is very health conscious, help her reach her health and fitness goals with thoughtful gifts that encourage and promote healthy habits. One idea is a gift certificate so she can try a prenatal yoga class. You can also get her a prenatal yoga DVD that she can use at home. A pregnancy cookbook and nutrition guide is also a great option, and there are lots of highly rated books available at your local bookstore or on Amazon.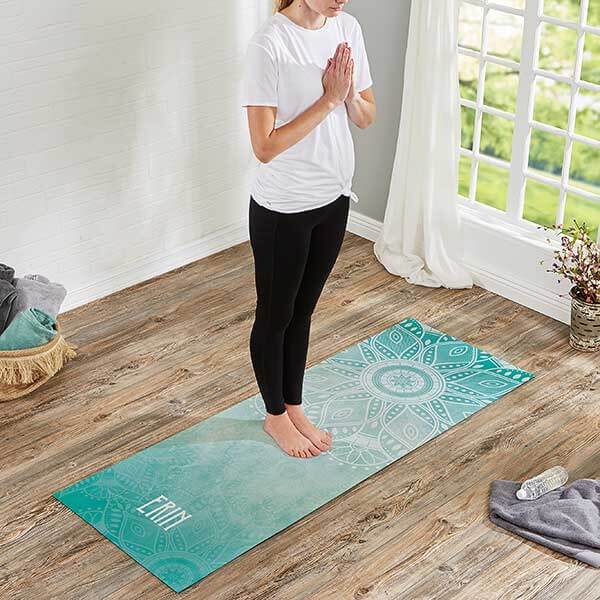 For a personalized gift option, consider a yoga mat with her name and favorite color, a stainless steel water bottle with her name or monogram and a custom canvas tote she can use when she's heading to her prenatal yoga class.
3. Gifts To Help Her Unwind
If she's been stressed out at work or at home and you know she could use some time to unwind, surprise her with gifts to help her relax and rejuvenate. A calm, quiet day spent lounging on the couch with a good book or a pregnancy journal, a mug of hot tea or cocoa and her favorite snacks and treats are sure to due the trick. This gift is all about creating the right atmosphere to help her truly feel at ease.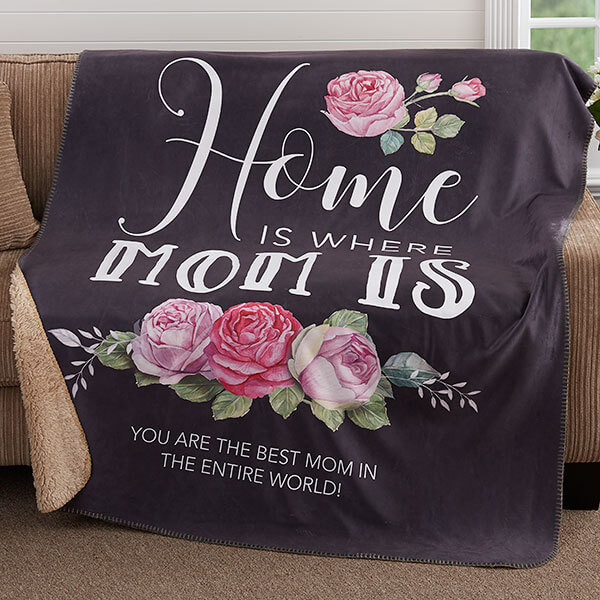 Customize a luxuriously soft blanket, like our brand new Home Is Where Mom Is blanket or a Mother's Day coffee mug with a special message from the heart.
4. Gifts To Make Her Feel Beautiful
Pregnancy can be a tough time for some women to feel attractive and beautiful. Remind her that she's beautiful inside and out with thoughtful gifts, like a gift certificate to her favorite spa, taking her on a shopping spree to get a new outfit, or by arranging a maternity photo shoot. Most importantly, make sure to tell her that she looks great — not just today, but every day.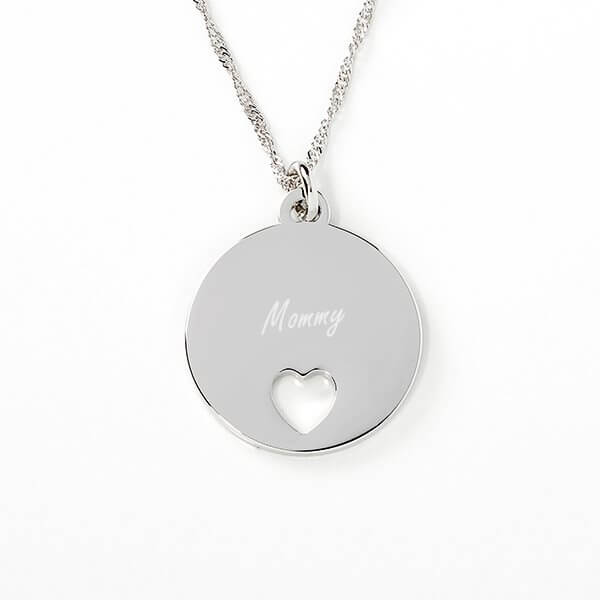 To complete your thoughtful gift, give her a gentle reminder of your love with a beautiful piece of personalized jewelry, like our lovely Piece of My Heart pendant necklace, or a personalized jewelry box to store her most cherished pieces.
5. Gifts To Make Her Smile (Or Cry)
You can also opt for sentimental gifts that will make her smile (or, depending on the pregnancy hormones that day, cry with joy). Some of our favorite options are our Engraved Family Tree, which she can add on to for many years as your family continues to grow.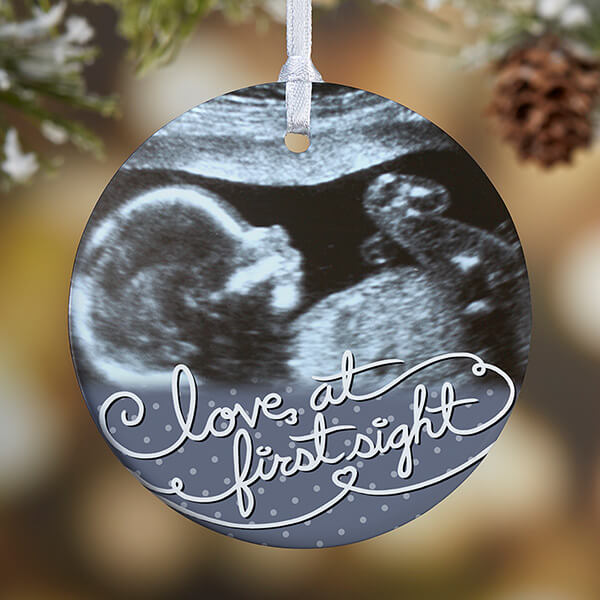 A simpler and less expensive option is a personalized picture frame with the baby's ultrasound photo, or our favorite, sonogram baby photo ornament she can treasure and hang on the Christmas tree for many years to come.
Check out our complete collection of personalized Mother's Day gifts to find more great gift ideas and inspiration. See also our 5 Memorable Mother's Day Gift Ideas for First Time Moms.