When kids are little the gift choosing, purchasing and even gift giving on special occasions like Father's Day typically falls on the Mom. Kids are too small to handle things on their own but of course you want to recognize Dad on his special day.
But finding the perfect Father's Day gift from kids doesn't have to be difficult. By adding a loving message or incorporating a photo of the kids, or even better, a photo of Dad with his kids, you can easily create memorable gifts for Dad that he'll love and cherish for many years to come.
Here are eight of our favorite top-selling Father's Day gifts from kids that are sure to bring Dad to happy tears.
1. Father's Day Photo Blanket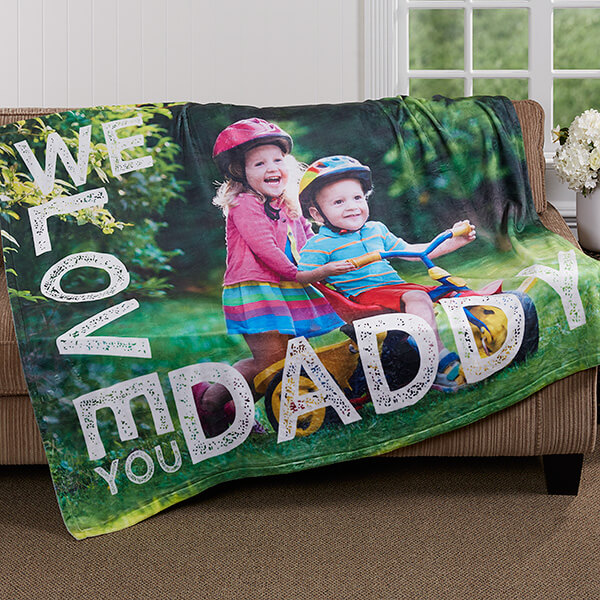 Show Dad how much he's loved with a personalized blanket featuring one of his favorite photos of his precious kids. Available in two sizes, this custom blanket features the words "We love you" or "I love you" along with any term of endearment, like Dad, Daddy, Papa or whatever the kids call their Father. >> See more custom blankets for Dads.
2. Personalized Picture Frame For Dad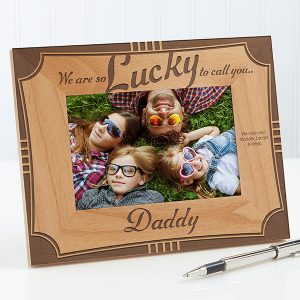 Another great way to incorporate a special photo in Dad's gift is to present it in a personalized picture frame. Dad can place it on his desk or office shelf and look back on the photo for many years to remember this special Father's Day. Customize the frame with kids' names, a heartfelt message, date and more. Choose from dozens of unique designs and customization options to fit any style. >> See more personalized picture frames for Dads.
3. Personalized Fishing Lure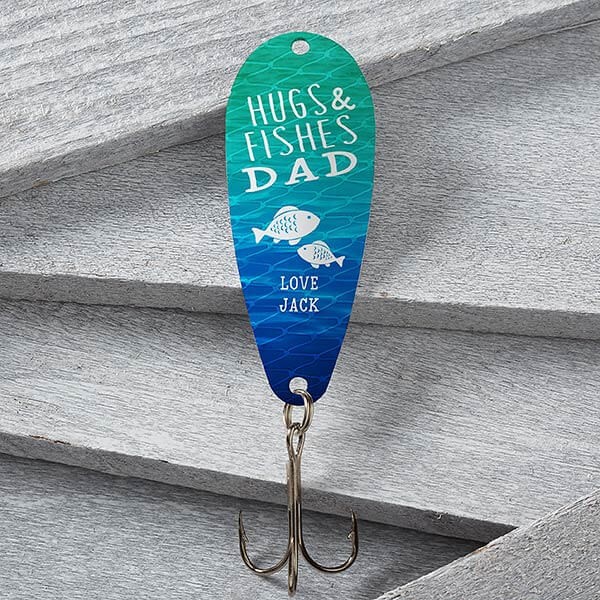 If Dad loves to fish then he'll adore this personalized fishing lure from his little fishing buddy. Available in two colors and seven exclusive designs, you can let Dad know that he's our first "reel" love, or simply wish him a happy Father's Day. Add any two lines of text to include kids' name and this will surely be Dad's lucky lure. >> See more outdoor, fishing & grilling gifts for Dads.
4. Custom Daddy & Me T-Shirts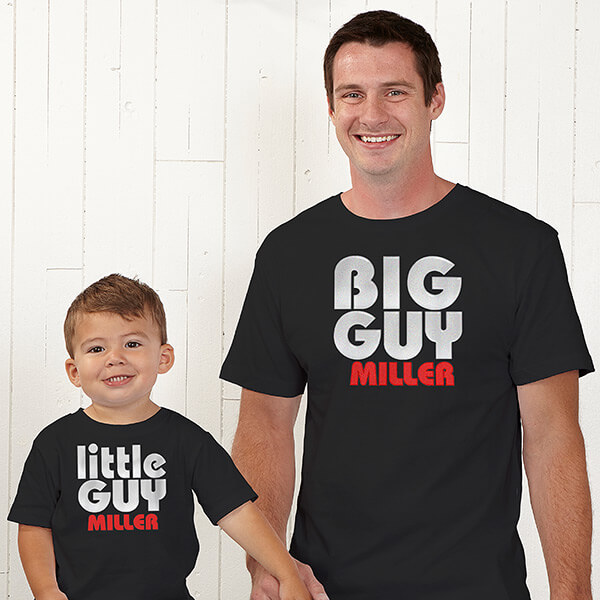 Create the perfect Father's Day photo opportunity with custom printed Daddy & me t-shirts! Available in several styles and designs for both boys and girls, these adorable coordinating shirts will make Daddy and the kids feel special this Father's Day and any day. >> See more Father's Day t-shirts for Dads.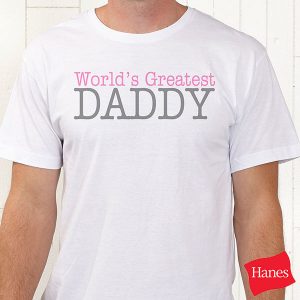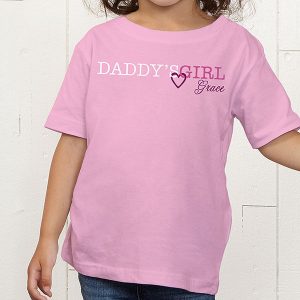 5. Photo Collage Tie For Dad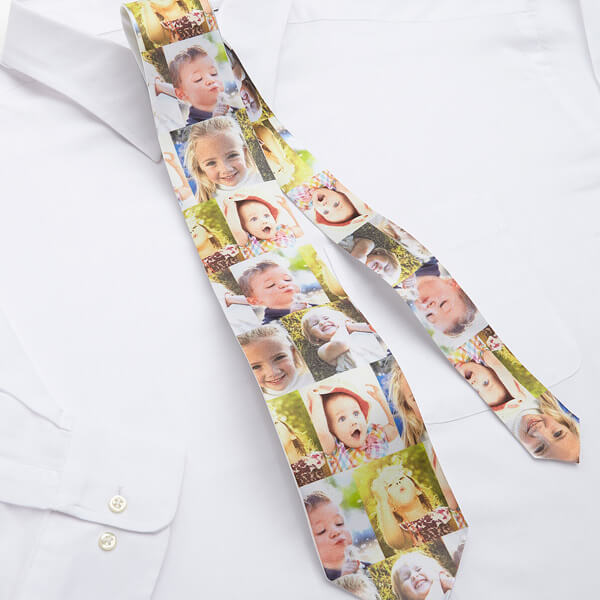 Whether it's for every day wear or for special occasions only, our photo collage men's ties are are to make Dad smile. Upload up to five of his favorite photos to create an artful collage featuring the smiling faces of his precious children. Available in full color and black and white, these photo ties are printed edge to edge. >> See more Father's Day apparel for Dads.
6. Custom Photo Mug For Dad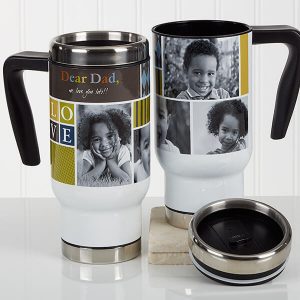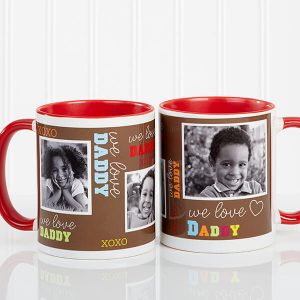 Let Dad enjoy his favorite morning beverage in a custom photo mug. Design a classic ceramic coffee mug or a commuter travel mug with handle for use at home and on the go. Upload any four photos and add two lines of text to let Dad know just how special he really is. >> See more Father's Day coffee mugs for Dads.
7. Unique Father's Day Keepsake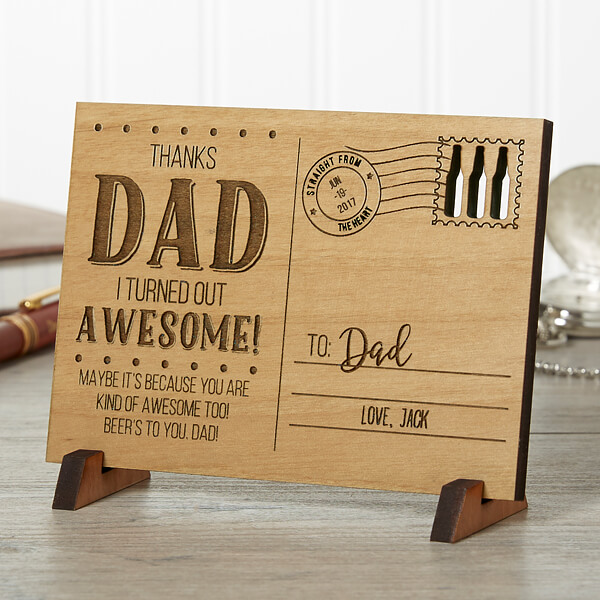 Give Dad a one-of-a-kind present he'll treasure forever with a unique Father's Day keepsake, like our personalized wood postcard. You can customize every detail of this postcard, including the stamp cutout with a symbol that represents his hobbies and interests, like fishing, golfing or his love of a good beer. >> See more custom keepsake gifts for Dads.
8. DIY Greeting Card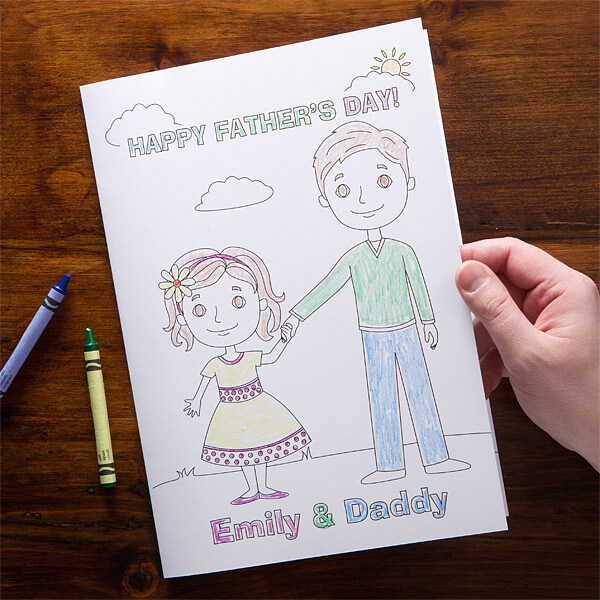 A DIY gift is always a good choice when it comes to Father's Day gifts from kids. There are hundreds, if not thousands, of DIY Father's Day projects for kids on Pinterest and other idea sites. A quick search will point you to beautiful examples complete with step-by-step instructions that incorporate kids' photos, hand prints, and so much more, ranging from simple handmade gifts to elaborate art project that well… might not turn out exactly as they do in the photos.

If you're strapped for time, or if your DIY project didn't come out as planned, you can take a semi-DIY approach with our coloring book oversized greeting card for Dad. Start by customizing the photo on the front of the card to represent Dad and child, then add the text on the front and inside of the card. Once you receive the card, simply have your child color the front of it to add the DIY touch. It's a simple fool-proof project that kids will love and Dads will cherish forever.
See more unique Father's Day gift ideas and check out our Father's Day gift guide.