Do you have a wine, beer or cocktail lover on your holiday list this year? Whether they prefer to sip a glass of wine after dinner, try out a new craft beer every weekend or mix up a fresh cocktail now and then, we have great gift ideas for you.
Gifts For Wine Lovers
For many, their version of the perfect evening includes a glass or two of a great wine. But you don't have to know their favorite wine in order to find a gift they will love. Personalized wine glasses are a classic gift for any wine connoisseur. You can choose from traditional stemmed wine glasses or more modern stemless glasses with your choice of the recipient's name, initials or monogram etched into the glass.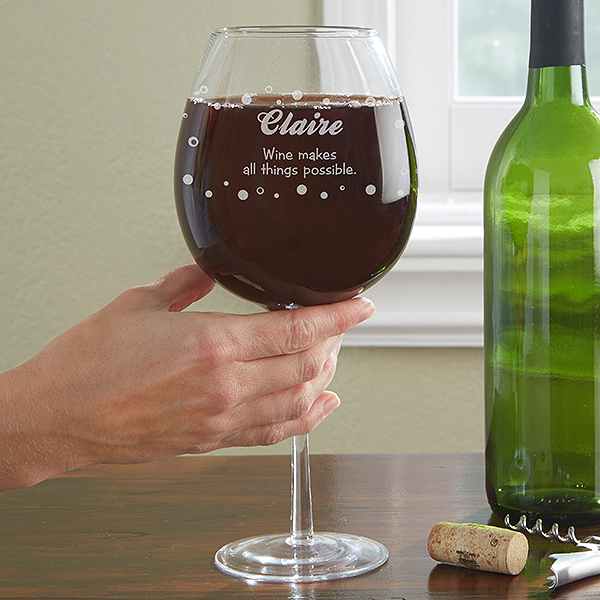 If you're looking for something a little less traditional and a bit more fun, consider the Big Vino whole bottle wine glass for the friend or family member who, "only drinks one glass" even though you know that might not always be the case. Wine glasses can be a perfect standalone gift or the center of a bigger set, depending on your budget.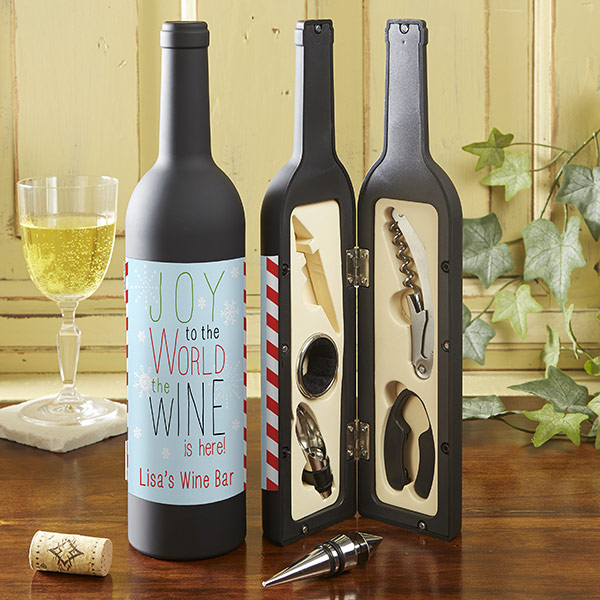 If you're looking for ideas of what else to give with your wine glasses, you can create a fully customized holiday gift set by adding a few more items. Consider either a bottle of their favorite wine, if you know what it is, or a personalized wine accessory set that includes all of the wine essentials — a corkscrew opener, bottle stopper, fol cutter, wine collar and a bottle pourer. This Joy to the World wine accessory kit comes in a wine bottle-shaped case that's perfect for display, and features a festive holiday theme.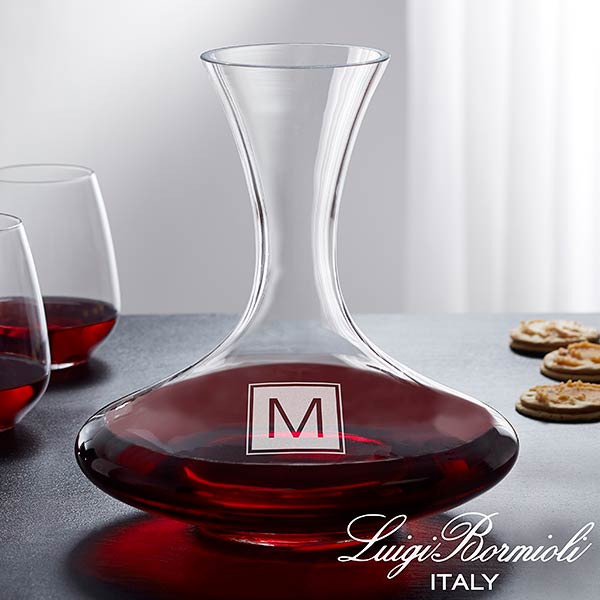 If your recipient is someone who entertains on a regular basis, a custom wine decanter could be a great option. Most wine aficionados know that a bottle of fine wine should be allowed to breathe before being served and a wine decanter is a more elegant way to do this. A personalized serving decanter such as this Luigi Bormioli Engraved Monogram Captain's Decanter is a beautifully classic decanter that's sure to please the most discriminating wine connoisseur.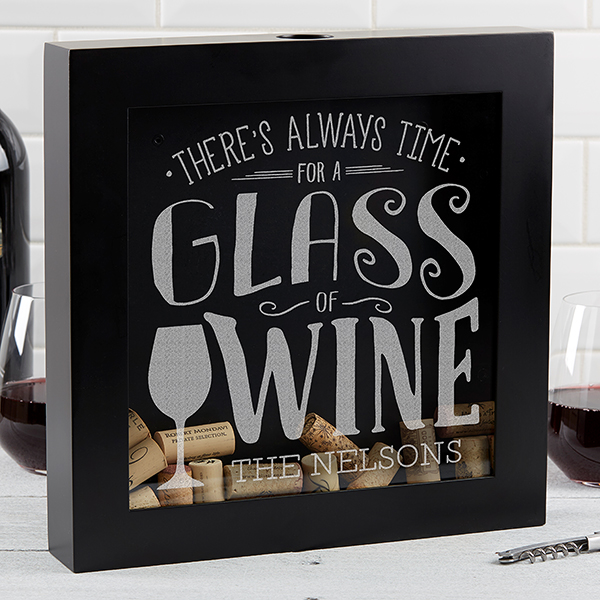 Another unique gift your wine lover might enjoy is a personalized wine cork shadow box they can use to collect all of the wine corks from their favorite wines. Choose a design that best matches their personality and customize the shadow box with their name.
Once you've selected your main gift items whether it be glasses, a decanter, a bottle of wine or all of the above, you'll want to add a few wine accessories like the etched glass monogram bottle stopper or photo wine charms to complete your gift.
Gifts For Beer Lovers
Amber, ale, microbrew, light, dark or hoppy, whatever their favorite beer we have great gift ideas for the holiday season. A cold, frosty mug is a must-have for many beer drinkers. Consider a set of personalized beer mugs or beer glasses for the foundation of your gift package.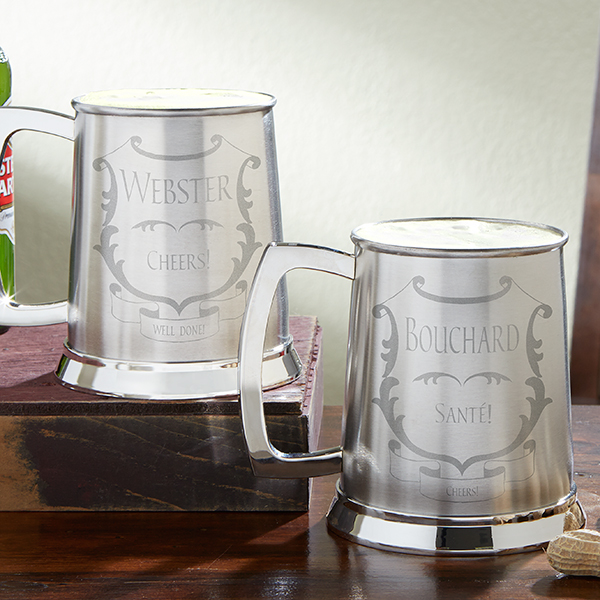 Choose from many options including pint glasses, pilsners or more traditional beer mugs or stainless steel tankards. Customize the glasses with their name, initials or monogram and other fun personalization options that will make them truly one-of-a-kind.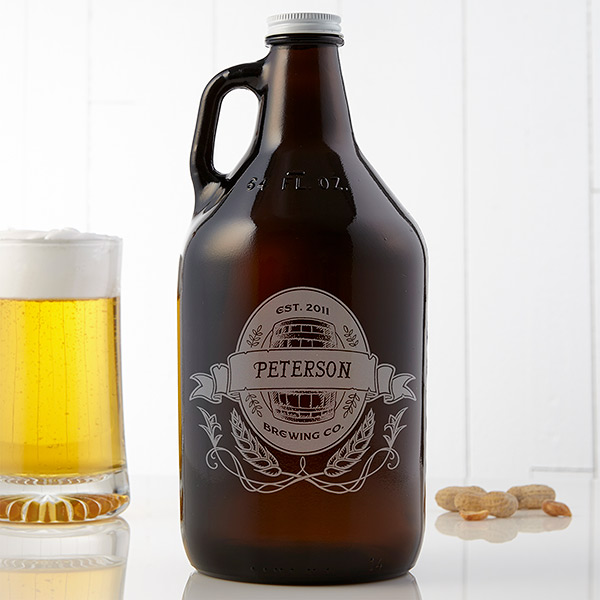 You can even opt for a custom 64oz growler or a personalized beer flight set as the centerpiece of your beer lover's gift pack. These unique gifts are sure to please even the most discerning craft beer connoisseurs.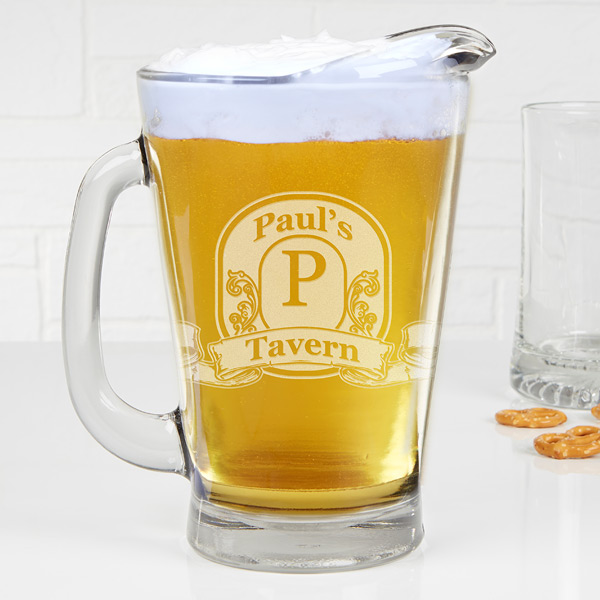 Similar to the wine lover's gift, a few smaller beer accessories is all it takes to really finish off your personalized gift. A personalized bottle opener is a great addition to your beer lover's gift pack. If your gift recipient hosts friends or family regularly, a beer pitcher or a custom set of coasters could be a great addition.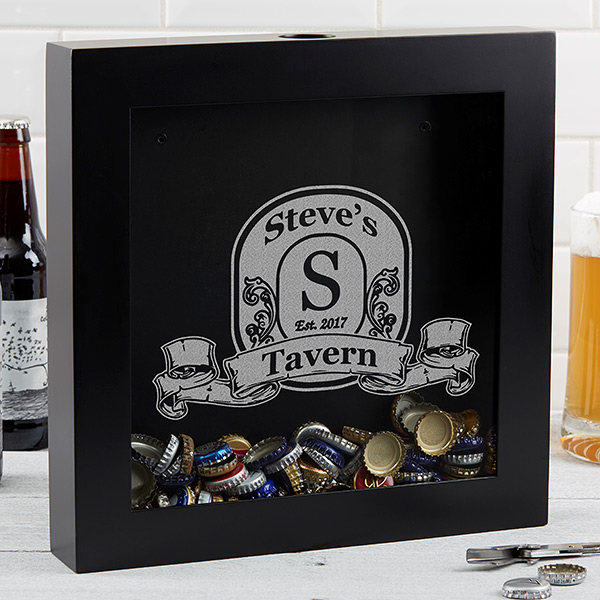 If they have a dedicated bar area in the home, you could even consider a personalized Vintage Bar Basswood Plank Sign or a beer cap shadow box as a fun décor piece.
Gifts For Cocktail Lovers
Whether they prefer their cocktails shaken or stirred, any aspiring mixologist will enjoy a new set of custom cocktail glasses.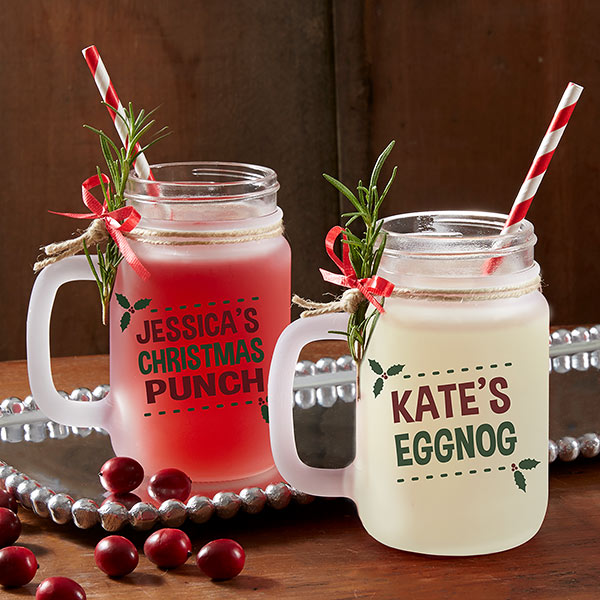 If they're whiskey or bourbon connoisseurs, consider one of these elegant old fashioned whiskey glasses, which can be customized with either a monogram or their name. Or go with something totally unique, like these copper Moscow Mule mugs, which add a touch of vintage charm. If they love to get creative with their drinks, opt for one of our custom mason jar glass designs. You can add their name, monogram, or even a special message or photo to customize the unique mason jar glasses. We also offer holiday themed designs to feature their best Christmas cocktails in!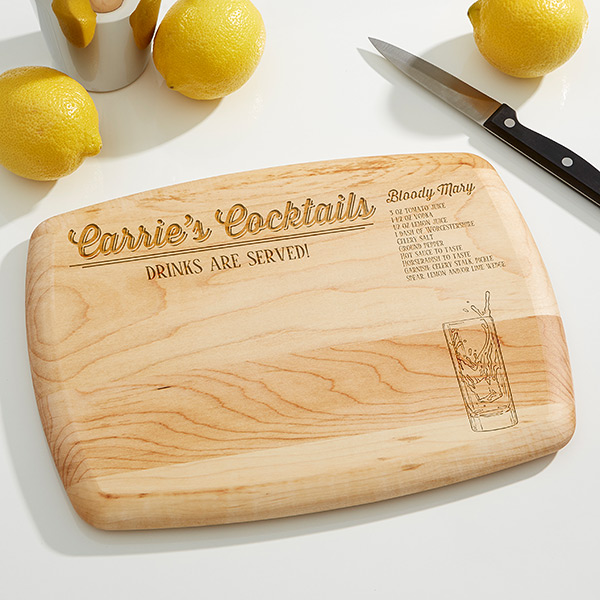 In addition to custom cocktail glasses, your mixologist might enjoy a custom cutting board to chop up fresh ingredients for drinks or prepare their garnishes. Our What's Your Drink? cutting board design allows you to add their favorite drink recipe to be laser engraved right into the maple wood cutting board!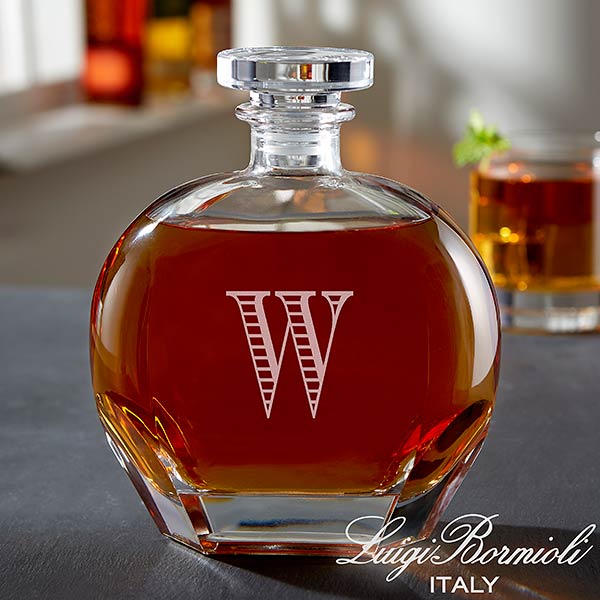 For those who have their own home bar or even a bar cart, consider a monogrammed decanter they can use to serve their favorite whiskey, brandy or cognac in style. A beautiful, custom decanter will add a touch of glamour and sophistication to their home bar, allowing for an elegant and classic presentation.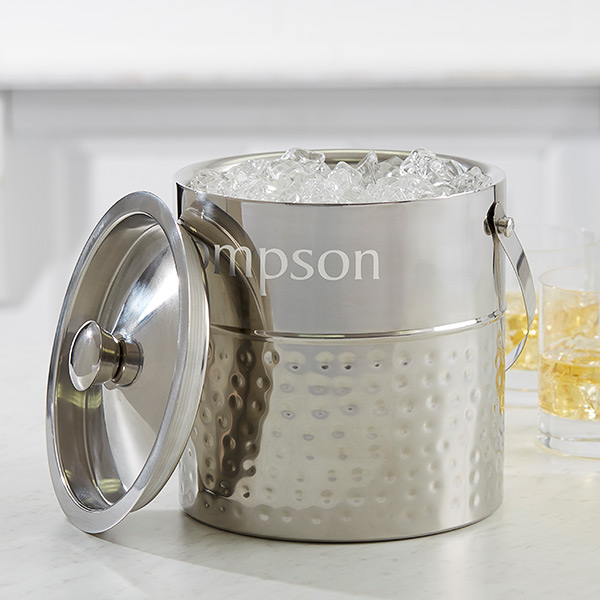 Other practical and beautiful cocktail accessories to complete your holiday gift can include a rocks ice cube set to keep their drinks cold without diluting them with water. Or consider a personalized cocktail shaker or ice bucket with a silver ice scoop. Another useful addition to your cocktail lover's gift could be a set of custom drink coasters or cocktail napkins.

Once you've customized your items and have everything ready for your wine, beer or cocktail lovers, make sure you present your gift in a beautiful gift basket or gift box. And if you really want your gift to stand out, use a custom ornament in lieu of a gift tag to make it a Christmas gift they'll never forget!