A Christmas Eve Box is a great way to make the night before Christmas fun for kids and the whole family. Here are 10 unique Christmas Eve Box ideas your kids will adore.
Christmas is a magical time for kids, full of wonder and expectations. It's also the perfect time to bring the whole family together, celebrating family traditions, spending more time enjoying each other's company and making memories. One way to get everyone together is with a fun tradition that's becoming more and more popular: A Christmas Eve Box.
What Is A Christmas Eve Box?
The night before Christmas can be just as fun as Christmas morning with a Christmas Eve Box. Typically, the box will contain treats and small gifts that kids can open up and enjoy on Christmas Eve. It's not supposed to be a Christmas gift, but it can help divert kids' attention from all the gifts sitting under the Christmas tree that they know they can't open up yet.
In short, Christmas Eve Boxes are about getting everyone together and making the night before Christmas fun for the whole family. Think of it as individual supplies for a fun family night!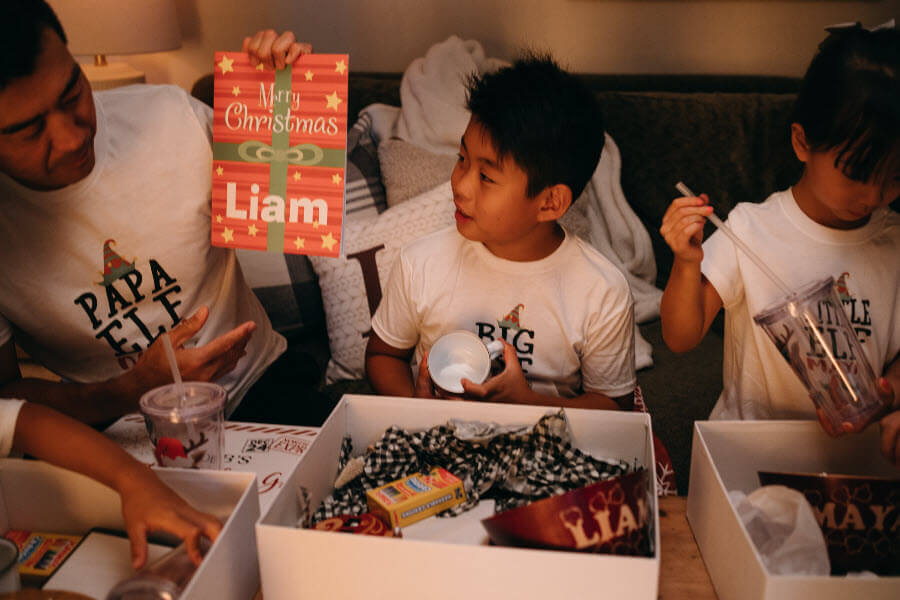 How To Make A Christmas Eve Box
To make your own Christmas Eve box tradition come to life, you will need to start with a box, tote, sack gift bag or another reusable container, preferably personalized with each child's name. Next, you'll need to curate a set of small gifts, treats and/or activities that are age appropriate and fun for your kids.
For toddlers and younger kids some of the Christmas Eve box essentials include:
Christmas themed pajamas or socks
A Christmas movie or a book (or both!)
Their favorite sweets and treats
Hot cocoa and marshmallows
A small toy
A letter from Santa
For older kids and teens, the Christmas Eve gift can include some more grown-up items like:
A fuzzy robe, slippers or slipper socks instead of pajamas
A classic Christmas movie they haven't seen or a new young adult book or graphic novel
Popcorn, candy or their favorite snacks
Hot cocoa and marshmallows
A game, puzzle or craft project
Recently we've seen more interest in Christmas Eve box ideas for baby's first Christmas, which is a great way to kick off this fun, new family tradition. Here's what you can include in baby's very first magical Christmas Eve present:
Baby's first Christmas ornament
A baby lovie, plush toy, or stuffed animal
A baby storybook or pop-up book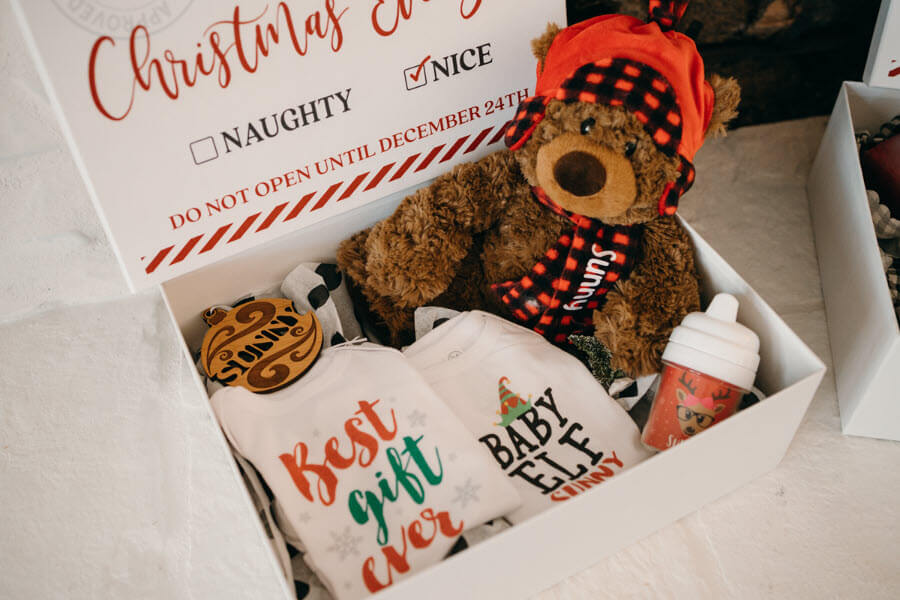 These are the basics and what you'll find in a typical Christmas Eve box. But with a bit of creativity and imagination, you can turn an ordinary Christmas Eve box into a truly unique one that your kids will love. Here are 10 Christmas Eve gift box ideas to make your night before Christmas more memorable and fun — choose one or all the ones you know your kids will enjoy.
READ: 25 Old & New Family Christmas Traditions for Kids
1. A Cute Hot Cocoa Mug
You can surprise your kids with a custom hot cocoa mug with their names, favorite character or even a photo. Find mugs that fit your kids' personalities, favorite holiday characters, interests or one that will make them smile and it will be something they'll get to use year-round. Here are some of our favorite Christmas mugs for kids.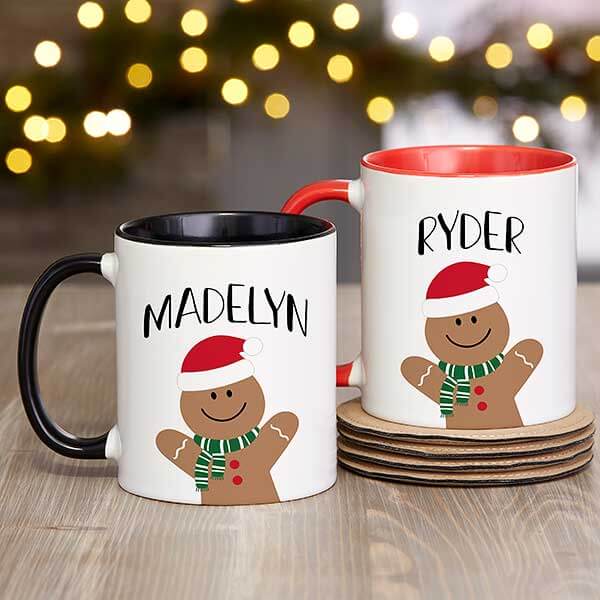 And don't forget the hot chocolate and marshmallows!
2. A Letter From Santa Keepsake
Sure, you can print a letter from Santa or even hand write one yourself. But if you're looking for something that your kids won't be as likely to lose or toss away, consider this unique alternative. This laser engraved wood postcard can be personalized with the message, name and address you choose and it comes with a matching wood stand so you can use it as a display. This engraved Santa letter will make a great keepsake for your kids as they grow older.
3. Christmas Socks
Most kids won't get excited about seeing something as practical as socks in their Christmas Eve box, unless you get them these fun personalized socks! Adding your child's name or photo is sure to make these socks their favorite ones to wear on Christmas. These socks will also make a great addition to their Christmas pajamas!
Shop: Christmas Socks For Kids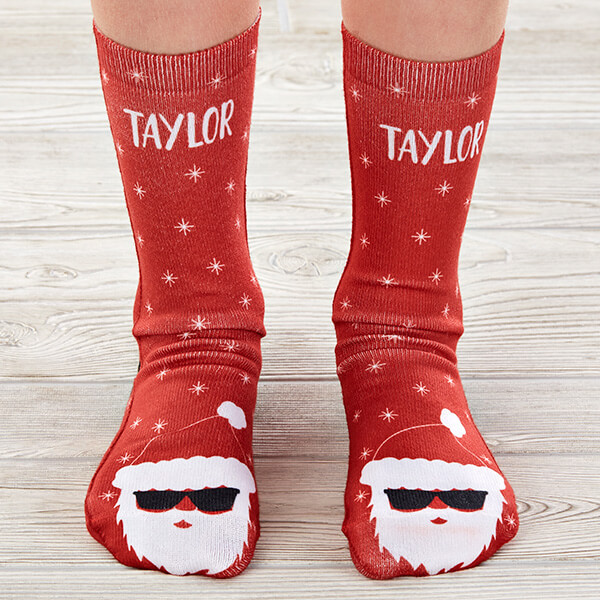 4. Unique Cookies For Santa Plate & Mug
Leaving cookies and milk for Santa on Christmas Eve is a lovely tradition that kids really enjoy. It helps the little ones think about the needs of others, and learn about sharing and caring. To make the tradition even more special, you can personalize Santa's cookie plate and mug for milk.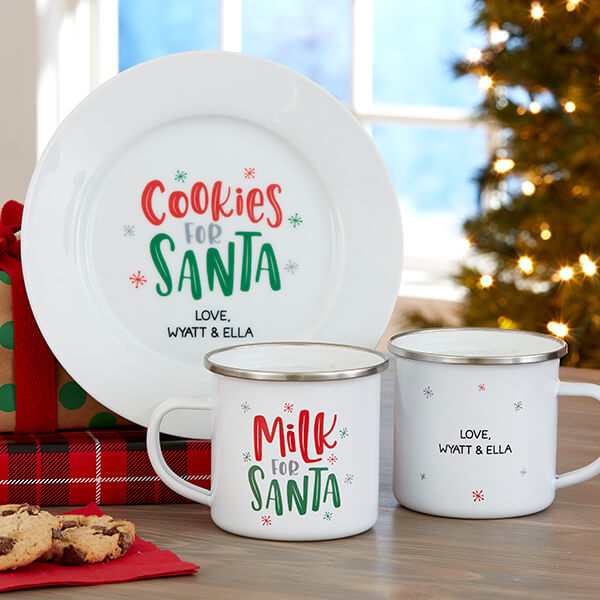 5. All I Want For Christmas… Photo Prop
Using the same photo prop each year can be a fun way to show how your kids are growing and changing from year to year. It will be fun for them to see these photos one day too! A custom dry erase sign where you can fill in the blanks each year is a popular photo idea and a unique way to commemorate Christmas Eve. Add this All I Want For Christmas… custom sign to your Christmas Eve Box this year and you'll be able to use it every year.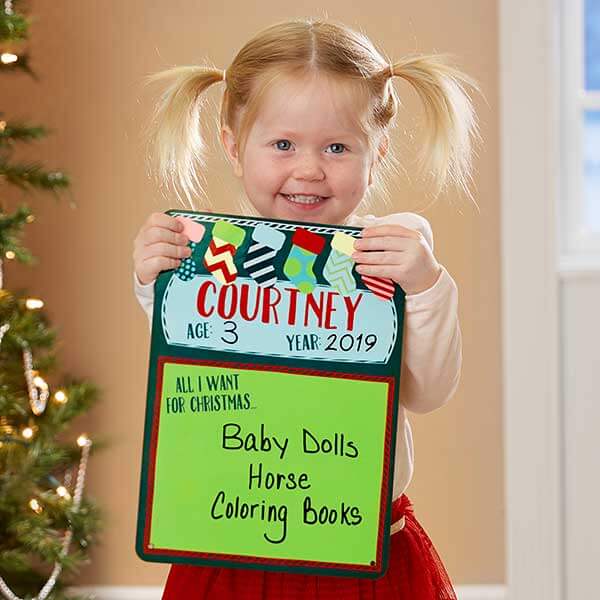 6. Puzzles, Coloring Books & Games
A nice way to keep your kids busy on Christmas Eve is to include a puzzle, coloring book, a game or another activity that they might enjoy. Personalizing these items makes them a bit more special and unique. Here are a few of our favorites.
Shop: Christmas Puzzles, Coloring Books & Games For Kids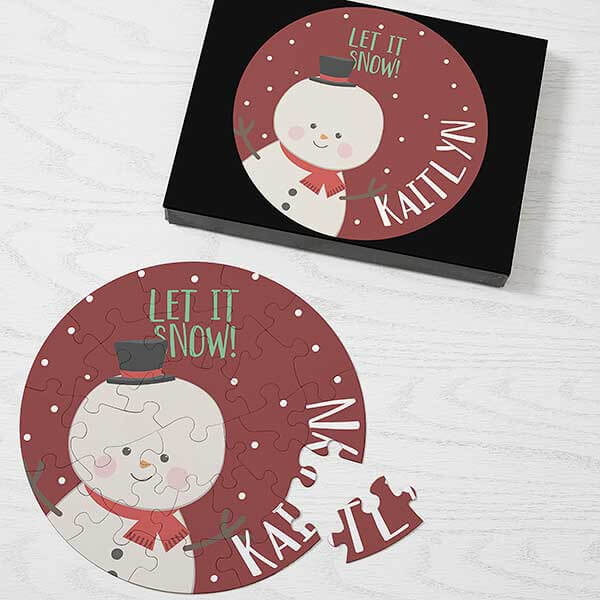 7. Kids' Santa Hats
Another neat addition to the Christmas Eve Box is a custom Santa hat with your kid's name on it. It's another item that kids will be able to use year after year and it always looks great in photos.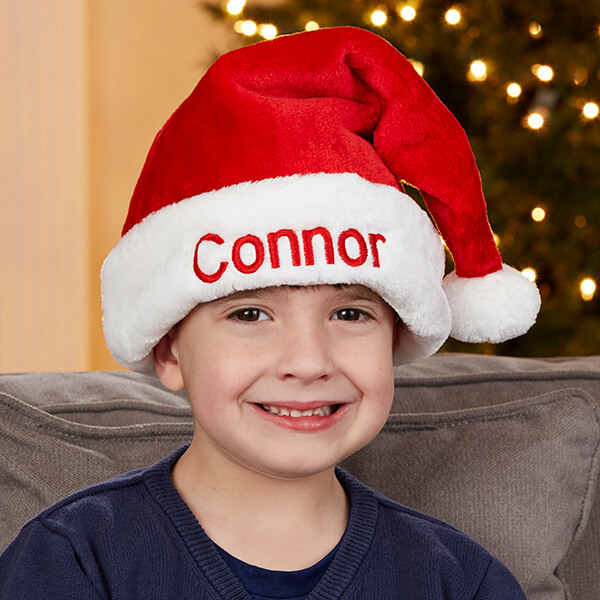 8. Kids' Ornaments
By Christmas Eve your Christmas tree has likely been decorated for several days or weeks. But it's not too late to add to it! Help your kids remember this Christmas with their very own ornaments they can hang on the tree each year. Personalize the ornaments with their names, photos or special messages. Choose ornaments that represent their current interests, hobbies and activities they're involved in. Or simply choose a sweet ornament you know they'll adore and add their name and year.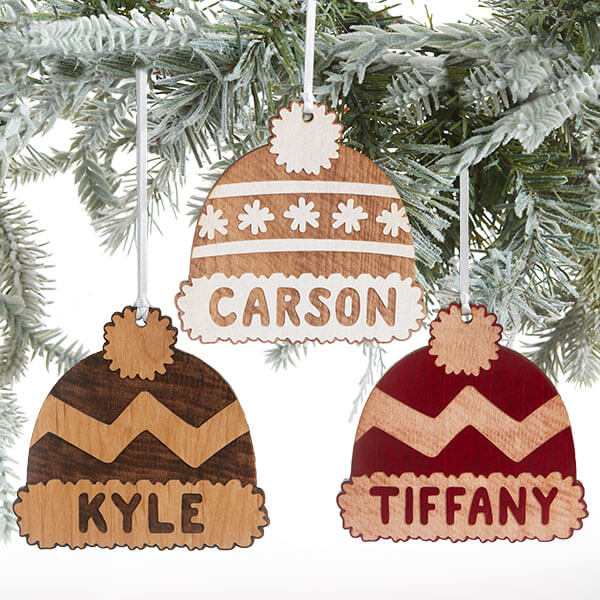 9. Family Popcorn Bowl
If watching your favorite Christmas movie is on the agenda for Christmas Eve, then a custom popcorn serving bowl for the whole family is the perfect addition. For ice cream or other treats, you can also get personalized snack bowls with your kids' names and a fun or festive saying.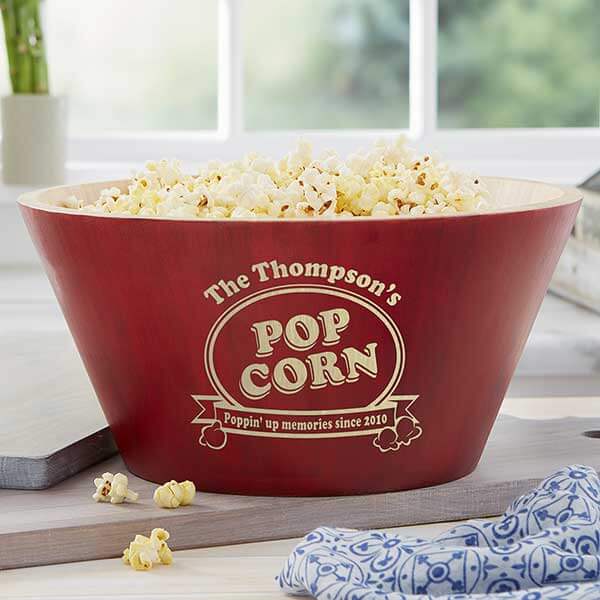 10. Personalized Books for Kids
Adding a book to your kids' Christmas Eve boxes is always a good idea. Including a personalized kids' book will make a lasting impression. Kids of all ages will enjoy seeing their own names, hometowns and other custom details on the book's cover. Find a storybook you know your kids will like and personalize it to make it more special.
Shop: Personalized Books For Kids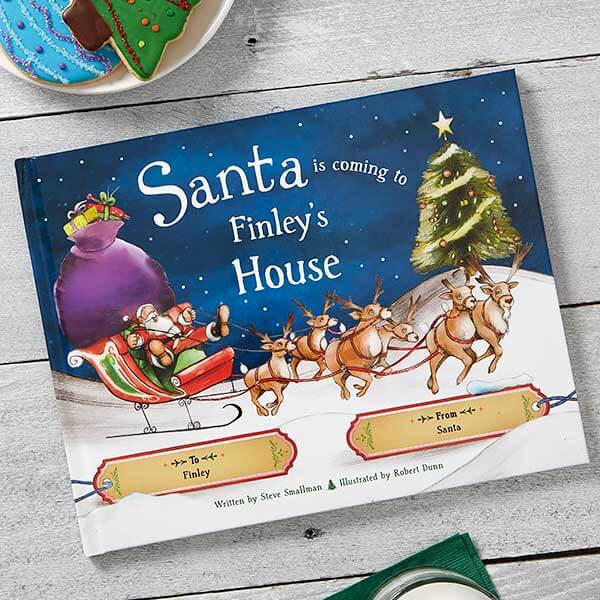 Bonus: Personalized Christmas Eve Keepsake Box
Make your Christmas Eve box truly one-of-a-kind by using a personalized version with kid's names printed right on the lid. With a vintage-inspired design and a nostalgic feel, this unique keepsake box can add a touch of whimsy to the gift. You can add one or more names and reuse the box each year.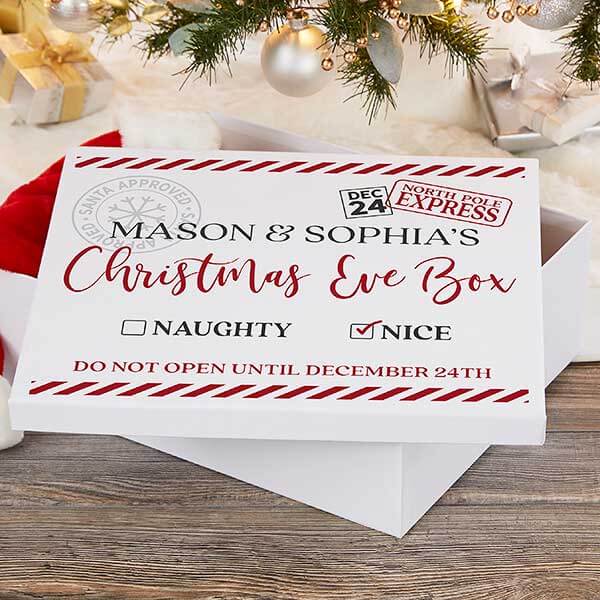 Whether you choose just one of these ideas or all, we hope that it helps make your Christmas Eve boxes more special, unique and memorable for your kids. Share your Christmas Eve box photos, ideas or suggestions with us on Facebook, Pinterest or Instagram.