Start your own family tradition with personalized ornaments that capture precious memories and special family moments you can look back on every Christmas.
As your family grows and you celebrate wonderful Christmases together, more and more family ornaments will make their way onto your Christmas tree. Each family ornament you create will reflect the cherished memories you've experienced as a family, warming your heart as you decorate for the holiday season each year.
As your children grow older, there will come a time when they will start to move out and put up a Christmas tree in their own home. Their own families will grow, too – as will the number of family ornaments they'll hang up each year. You can make sure that they have something to remember their childhood holidays, as well as all the memories your family has shared, by collecting family Christmas ornaments now, when the kids are still growing.
Create Your Own Family Ornament Tradition
As you build your Christmas ornament collection, consider adding personalized pieces that include family members' names, the current year, cherished photos and other custom details. Creating your own personalized ornaments will ensure your Christmas tree is full of family memories.
If you're wondering how many family ornaments you should have on your tree, think about how many kids you have. You'll want at least one for each of your children, so they can have a special memento to take with them and put up on their own Christmas trees. Then, make sure you have at least one family ornament that you can keep for your own tree each year.
See how easy it is to add your most cherished family memories to your festive Christmas tree with personalized family ornaments.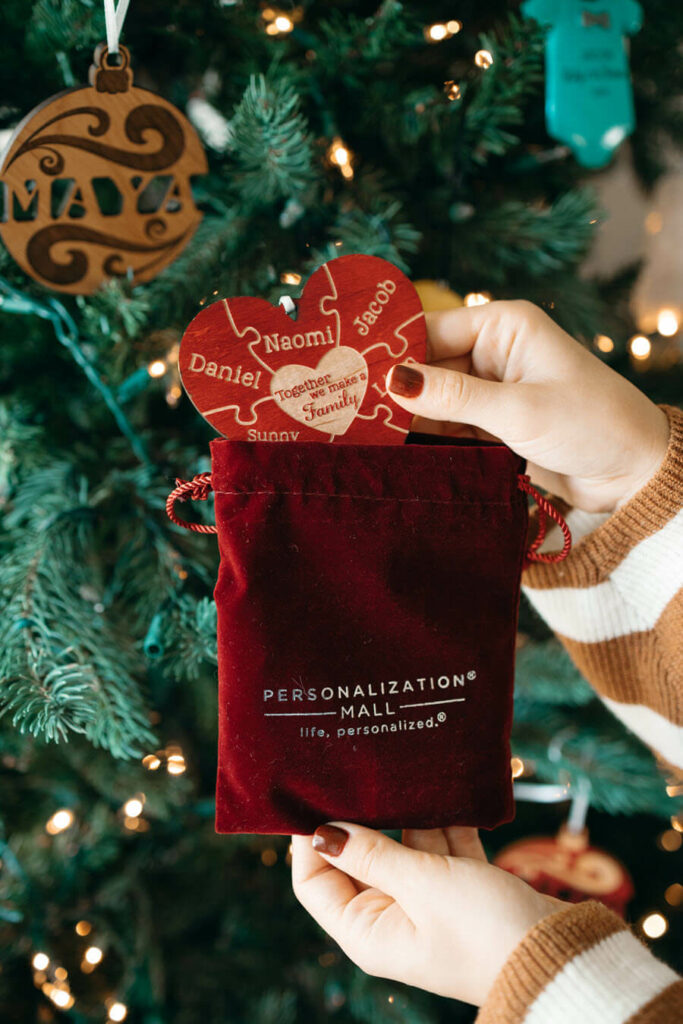 Family Puzzle Ornaments
Whether you have a small family, a single parent family, a blended family, or a large extended family you celebrate the holidays with, this personalized family puzzle ornament can include everyone in your clan. The wooden puzzle piece design that forms a heart is truly unique, and you can customize it to fit the number of members in your family. The center of the heart features the phrase "Together we make a family," and each ornament is skillfully engraved on beautiful natural wood that will last for years.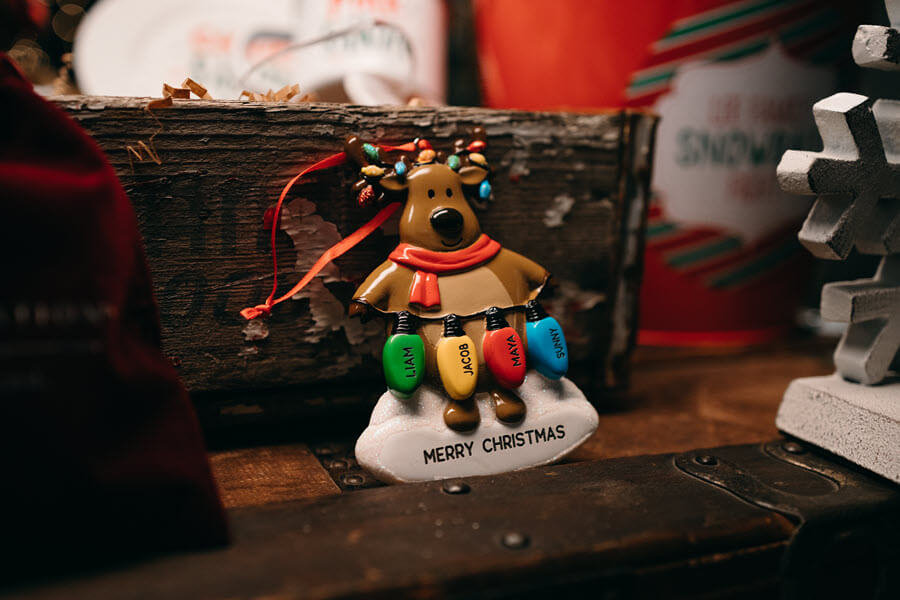 Family Ornaments With Adorable Characters
For families with small children, there are plenty of cute holiday character designs to choose from, like this adorable reindeer with Christmas lights ornament. Each family member's name is skillfully engraved on colorful light bulbs, and you can choose the number of names – and colorful lights – to include. And there are plenty of other character designs to choose from, with ornaments featuring individual characters for each family member, different animal families, and more.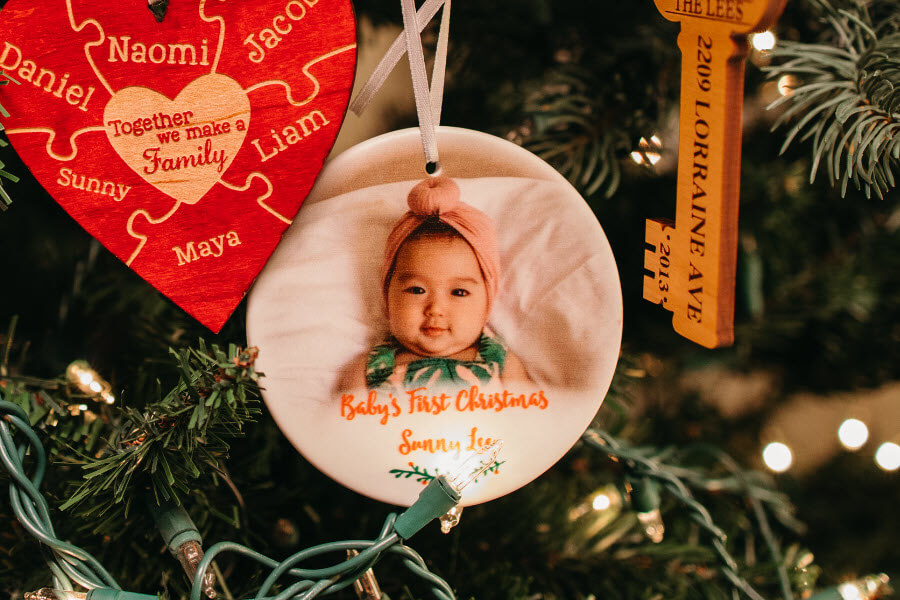 Family Photo Ornaments
Photo ornaments are perfect for remembering special family moments, like baby's first Christmas, a family vacation, and other fun memories from the past year. Your children will cherish having a family photo ornament when they grow up, just as much as you'll enjoy putting it up on your tree for the next few years. Make it a tradition to create at least one family photo ornament each year to commemorate the year, or customize photo ornaments with your kids' photos, instead. as your children grow older, they will fondly look back on these photo ornaments as you put them up on your tree each year.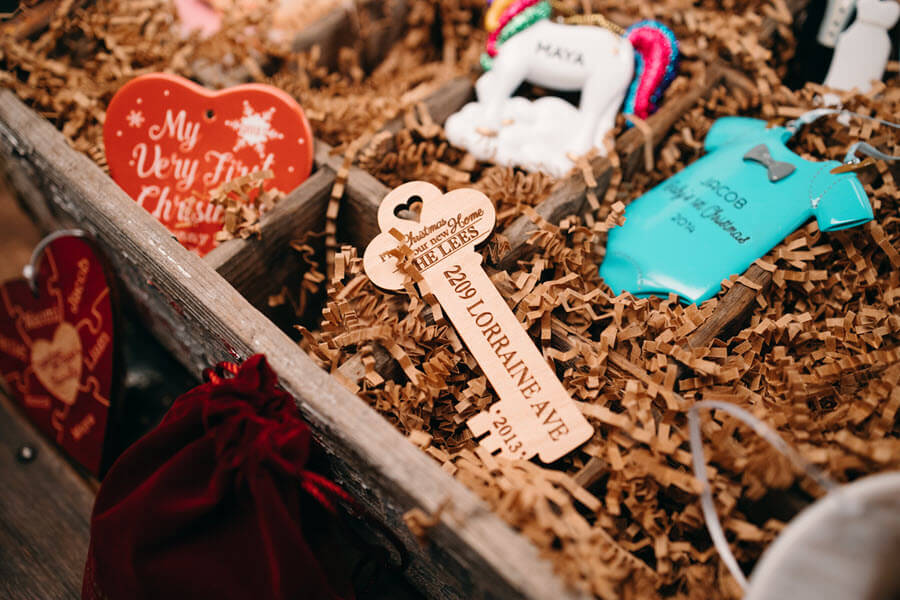 Ornaments With Your Family Memories
A new home, a family pet, your child's graduation, big accomplishment, favorite sport or hobby… these are all things you can commemorate at Christmastime with personalized ornaments. If your kids are old enough, get them involved in choosing and customizing a new family ornament to represent the memories of the year. The possibilities are endless – you can create ornaments with your most cherished family memories in a variety of creative ways.
No matter which family Christmas ornaments you choose, your kids will appreciate them once they grow older and begin their own holiday family traditions. Consider adding a special message to each ornament that they can cherish and reflect upon for many years to come. Start building your own personalized family ornaments collection and make it a tradition to add a new family ornament each Christmas.