Your first married Christmas. The first holidays in your new home. Your precious baby's very first Christmas Day. Commemorate all these special moments in a memorable way you can cherish for years to come.
There's something truly magical about the holiday season. Many of us can easily recall Christmases past, even as far back as our early childhoods. The time spent with family and close friends, decorating, caroling, sharing a meal, giving and receiving gifts, and religious celebrations make this time so special and significant.
The most wonderful time of the year is even more wonderful when you're also celebrating an important milestone. Make these once-in-a-lifetime memories unforgettable with holiday keepsakes you can treasure every Christmas.
In this guide, you'll find inspiration, unique gift ideas, and special keepsakes for all your special first milestone moments, including:
Baby's first Christmas
First Christmas together
First Christmas in a new home
First Christmas without a loved one
Baby's first Christmas
Your sweet baby's first Christmas will surely be remembered by the whole family. This is the perfect opportunity for family pictures by the Christmas tree or fireplace on Christmas morning with baby dressed in adorable holiday pajamas or a first Christmas outfit. You can also plan a visit with Santa or to a local lights display for more photo ops.
But make sure the photos aren't the only thing to remember this very special Christmas by. Create at least one keepsake you and your child can enjoy each year and recall your first holiday season together.
Baby's first Christmas milestone gift ideas
Baby's first Christmas ornament
Baby's first Christmas stocking
A cute Christmas-themed outfit
A holiday-themed crib blanket (also a great photo backdrop)
Baby lovey embroidered with baby's name
Personalized picture frame
Holiday-themed snow globe
Baby Christmas hat (or Santa hat!)
Baby's first plush teddy bear
Baby's first Christmas bib
Shop: Baby's First Christmas Gifts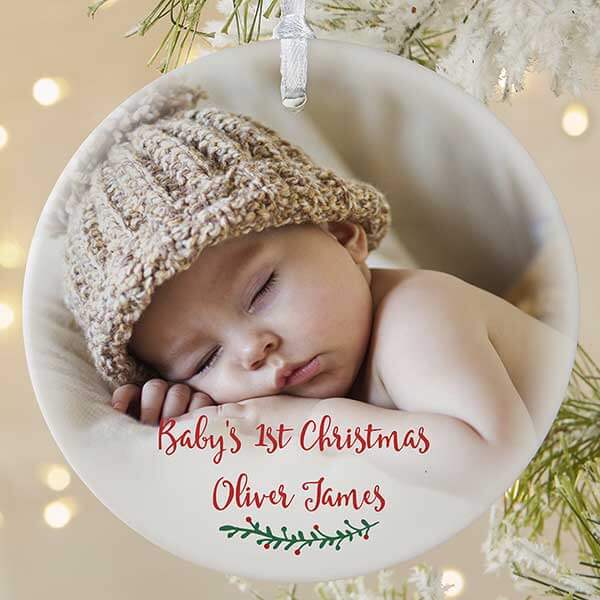 Create a custom baby's first Christmas ornament you and your child can decorate the tree with every year. Customize a Christmas stocking with the child's name or monogram to hang by the fireplace. Or find a special toy or heirloom gift your child can enjoy this Christmas, and perhaps one day pass on to your grandkids.
A cute, personalized Christmas outfit and adorable holiday-themed baby accessories are great for making your baby's Christmas day photos more special. You can also include a baby blanket, stuffed animals, toys, and other items as props in your photos. Customize a holiday picture frame to hold baby's photo on Christmas day and display it each year to remember this special milestone.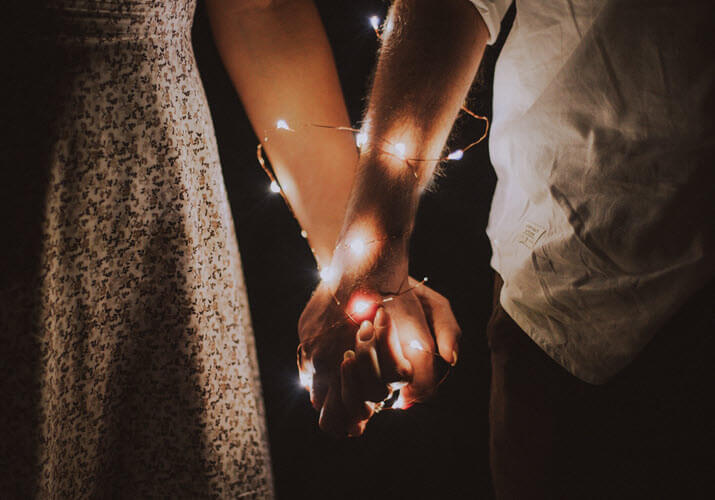 First married Christmas
Your first Christmas together as a couple, engaged, or married is something to celebrate! Revel in this exciting time in your life by starting your own Christmas tradition, throwing a small holiday party, or getting away for a romantic weekend with just the two of you ― even if it's just a stay-cation together at home.
While you're enjoying hot cocoa and sugar cookies by the fire, think of a way to remember this time in your lives. Create at least one keepsake, whether it's a framed photo, a Christmas tree ornament, stockings, wall art, or other decorations you can reuse every year and remember your first Christmas together as a couple, newly engaged, or as the new Mr. and Mrs.
First Christmas together gift ideas
First Christmas ornament
Matching couple Christmas stockings
Customize holiday throw blanket
Holiday family traditions throw pillows
Engraved family name holiday flower vase
Heart-shaped engraved cutting board
Wooden recipe box
Mr. & Mrs. wooden popcorn bowls
First Christmas photo album
First Christmas couples picture frame or photo album
Shop: Couple's First Christmas Married Gifts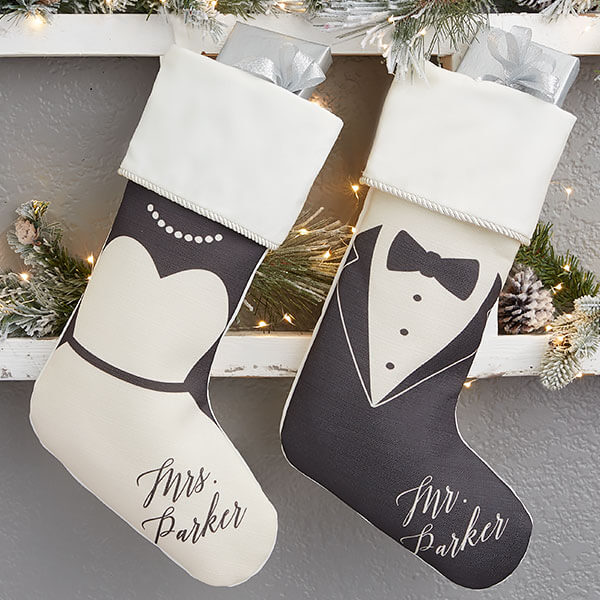 Personalize Christmas décor, such as a cozy throw blanket, throw pillows, or a festive sign, with your names, wedding date, established year, or favorite holiday traditions. If you're buying a gift for a newly engaged or married couple, consider practical items for the kitchen, such as a custom engraved recipe box or beautiful cutting board that can double as a charcuterie or cheese board for holiday parties.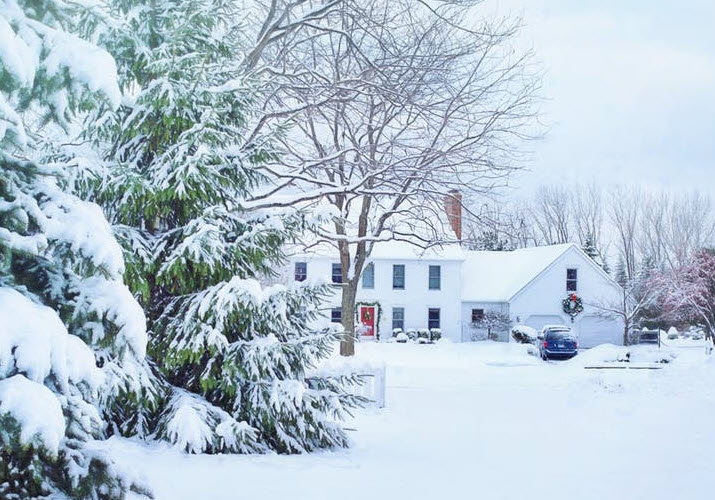 First Christmas in a new home
Your first Christmas in your new home calls for a big celebration with friends and relatives, whether that's a housewarming holiday party or hosting this year's Christmas dinner for your family. If you'd like, you can have your house blessed, smudge your home by burning sage, or create a secular home dedication with your family.
To commemorate this exciting time for your family, personalize a special keepsake that will help everyone remember your first Christmas in your new home. Consider a custom wall art piece or decoration for your fireplace mantel or shelf with your family name or established date. You can also create a more practical keepsake with a custom engraved cutting board or by simply customizing a Christmas ornament to hang on your tree every year and remember this holiday season.
First Christmas in a new home gift ideas
New home Christmas ornament
Holiday-themed garden sign or house address plaque
Christmas doormat
Personalized shelf or mantel holiday décor
Custom wall art
Holiday porch sign
Christmas table centerpiece
Customized flower pot with your new address
Engraved wood cutting board
Custom embroidered Christmas stockings
Shop: First Christmas in a New Home Gifts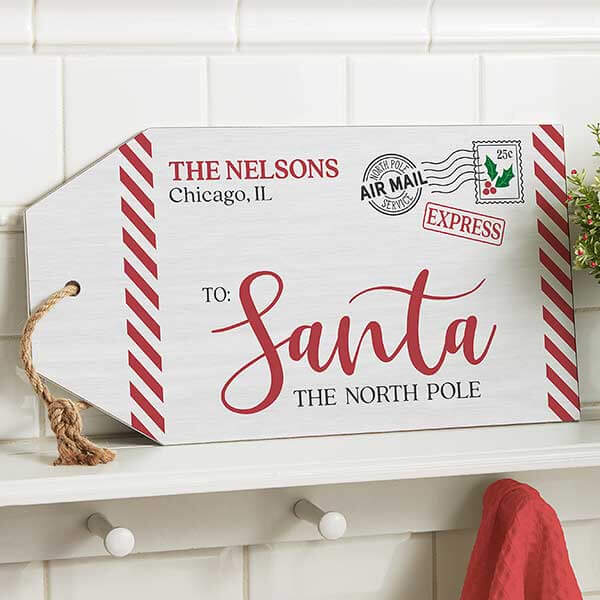 If you're looking for a unique housewarming gift, adding a personalized touch will make it more special and meaningful for the person, couple, or family. Include their house number, street name, or new town, or simply add a name to a homey gift they can enjoy each and every Christmas in their new home.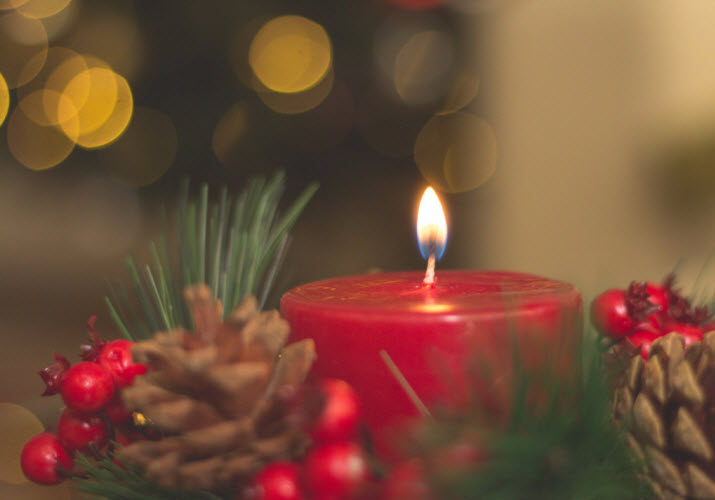 First Christmas without a loved one
Christmas is a special time to be with and remember those we care about most, even if they're not with us anymore. If you or someone you know is spending this holiday season without a friend or family member, create a heartfelt memorial keepsake to remember them and keep their memory alive this Christmas.
Personalize a Christmas ornament with your lost loved one's name and memorial dates. Customize a wooden angel or photo shadow box to display on your Christmas mantel or shelf. Or create a beautiful table centerpiece with an engraved glass hurricane candle holder to honor them and keep them close to you at Christmas.
First Christmas memorial gift ideas
Memorial keepsake box
Memorial photo keepsake or pocket token
Christmas memorial lantern
Christmas in Heaven poem pillow
Personalized keepsake throw blanket
Memorial angel keepsake shelf décor
Engraved memorial candle holder
Christmas memorial flower vase
Memorial picture frame or photo album
Custom memorial Christmas ornament
Shop: Memorial Christmas Gifts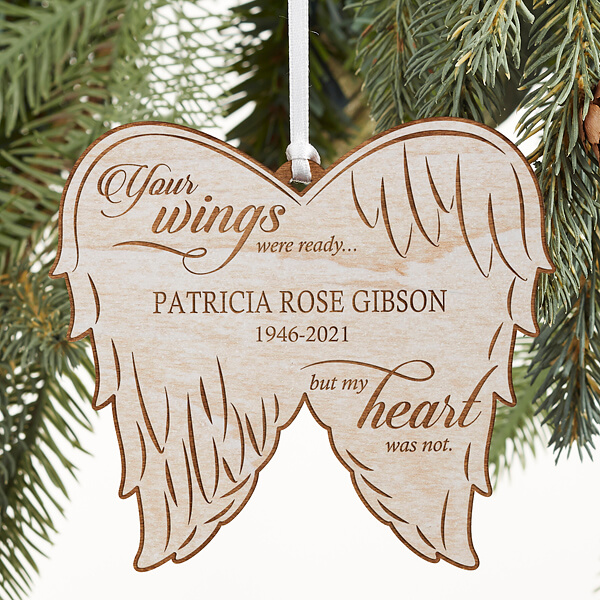 If you're looking for a unique memorial gift for friends or family, consider picture frame ornaments engraved with names and memorial dates or one of our Cardinal designs that feature the heartfelt quote "Cardinals appear when angels are near." Even something as ordinary as a throw blanket or pillows can make a beautiful and thoughtful gift for someone spending their first Christmas without a loved one.