Happy New Year to all our fans! We hope you had a great holiday season and are ready for the exciting fresh start of 2012!
With every new year comes the talk of New Year's Resolutions. And while some of you may have no problem sticking to yours, we thought we'd help offer a couple tricks for those of you who sometimes need some extra motivation to help you keep your New Year's Resolutions. And our tricks will show you how to make keeping them fun, too!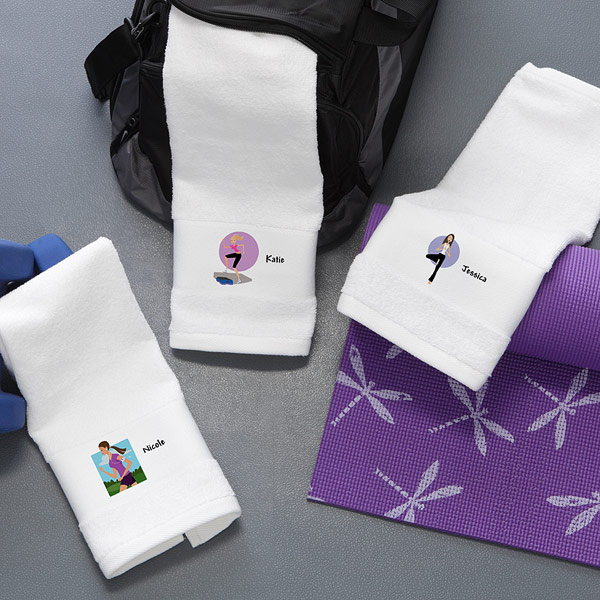 One of the most popular New Year's Resolutions that people make is to lose weight, eat healthy or to become more physically fit.
We think one of the best ways to stick to a goal is to have friends or family right there beside you to help you reach it. And when you personalize one of our stylish Workout Girl Personalized Gym Towels for you and your friends, you all will be extra motivated to hit the gym or attend that yoga class you all signed up for! With these super cute towels, you'll be excited to head to the gym to show off your newest workout accessory! You can personalize the Workout Girl© character with 1 of 6 workout activities, such as Yoga, jogging, boxing, Pilates, volleyball, and aerobics and you can have the character personalized in 1 of 3 skin complexions so she looks just like you and each of your friends! Add your name to your towel and you and your friends won't get each other's towels mixed up.
Any Workout Girl would agree – accessories can make working out fun! And the more fun you have, the more often you'll want to stick to your resolution!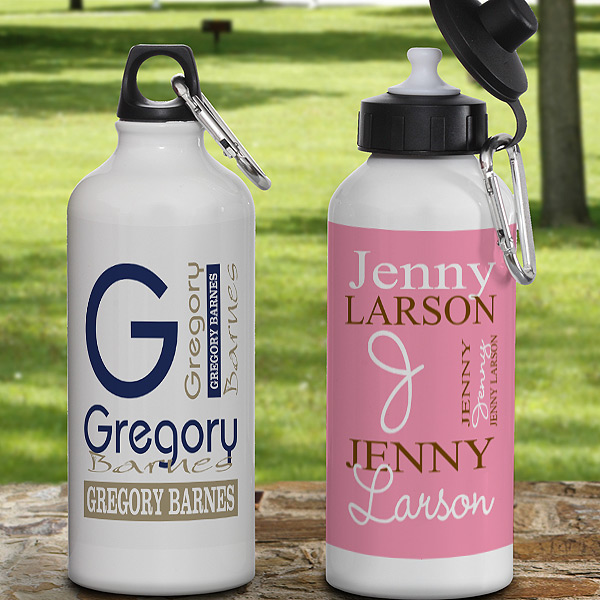 Another great workout accessory you may enjoy is one of our Personalized Water Bottle Designs, like the Personally Yours Personalized Water Bottle! With our Personally Yours© design, you have the option of choosing from 2 designs, then adding any full or single name. You also have the option of choosing any 2 color combinations from our 12 background and accent colors!
When you personalize one of our water bottles you'll be saving money, helping the environment, and keeping yourself hydrated and healthy! Our top-quality sports bottle is made from durable aluminum and is BPA and lead free so there's no after-taste or harsh chemicals. It comes with a pop-off and screw-off top and can be easily attached to a belt loop or backpack so you can take it wherever you go! Show it off at your next workout and bring it to work during the day so you can refill it at the water cooler and motivate yourself to drink more water.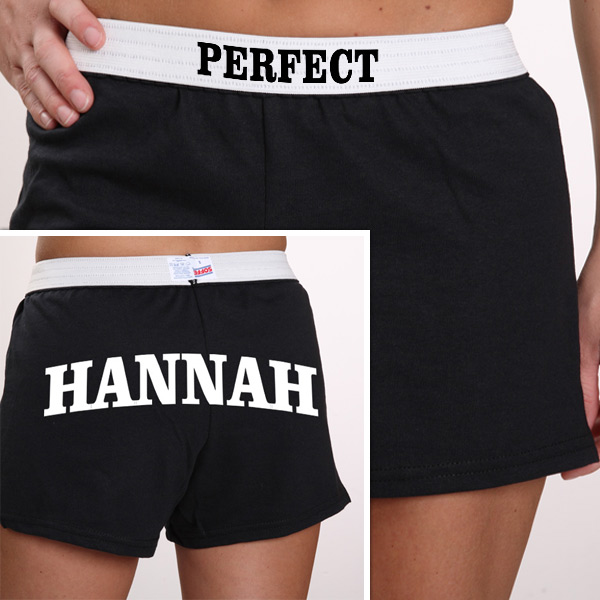 Last but not least, have fun looking around at all of PersonalizationMall.com's Soffe Athletic Shorts Designs! You can personalize these comfortable shorts in red, black or grey and with all our different design choices – the personalization options are endless! You even have the chance to personalize the waistband! Get together with your workout buddies and come up with a team name or motivational saying and have it personalized on the back of the shorts. Then you can have each of your names customized right on the waist band and wear them to support each other!
If you're working on more of an individual fitness routine, personalize a pair just for you. You'll not only feel comfortable while you're working out … you'll look cute, too!
We hope we've helped offer up some good ideas for those of you choosing to get fit as your 2012 resolution! They are just a couple of many personalized gifts PersonalizationMall.com offers that you can use to help you get your New Year's Resolution off the ground. Also, keep these gifts in mind later down the road and you can also use them as a way to reward yourself for mini triumps on your way to your big goal. For example, personalize a towel for yourself after you've lost 5 pounds, or maybe after you finally tackle that tricky Pilates position you can personalize an adorable water bottle! Whichever you decide, you'll be sure to be motivated to keep on pushing through!
We wish you good luck with your resolution and keep checking back here for some more ideas on how to make your resolutions fun & easy to keep!
Happy New Year!