Find unicorn gift ideas you can personalize for unicorn obsessed girls of all ages.
It's no wonder unicorns are so widely loved. These magical creatures represent goodness, kindness and peace, and are particularly popular with girls. Unicorns symbolize uniqueness and individuality, reminding us to always be ourselves. And for many young ladies out there, believing in unicorns simply means that anything is possible.
For anyone who is unicorn obsessed, a unicorn themed gift is always welcome. Adding a personalized touch will make it that much more special and unique!
Here are 27 personalized unicorn gifts for girls that are perfect for birthdays, holidays and any special occasion.
27 Unicorn Gift Ideas for Girls
Unicorn toys
Unicorn LED name sign
Unicorn socks
Porcelain unicorn piggy bank
Unicorn Christmas ornaments
Unicorn throw blanket
Unicorn hooded blanket
Unicorn baby lovey
Sequin Unicorn throw pillow
Unicorn crown pillowcase
Unicorn plush stuffed animal
Unicorn toy storage
Unicorn backpack
Unicorn lunch bag
Unicorn sequin pencil case
Unicorn face mask
Unicorn name door sign
Unicorn purse
Unicron duffle or dance bag
Unicorn kids rolling luggage
Unicorn makeup bag
Unicorn Christmas stocking
Unicorn growth chart
Unicorn wall art
Unicorn bath towels or beach towels
Unicorn Easter basket or gift basket
Unicorn picture frame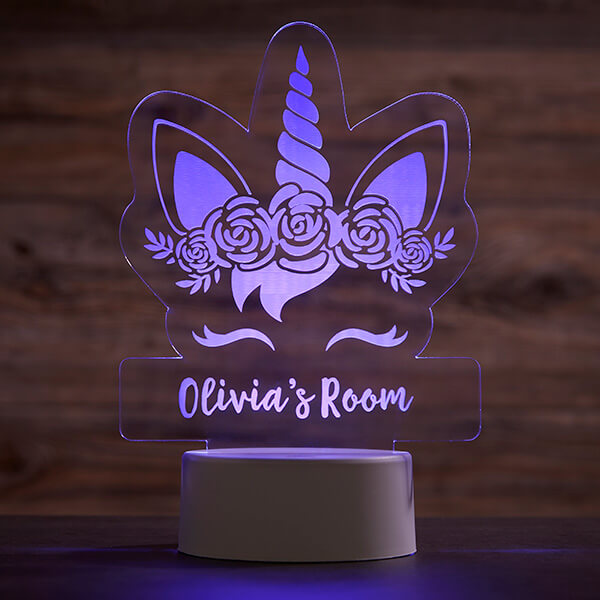 Find these unique unicorn gifts and other personalized gift ideas for girls perfect for birthdays, Christmas and other holidays and celebrations.