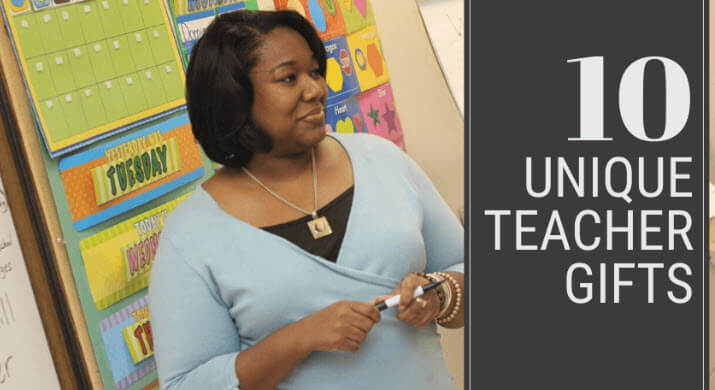 26 Mar

10 Unique Teacher Appreciation Gifts For Your Favorite Teachers

Looking for something unique for your favorite teachers? Here are 10 top-rated and best-selling teacher appreciation gifts to say thank you to a special teacher.

Showing your appreciation with a sincere thank you and a thoughtful gift can mean a lot to a teacher. Their enduring commitment and hard work is invaluable and should always be recognized. Whether it's Teacher Appreciation Day, back to school, end of school, or another special time of year, you can find a small yet meaningful way to say thanks to each of your child's teachers.

Of course, you can always send teachers fruit baskets or bouquets of flowers, or simply go with gift cards, which we know all teachers could use. But if you're looking for something truly unique and personal this year, here are the top-rated and best-selling teacher gifts perfect for any teacher.

Tip: Get your child involved in selecting and personalizing the teacher gifts and adding their own special touch. If you're purchasing a gift, have your child write a note or create a drawing for the teacher. If you're going the DIY route, get kids involved in creating the gift for their teachers. Being involved will make the project more fun and the gift more genuine. And it might even help your kids appreciate their teachers a little more.
10 Unique Teacher Appreciation Gifts
These custom teacher gifts are fun to personalize with teacher's name, subject, grade or school details, and more. For the DIY lovers out there, we include do-it-yourself tips and links to resources on how to recreate these personalized teacher gifts yourself!
Here are the top 10 teacher gifts for 2021 that can be customized for each teacher.
Mini Gift Bucket Pencil Holder
Teacher Tote Bag
Photo Clip Holder Block
Teacher Candy Jar
Classroom Sign or Banner
Custom Teacher Stationery
Teacher Flower Pot
Custom Name Plate
Teacher Card & Gift Card
#1 Teacher Trophy
These colorful metal mini buckets are a great, inexpensive gift option for any teacher. The personalized bucket becomes a mini gift basket that can be filled with the teacher's favorite snacks, homemade treats, chocolates, candies or school supplies. The teacher can then use the bucket as a pen and pencil holder or for storing paper clips, rubber bands, erasers or anything they wish. The bucket can even hold a small plant, like a cactus or succulent, or be used as a candy jar.
Make It Yourself!
DIY Tips: You can find plain mini metal buckets at most craft stores, and often they're sold in bulk. You can use stencils and spray paint to write your own message or create a printed design that you can glue right on to the bucket. Another option is to paint the bucket in chalk paint and then use chalk markers to write your message. This way the teacher can easily repurpose the bucket later. Or you can have your child decorate the bucket with colorful stickers using letter stickers to create a special message for their teacher.
What teacher can say no to a sturdy, handy canvas tote bag that has been personalized just for them? This year's best-selling teacher tote features colorful hand prints and the quote "A teacher touches a life forever." You can customize this tote with any two lines of text to include the teacher's name, school, grade or a special message. You can also find this tote bag in a smaller size and the design is available on coffee mugs, notepads, mouse pads and other items.
Make It Yourself!
DIY Tips: You can create a similar tote bag by purchasing a blank canvas tote and a set of acrylic paints or fabric paints from your local craft store. Apply the different colored paints to your child's hand to make three hand-prints. Then, once the paint is completely dry, paint or stencil on the red hearts inside each hand print. Add lettering using stencils or printable iron-on letters to add a custom message to your tote.
This fun photo clip holder is a new take on a picture frame and it can be so much more! Teachers can use it to hold notes and reminders, postcards and invitations, pictures, envelopes and more. The wooden block base is personalized with a special message for the teacher below the quote "It takes a big heart to shape little minds." It's a small, inexpensive gift that can become a useful desk accessory or a pretty decoration on any teacher's desk or shelf.
Make It Yourself!
DIY Tips: Craft supply stores sell blank wood photo blocks that can be decorated and customized with a stencil and craft paint. But you can also create the block base yourself using clothespins as photo clips. All you need for this project is a drill, wooden clothespins and 2-inch square wooden blocks. This handy DIY tutorial from SmallforBig.com walks you through all of the steps to creating your own wooden block photo holders.
A glass candy jar with a special message for the teacher is a good option for a simple, low-cost gift that any teacher will like – especially if you happen to know the teacher's favorite sweet cravings! This design can be personalized with any two lines of text below the quote "Teaching is a work of heart!" Simply fill it with some sweets or snacks and your teacher appreciation gift is complete.
Make It Yourself!
DIY Tips: There are a few ways to create your own personalized candy jar. The easiest route is to create a colorful tag with your message and simply attach it to a mason jar with a ribbon or twine, or cut out a circle and glue it to the top of the lid. You can also glue an object to the lid of the jar, like a bow, faux flower, a small toy and more. Another option is to print out your design on a sticker you can apply to the side of the jar. If you want to go all out, you can paint the jar with acrylic paint or follow this great DIY from the Country Chic Cottage that shows you how to apply a printed image to a jar with decoupage.
A personalized banner or wall sign that teachers can use to decorate their classrooms is another popular gift idea that's simple and unique. Our favorite design offers you the choice of four fun teacher quotes, like "I'm a teacher, what's your superpower?" and "Don't make me use my teacher voice!" Once you select the quote you like most, you can add any teacher's name to be printed below on the colorful chalkboard-inspired wall sign.
Make It Yourself!
DIY Tips: Create a similar wall sign at home using an MDF board, chalkboard spray paint or chalkboard contact paper, and chalkboard markers. If using the chalkboard spray paint, spray three even coats letting each coat dry in between. If using the chalkboard contact paper, peel up the first two inches of the paper backing and line it up with the top of the MDF board. Carefully peel away the paper backing while smoothing out any bubbles or wrinkles as you move down. Once the contact paper is down, cut off any access at the edges. Write your favorite teacher quote or phrase and your teacher's name using colorful chalkboard markers.
Note cards, notepads, sticky notes and other stationery items are a no-brainer gift for any teacher. And personalized versions will make a welcome addition to any teacher's desk. Our unique designs can be customized with the teacher's name, initial, school name, classroom name, grade level and other personal details. Choose from education-themed designs, like our fun yellow pencils and apples with heart-shaped cores, or more general stationery sets that feature an elegant touch that will go beyond the classroom.
Make It Yourself!
DIY Tips: You can create your own personalized paper note cube, notepads and note cards – and there are plenty of great, detailed DIY tutorials for each of these projects. We're sharing the easiest ones here, but feel free to search the web for more.
For personalized DIY paper note cubes, the easiest route is to purchase a non-personalized note cube and create your own design with markers, crayons, colored pencils or stamps on each of the four sides. You can even recruit your kids to draw something for their teachers!
For personalized DIY notepads, we found this step-by-step tutorial from the Pinning Mama to be very helpful. You start by printing out the notepad pages with the design you created, cutting them to size, clipping them together with binder clips, and running a layer of glue along the top of the notepad.
For personalized DIY note cards, you have lots of options depending on the design you choose and how involved you want your project to be. You can purchase blank cards with envelopes (plain white or color) and use a stamp to create your teacher's initial or monogram. You can also print out your design on cardstock, cut to size and fold the note cards to fit your envelopes. We found this tutorial from Centsational Style to be helpful for this method.
For a truly unique and personal teacher gift, customize a flower pot you can fill with easy to grow succulents or cacti. This custom engraved flower pot includes the teacher's name and one of four designs with clever quotes like "Teachers plant seeds of knowledge that grow forever" or "Teachers that inspire will really make you bloom." Your child's teachers can keep the flower pots at school or take them home to have a daily reminder of how appreciated they are.
Make It Yourself!
DIY Tips: Create your own personalized flower pot just by painting an ordinary off-the-shelf terracotta pot you can find in most home improvement stores. Acrylic craft paints and spray paints are the best to use on clay pots. Before you start painting, make sure you clean the pots with water and a brush so the paint sticks and dry them thoroughly. You can also seal the pots with a clear multi-surface waterproof aerosol sealer before and after painting. This will ensure your paint lasts longer and your beautiful work is protected over time. For lettering, you can use a stencil or vinyl letter stickers; or you can simply paint them on with a brush for that homemade look and feel.
If you know your child's teacher could use a new name plate, personalize one as a gift. This beautiful acrylic name plate offers a new, trendy font with a classic yellow pencil design that can be customized with a second line of text. Include the teacher's classroom name, school name, grade level, subject, room name or simply leave it blank.
Make It Yourself!
DIY Tips: There's a number of ways to create name plates and we've found two options that are fairly simple and definitely unique. One uses a a block of wood, chalkboard paint and colorful pieces of paper to create a cute chalkboard name plate – full instructions on the Mombot blog. The other option uses scrabble letter tiles hot glued to spell out the teacher's name on the scrabble letter holder with a sharpened pencil below for a very nice effect. This name plate will work best for shorter names with 10 letters or less. You can find this tutorial at the Modern Mom Life blog.
A gift card is always a great teacher gift option, especially if the teacher can use it for books, art and craft supplies, games, puzzles, posters and other classroom essentials. Make your gift card gift more special by presenting it along with something your child made for the teacher. This can be a hand-written thank you letter from the child, a drawing, painting or one of our personalized teacher cards that can be customized with a teacher character, name and special message.
Make This Yourself!
DIY Tips: To create your own DIY coloring card, you can draw a simple design by hand or print one out on heavy cardstock paper. You can download coloring pages with a teacher theme, like this one that simply states "My teacher is the best." Adjust it to fit on just half of the page so you can fold it into a card or print out a full page and write your message for the teacher on the back.
For that truly exceptional teacher that has make a difference in your child's life, create a gift that will let them know just how much they're appreciated. Our top choice is this wooden desktop trophy that proclaims them as the #1 teacher. You can customize it with any title (so if it's a gift for a coach or the principal, you can put that instead of teacher), name and a message below all custom engraved in the natural alder wood or red stained maple wood.
Make It Yourself!
DIY Tips: Most craft supply stores typically offer some form of a blank trophy or award, whether wood, ceramic or plastic that you can decorate and personalize for your child's favorite teacher. There are also specialty products available so you can design your own custom trophy for a reasonable price. And of course, you have the option of creating your own trophy from recycled materials. This step-by-step DIY from We Are Teachers shows you how to make a trophy from a plastic bottle!
This year, there's another unique gift that your teachers will appreciate. Face masks are becoming a necessity in our daily lives, and particularly in school settings. This fun school supplies design is perfect for school workers and can be customized with any teacher's name. You can choose between a standard cloth mask or one with removable filters, both of which include ear adjusters to modify the fit. Any teacher will appreciate a cute face mask that shows their name.
Make It Yourself!
DIY Tips: You can easily make your own cloth face masks with basic sewing skills and minimal materials. You can find elastic for ear loops and school themed cotton material at your local fabric store or online. As far as equipment, all you need is a sewing machine, scissors, pins and a ruler. There are lots of great online tutorials out there, including face mask sewing patterns, step-by-step guides with detailed photos, and video tutorials showing you exactly how to make a face mask in just minutes. We found the resources compiled by Joanne Fabrics particularly helpful.
Looking for more unique teacher gift ideas? The possibilities are endless and there are plenty of great gift options that can be personalized for less than $20.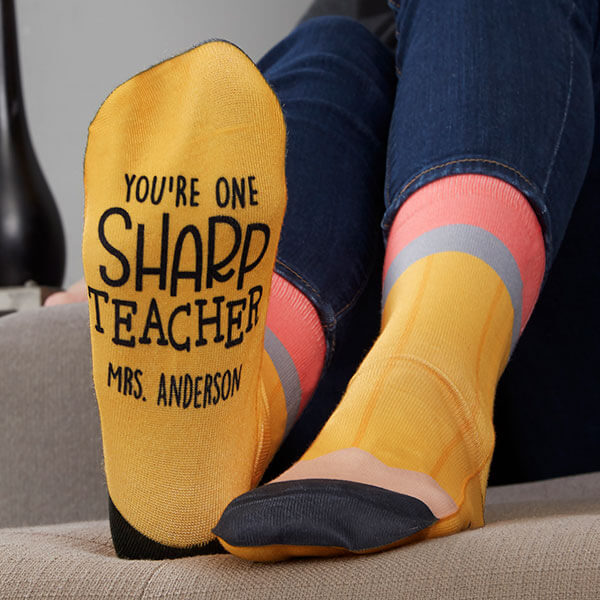 No matter what gift you choose for teacher appreciation day, back to school or last day of school, remember that sentimental gifts that come straight from the heart are truly the best.
Share Your Favorite Teacher Appreciation Gifts
What are some of your favorite gifts for teachers? Share your ideas and DIY tips in the comments below!