Custom throw pillows are an easy and budget-friendly way to freshen up any room. They can add instant interest, a burst of color, or an elegant touch to any space. Just one or two custom pillows added to a mix of other throw pillows can make an impact.
Place a family photo pillow on your living room sofa or arm chair, or put one in the middle of your bed to add an unforgettable accent. You can easily spice up your kitchen nook or dining room decor with beautiful monogrammed pillows, or warm up your entryway with a welcoming throw pillow on a bench or a chair.
With just a couple of well-placed custom throw pillows you can refresh the look and feel of any space in your home. Here are a few of our favorite ways to decorate with custom pillows and how to incorporate them with your current home decor.
1. Family Room Photo Pillows
Your family or living room is the ideal space in your home to feature your favorite family photos. Most of us will instinctively think of the walls and picture frames sitting on tables and bookshelves. But one of the more unique and unexpected ways to display your treasured family photos is with photo pillows.
Whether you create a photo pillow with just one or a mix of images and text, it will make a nice addition to any sofa or armchair, making the whole room feel more relaxed and cozy. Play around with the different designs and the photos you'd like to use. Create a separate pillow for every member of the family or one family pillow that features everyone together.
2. Romantic Master Bedroom Pillows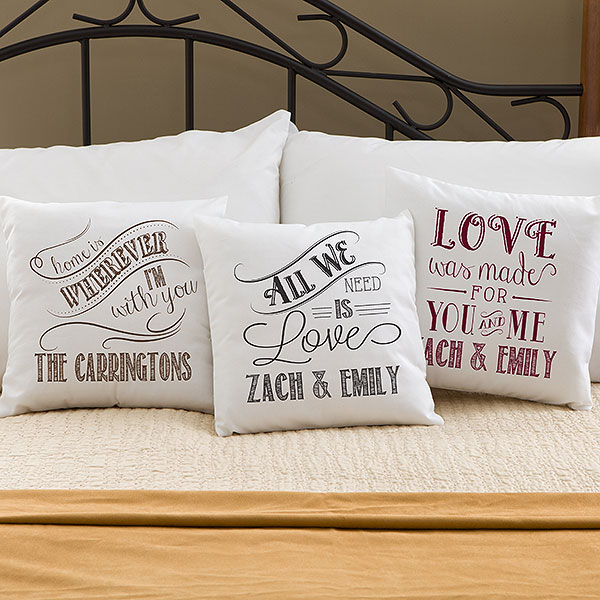 You can easily freshen up your master bedroom decor with personalized romantic throw pillows that hold a meaningful message or saying. End each night and start each morning with a subtle reminder of your lasting love elegantly scripted on a pillow.
You can include one of the popular love quotes on your romantic pillow, like "Always Kiss Me Goodnight," "All We Need Is Love," or "Love Is Where Our Story Begins." Or you can write your own message and include your names or initials. These romantic throw pillows make wonderful, unique gifts for your sweetheart, especially for Valentines Day or Sweetest Day.
3. Perfectly Precious Baby Keepsake Pillows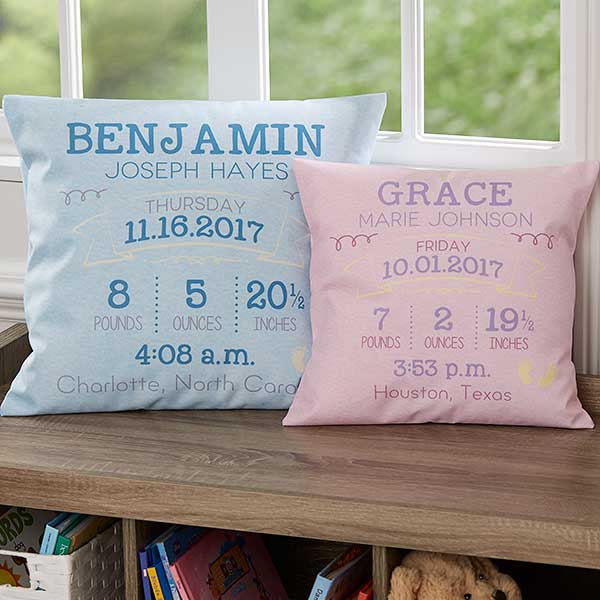 A baby's keepsake pillow is the perfect addition to any nursery decor. It can serve as a lovely memento and the ideal photo prop to capture baby's birth announcement or milestone photos.
You can customize throw pillows with your child's name, photos and even their birth information, like birth date, weight, length and more. Some of our favorites are these birth announcement pillows with photo and no photo options and the custom Precious Moments pillow that comes with four character options and includes a name, initial and a one line message.
4. Fun Kids' Pillows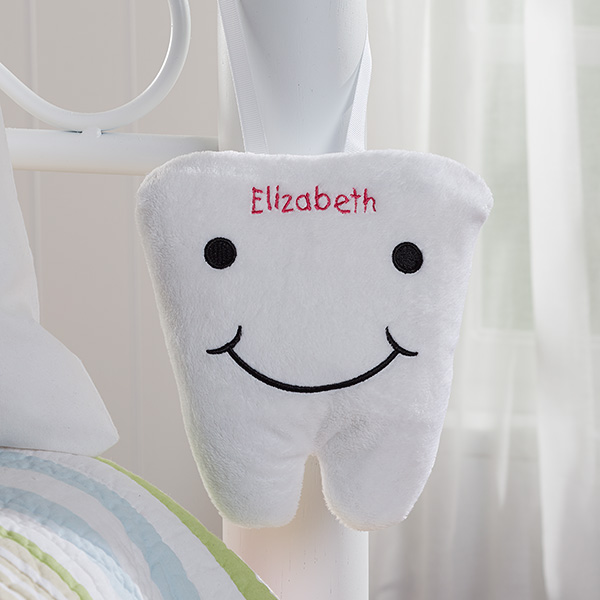 Add a sweet or playful accent to your kids' room decor with throw pillows designed just for kids. Whether they're used in a bed, a chair, a teepee or a fort, a custom pillow can be both fun and functional.
Customize their very own tooth fairy pillow, or create throw pillows with their photos, names and even their name meanings. Our "My Name Means…" collection offers historical name meanings or you can write your own special message. Just choose their favorite colors and get creative!
5. Elegant Monogram Dining Room Pillows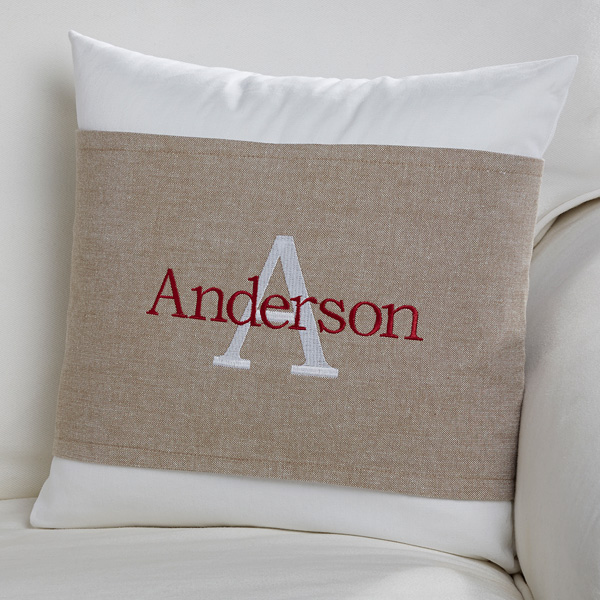 Although the dining table is typically the focal point of the dining room or kitchen, you can easily add style and a touch of comfort with custom throw pillows. They'll work well on any chair or bench, but will look particularly striking on the chairs that are flanking a sideboard or china cabinet. If you have a breakfast nook or banquette style dining, throw pillows will instantly add a sense of elegance and luxury to the seating area.
Custom pillows with your family name or monogram will work especially well in the dining room or kitchen because that's where you'll gather for a big family meal to celebrate a birthday or a holiday, like Thanksgiving and Christmas. Customize just one or two accent pillows to include among other throw pillows for a fresh and clean look.
6. Welcoming Entryway Pillows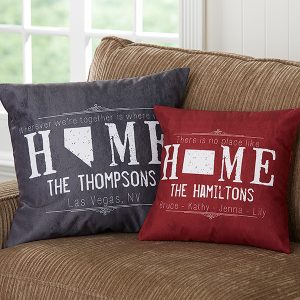 You can effortlessly warm up your home's entry hall or foyer with beautiful, welcoming custom throw pillows. Place them on a bench or chair next to the door or in the room closest to your front entry. They'll add a comfy, warm feel and will make your guests feel right at home.
Customize the pillows with your family names, individual family member names, favorite photos and sayings, and even your home state. One of our most popular throw pillows is the "State of Love" personalized pillow, which can be customized with any U.S. state along with three lines of text. Simply choose the design and colors you like and add instant charm to your entryway.
Bonus: Super Adorable Pet Pillows
If your pets are a big part of your life and they happen to be dogs and/or cats, you can customize our wildly popular cat and dog pillows. This unique design lets you choose one of a dozen graphics to represent your dog or cat in addition to your pet's name, pronunciation and up to six lines of custom text that defines your favorite furry friend.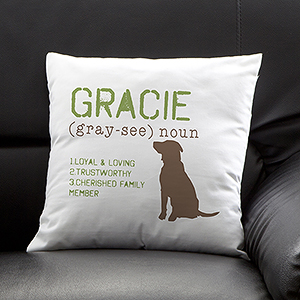 These fun pillows are simply adorable. They're great mementos of our loyal pets and are perfect for celebrating a new pet or a dog or cat that's been with you for years.
Personalized Throw Pillows For Every Room
We hope these ideas for freshening up any room will inspire you to create a few custom throw pillows that you can use throughout the house. Many of the designs are extremely versatile so they'll fit in with traditional or more contemporary home decor and you can always move them from one room to another to change things up whenever you feel like it.
The nice part about personalized pillows is that you can add your own personal touch, style and most importantly, meaning to the items you use in your home every day. Personalized throw pillows can be a great way to remember life's special moments or add your personal touch to any space.