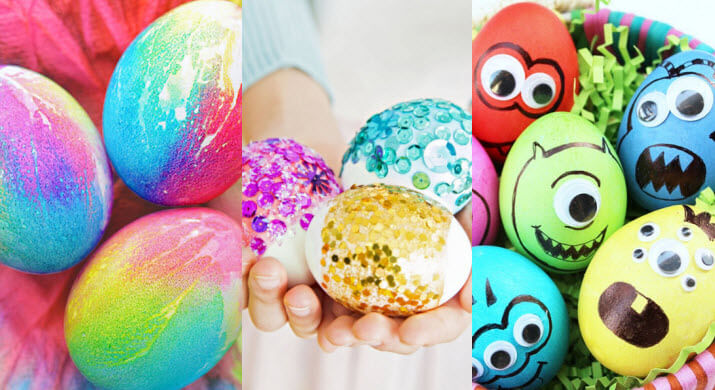 07 Apr

A Dozen Easter Egg Decorating Ideas Perfect For Kids

Easter is just days away, which means it's time to bring out your holiday decor, ready your Easter baskets and decorate your Easter eggs!

Just like decorating the Christmas tree at Christmas, decorating Easter eggs is especially fun for the kids. It's a great opportunity for them to get creative, experiment with different styles and techniques, and get involved in the holiday preparations. You can have loads of fun with your kids making fun and festive designs and unique egg creations. Simply find a theme, gather your supplies and enjoy creating with your kids.

See Also:10 Easy Homemade Easter Treats For Kids

If you're looking for Easter egg decorating ideas that are perfect for little hands, check out our top 12 kid friendly Easter egg decorating techniques from some of our favorite DIY bloggers.

As you'll notice, some of the ideas are super simple and require only a couple of steps while other are a bit more involved and might be better suited for older kids. Pick your favorite or try a few different styles to create a nice and happy variety for your kids' personalized Easter baskets.
1. Silly Monster Easter Eggs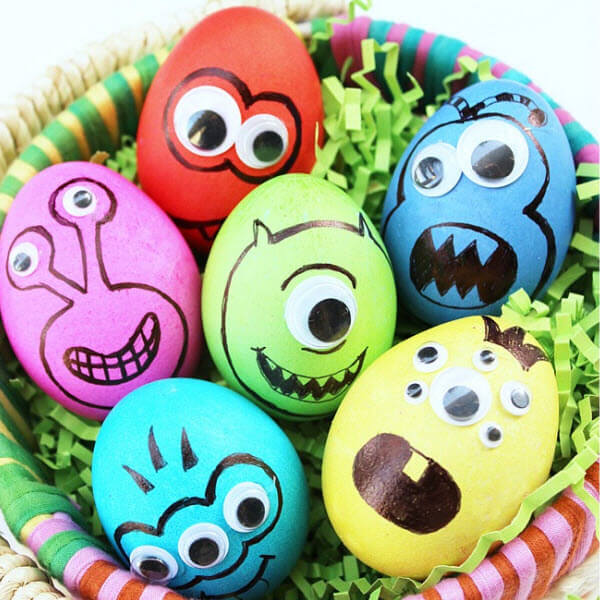 These monster eggs are as much fun to make as they are to look at! All you need is a bag of different size googly eyes from the craft store, glue and Sharpie markers for your kids. You can dye the eggs different colors ahead of time so that they're ready to be decorated.
Once your kids are ready to decorate have them glue on a single or multiple eyes and then use their imagination to draw around the eyes to create different silly monster faces. For younger kids you might want to have them draw some practice monster faces on pieces of paper so that decorating their eggs will be easier and more fun.
>> Get the Tutorial: Silly Monster Easter Eggs by Artzy Creations
2. Sparking Glitter & Sequins Easter Eggs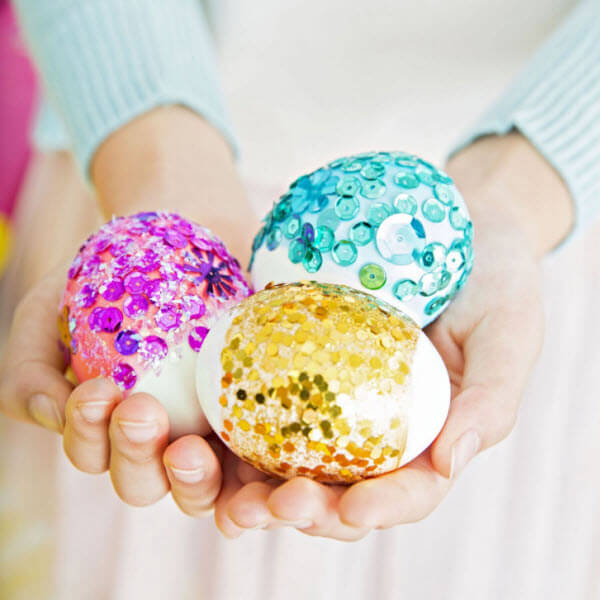 This technique is very simple, yet very effective! Your kids can create stunning, sparkly, colorful Easter eggs in just two easy steps. There's no way to mess these up!
What you'll need is some glue, glitter and sequins. Simply put the decorating supplies on paper plates and let the kids have fun brushing on glue and sprinkling their eggs with colorful sparkles. Kids who are into glitter and all things sparkly will adore these fancy Easter eggs.
>> Get the Tutorial: Sparking Glitter & Sequins Easter Eggs (plus 3 other ideas!) by DIY Candy
3. Fingerprint Easter Eggs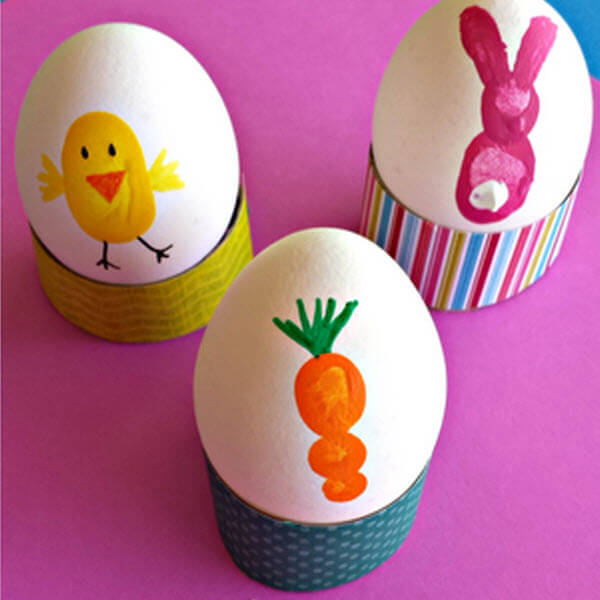 Finer painting is always fun and works just as well on Easter eggs. This Easter decorating idea is perfect for kids who are learning to paint and draw. Have them use their fingers to create a few basic shapes and then complete the designs, once the paint is dry, with markers. So cute!
>> Get the Tutorial: Fingerprint Easter Eggs from Crafty Morning
4. Ninja Turtle Easter Eggs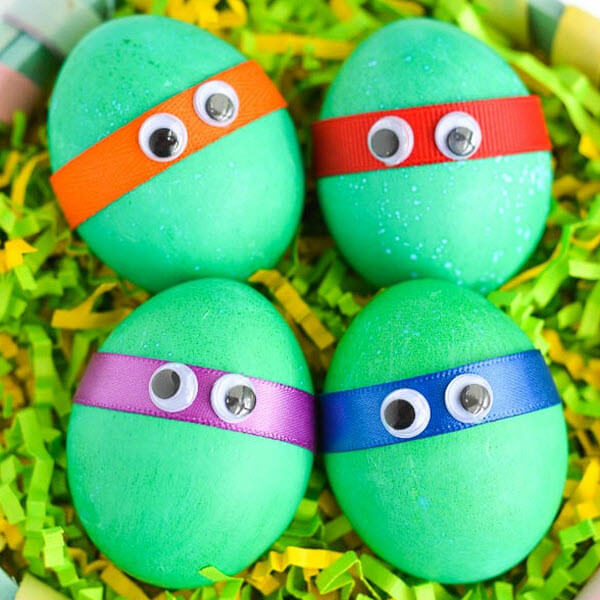 Kids who love the Teenage Mutant Ninja Turtles will have a blast making these fun Easter eggs. And the technique is simple enough for any kid to master.
Start by dying your eggs green then using colored ribbons or construction paper and googly eyes to create the faces. You can even go a step further and have the kids draw on the eggs to create additional details.
>> Get the Tutorial: Ninja Turtle Easter Eggs from A Pumpkin & A Princess
5. Melted Crayon Easter Eggs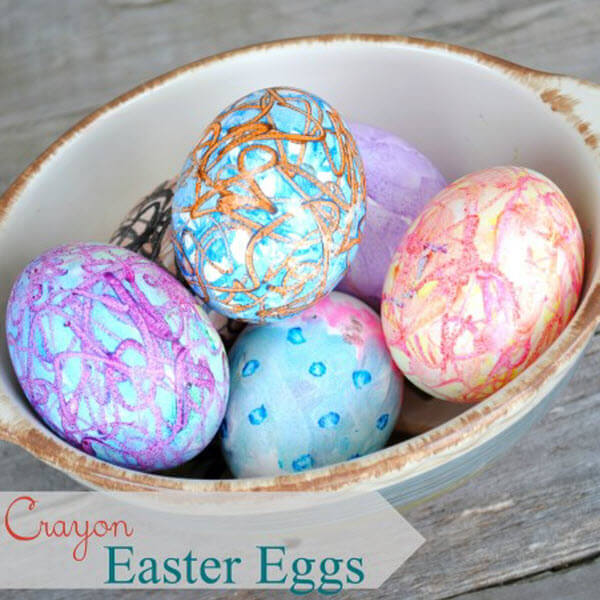 This fun melted crayon technique produces intense colors and creative designs. Kids don't have to worry about staying inside the lines here! Let them get creative and mix and match their favorite colors as they experiment with different patters.
The tutorial link below explains how to easily create fun designs with just ordinary crayons you already have in the house.
>> Get the Tutorial: Melted Crayon Easter Eggs from Jenna Burger Design
6. Volcano Fizzy Easter Eggs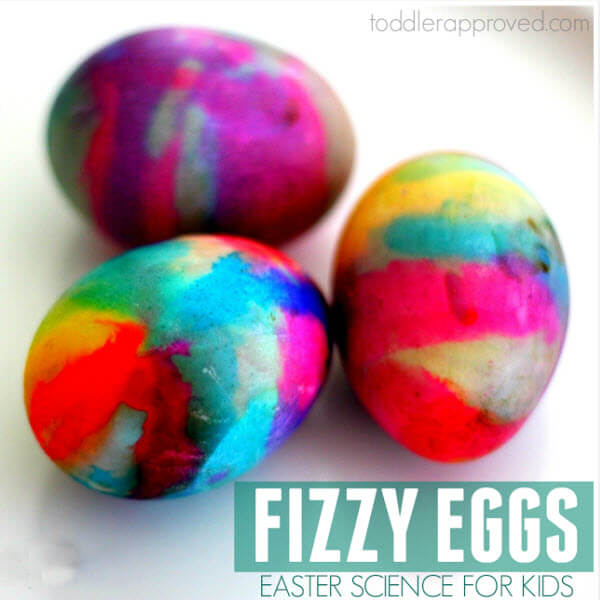 This egg decorating technique is more about the process than the end result, at least for the kids. But you have to admit, the Easter eggs did turn out beautiful! If your kids like volcanoes or are curious about science, then they'll love this fun, easy tutorial.
>> Get the Tutorial: Volcano Fizzy Easter Eggs from Toddler Approved
7. Temporary Tattoo Easter Eggs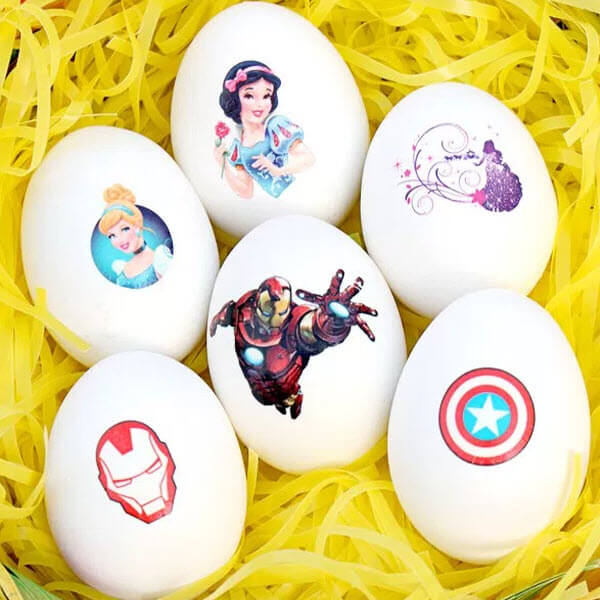 Using temporary tattoos is possibly the easiest way ever to decorate your eggs and have them look great. Plus it's always fun for the kids! Simply have your kids pick out their favorite temporary tattoo designs and help them apply the tattoos onto your hard boiled eggs.
>> Get the Tutorial: Temporary Tattoo Easter Eggs from Smart School House
8. Farm Animal Easter Eggs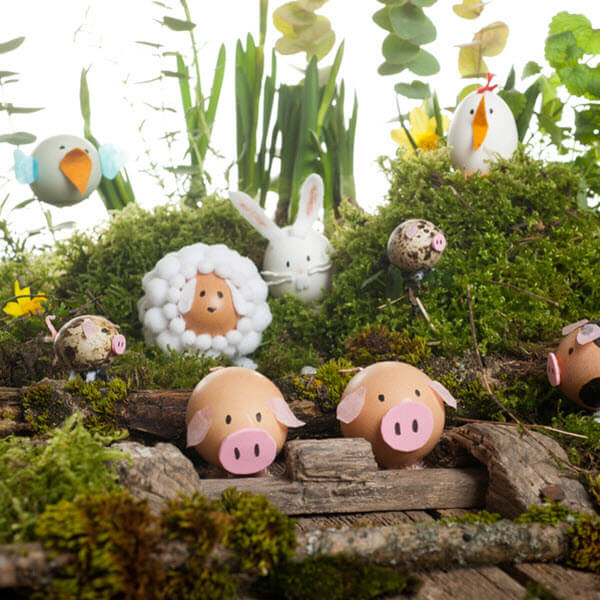 These adorable farm animal Easter eggs are definitely more involved than the other decorating ideas on our list. But you can't argue with the results, they're just so darn cute!
If you have creative kids that are looking for a fun challenge, work with them to create these lovable little creatures and they won't be disappointed. The tutorial below will show you how to create egg pigs, bunnies, chickens, birds and sheep.
>> Get the Tutorial: Farm Animal Easter Eggs from Look What I Made
9. Rainbow Easter Eggs
If you're looking for an easy way to create bright, vibrant Easter eggs, this tutorial has the secret. Whether you color your eggs with bright, intense colors and leave them as they are, or use the colored backgrounds for an additional design, that's up to you and your kids to decide.
>> Get the Tutorial: Rainbow Easter Eggs from No. 2 Pencil
10. Tissue Paper Chick Easter Eggs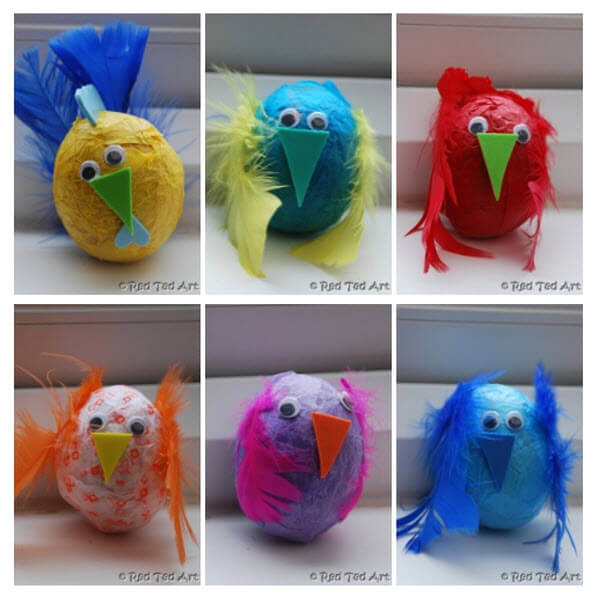 This egg decorating technique is also a bit more involved, but it's actually fairly easy for kids to complete. You'll need some tissue paper for decorating the egg and then additional accessories like googly eyes and features to complete the chick designs. These little guys are a blast for kids to create and look so fun and festive!
>> Get the Tutorial: Tissue Paper Chick Easter Eggs from Red Ted Art
11. Tie Dye Easter Eggs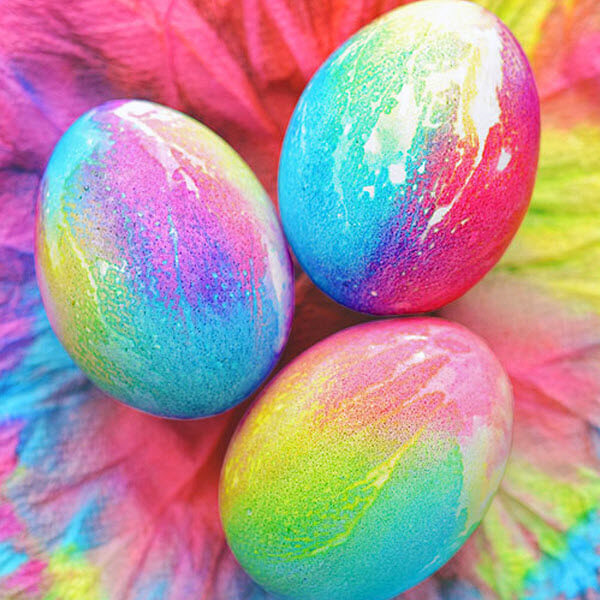 These tie dye Easter eggs are colorful and fun to create, but the technique is better for older kids and/or lots of assistance from parents as these can get pretty messy. As you'll notice in the tutorial, a pair of latex gloves will come in handy.
>> Get the Tutorial: Tie Dye Easter Eggs from One Little Project at a Time
12. Easter Emoji Eggs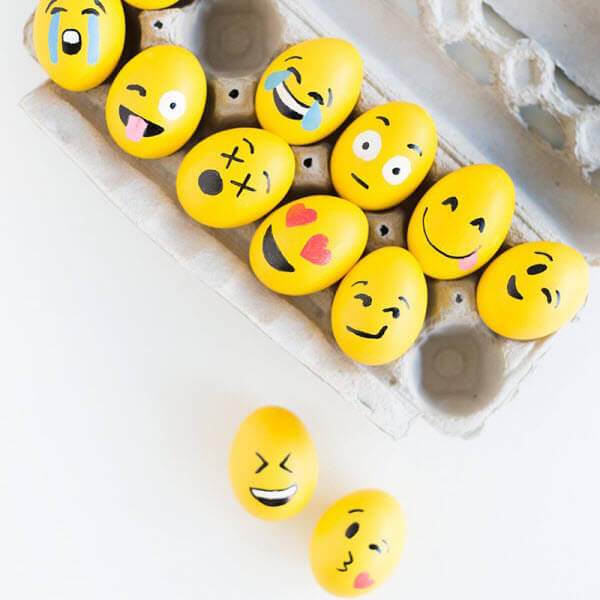 This one might just be our favorite Easter decorating idea. These Easter emoji eggs are so adorable and they look like a blast to make!
The tutorial is great too — it walks you step-by-step on how to create each emoji so it looks just right. If your kids are older and tech savvy, they'll love making these fun emoji eggs with you.
>> Get the Tutorial: Easter Emoji Eggs from Studio DIY
Let us know which Easter egg decorating ideas you tried with your kids this year and make sure to share your photos with us on Facebook, Instagram and Twitter.