Originally published: August 2, 2013. Updated: August 2, 2018
A drive-in movie at home is a fun family activity all kids will love. Check out some easy ways on how to make it more special and memorable for the whole family.
Now that August is here, the summer heat is starting to take its toll and your kids may be looking for ways to take a break from the sun.
Here's one great way for you and your family to beat the heat: create your own "Drive-In Movie" inside your home!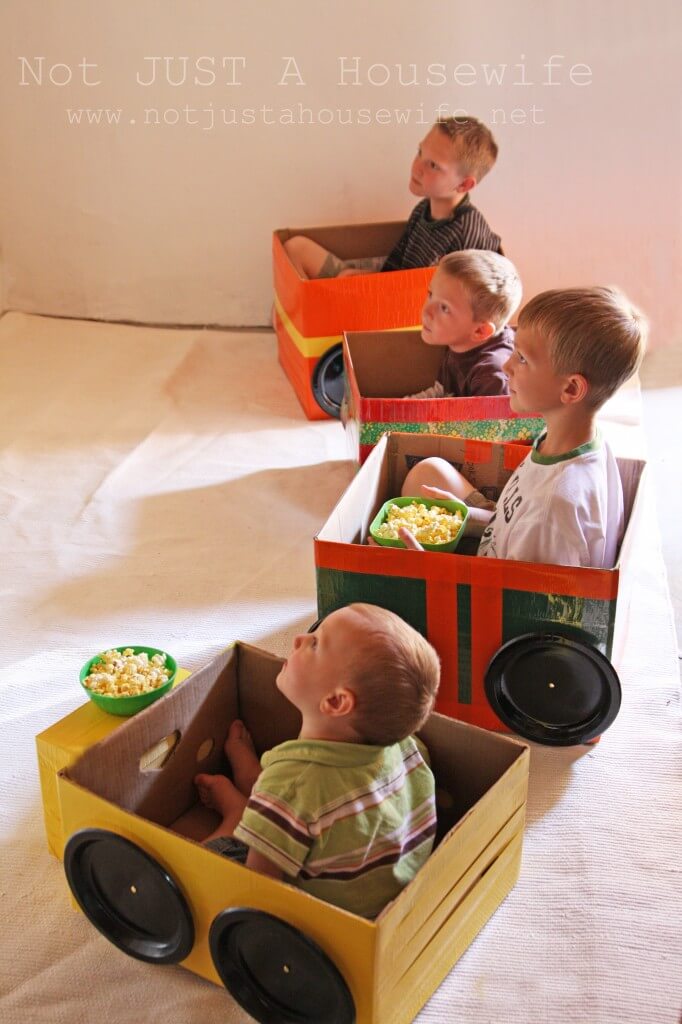 Stacy from Not Just a Housewife blog< shared an awesome idea to turn cardboard boxes into cars and place them in front of the TV so the kids feel like they're actually at a drive-in movie theater. It's a great way to get the kids' "creative juices" flowing all while escaping the summer sun and spending quality family time together.
As you can see from the blog post, all you have to do is take a cardboard box and have the kids decorate it to look like any type of car they'd like. The blog post suggests covering the boxes with fun, colored or patterned duct tape so that the cardboard becomes more durable and lasts for more than one movie, but if you don't have any colored duct tape on hand, feel free to just let the kids use crayons or markers to decorate the boxes with their own artwork. Don't forget to attach paper plates for the car's wheels for an extra cool effect.
Once everyone has created their own cars, place them in a straight line on the ground in front of the TV and decide what movie everyone would like to watch. Then have everyone pick out their favorite snacks to enjoy the show.
Make It Special With Personalized Snack Bowls
If you want to make this fun activity a family tradition, make it more special with personalized popcorn or snack bowls for everyone.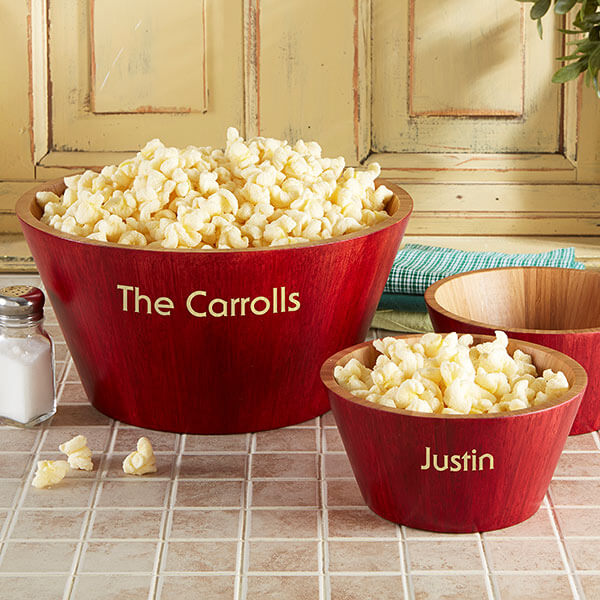 Customize our red bamboo popcorn bowl set with a bowl for each member of the family. You can personalize the large bowl with your family name or any message you'd like. We love the old-fashioned look of these popcorn bowls and the engraving makes them more special.
They're made of high quality natural wood so you can use them for more than popcorn on family movie nights. They can be used for all of your dining and entertaining needs, including using them as salad bowls for a family dinner or to serve other types of snacks at home.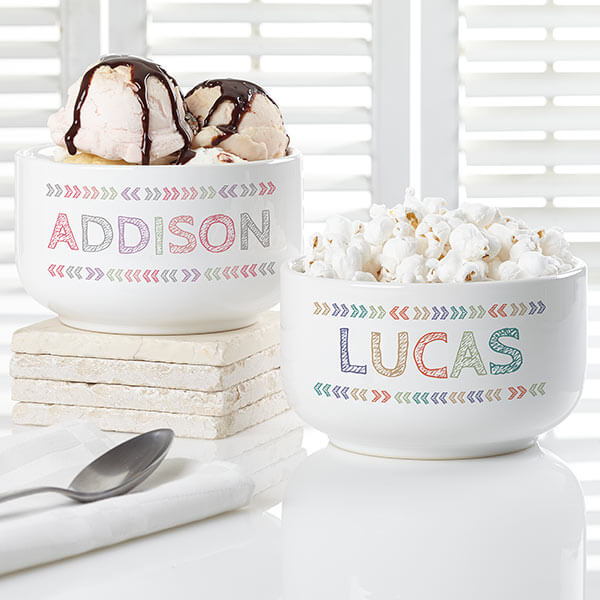 Instead of wood, you can personalized ceramic snack bowls for kids to include their names in a fun, colorful stencil design. These bowls are perfect for popcorn, pretzels and candy but can also be used for ice cream, pudding, yogurt and other snacks your kids might like.
Make It A Learning Experience For Kids
If your kids are a little older, you can also create a learning experience for them by creating a little concession stand in your kitchen.
Have them work on their handwriting and spelling by creating a poster board that shows a menu with the different types of snacks and the cost of each item. When they want to purchase a snack, they'll have to use their math skills to figure out how much their chosen snacks will cost.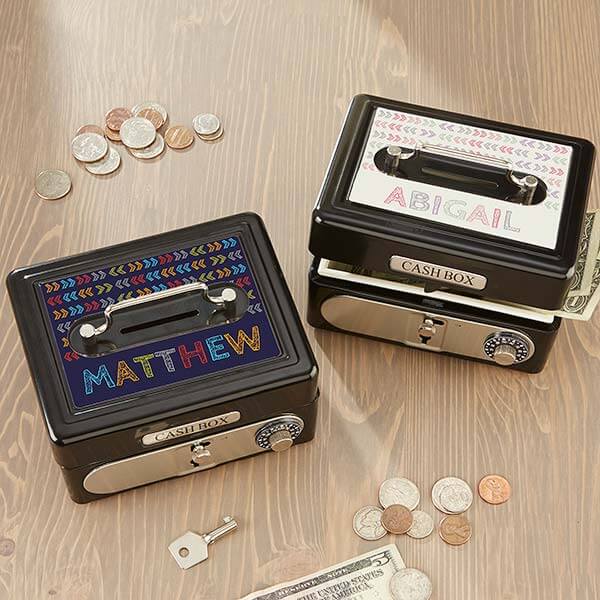 You can use our personalized cash box as the cash register and have your kids take turns being the concession stand worker. Whoever is taking turn playing the concession stand worker will have to take their siblings' popcorn, candy and drink orders. And using real or play money they'll have to figure out how much change they need to give back to each of their customers.
The cash boxes can also be great for kids to store their own allowance, birthday money and other savings or to play other make-believe games that involve money.
Make It Comfy & Cozy
Once everyone has their snacks, treats and drinks and the concession stand is "closed," have everyone climb into their cars and get ready for the movie. Now you can tuck each of them in with a fun, personalized blanket so they can be comfy and cozy in their little "cars."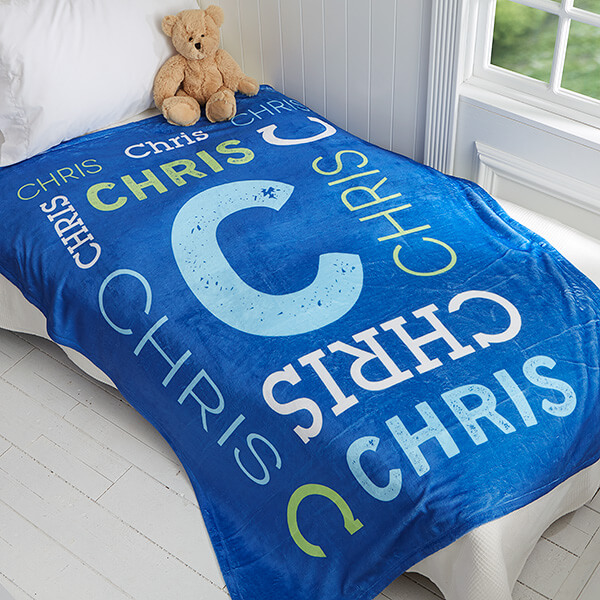 Since they're in their individual cardboard cars they probably won't be able to share a blanket. But with our wide selection of personalized blankets for kids you'll have no problem finding the perfect design for boys and girls of all ages, no matter what their favorite hobbies or interests are.
The kids will stay cozy and comfortable in their cardboard boxes and the blankets can help prevent any sticky candy from falling onto your carpet (after all it's a lot easier to throw a blanket in the wash, than it is to try and get a sugary stain out of your family room carpet). The blankets will be great for the drive-in movie night, but your kids will also be able to use them for years to come, especially when they go on sleepovers, road trips or just when they're sitting on the couch watching TV or doing their homework.
When everyone is ready, dim the lights and start the movie!
The homemade drive-in movie theater is a win-win for everyone. The kids are happy that they get to cool off, watch a movie and have a snack, and the parents are happy that the kids are using their creativity, math skills (without even realizing it) and spending quality time together.
It's not only a great way to beat the heat, it's also a great way to make an unforgettable memory that your family will cherish forever!
Make It A Drive-In Move Birthday Party!
Since we shared this blog post in 2013 the drive-in movie at home idea became even more popular. It has even become a popular summer birthday theme!
Pinterest shows over 200 ideas for how to throw your own drive-in movie birthday party with everything from creating fun snacks for kids, to customizing cardboard cars, making a themed birthday cake and more. If your kids want to have their friends join in on the fun, this is a great opportunity for them to share their family tradition with other kids.
If you have other ideas on ways to beat the heat this summer, feel free to share them in the comments below and make sure to visit our kids store for other great personalized items for the little ones.