This Christmas surprise kids with a real letter from Santa! Get tips on how to write a letter from Santa and how to get an authentic postmark all the way from the North Pole.
Christmas is a magical time for children that's filled with joy, wonder and excitement. The holiday season is replete with family traditions and making lasting memories. Of course, for kids a visit from Santa Claus is the most exciting event as anticipation builds for the fun of Christmas morning.
Writing a letter to Santa is a fun family activity that will help kids get prepared for Saint Nick's arrival (It's also a great way for parents to prepare their Christmas shopping lists!)
Mom and Dad can make the whole experience as real and meaningful as possible by taking kids to the post office to mail their letters to Santa — and making sure they get a response back in the mail, complete with an authentic postmark from the North Pole!
How To Get A Letter From Santa
The U.S. Postal Service's Letters from Santa program is easy and free. Your child will receive their letter from Santa with a postmark from the North Pole just in time for Christmas.
Here's what you'll need:
1. A letter to Santa from your child in an envelope addressed to Santa Claus, North Pole
2. A letter from Santa to your child written by the parents and signed by Santa Claus
3. An envelope addressed to your child containing both of the letters with the return address Santa, North Pole along with a stamp (this is the envelope your child will receive from the North Pole)
4. A larger envelope to contain the smaller one with appropriate postage addressed to:
North Pole Postmark
Postmaster
4141 Postmark Dr
Anchorage AK 99530-9998
Important: 2021 Deadline
Make sure your letter goes out no later than December 10, 2021 so that it can reach North Pole and return back to your home in time for Christmas.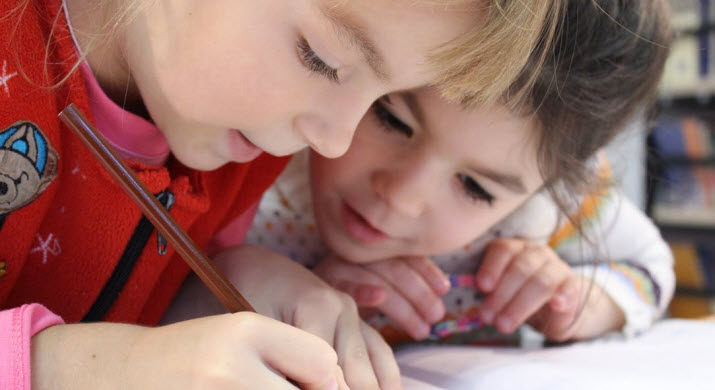 How To Write A Letter To Santa
Start by sitting down with your kids and helping them write their own letters to Santa. Give them some time to think about what they want to write and most importantly, what they want to ask Santa for this Christmas.
Help them write their letters by starting with a greeting (Dear Santa), introducing themselves and telling Old Saint Nick a little bit about themselves (how old they are, what they like, what they want to be when they grow up, etc). Remember, these letters will become holiday keepsakes you can show your kids when they're all grown up so make sure they have some fun, personal elements.
Make sure your kids include their wish list in their letters and suggest that they think of wishes for others, not just themselves. End the letter with a thank you to Santa and all the elves and reindeer who help make and deliver presents. And don't forget to have the kids sign their letters with their names.
Encourage kids to be creative, to draw a picture for Santa, add some fun stickers and make their letters stand out. As an alternative, you can create a personalized letter to Santa that includes the child's personal information and photo. Once the letter to Santa is complete, put it in an envelope addressed to Santa Claus, North Pole.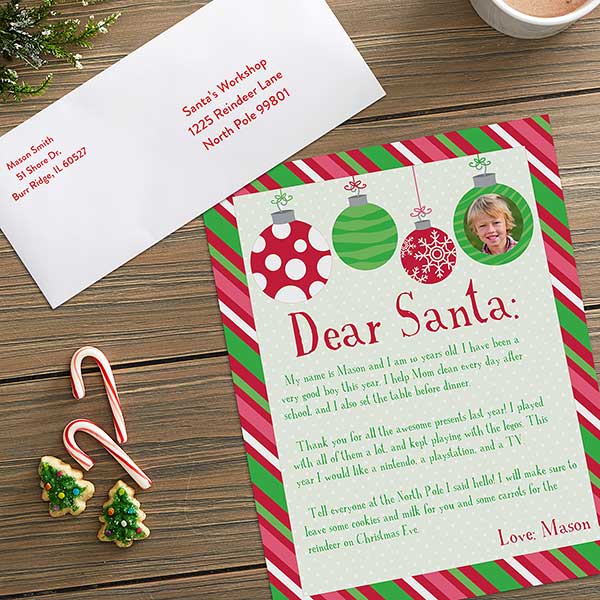 How To Write A Letter From Santa
Once you have your child's letter to Santa, you can sit down to write your response. Start by addressing the letter with your child's name and mentioning some of the things you found in their letter along with things that are specific to your family or home. You can mention their recent accomplishments at school or extracurricular activities, memorable family events or your family pet.
Use the letter to encourage your child to be good throughout the year, and tell them that this year they made the Nice List. Use positive reinforcement and make sure not to use the letter to discipline or scold a child.
Mention specific examples of when your child was good, kind to others, diligent in their studies and exhibited other positive behaviors. Explain that this is why they deserve to be on the Nice List and that they should keep up the good work.
You can also include a special request in the letter. Ask the child to remember to perform specific tasks throughout the year, like helping Mom and Dad with chores around the house, being nice to younger siblings or completing homework on time each night. The request can also be small, like asking that the child remembers to leave cookies and milk on Christmas Eve and goes to bed early so they can wake up rested on Christmas morning.
The key to writing a great letter from Santa is to stay positive and use positive reinforcement. Focus on what the child has done to make the Nice List and what they can do to improve for next year. Make sure not to mention anything negative, keep the letter upbeat and happy. Focus on the child's positive qualities, like a good sense of humor, kindness, friendliness and helpfulness. This is a great chance to tell the child that they're loved and appreciated by their families.
End the letter with something personal from Santa. Mention how excited the reindeer are to visit your house on Christmas, how hard the elves are working to make sure every child receives a toy this year and how much Santa is looking forward to trying your home-baked cookies. Finally, sign the letter with a cheerful greeting from Santa Claus.
Making Letters From Santa More Special
To ensure your child doesn't recognize your handwriting, you can type up the letter from Santa or have a friend rewrite it for you. You can even use a special template or paper to make the letter look more authentic.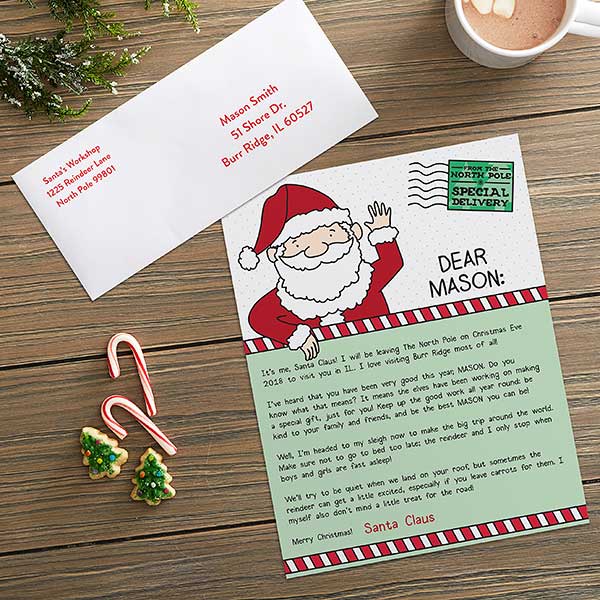 If you're not up for writing the letter yourself, or if you simply don't have the time or creativity to do it, you can order a personalized letter from Santa customized with your child's name, hometown and other personal details. You can also include Santa's Nice List Certificate along with the letter, which has a very official look and feel and is sure to delight any child.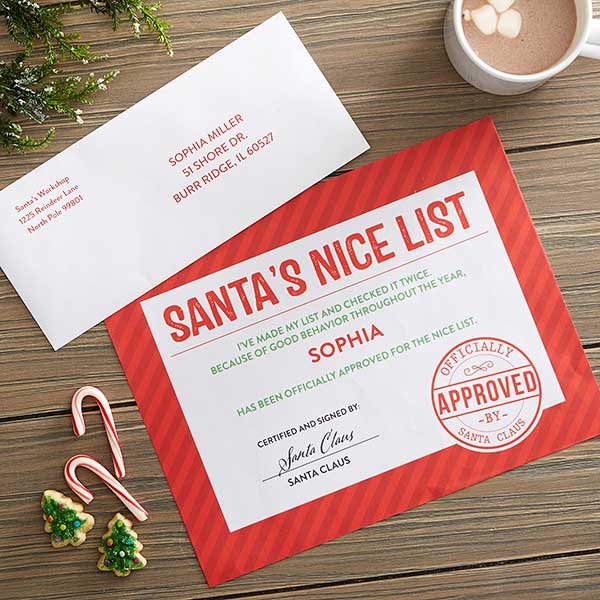 Although this might seem like a lot of work, it actually takes very little time and writing the letter to Santa with your kids can become a fun Christmas tradition for your family. Your efforts will be well worth it when you see your kids' eyes light up with joy when they get their very own letter from Santa Claus mailed straight from Santa's Workshop in the North Pole.
Share
Share your tips or advice for parents writing their first letters from Santa for their kids.