Remember your late mother, father, grandparents, and any deceased family and loved ones in a truly special way with meaningful wedding memorial ideas.
As you plan your wedding, take time to remember and honor those who won't be able to join you in person. Whether it's a dear parent, grandparent, sibling, or another close relative you'd like to recognize, you can find thoughtful and creative ways to keep their memory alive on your big day.
In this guide, you'll also find wedding memorial quotes and popular sayings that you can incorporate into a custom sign or display on a wedding memorial table along with photos of your loved ones.
Wedding ideas to honor loved ones who have passed
A wedding is a once-in-a-lifetime event, a day important enough that many want to pay a tribute to their lost loved ones. Commemorate your close relatives and loved ones in a personal and meaningful way with one of these 10 unique memorial wedding ideas. You can also venerate your family ancestors with simple yet memorable touches and thoughtful additions to your wedding ceremony and reception.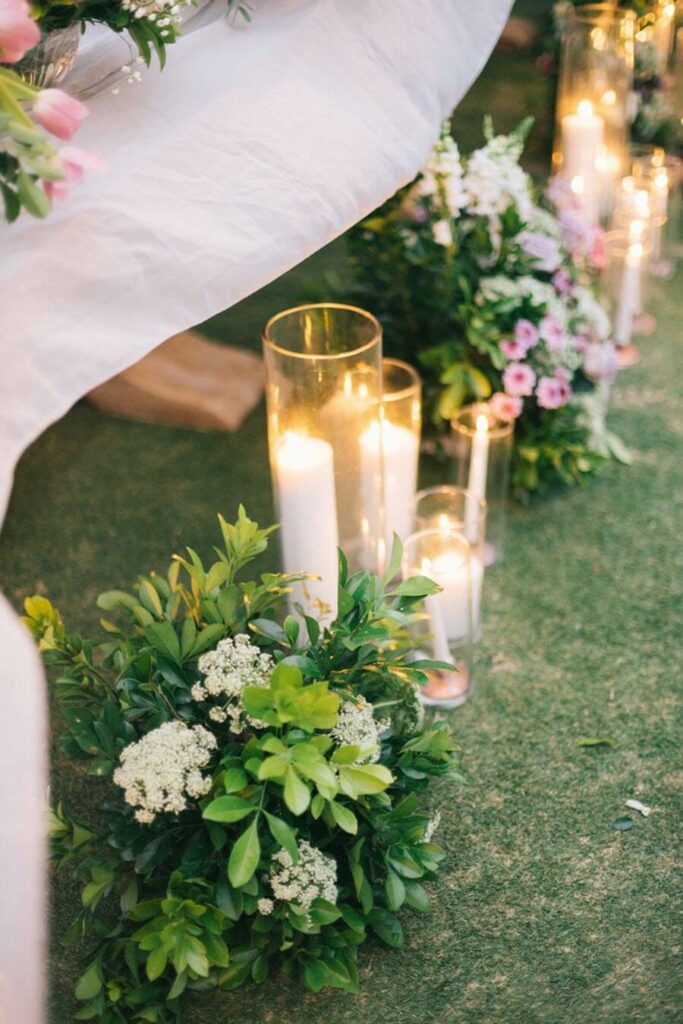 Consider incorporating your loved ones' photos in some way, either with a custom photo charm that can be attached to a bride's bouquet or groom's boutonniere, or a tabletop photo display with flowers, candles, or simply a memorial sign. There are a lot of different ways to remember those who can't join you at your wedding — both big and small — but all are special and meaningful in their own way.
1. Wedding memorial table
Creating a memorial table display at your wedding is a simple yet beautiful way to honor family members who have passed. You can display their photos in picture frames along with some candles, flowers, and a sign with a loving memorial quote. Try to find photos of happy moments, such as a late grandparent's wedding photo, or simply display pictures that are special and meaningful. Your memorial table can be dedicated to a single person or multiple individuals, or you can create one for the bride's family and one for the groom's.
2. In loving memory wedding memorial sign
A memorial sign with a heartfelt quote can be a standalone way to remember loved ones who have passed, or it can be a part of a larger display. Visit the "Wedding memorial quotes & sayings" section below for inspiration and ideas on what to include on your memorial sign.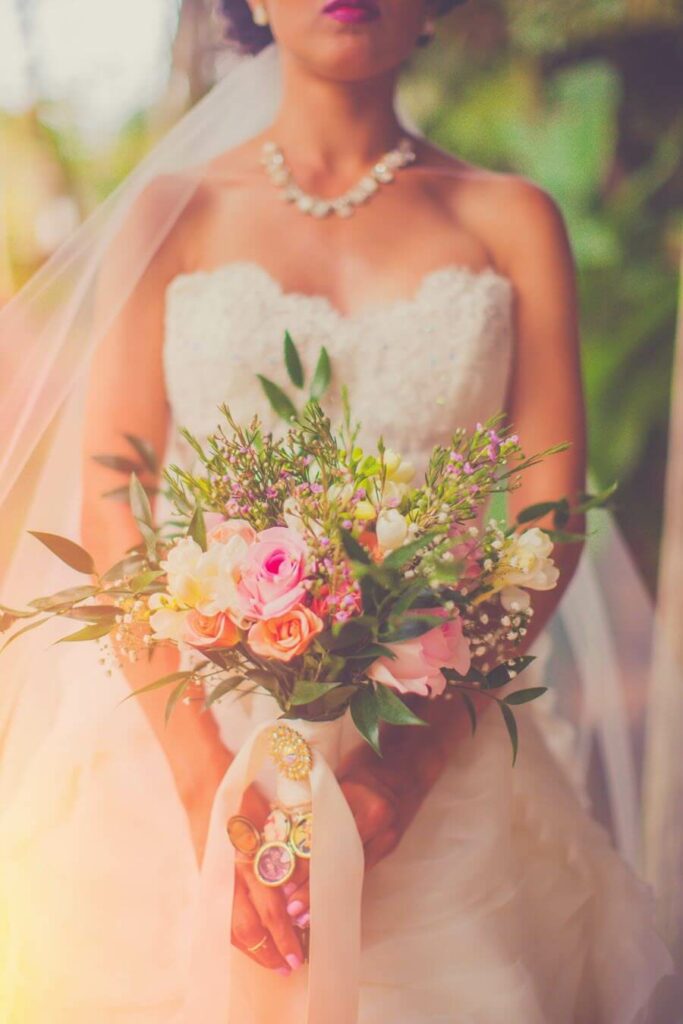 3. Memorial charms & pocket tokens for bride & groom
The bride and groom can each keep their important loved ones close during their wedding with custom photo charms, pocket tokens, and other small mementos. The bride can attach a photo charm, locket, or even an embroidered handkerchief to her bouquet. The groom can pin a small photo charm to his boutonniere or hold an engraved pocket token or wallet card in his pocket.
4. Family heirlooms & personal artifacts
Nothing is more personal than something your loved ones held in their hands, carried with them, cherished, and passed down to you. It can be a piece of jewelry, a small accessory, or a part of the bride or groom's wedding attire. Another unique wedding memorial idea is to cut a small piece of your loved ones' clothing in the shape of a heart, which can then be hand-stitched on the inside of the bride's dress or groom's suit.
5. A reserved seat in their honor
Reserving a chair for your lost loved ones at your wedding ceremony is a great way to honor their memory. Consider including a small sign or handwritten note that reads "Reserved in memory of… celebrating with us in heaven," or something to that effect. We've also seen memorial chairs reserved with a picture frame of the person, a small sign, or a small bouquet of flowers placed on the chair.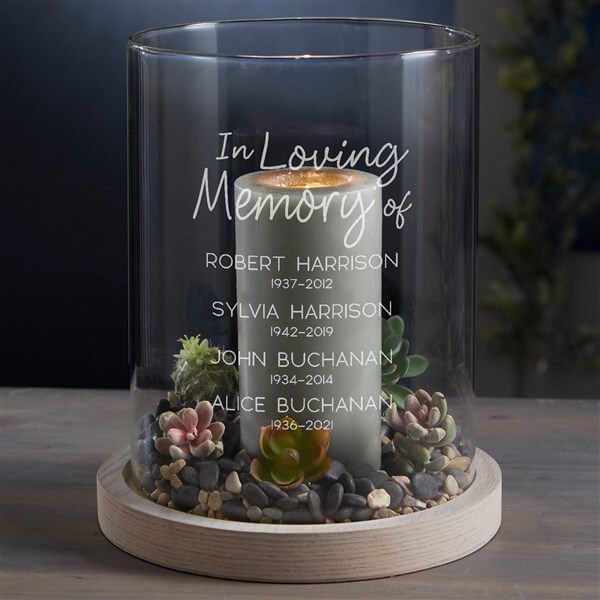 6. Wedding memorial candles
Remember all those special people who are no longer with us by lighting memorial candles either during the wedding ceremony or at the reception. You can incorporate your candles into your wedding memorial table, or create a small space decorated with flowers or a small sign that reads "This light burns as a symbol of a life and love remembered."
7. A moment of silence
A simple yet effective way to remember loved ones who have passed is to hold a moment of silent reflection, during which you ask your wedding party and guests to remember those who can't be with you on this day. You can ask for a moment of silence during the ceremony as you light your memorial candles or during the reception as you sit down with your guests.
8. A special song in their honor
Remembering loved ones at your wedding can also be done through music. Play their favorite song and have it dedicated to them during the wedding reception or ceremony. You can even have someone perform at your wedding. Listening to a special, meaningful song will help bring back memories of those you are missing.
9. A special mention in your speech
If you're looking for a last-minute wedding memorial idea, an easy solution is to acknowledge them during a speech. It doesn't have to be elaborate, and can be easily combined with your moment of silence. Here's a quote we particularly liked for this idea: "Today, we pause to reflect on the loved ones who are no longer with us — those who have shaped our characters, molded our spirits, and forever touched our lives."
10. Include them in your wedding program
If you're putting together your wedding program, consider adding a section to remember your loved ones. Include their names, memorial dates, or simply a beautiful remembrance quote, such as one of the ones below.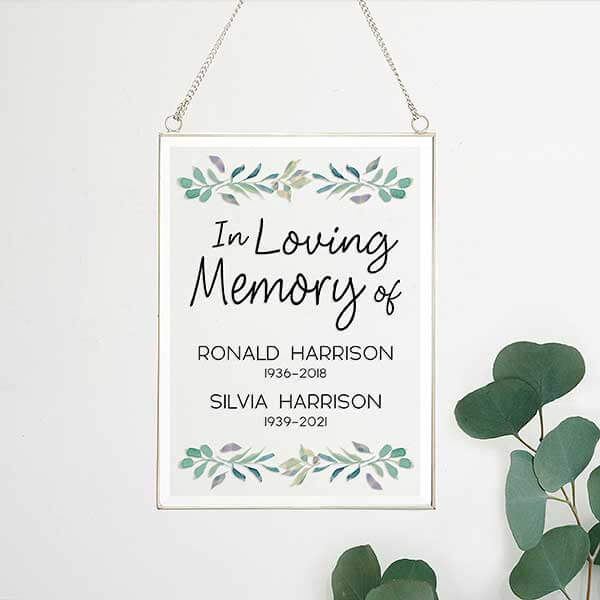 As you decide on the perfect way to honor your loved ones at your wedding, consider including one of these beautiful memorial quotes and popular sayings. Choose one that you like, or use these as inspiration to craft your own loving memorial message. The quote you choose can be then displayed on a wedding memorial sign or table, in your wedding program, or in any number of other places.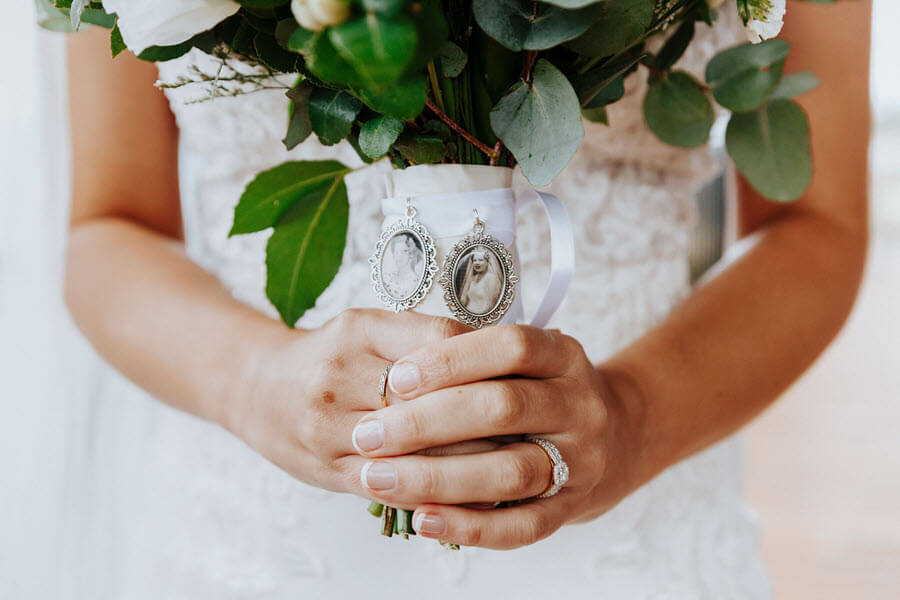 "Heaven may be far away, but we know you're with us on this special day."

"As we say 'I do,' we lovingly remember you."

"In loving memory of those who are not here today but are forever present in our hearts."

"Because someone we love is in heaven, there is a little bit of heaven here today."

"You left me with beautiful memories, your love is still my guide. And though I cannot see you, I know you're by my side."

"Forever in our hearts, we know you're always there. We just wish you could be here, to share our special day."

"These candles burn in honor of those who are watching us today from heaven."

"Those we love don't go away, they walk beside us every day. Unseen, unheard, but always near. Still loved, still missed, and still very dear."

"Let this burning candle be a loving reminder that someone special is missing on our special day."

"To those in our lives who could not celebrate with us today, we honor your memory in our hearts."

"Although we cannot see you, we know you're always here. Smiling down and watching over us, as we say 'I do.'"

"When someone you love becomes a memory, the memory becomes a treasure."

"Today, we say our wedding vows in memory of you. Forever in our hearts, forever in our thoughts."

"Your life gave us memories too beautiful to forget."

"For those we have loved and lost along the way, a flame burns bright to remember them on our wedding day."

"To all our loved ones who are dancing with us today in heaven, we love you and miss you!"

"We know you would be here today, if heaven wasn't so far away."