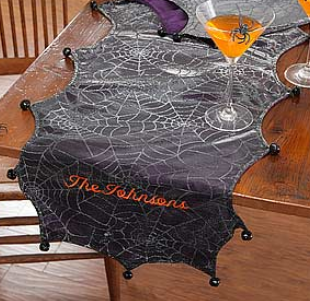 Since this week is your last week for guaranteed Halloween delivery for all PersonalizationMall.com Halloween gifts we thought we'd offer up some great ideas for how to make your Halloween party even more spook-tacular!
When you're a teacher or home room mom and are in charge of a classroom Halloween party, or just a hostess who has invited the neighbors over for some fun the personalized Spider Web Table Runner is an easy way to bring some Halloween flare to the main table that will be home for all your party drinks and treats! The table runner is perfect for any kid or adult party because while the spider webs give off the creepy, crawly effect that kids love about Halloween, the little black bells and tasteful black pattern can be personalized in the middle or on the side with an elegant orange font that adults adore!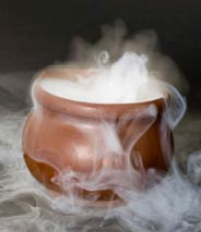 Now that you have your table beautifully decorated, it's important to find fun food and drinks that share a similar theme. That's why we're dying to share a little trick that will have guests of all ages oohing and ahhing! We came across a tip from Drink of the Week blog for how to give your Halloween punch a "fog effect" so it looks like your signature drink is a real witch's potion! You can read the full directions here, but basically you take 1 large bowl and 1 smaller bowl and place a brick of dry ice (Do NOT put the dry ice directly in the punch or touch it with bare skin, it can burn and should NOT be ingested) inside the large bowl, then put the smaller bowl, which you will fill with your Halloween punch, on top of the dry ice. Once your guests arrive, add hot water to the larger bowl and the fog will slowly start to creep out and spook all your guests! To be safe, make sure an adult is in charge of handing out the drinks for all the guests so no children are tempted to touch the dry ice.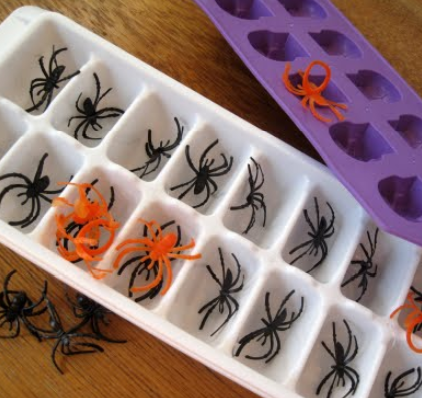 For an even more creepy and crawly effect, add spider ice cubes to everyone's glass of punch! Don't worry, we don't mean REAL spiders … as you can see here from the Fahrenheit 350 blog, you just take the little spider rings they sell at all the party stores and put them in ice cube trays, then fill with water and place in the freezer. Once they freeze over you'll be able to add them to people's drinks so they'll see a floating spider every time they go to take a sip!
Now that you have the drinks taken care of, you still need some treats and party favors that go along with your theme.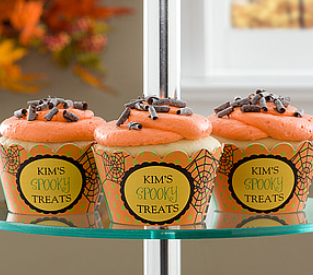 You're in luck because the Spooky Treats© Personalized Cupcake Wrappers, which come in a set of 24, are the perfect answer for both of your needs! You can bake your favorite cupcake recipe then place them inside the cupcake wrappers, which you can personalize to say anything you'd like, then decorate the cupcakes in a fun Halloween theme.
Decorating them so they look like a spider web, like the people from "The Girl Who Ate Everything" blog suggest, would be perfect because it would match the Spider Web Table Runner and spider ice cubs they've been adoring all night!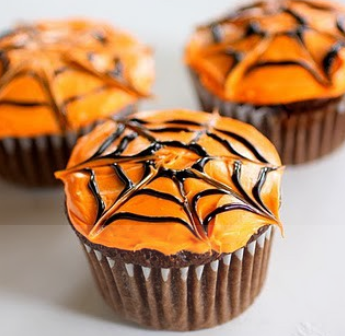 Display them on your table to make a beautiful centerpiece and when the party is over, you can offer the cupcakes as a take home dessert/party favor for all your wonderful guests!
All you have to do is decorate the finished cupcakes with orange icing. Then with a black decorating gel, make three circles starting from the middle and working out (like a bulls eye). Take a knife or toothpick and drag it through the icing starting at the first inside black circle and work your way out … and there you have it – A spider web cupcake!
We hope these party tips and tricks help make your Halloween party extra special! Do you have any tips you'd like to share? Make sure to comment below!
And don't forget to head over to PersonalizationMall.com for up to 20% off our Halloween gifts right now!
Happy Halloween!