In his 15 years at Personalization Mall, Steve Cakora has enjoyed a front-row seat to the technological progress that's enabled customization for millions of gifts.
When he started in March 2008, his main job was creating web previews that allowed customers to preview how their personalization would look before placing an order. Later, he helped implement standards for how to produce items, advised colleagues on how to personalize new products with existing equipment, and researched new tools that helped Personalization Mall bring the dreams of the product designers to life.
Today, he oversees a team that is responsible for bringing new products to market and optimizing production workflows, and another that focuses on print technology.
Safe to say, Cakora, who is now vice president of product engineering & development, has been at the forefront of Personalization Mall's efforts to scale its production capabilities. Few people have better insight into the secrets to its success than he does.
"Two of the biggest reasons we have been able to evolve into an industry leader in personalized gifts are product assortment and technology implementation," Cakora says, "but the main reason is our ability to take a complex process or idea and break it down into simple repeatable steps. This allows us to quickly try new things, and also train a lot of individuals very quickly at peak times to keep up with consumer demand."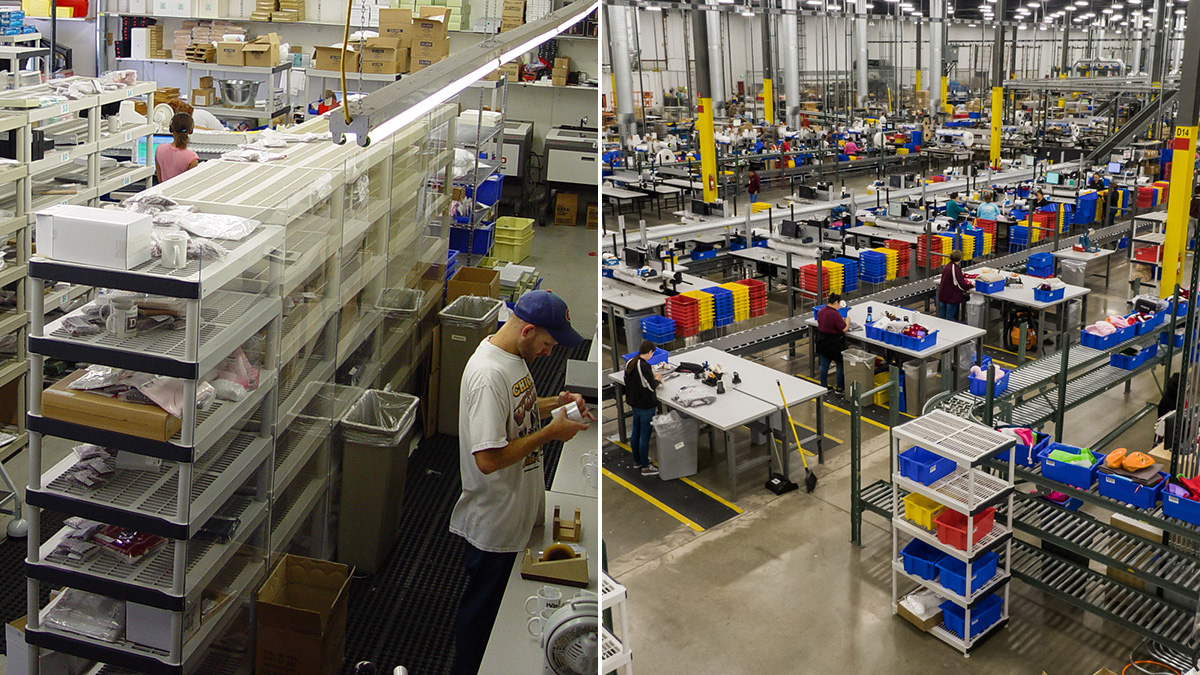 We spoke with Cakora about the technological innovations and advancements in the production process Personalization Mall has made that have allowed it always stay a step ahead of the competition.
Technological advancements
How has personalization technology changed over the years?
When I started with the company, Personalization Mall had perhaps four dye sublimation printers, 8–10 laser engravers, 10–12 embroidery machines, two sandblast machines, and one small vinyl cutter. Since then, each of these core departments has had drastic improvements. Dye sublimation inks, papers, and printers have evolved to print transfers faster, hold the ink better, and produce higher quality at faster speeds. What started as a four-color process has evolved to include light colors and even specialty fluorescent colors to get deeper, richer, or more vibrant colors on hard surfaces and fabrics.
The technological advancements in the printing industry have also pushed the personalization options even further. We now have UV printers, where the inks can directly adhere to hard surface items, and direct-to-garment printers, both of which have greatly improved the ability to print white ink as a base and allow full color to be printed on basically any style and color of shirts, apparel, or almost any surface.
What technological innovations have had the biggest effect on how Personalization Mall serves its customers?
On the production side, the speed of the printing technology has drastically increased, allowing us to fulfill more orders and keep a turnaround time of 1–2 days. For example, when we first launched printed blankets, we started out with 3–4 small machines that could print maybe 8–10 blankets per hour, but we quickly discovered we could not keep up with the market demand doing it this way. Over the next two years, we found printing equipment that could print 60–80 blankets per hour and rotary heat presses that could also keep up with that pace.
On the software side, we have evolved our automated production software to handle all the customization the customer wants but still allows us to bulk jobs together, to keep all the efficiencies of mass production, assembly line-style manufacturing.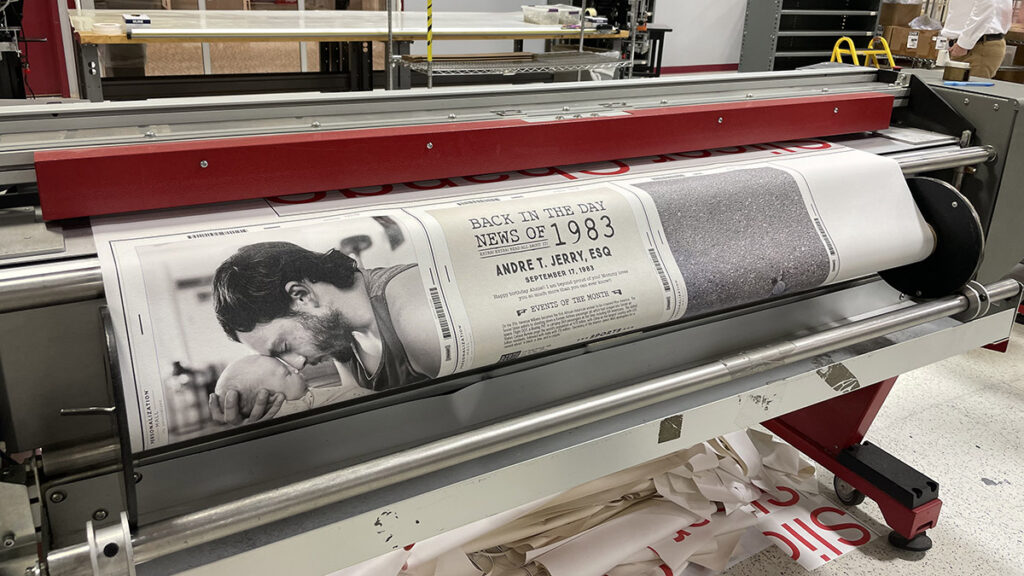 How has Personalization Mall managed to stay ahead of the curve as a gifting company? How does it identify new, promising technologies and assess them?
We are able to stay abreast of and seek out new technological advancements, and assess when the right time is to jump into an emerging technology. We also have become good at identifying trends for new products and the correct timing to ramp up different production areas to keep up with that demand. Finally, we keep an entrepreneurial testing cycle moving with many small failures that allow us to find big wins every couple of years.
Tell us about a time Personalization Mall adopted a game-changing piece of technology. How was it futuristic at the time and how did it change the products?
The answer to this question is not a piece of technology but a few years of technology. During the mid-2010s, we made a lot of drastic improvements, and, to me, that's when it became clear we were shifting ourselves to be experts in the personalized gifting space.
We added two high-speed printers and rotary presses to keep up with the demand for blankets and added sewing capabilities to make more than just blankets. We jumped from entry-level UV printing equipment to a robust printing solution that could operate longer shifts, and produce better-quality results and faster output. Those changes have scaled the company drastically, allowing us to offer many more new and exciting products while keeping the 1–2 day turnaround time to meet last-minute customer demand.
SEE: A Timeline of Technological Milestones at PMall
What's on the horizon? Where does personalization go next?
We are keeping an eye on a few new areas and a few old ones. On the new side, we continue to watch 3D printing and the evolution there, looking for a good fit to offer a consumer product. There are also a lot of advancements in direct-to-object printing and different technologies to apply full color onto many irregular surfaces. We also continue to research and try to find a way to operationalize personalized jewelry, cutting metals for signage, and routing or finishing wood products.
Product evolution
Overall, how has the selection of products evolved over the years?
The major evolution in personalized gifting has been how the product looks and how it is personalized. In the earlier years of personalization, everything was just kind of the same thing — a name added to an item. It was apparent that the name was put on as an afterthought and not part of the original production process.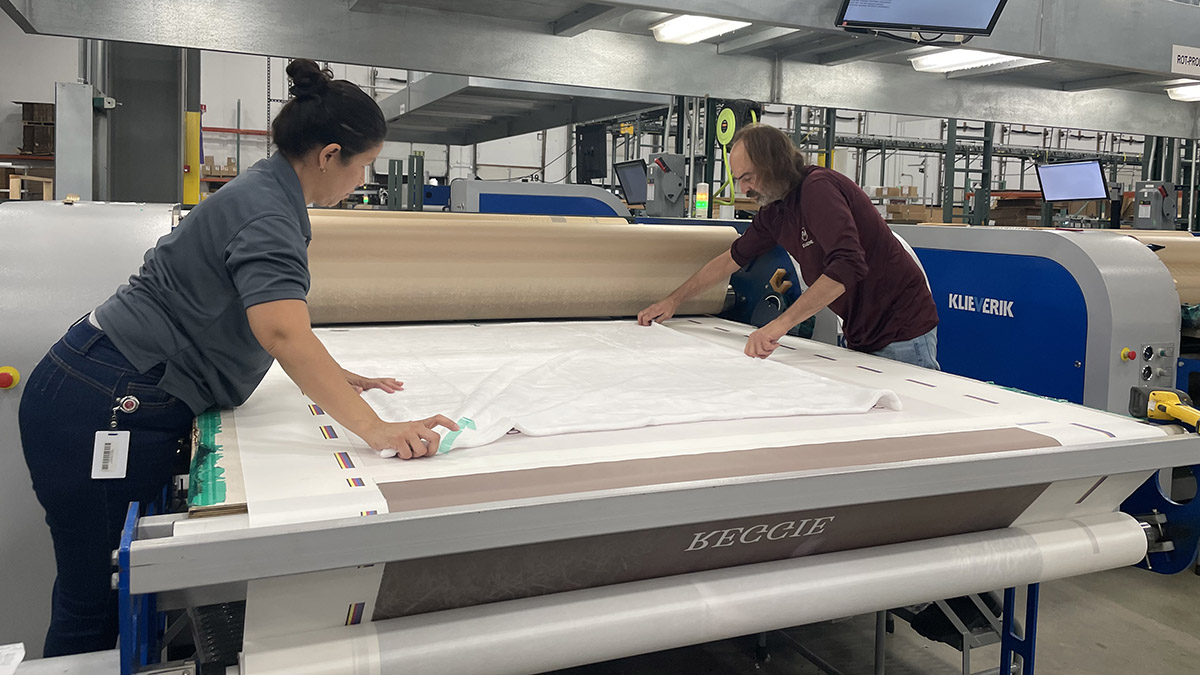 Printing technology has evolved a lot in that ink now adheres to a wider variety of substrates. We have improved our product development process so that we get blanks half assembled, personalize them, and then complete the assembly before shipping. So, now, the personalization the customer chooses is part of the manufacturing process instead of an afterthought. This has allowed designers and customers to personalize not just a font and name but the whole color pattern and style of a product.
Company culture
What does it mean to you to work at Personalization Mall? What makes it such a great place to work?
I have met many genuinely great people working here. It's a place where creative and driven minds can come together, work on a project, and make something new.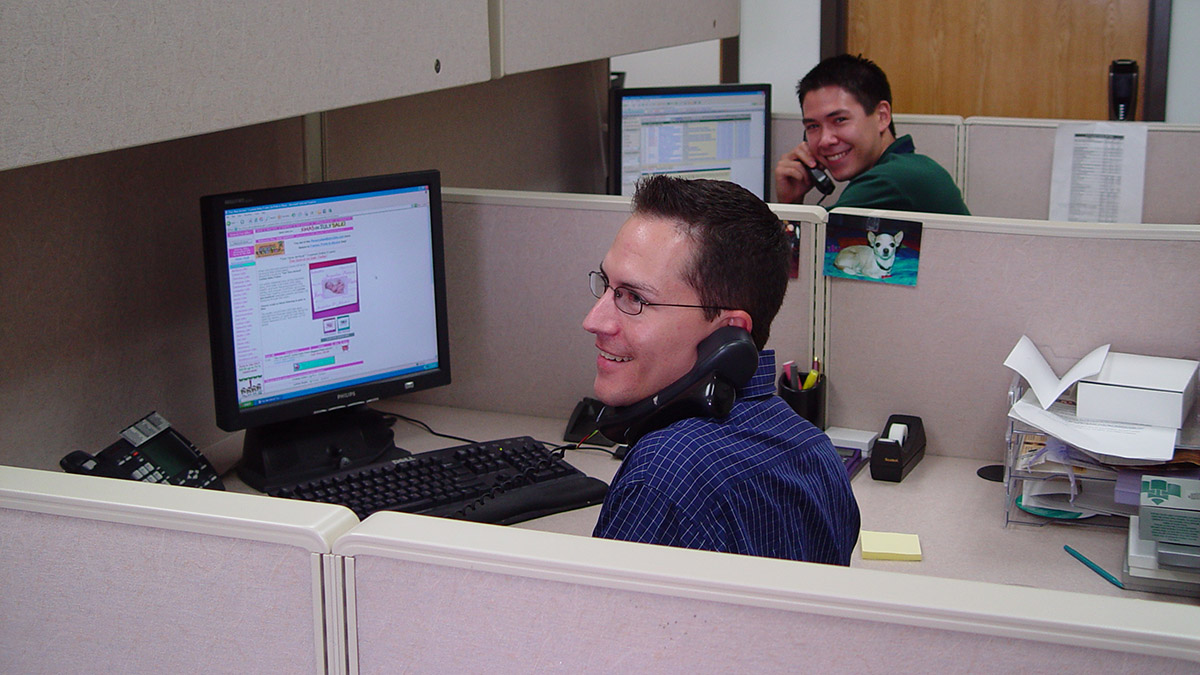 Being in a relatively young industry, we have been challenged to find solutions to whole new problems. Some days we fail, but most times we find creative solutions, and it's in those times when we solve the issues or create something new that we have really come closer together.
What are some of your personal favorite items Personalization Mall sells?
My favorite item we sell is the butcher block cutting boards. It is just a high-quality, beautiful product. It's the type of gift that gets used and becomes almost a family heirloom.
Another product I really like is the personalized pint glasses. We take extra time during printing to "sandwich" the color of the design (meaning we print full color, then white, then full color again) so when you look at the inside of the glass, you still see the personalization. The ink has a very nice hand-feel on the glass. And everyone can use some extra pint glasses around.