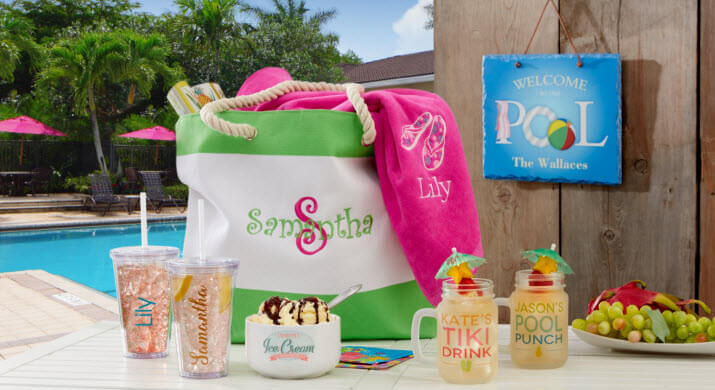 31 May

Make A Splash With Fun Summer Gifts For Kids

Summer is finally here! Whether you're heading to the beach, a water park or a pool, you need to arm your kids with summer essentials and fun accessories so they can get the most out of the warm summer months.

Grab plenty of sunscreen, an extra pair of sunglasses and lots of water to keep your kids hydrated. Then browse through our collection of unique summer gifts for kids to find personalized items that will make summer even more fun and exciting. Here are a few of our top-rated customer favorites and best-selling summer accessories for kids.
Personalized Beach Towels
A good beach towel is a must for every kid, teen and adult. A personalized beach towel offers one great advantage over all the rest: no towel mix-ups, ever. By adding your kids' names to be printed or embroidered on their beach towels you can be sure that they'll grab the right one every time. No missing towels, no mix-ups and no help needed from mom and dad to find their own towel.
And our brand new round beach towels are even more fun for the little ones. You can personalize fun designs that look like a donut, a beach ball, a life preserver and more.
We even have new personalized hooded towels for the tiniest of swimmers, with a cute shark design for boys and a sweet little mermaid for girls.
Personalize them for the kids or the whole family to make your next outing to the pool, water park or the beach hassle free.
Personalized Water Bottles
Whether it's a backyard pool party or a day at the beach, staying hydrated is extremely important, especially for the kids who are too busy having fun. Customizing a stainless steel refillable water bottle with your kids' names is a responsible, eco-friendly option that offers some added benefits.
By giving kids their own personalized water bottles you can easily monitor how much water they're drinking. And just like with personalized beach towels, there are no mix-ups when it comes to quickly finding a drink.
With plenty of fun kids designs to choose from, you can customize quality, BPA and lead free stainless steel water bottles that kids will love. The insulated bottles will keep their drinks cool much better than ordinary plastic bottles and you'll be reducing waste by not relying on throw-away plastic bottles.
Customize a stainless steel water bottle for everyone in the family to make sure everyone stays hydrated all summer long.
Summer Hats, Beach Toys & More
During the heat of summer, sunblock is essential, but a good wide brimmed hat can also help protect your little ones from too much sun. Our i play personalized hats are made from sun protective fabric that's lightweight and water resistant.
Available in two sizes for infants and toddler, the hat comes in two colors for boys and girls and can be personalized with any name or monogram. The hat also includes a tie closure so you can be sure the hat stays on while the kids play.
Another practical summer gift for kids is a folding chair they can use no matter where they are outdoors.
Choose from a beach chair with an umbrella combo that's perfect for those sunny days, or personalize a folding chair that fits conveniently into a carry bag.
While not a summer essential, like a good beach towel, a water bottle or a summer hat, beach toys make playing in the sand much more fun for kids. Our custom embroidered beach totes, filled with sand toys, are a perfect gift for kids heading to the beach.
The totes come in fish and shark designs and can be personalized with any name. They're a fun accessory for kids that encourages independence by having them take ownership of what they pack and bring along on their day of beach adventure.