For many, the fireplace mantel is the focal point of their family room and a key part in their holiday décor. Instead of settling for the same old look, this year create a Christmas mantel that's truly customized for your family and your home.
A mantel is often adorned with family photos, artwork, candles, and other small décor items that are intertwined with greenery or sparkling lights, creating a beautiful backdrop for your holiday celebrations. Here are some unique Christmas mantel décor ideas so you can really make your fireplace stand out this holiday season.
A Christmas Mantel With Sophisticated Style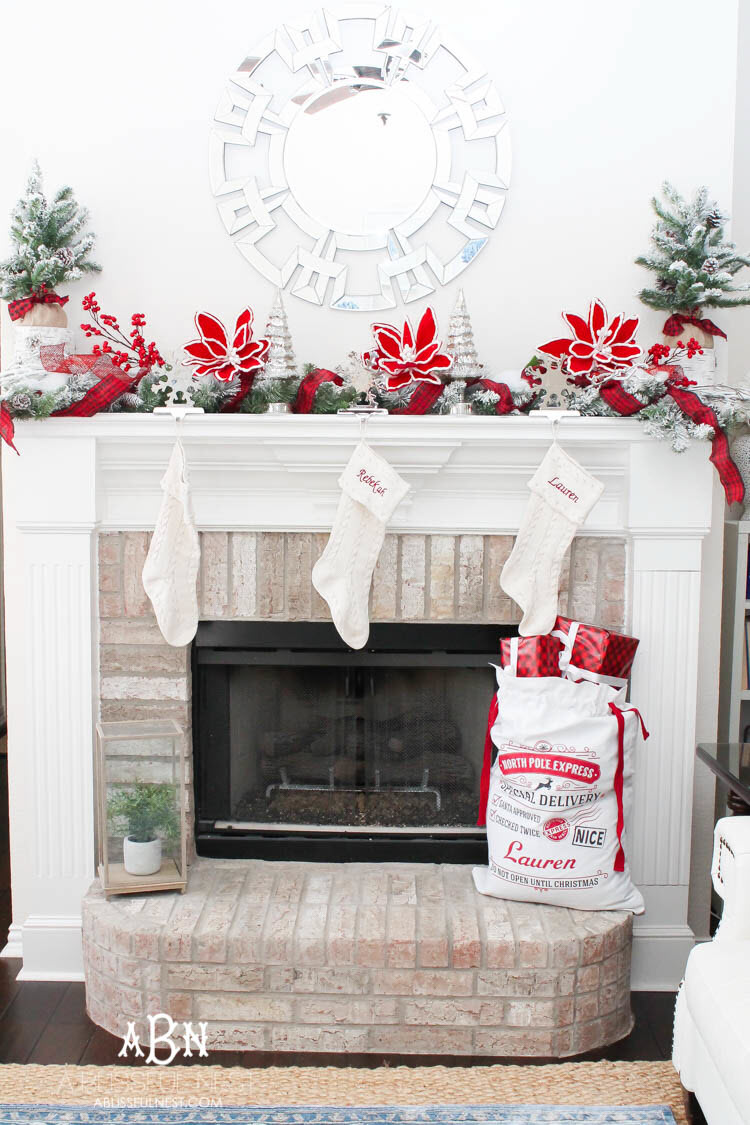 This beautiful Christmas mantel design, by Rebekah from A Blissful Nest, is elegant and sophisticated. The mantel has a very traditional and classic feel that will never go out of style.
The top of the mantel is adorned with festive greenery, red poinsettia and winterberry accents. The décor incorporates natural elements, like pine cones and white painted branches along with touches of silver and metal to coordinate with the unique mirror that's the centerpiece of the fireplace. A single red ribbon wrapped around the pine garland ties the décor together with the two snow covered mini Christmas trees that flank each side of the mantle.
Steal This Look!

To recreate this gorgeous Christmas mantel décor you'll need to make a trip to your local arts and crafts store to make the festive pine garland. Select a few red accents, like red poinsettia flowers, springs of winterberry and a plaid red ribbon to get the same type of feel. Then incorporate silver and metal accents, like these engraved silver stocking holders, silver Christmas trees or anything else that appeals to you.
The highlight of this Christmas mantel is the unique personalized Santa sack filled to the brim with wrapped presents and the handmade cable knit stockings embroidered with each family member's name.
Check out more holiday décor ideas from A Blissful Nest.
A Christmas Mantel With A Modern Twist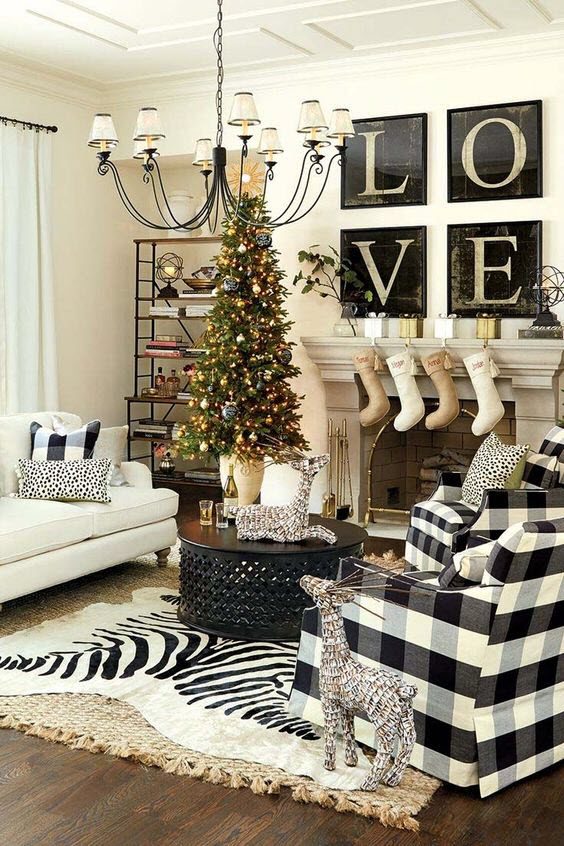 This stunning Christmas mantel from How To Decorate is the centerpiece of this fresh and modern living room. The holiday décor incorporates classic touches, like burlap and plaid, with modern animal print accents all set against a white, black and cream color palate that makes this holiday living room really pop.
The most striking feature of the mantel is the art hanging above it. The shiny metal stocking holders are balanced out by the subdued burlap and cream custom Christmas stockings. The mantel has a clean and simple, uncluttered feel with just a few select decorative items to draw your attention.
Steal This Look!

If your family room already has that modern, high fashion feel, you can incorporate a few carefully chosen accents to achieve a similar look and feel. Use custom canvas art or framed prints to create a wall art collection above the mantel. Or go with something a bit different and use your favorite photos to create custom photo blocks with the word "love" printed in a semi-transparent lettering on each block.
Your choice of stockings can include this rustic burlap with white canvas accents design, or a more sparkling option with beautiful embroidery, plush velvet and jeweled details, in order to add some of the shiny details to the design. The key to this look is to keep things simple and understated with just a couple of accents that will make a big impact.
A Christmas Mantel With A Homey, Country Feel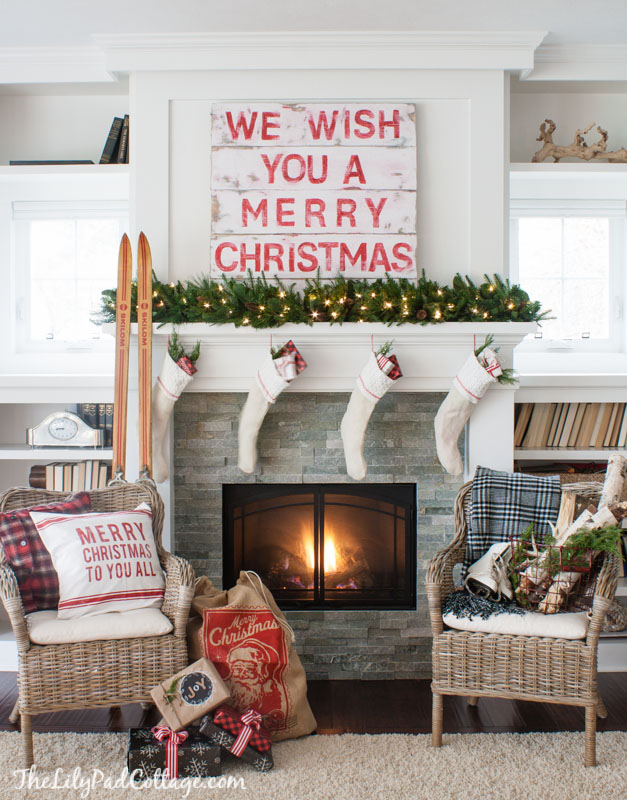 This cozy Christmas mantel styled by Kelly from The Lily Pad Cottage has a perfectly relaxed, homey and a bit of a country feel. The red and green colors are festive and the use of plaid accents on the blanket and pillow help create a comfortable, warm atmosphere.
The mantel itself is quite simple, with an oversized holiday-themes wood sign, a lighted pine garland and matching cream colored stockings. What helps this Christmas mantle stand out are the vintage-inspired winter themed accents, like the skis and ice skates, and the natural wood used throughout the design.
Steal This Look!
To add a rustic, country feel to your Christmas mantel try to incorporate natural wood in a few different ways. Kelly shares her DIY project on how to create a wood sign with an aged look, but you can easily use any wooden sign with a holiday theme that you like to accomplish the same idea. One of our Christmas quotes signs, personalized with your family name, will work; for a more exposed wood look, our Peace, Love, Joy basswood plank will do the trick.
If you don't have a pair of vintage skis at hand, consider one of our vintage-inspired wooden sleds, like this reindeer holiday sled, which can be personalized with any name or message. To complete the look, drape a cozy throw blanket over a chair and add a personalized holiday throw pillow for that custom look. Don't forget to add a touch of greenery and lights to your homey, country Christmas mantel and hang your stockings with care.
A Colorful And Classic Christmas Mantel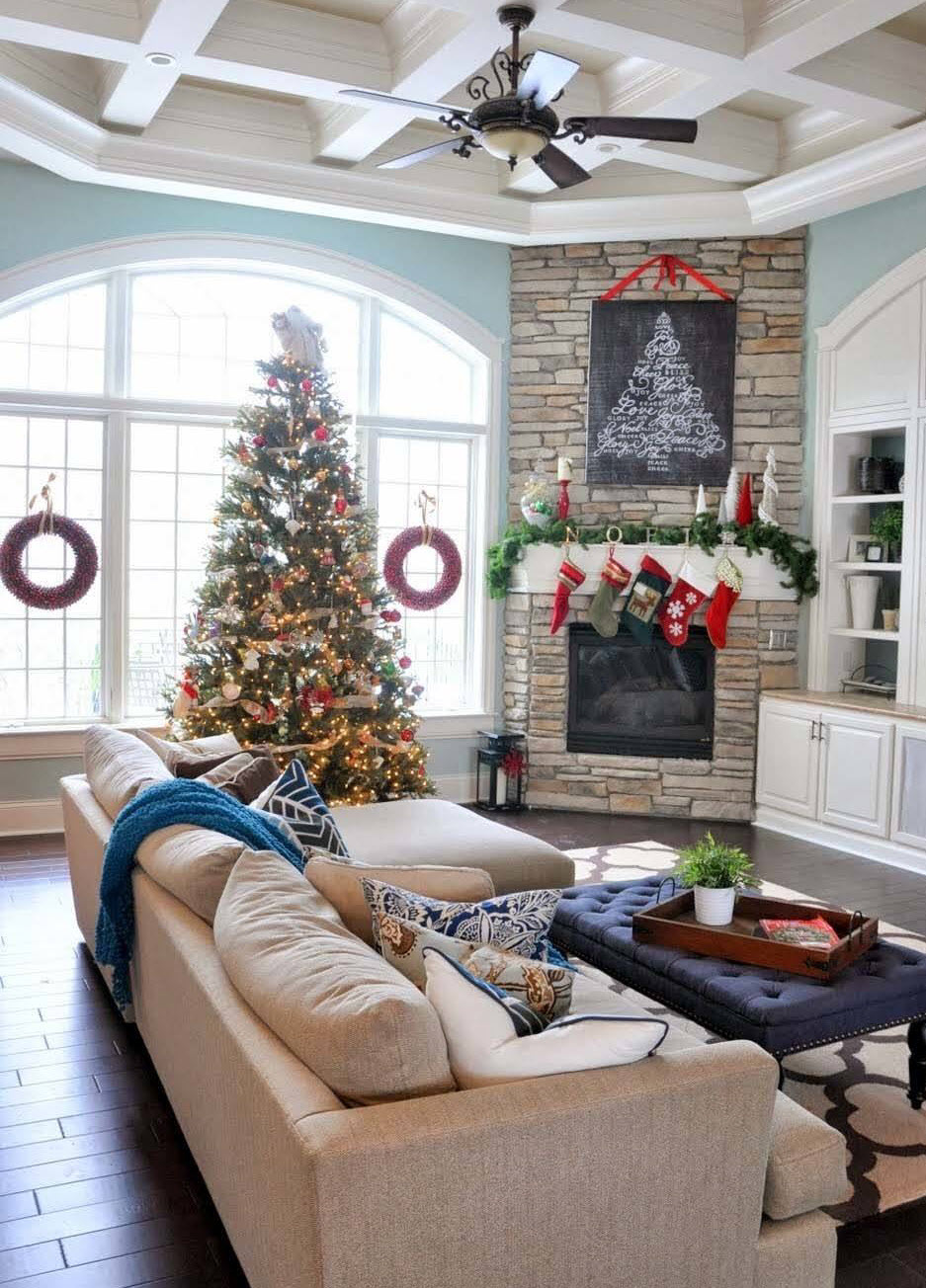 This colorful, yet totally classic and timeless Christmas mantel designed by Jenny from Evolution of Style will work in any home and with any fireplace. The décor is simple and family oriented, with a large holiday banner above the fireplace and colorful Christmas stockings in the traditional red, green and white colors.
The holiday mantel incorporates colorful cone-shaped Christmas trees on one side and a candle, glass jar and ornaments on the other to balance out the look. The green pine garland completes the look and sets a beautiful rich background for the metal stocking holders.
Steal This Look!

The key to this look is the holiday banner hanging above the fireplace, which is the centerpiece of the design. Find a banner that matches your style and goes well with the rest of your family room. If you have more sophisticated room décor, perhaps this classic Christmas banner, personalized with your family name, might work well.
Next, choose Christmas stockings that are colorful but ones that feature classic holiday colors and designs so that they will look great year after year. Our favorites are the needlepoint stockings with four classic holiday designs and these velvet trim personalized monogram stockings that have these nice, rich coordinating greens and reds. Finish off the look with metal stocking holders, a bit of greenery and your favorite holiday accessories.
Mantel Décor For Christmas And Year Round
When you have core pieces of décor that you want to keep year round, you may just need a small holiday refresh. Adding a few holiday specific items can bring that pop of color and seasonal cheer to make the mantel look fresh and festive. An easy way to add Christmas cheer to your mantle is with a holiday-themed piece of art that you can hang above the fireplace or use to decorate the shelf.
Don't be afraid to incorporate your favorite family photos or personalize the art with your family name or a special message that has meaning for your family. One of our favorites is this Holiday Family Traditions canvas art print, which can be personalized with eight of your most loved family traditions.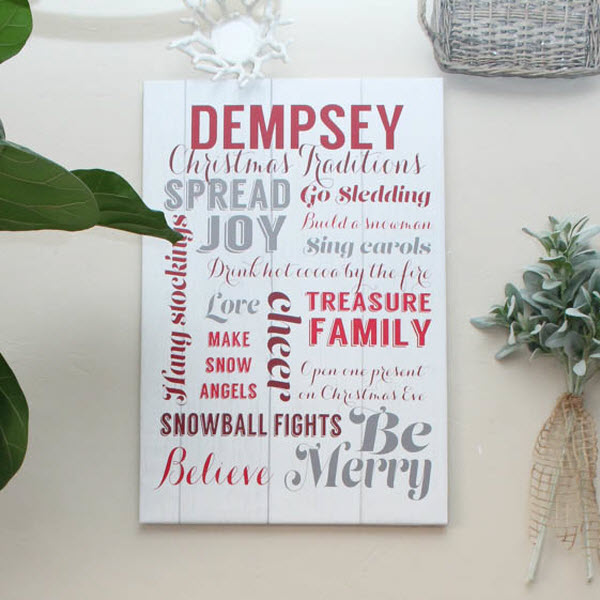 There really is no limit to what you can include in your Christmas mantle design as long as all of the pieces look great together. Start with a core color palate and then add one or two accent colors that will coordinate with the rest of your holiday decor that's in the room. Then choose a style that you want to achieve, like some of the examples we've pointed out above — elegant and sophisticated, clean and modern, rustic and homey, or classic and traditional.
When choosing individual items to include in your design, mix in both seasonal, holiday-specific items, like a pine garland and Christmas stockings, along with a few things you'll be able to reuse all year long, like candles, picture frames or art. Start with the one key item that you'll like to make the focal point and see how it fits best on the mantel. From there work on balancing the other decorative items to make sure you're able to achieve similar height on each side.
Finally, add in a bit of sparkle with some candles, twinkling lights or glittery accents, or add some color with flowers, ribbons or ornaments (or all of the above!) in order to tie everything together.
Whether you're looking to add just a touch of holiday cheer to your Christmas décor or you want to redo your entire mantel display for a completely new look, we hope these tips are helpful. Let us know in the comments what Christmas mantel décor ideas and tips you've found inspiring this year!