Discover fun, new & old Christmas traditions for kids and the whole family to enjoy.
The best Christmas traditions are the ones that kids remember from a young age. Nothing quite captures the joy of the season like the wonder and excitement found in children at Christmastime. And what better way to bring more of that joy to the world than with a few fun Christmas traditions for kids that help the whole family get into the holiday spirit.
Making the holidays more magical doesn't take a ton of effort; it's truly the thought that counts most. Here are 25 of our favorite holiday traditions for kids and the whole family to enjoy this Christmas.
Start a Christmas countdown on Dec. 1
Wear matching family pajamas or Christmas socks
Create your own Christmas Elf tradition
Teach kids to give back
Write letters to Santa or celebrate St. Nicholas Day
Make a Polar Express or North Pole breakfast
Create a nativity scene in your home
Host a hot cocoa party
Have fun with the Christmas pickle tradition
Bake cookies or decorate a gingerbread house (or village)
Leave cookies for Santa in a special way
Leave a lump of coal in the stockings for naughty kids
Send Christmas cards or letters as a family
Host a family game night/movie night tradition
Go caroling or sing Christmas songs at home
Take a neighborhood Christmas lights drive
Picture with Santa
Visit to a Christmas market
Make a family holiday bucket list
Read Christmas stories
Make Christmas morning extra special
Pass down your own favorite Christmas traditions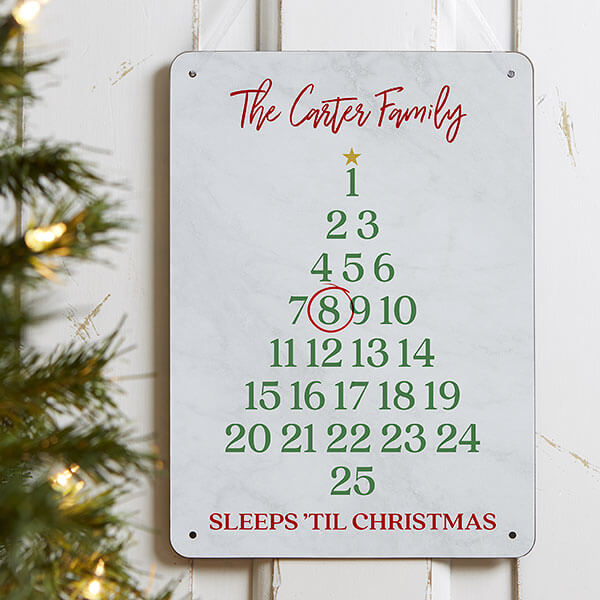 1. Start a Christmas countdown
As any kid who has experienced the Christmas season can attest, a big part of the fun is the anticipation. With each passing day comes another layer of excitement leading up to the big moment on Christmas morning. An easy, fun Christmas tradition that can last all season long is to channel that anticipation into a Christmas countdown that your kids will look forward to keeping track of each day.
Popular variations on this classic Christmas tradition include opening Advent calendars, marking off the dates on the family wall calendar, or updating the "days left" count on a festive board. There are plenty of great DIY advent calendars you can create with your kids, which will make this tradition that much more special. For an easy, personalized touch that will add a bit of fun for your kids, try a dry erase Christmas countdown sign with your child's or family's name printed right on it. They'll have fun writing in the number of days that are left until Christmas and helping to build anticipation for the big day.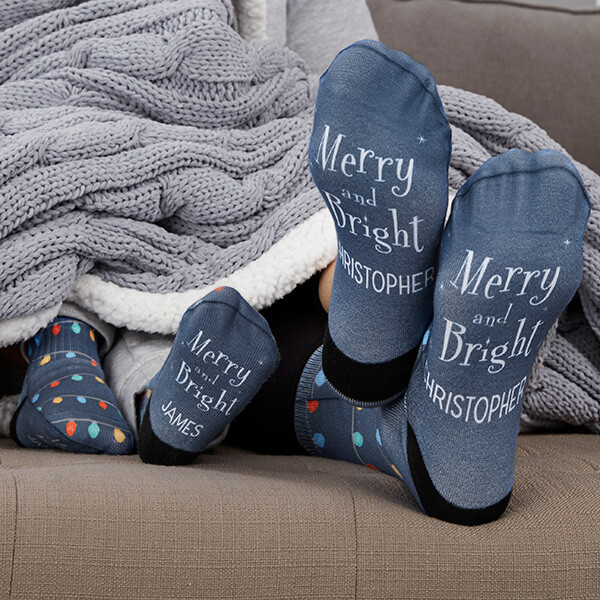 2. Wear matching family PJs or Christmas socks
Make Christmas morning photo perfect with matching family pajamas or fun Christmas socks for the whole family. Holiday matching pajamas are now widely available with fun and festive designs for babies, toddlers, kids, teens, and adults. For a unique twist, you can add matching family socks customized with photos, names, and other holiday details. Socks are also a great alternative to PJs if you can't find matching pajamas for everyone or simply aren't into PJs.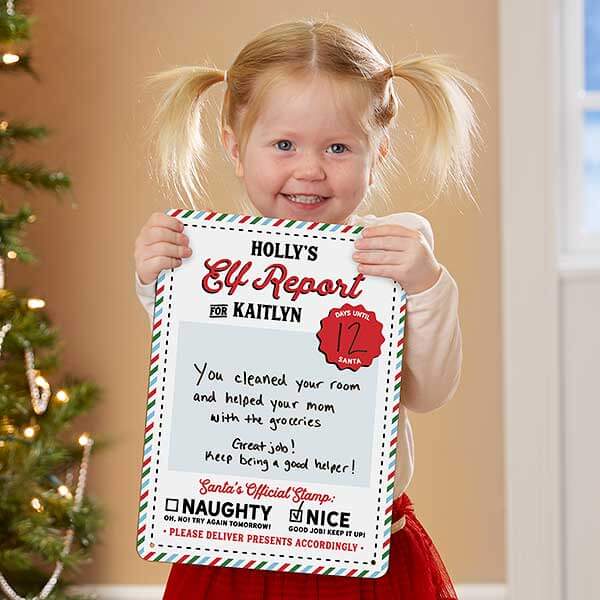 3. Create your own Christmas elf tradition
You've probably heard of the popular Elf on The Shelf Christmas tradition, which is meant to encourage kids to be nice so that they're included on Santa's nice list. Another fun elf-related Christmas tradition is the idea of the Kindness Elves, which encourage kindness, caring, and doing good deeds for others around the holidays.
These sweet-natured little elves aren't sent to spy on the kids for Santa. Instead, they arrive to inspire the kids to be kind in all sorts of different ways by leaving them notes with suggestions on what they can do to show they care for others and also to make note of their kindness when they see it. The Kindness Elves are a lovely alternative to the Elf on the Shelf tradition that helps get kids thinking about others.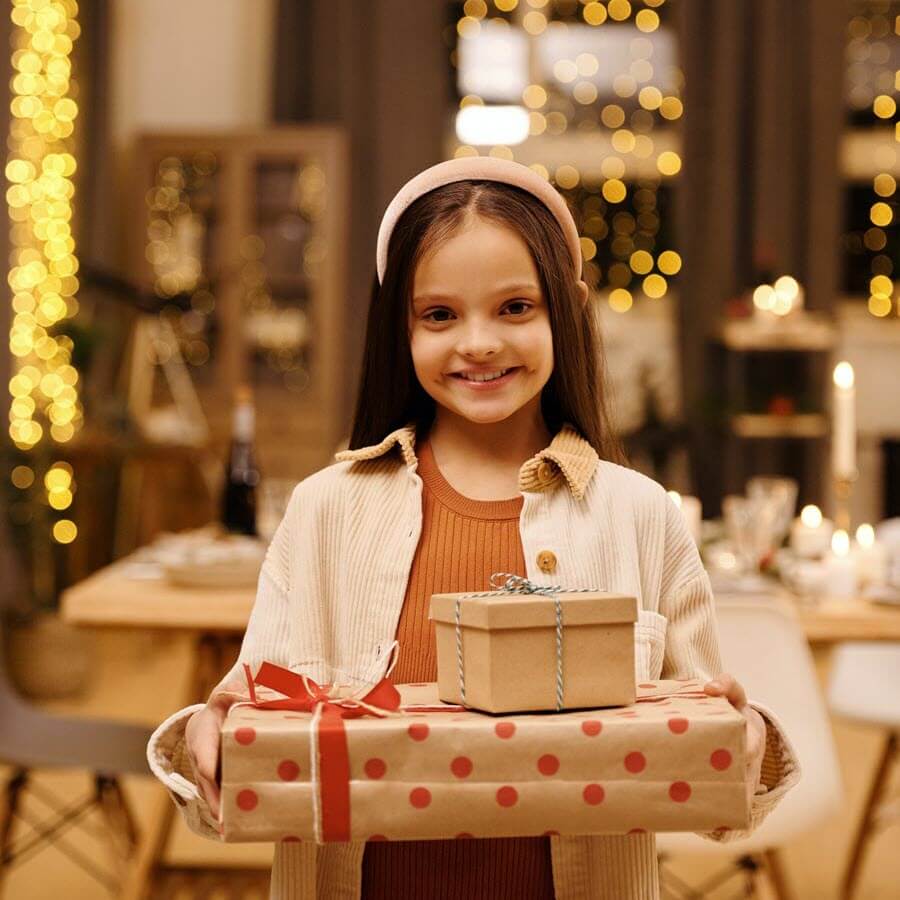 4. Teach kids to give back
A favorite holiday tradition is teaching kids the joy of giving. Helping them think of others at Christmas is what this season of giving is all about. When kids see the effort in creating a thoughtful gift, they're more likely to appreciate their Christmas presents.
You can start with helping kids pick out presents for other members of the family. Or you can take kids shopping (in a real or online store) for items to donate, through local toy drives and Christmas donation boxes. In both cases, make sure to set a budget that kids have to stick to; this might make things more challenging, but it's also another great learning opportunity for the kids.
Another great way to give back is to donate old toys, books, and other items your kids don't use any more. Have the kids decide what to give away and give them a goal of filling up an entire Santa sack with items that are still in a good condition.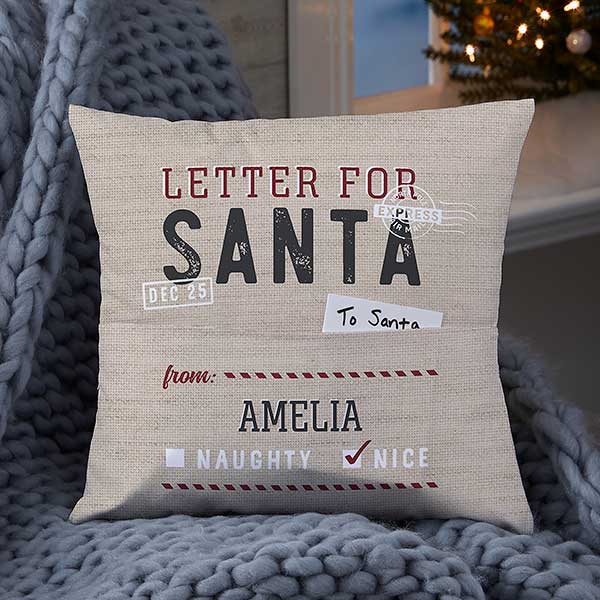 5. Write letters to Santa or celebrate St. Nicholas Day
Visiting Santa Claus is one of the most exciting events for kids during the holiday season. Writing a letter to Santa — and receiving one in return — can be just as memorable and enjoyable. With a little planning, you can make this experience more real by making sure your kids get a letter from Santa in the mail with a postmark from the North Pole! You write Santa's letter and the post office takes care of the rest.
In addition to, or as an alternative, you can also celebrate Saint Nicholas Day on Dec. 6 with small gifts and treats tucked under kids' pillows or put into their stockings or shoes. St. Nicholas Day is celebrated differently around the world, so you can find inspiration for your own family tradition by learning about how others celebrate.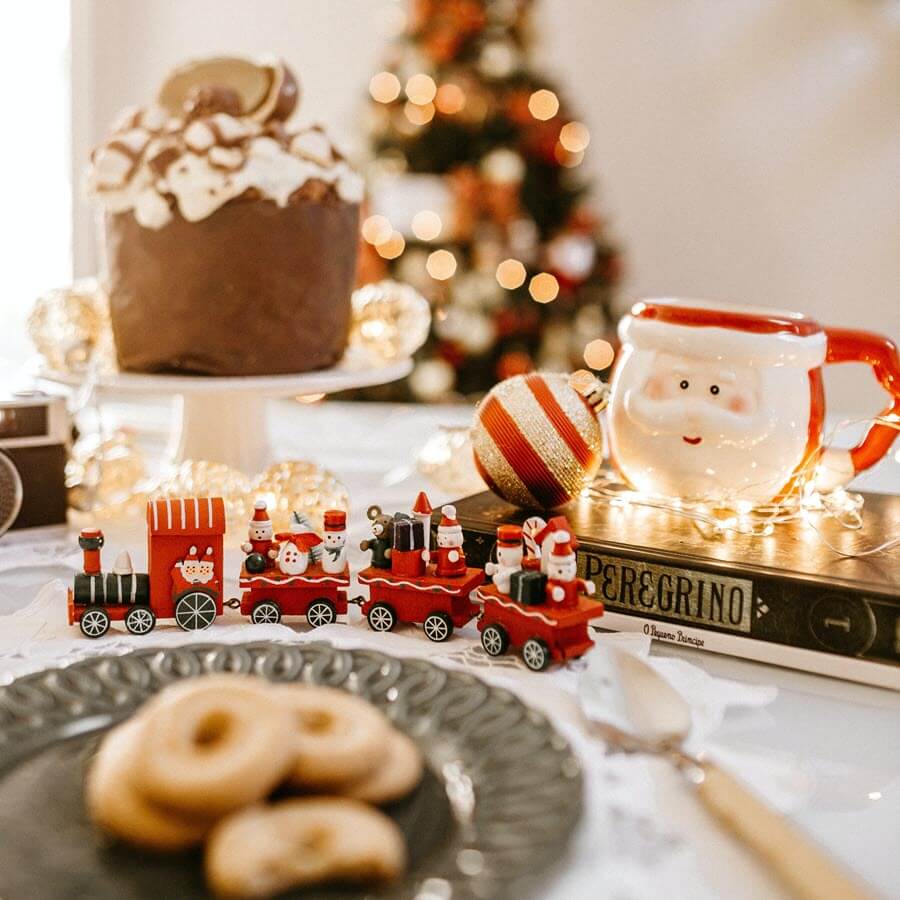 6. Make a North Pole breakfast
Children who love the holiday classic "The Polar Express" (the book and/or the movie) will adore this fun Christmas morning breakfast tradition. Get the whole family all aboard the Polar Express to enjoy the book, movie, and a festive, special themed breakfast. Make sure the menu has all your kids' favorites, such as hot chocolate, pancakes or waffles, fresh fruit, donuts and cinnamon rolls, and anything else you'd like to include.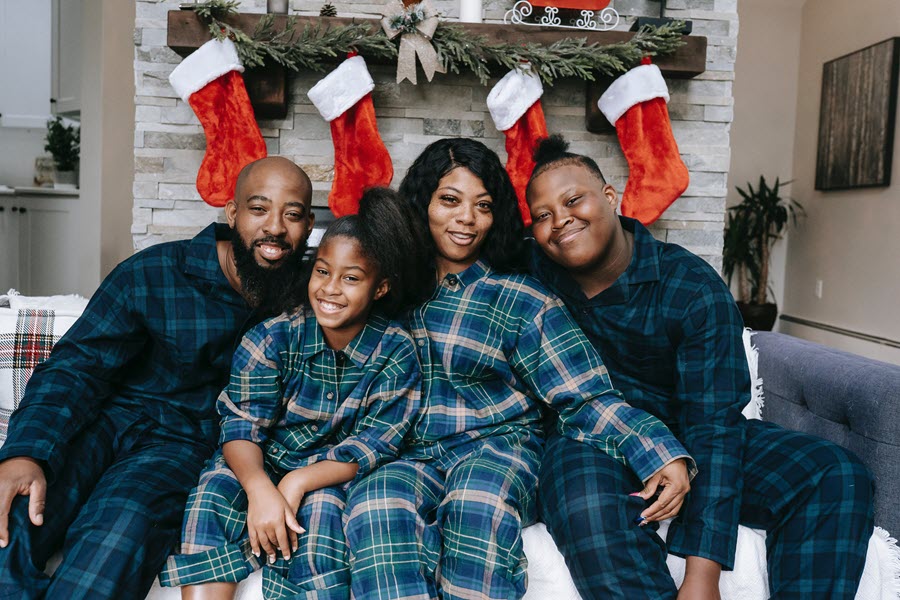 7. Christmas family photoshoot
Put on your matching family pajamas, Santa hats, or festive holiday outfits, and capture lasting Christmas photo memories of the whole family. The holiday season goes by so quickly, but one way to slow it down a bit is to capture these special family moments in photos. Make it your tradition to take at least one family photo during Christmas so you can remember it for years to come. For younger children, this tradition will become especially meaningful when they start to grow up and look back on their childhood. For parents, these family Christmas photos will become a way to tell your family story.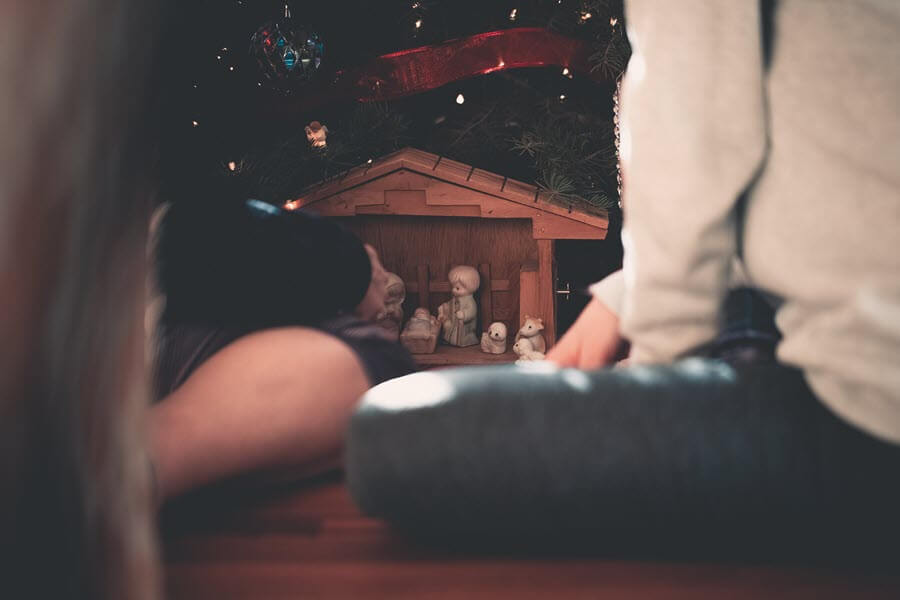 8. Create a nativity scene in your home
Families looking for ways to celebrate the birth of Christ in a meaningful way can do so with a nativity scene. It's a great way to help kids remember the true meaning of Christmas while helping them visualize the people and events of the day. A typical Christmas nativity includes baby Jesus in a manger, His mother, Mary, and father, Joseph, shepherds and farm animals, angels, and sometimes the three wise men that visited Jesus after his birth. Most families will wait to put the baby Jesus figure in the manger on Christmas morning to complete their nativity, which helps to keep the day focused on the birth of Jesus.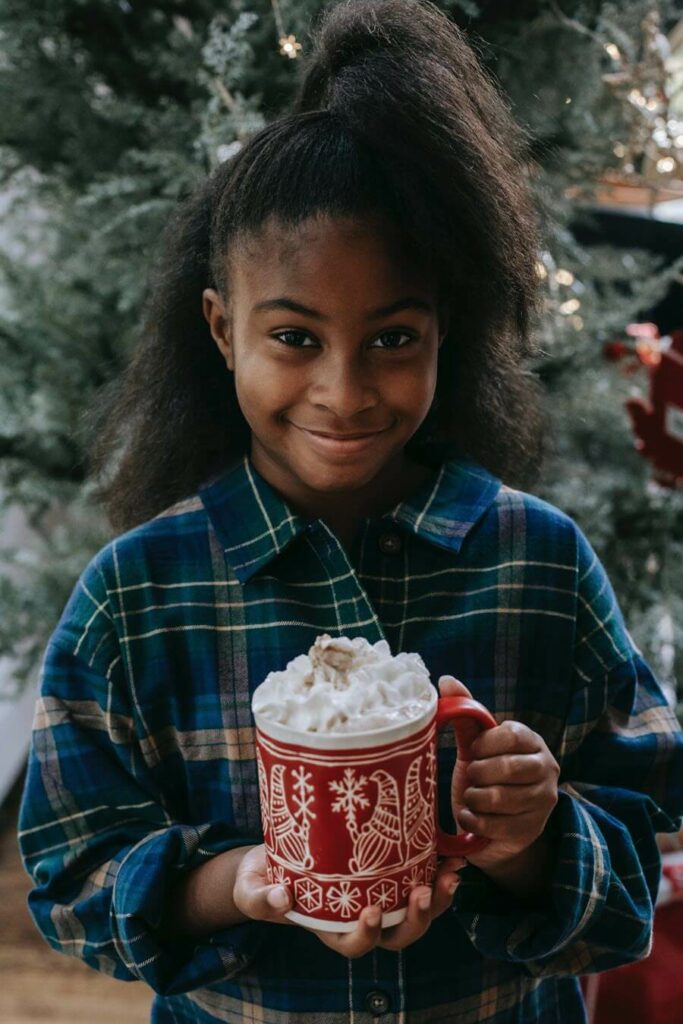 9. Host a hot cocoa party
For the hot chocolate and hot cocoa lovers out there, there's no better Christmas family tradition than setting up your own hot chocolate bar for everyone to enjoy. If you can, invite your closest friends and family to join in on the fun. Make sure to include plenty of yummy toppings and treats, such as marshmallows, crushed peppermints, candy canes, whipped cream, chocolate or caramel sauce, and more.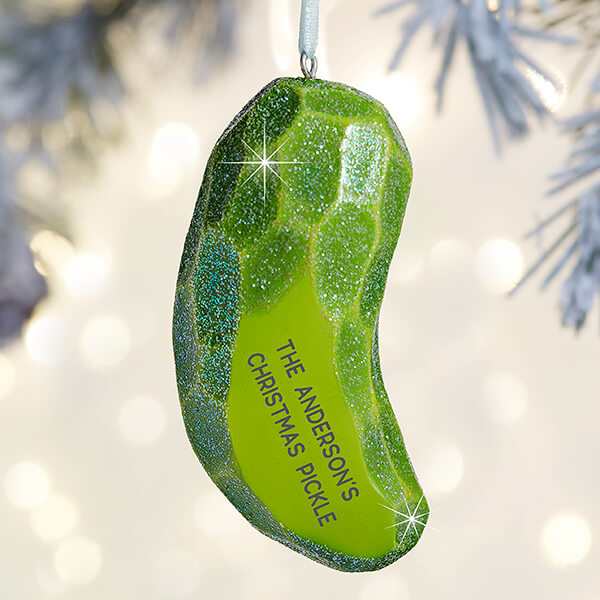 10. Christmas pickle tradition
Hiding a Christmas pickle ornament on the tree is a fun tradition to add to your list this year. All you need is an ornament that looks like a pickle, which is hidden among the other ornaments on your Christmas tree. On Christmas morning, the first family member to find the pickle on the tree will receive a special gift, award, or prize. It's a simple holiday tradition that can be a lot of fun!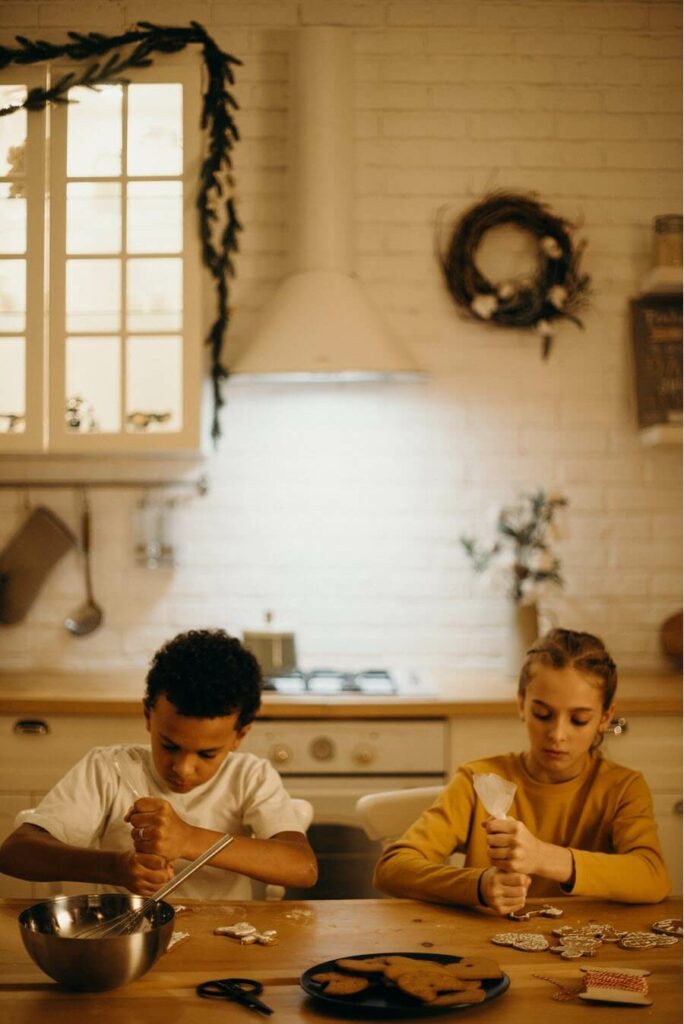 11. Bake cookies or decorate a gingerbread house
Baking cookies and making delicious treats around the holidays is simply a must. What makes this Christmas tradition even more fun for kids is sharing their sugary creations with friends and family. Take a day to bake lots and lots of cookies or create no-bake treats, such as chocolate dipped pretzels, delicious fudge, or rice crispy treats. Then figure out who you'd like to give the treats out to with your kids — neighbors, family, friends, or even packaged treats for long-distance relatives. And, of course, don't forget to make some for Santa!
It can be great fun to try new recipes or improve on your family favorites each year. This tradition also teaches kids to take on more responsibilities in the kitchen as they grow older, helping to prepare the treats, package them, and clean up afterward.
If baking isn't your thing, try decorating a gingerbread house — or a whole gingerbread house village — with your kids!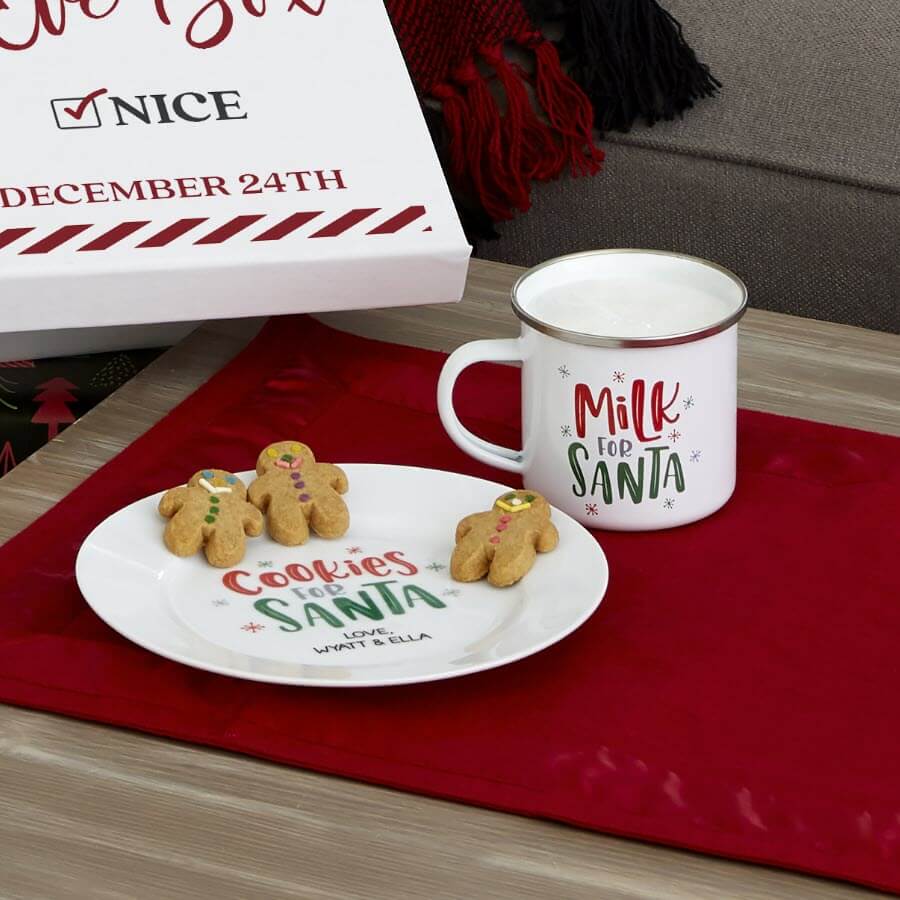 12. Leave cookies and milk for Santa
One of the most enduring Christmas Eve family traditions across the world involves leaving out treats for Santa (and his reindeer, too!) right before the kids are sent off for a night of sugarplum dreaming. This tradition has roots in cultures far and wide, with variations often specific to local food and drink customs. In the United States, the practice of setting a plate of cookies and glass of milk on the mantel near the chimney for Old Saint Nick is believed to have become popular during the Great Depression, and it has been a family-friendly Christmas tradition ever since.
Up the fun factor on this holiday favorite by letting your kids present Santa's midnight snack on their own personalized Santa cookie plate and mug, including a special, customized message from the kids that's sure to land them on Kris Kringle's nice list. Let your kids help decide what gets written on the plate and mug, and you'll have a fun Christmas Eve family tradition that they'll eagerly await each year.
13. A lump of coal tradition
The tradition of leaving a lump of coal instead of presents for children on Santa's naughty list might not be for every family. But if you're looking for ways to encourage better behavior or simply send a message that misbehaving children don't always get all the presents they want, then a lump of coal is your answer. You can also use this as a fun, lighthearted way to tell kids they need to be good all year without taking away their actual Christmas presents. If you don't want to go that far, consider reading Lemony Snicket's The Lump of Coal or Clump the Lump of Coal storybook with your kids so they can learn all about this holiday tradition.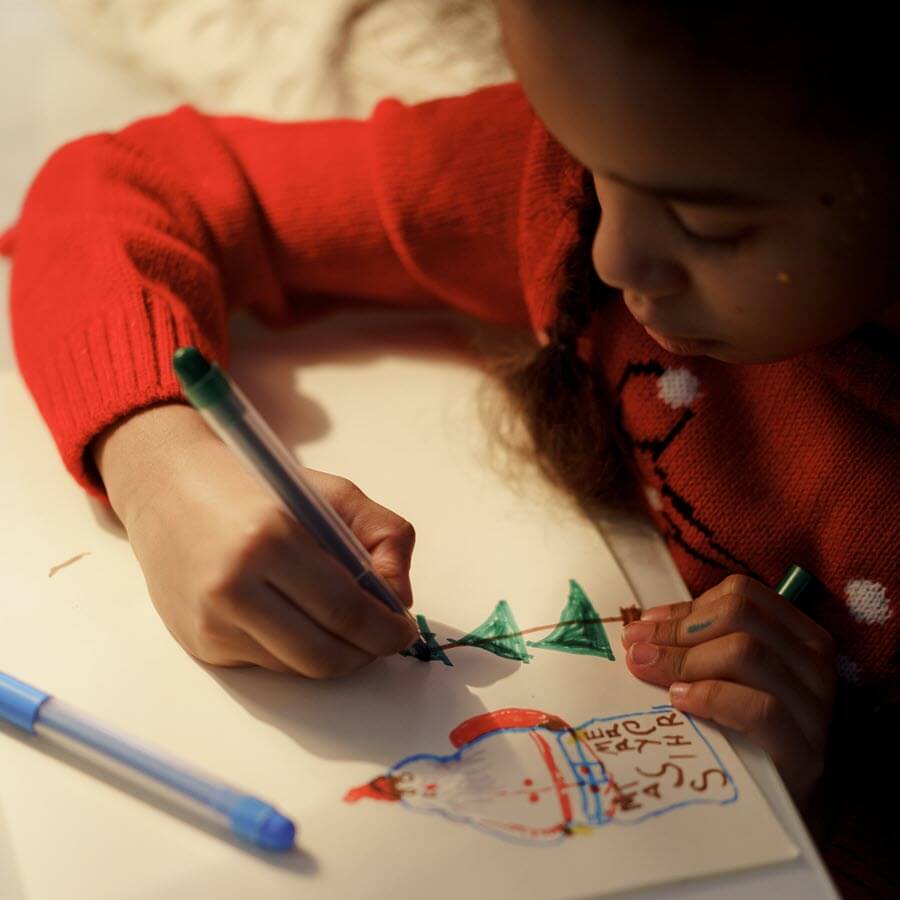 14. Send Christmas cards
Sending holiday greetings to family and friends is one of the most popular Christmas traditions around the world. Get the kids involved in this meaningful tradition by making, writing, sending, and sharing their own Christmas cards. Have kids make or decorate their own Christmas cards for their teachers, coaches, school friends, and relatives they are close to. Or simply have them write a message or draw a picture on premade holiday cards they can share with friends and loved ones. This is also a great opportunity to teach kids how to properly address envelopes, purchase stamps, and enjoy the magic of Christmas snail mail.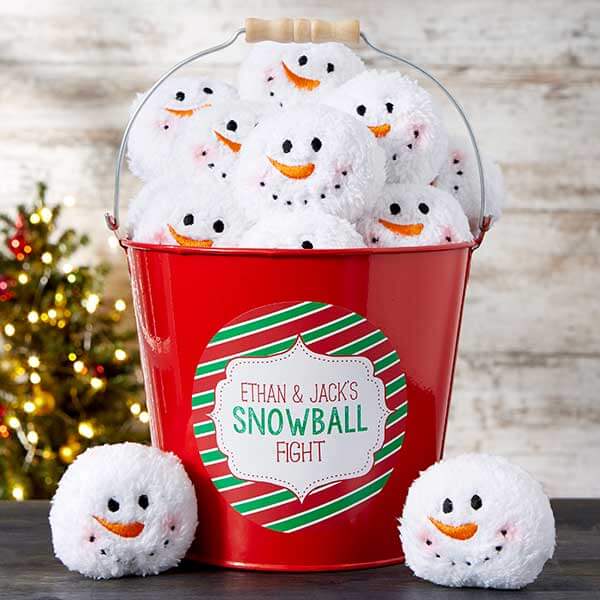 15. Family game night or movie night tradition
With more time spent indoors, the holiday season is the perfect time for cozy family movie marathons and fun family game nights. Make this a tradition by choosing one day each week to celebrate with a Christmas movie or board game, everyone's favorite snacks, and an abundance of family bonding. Find games or a movie everyone can enjoy and make time for family conversation, storytelling, jokes, and more.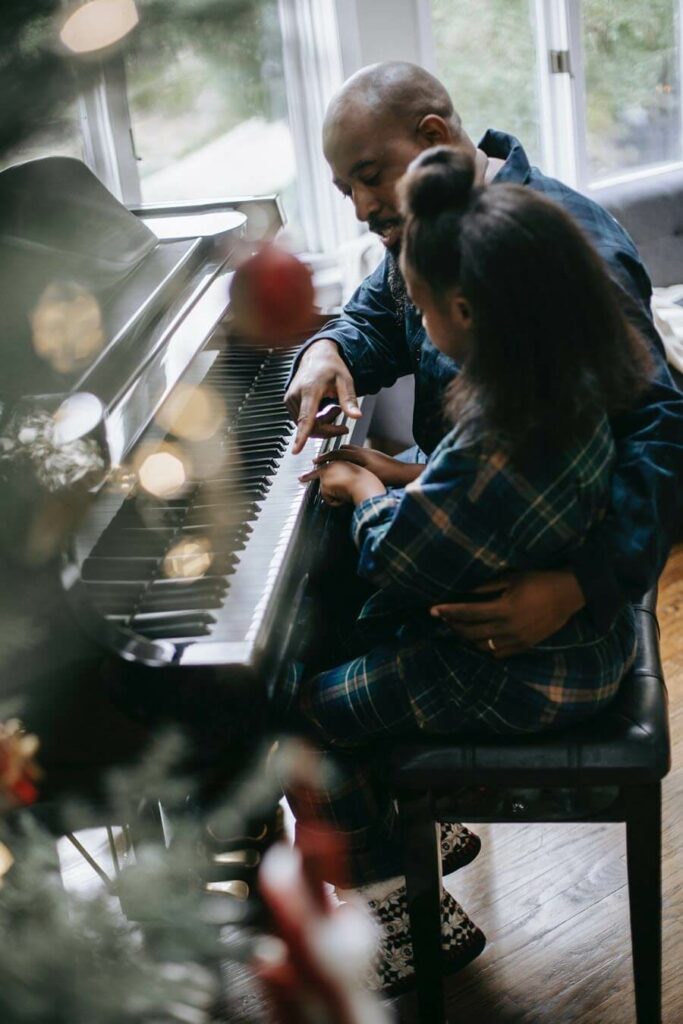 16. Sing Christmas songs
This holiday season, don't just listen to Christmas music. Whether you choose traditional Christmas carols and hymns, classic Christmas songs, or the newest holiday releases from popular artists of the day, this is one tradition that will capture the hearts of every family. Make it a family sing a long with a playlist of your favorites, or join your neighbors, friends, and loved ones for a night of Christmas caroling. Caroling dates back centuries, so it's no wonder that it's a tradition everyone can get behind.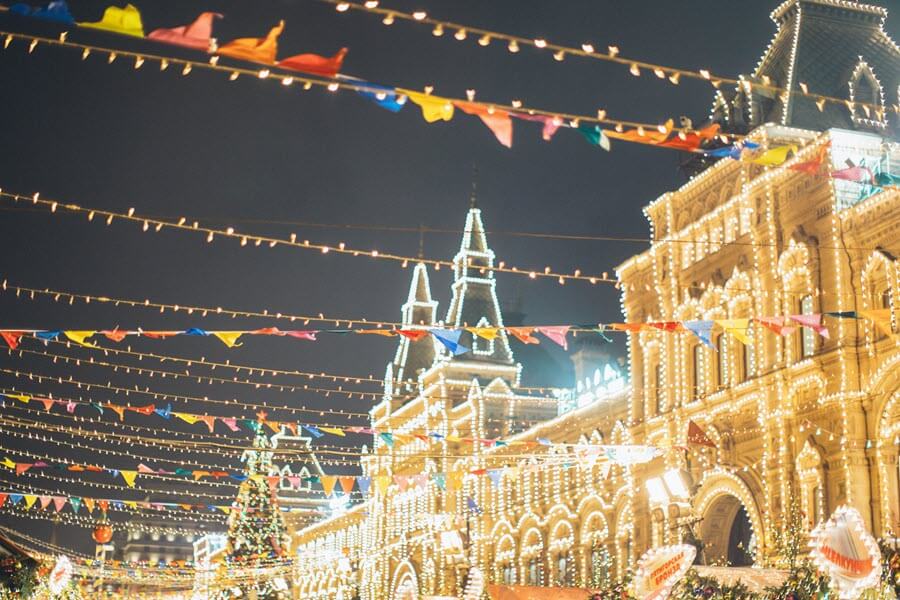 17. Christmas lights drive
You can easily find Christmas light drive-through experiences in your area, many of which use sophisticated technology to synchronize the twinkling of lights to music. Families and kids of all ages are sure to enjoy this holiday tradition as outdoor lighting shows get more elaborate and amazing each year.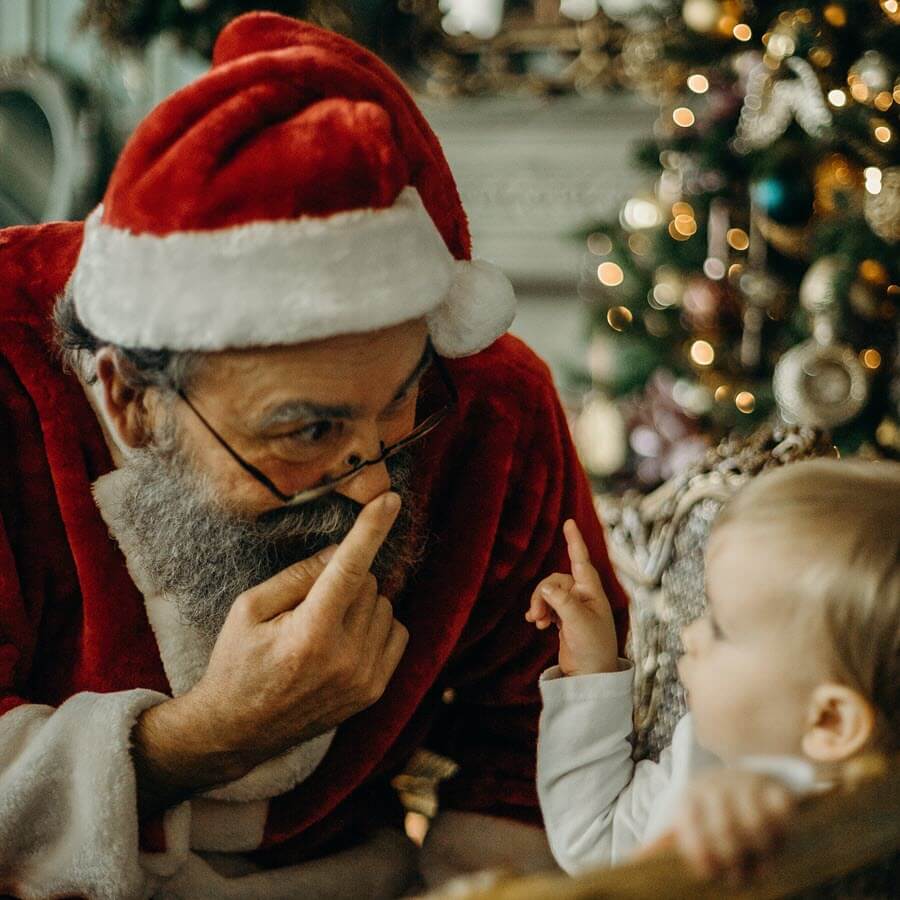 18. Picture with Santa
There isn't a Christmas tradition that's more exciting for little ones than a visit and photo with Santa Claus. This popular tradition has been around for over a century, and while children will surely love it, it is also a great opportunity for parents to find out what their kids want for Christmas from Santa!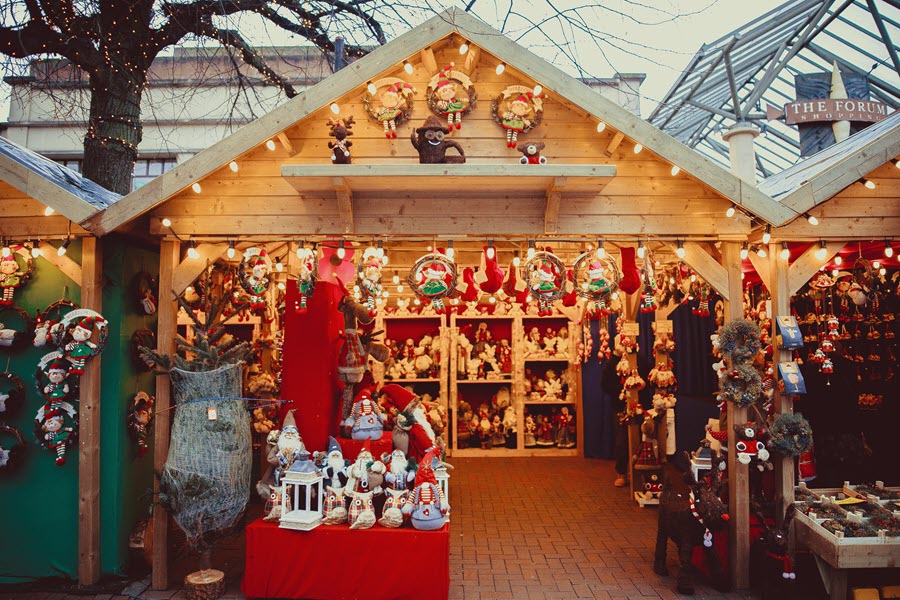 19. Visit a Christmas market
A trip to the local Christmas market, often called a Christkindlmarket, is a fun Christmas tradition that kids of all ages will enjoy. In addition to Christmas décor, ornaments, crafts, and gifts, you can typically find some great food, drinks, and tasty treats as well. It's the perfect opportunity to grab some hot cocoa and explore the unique items and Christmas displays as a family.
20. Christmas Eve box tradition
Christmas Eve boxes can help bring the family together on the night before Christmas with fun activities, games, projects, crafts and some goodies. You can create a Christmas Eve box with a number of different items, depending on the children's ages and interests. The key is to put just enough goodies to keep everyone entertained for the evening in anticipation of Christmas morning.
A Christmas Eve box is not meant as a gift; it's more like supplies for a fun family night. You can create one for the whole family or individual ones for each of your kids. Popular items that parents have been putting in their boxes include holiday-themed pajamas, a Christmas movie or book, a game, small toy or project you can do with your kids, and, of course, sweets and treats everyone can share and enjoy in the evening.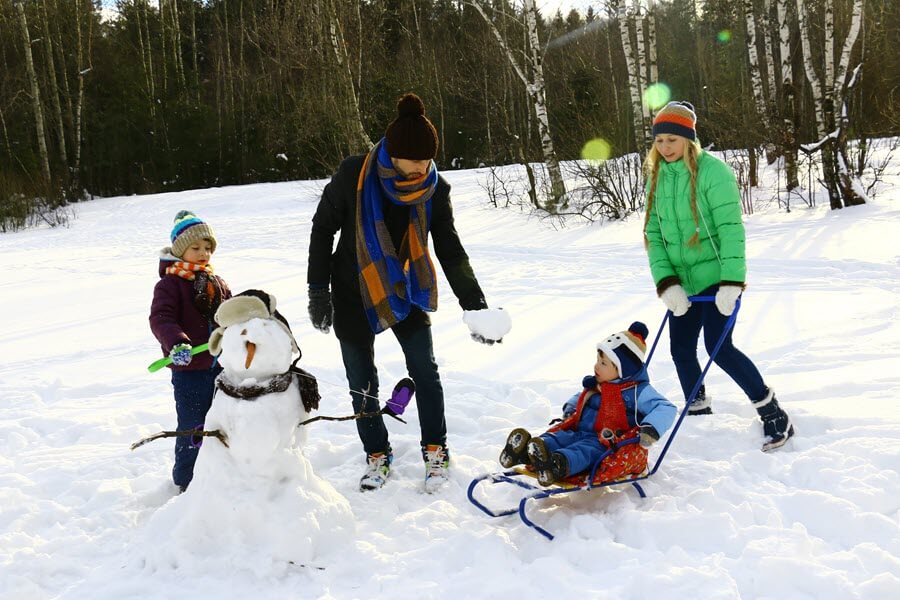 21. Make a family bucket list
A holiday bucket list gives everyone something to do and look forward to each day of the festive season. The activities on the bucket list don't have to be lofty or extravagant. Think of the list simply as fun things you enjoy doing and want to make sure to do more of with your family.
Here are a few things you can add to your family Christmas bucket list.
Drinking hot cocoa and cuddling by the fire
Making a snowman or having a snowball fight
Going ice skating, skiing, or sledding
Making your own Christmas decorations or crafts
Making your own Christmas playlist or movie list
Ask your kids for ideas or simply think of things your family enjoys most, and make it a tradition to enjoy them each year.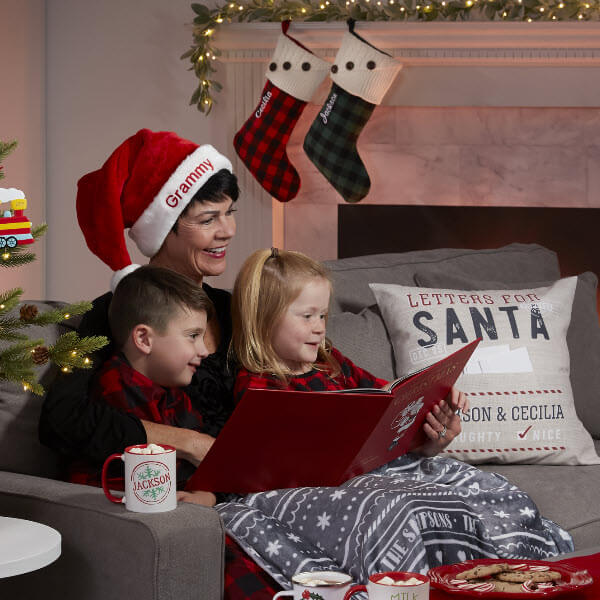 22. Read Christmas stories
Reading holiday classics and stories is a wonderful Christmas family tradition, especially for kids. Classics like "The Night Before Christmas," "A Christmas Carol," "The Polar Express," "How The Grinch Stole Christmas," "The Gift of the Magi," and others will make your holiday season more memorable for the whole family. This is one holiday tradition that kids will cherish and treasure for years.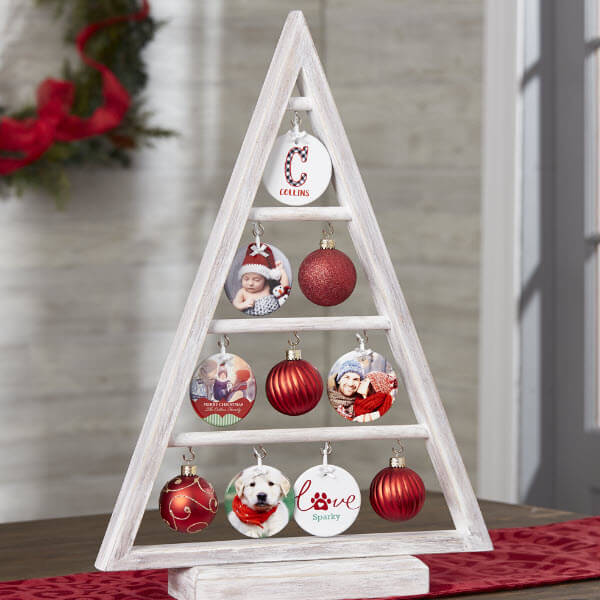 23. Keepsake ornament tradition
Christmas ornaments make lovely keepsakes that can be passed down for generations, especially if the ornaments have meaning and wonderful family memories attached to them. You can start your own family tradition by creating a personalized ornament for each of your kids every year. As your kids grow up, they will have their own set of special ornaments to put up on their own Christmas trees.
Take a do-it-yourself approach and create fun ornaments with glitter, popsicle sticks, ribbons, buttons, and a million other creative ideas to make lovely keepsakes. If you're not the creative type, you can create custom Christmas ornaments with names, family photos, hobbies, interests, and other personal details sure to be treasured for years to come.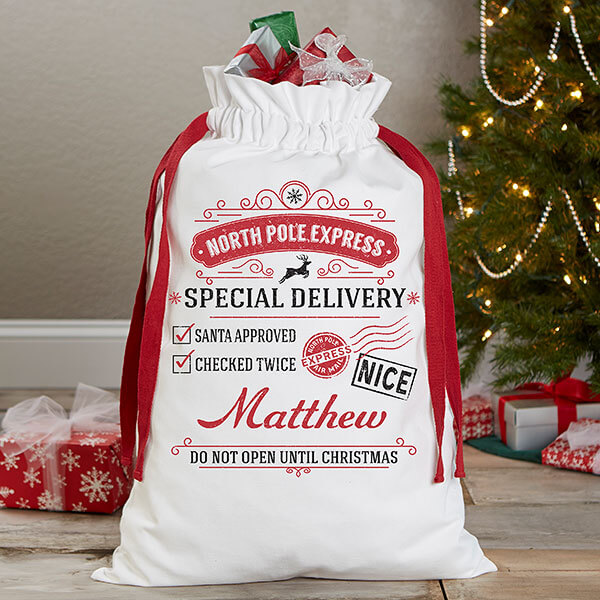 24. Make Christmas morning extra special
Opening presents on the big morning is the culmination of the Christmas season. A great way to make this exciting moment even more unforgettable for your kids is to set out a Santa sack full of presents.
A vintage-inspired Santa sack stuffed full of presents placed near the fireplace or under the tree is sure to make a lasting impression. Keep it a surprise the first time, and they won't believe their eyes when they see a special delivery from Santa Claus himself, with their very own name on the bag. Every year after that, your kids will be bursting at the seams to see if Father Christmas came back with a Santa bag made especially for them. Santa sacks are an easy and unique addition to your list of family traditions that will make the Yuletide holiday that much more special for everyone come Christmas morning.
25. Pass down your own traditions
With a holiday so rich in customs, there's no shortage of great ideas for fun family Christmas traditions that you can incorporate into your own household's seasonal rituals. Figuring out the best ways to involve your kids gives them the priceless gift of Christmas memories and family togetherness, which they'll cherish for the rest of their lives.