While baby showers, baby sprinkles, diaper parties, and the like are centered on the expectant mom and are about preparing for the coming of a new baby, there's another kind of party that comes after the baby is born and is all about introducing the baby to the world. It's called a sip and see, and it's truly a welcome baby party that's casual and low key.
What is a sip and see?
A sip and see is a get-together thrown by the parents of a newborn for family and friends to come and meet the new bundle of joy. It's really more of an open house than a formal party. Guests can come and go as they please, grab a "sip" of a refreshment, and "see" the new baby.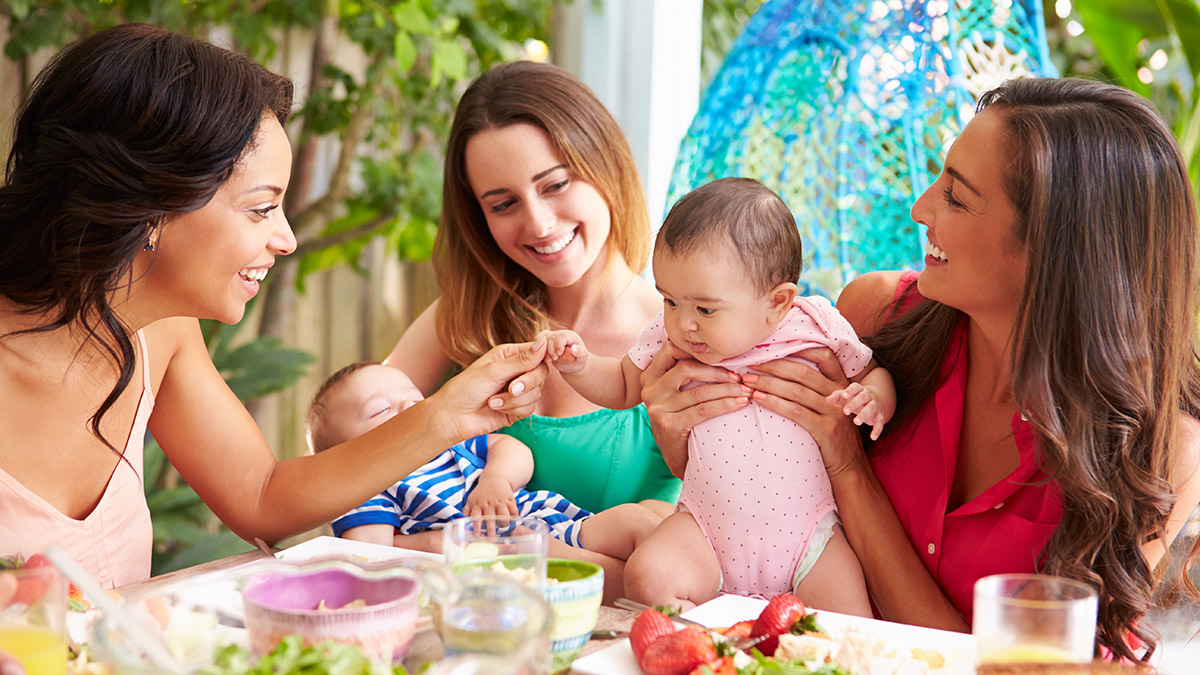 The sip and see is all about the baby, and it's a wonderful way for parents to introduce their little one to loved ones without overdoing it. The sip and see is simple — no sit-down meals to plan, no cake, no games, and no opening presents as everyone watches. It's also a great alternative to a typical baby shower or baby sprinkle, and it helps mom and dad avoid random, unplanned visits from friends and family who want to come and see the baby.
Typically, sip and see celebrations are casual, no-pressure events. Most parents plan their sip and see a few months after the baby's arrival, but you can send out invitations well in advance so friends and family know they'll get a chance to come and meet the baby.
Another reason sip and see parties are becoming so popular is that they offer a way for the whole family to get involved. Mom, dad, and older siblings can help plan and prep for the party, setting up a drink station (cocktails are welcome!) and light snacks for guests to enjoy. You can also get your close family (sister or mom) or friends to come and help plan the event. And who you choose to invite is completely up to you; you can make the sip and see small and intimate or invite a larger group.
Sip and see gift ideas
Gifts at a sip and see are not mandatory, especially if the mom had a baby shower or baby sprinkle prior to baby's arrival, but parents should expect some small gifts for the baby. If you've been invited to a sip and see and aren't sure what to get, consider a personalized baby gift that can be both practical and memorable.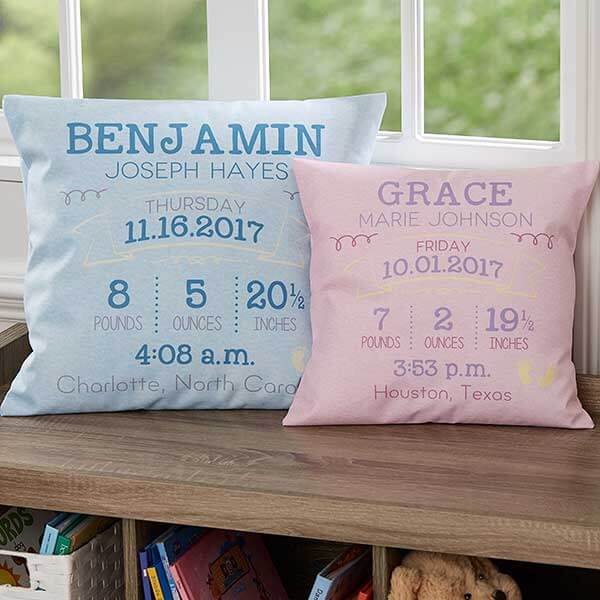 You can't go wrong with a custom baby blanket or pillow. These are two items that will always get plenty of good use, and, if they're personalized, they'll become part of baby's room decor, and maybe even precious keepsakes down the line. Personalized birth announcement throw pillows are perfect sip and see gift ideas because you can add all the baby's birth details, such as the exact time and place the baby was born, and the weight and length of the baby, along with his or her first and middle names. Available in two sizes and three color options, these keepsake pillows will go along with any nursery decor.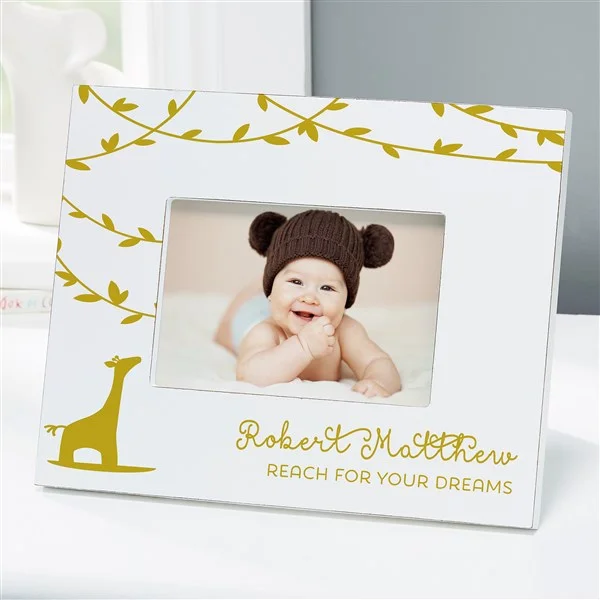 Parents take tons of baby pictures to remember all the special moments with their precious babies. Give the mom and dad a beautiful, unique way to display their favorite shots with personalized picture frames. A favorite choice is the baby zoo picture frame block, which is thick enough to stand upright on a table or shelf. You can choose from four adorable baby animal designs and five color options, and add the newborn's name and birth date.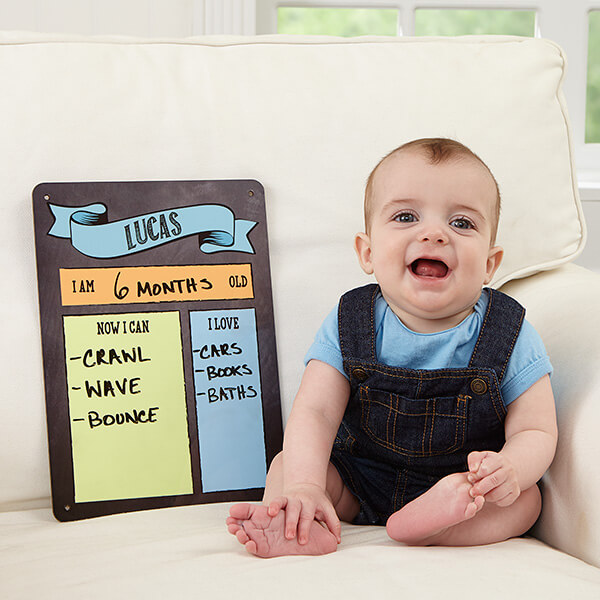 A popular way to keep track of baby's weekly or monthly milestones is with a personalized dry erase sign. Simply add the baby's name to be custom print at the top of the sign, and parents can fill in the rest of the details each month. This dry erase sign is available in two colors and designs, perfect for boys and girls, and includes an area to add the baby's age, what the baby can do, and what the baby loves. It's a wonderful way for tired, busy parents to take a quick moment each month to note the baby's milestones, creating a special photo memory.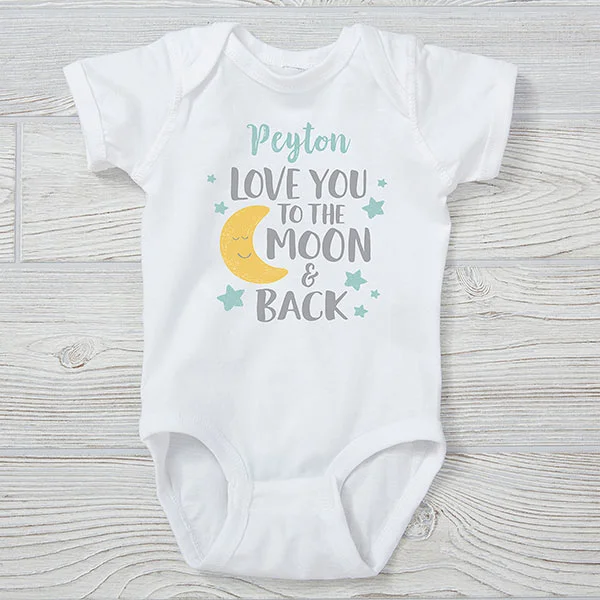 Baby clothes are always welcome gift ideas at sip and see parties, baby showers, and baby sprinkles. And if the clothes are personalized with baby's name, that just makes them that much more special. Options for baby apparel and accessories include baby hats, bibs, bodysuits, T-shirts, and more. Simply choose a design you like, customize the colors, and add baby's name, and you have a lovely and unique sip and see gift.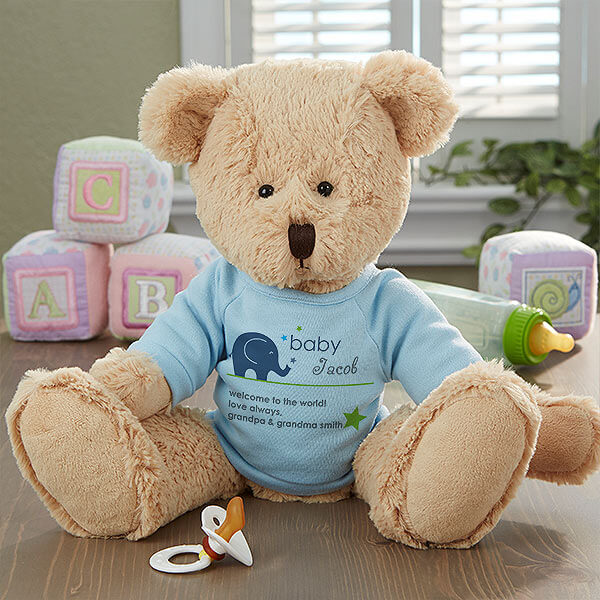 Another sweet option for a sip and see baby gift is a personalized teddy bear, doll, or another baby toy. Adding the baby's name and other personal details makes the toy more special for the baby, so it's not just another ordinary toy. Other popular kinds of toys are wooden name puzzle boards, soft baby toy sets for boys and girls, personalized books, toy trains, finger puppets, dolls, teddy bears, and plush bunnies. This adorable new arrival teddy bear can be customized with the baby's name and birth details, a child's prayer, or a special message.