If you appreciate the simple pleasures of an old-fashioned Christmas, let your home show it. Adorn your house with rustic Christmas décor this year and give your family and friends a comfy holiday haven where everyone feels at home. Here are a few of our favorite rustic Christmas decorating ideas to help you pull off the perfect homey, country look this season.
Go Natural With Wood

Wood is one of the key materials and accents in any rustic décor display. Bring the timeless charm of the outdoors into your home by incorporating natural wood accents into your holiday decorating this season.
Lay the groundwork with a festive welcome mat (personalized, of course!) that features a custom holiday greeting on a printed plank background. Continue the look inside with a companion personalized wood holiday sign for a touch of throwback charm and simplicity. Printed on a genuine basswood plank, the sign can add a natural look to your mantle, shelf or wall. If you're looking for something more modern and unique that still has that rustic feel customize a set of wooden shelf blocks to create a beautiful display anywhere in your home.
As you develop your rustic theme's natural palette, mix in deep greens and warm reds and you'll have an inviting, cozy color scheme that captures the essence of an old-fashioned Christmas.
Rustic Christmas Stockings And Tree Skirts

As a major holiday focal point, your mantel should prominently feature unique rustic Christmas décor to pull off the trend. Beyond simple touches of fresh pine sprigs and natural garlands, take your stocking game to the next level with rustic designs that feature classic Christmas materials. Try the cozy, quaint look of an embroidered plaid Christmas stocking or go extra-rustic with burlap Christmas stockings in one of several classic holiday designs. These classic cable knit Christmas stockings also have that hand-made, homespun feel and will match any home décor.
Since great décorating is all about coordination, make your rustic theme stand out even more by matching your Christmas stockings and tree skirt. Try an embroidered plaid Christmas tree skirt or an heirloom-worthy embroidered burlap tree skirt, and tie the whole room together like never before.
Rustic Christmas Ornaments

Your holiday tree is the perfect place to keep the theme going with beautiful, rustic Christmas tree ornaments that you can personalize with names, photos or a special holiday message. Add in the natural charm of a few wooden Christmas ornaments, and finish the look with other rustic Christmas tree décorations like burlap ribbons, pine cones, twine, homemade ornaments, electric candles and other throwback ideas. Keep the color palate simple and muted, with only one or two accent colors, but don't be afraid to mix in a little bit of sparkle with lights and silver, gold or glittered ornaments.
Mason Jars For Everything

Is there anything mason jars can't do? A true miracle of design, classic glass mason jars make great accessories to use in your rustic Christmas décor, too. Try filling them with tea light candles, LED candles or light strands, bits of pine bough, or even some of your favorite ornaments. For a more personal touch, create a custom mason jar with the holiday message of your choice. You can never have enough of these versatile jars, so don't be afraid to get creative!
Rustic Holiday Décor DIY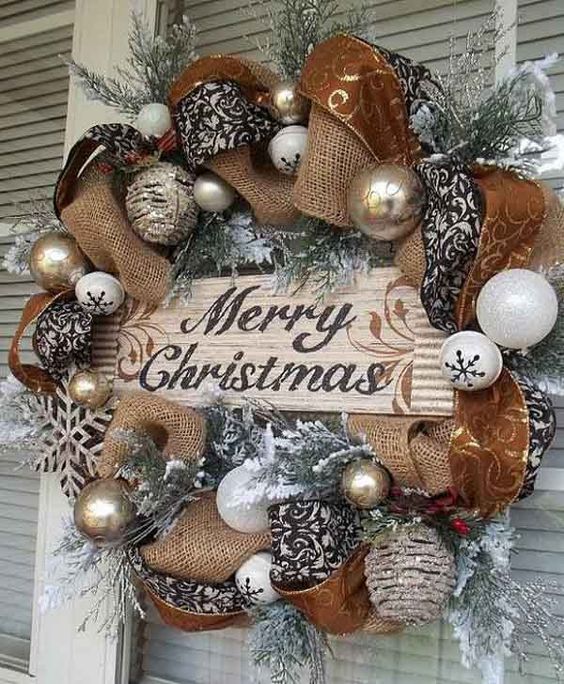 Rustic holiday décor has that do-it-yourself, homemade feel mixed in with aged beauty, antique charm and vintage-inspired allure. Natural accents, like pine cones, sprays of winterberry, wooden branches and greenery along with country fabrics, like plaid, linen and anything hand-knit will help you complete the look. While burlap, twine and natural, aged wood are an essential part of the design.
The key to achieving beautiful rustic, farmhouse holiday decor is to incorporate items that look — or actually are — handmade. There are plenty of easy DIY projects that will help you add a bit of rustic charm to your home this holiday. Check out sites like Pinterest to get inspired and find DIY tutorials for fun projects you can get the whole family in on.
Rustic Christmas décor is an easy and satisfying look to achieve. Focus on natural materials and colors as well as simple takes on classic designs, and your home will have a beautiful, rustic look that's sure to charm anyone this Yuletide season.