There are just 100 days until Christmas. Here's how you can make this year's Christmas shopping and preparations simple, smooth and painless. (Hint: start now!)
Just like last year, 2021 is turning out to be quite a year. The Delta variant of COVID-19 has ensured that the world is still burdened with the threat of the pandemic, along with lots of uncertainty and countless difficulties that did not exist pre-pandemic. Last year's Christmas season was challenging in more ways than ever before and unfortunately, this year's holidays will be no different. At this point, there's only one thing that can said with certainty:
Christmas Day is Saturday, December 25th, 2021
Beyond this, almost everything about this year's holidays is still up in the air. But this doesn't mean that you can't make the most of it. There are plenty of lessons learned from last year. And if you start planning early, you still have a chance to make this year's holidays easy and enjoyable for the whole family.
I know you might be thinking that it's just too soon to start planning for Christmas. It's not even October! In years past I would have wholeheartedly agreed with you; but as you already know, this holiday season will be much like 2020. This means more people will be shopping online than in stores, and many retailers will be dealing with the same out of stock and shipping delay issues as last year. If you want a worry-free, hassle-free Christmas, you need to act now. Here's how you can plan and prepare for Christmas 2021 before it's too late.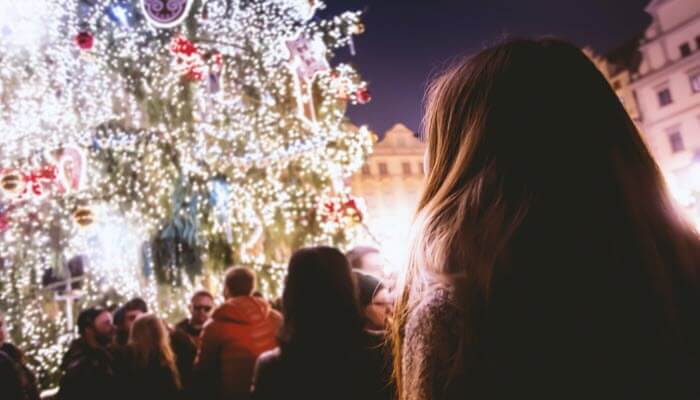 What Will Christmas 2021 Look Like?
There are a number of reasons, why this year it makes absolute sense to plan, prepare and also shop early. Simply put, the pandemic is not well suited for the typical rush and crowds of the holiday season. With Coronavirus infection rates on the rise again, many of our time-honored traditions and celebrations will have to be cancelled once again or shifted to a virtual environment. We can also assume that demand for online deliveries will once again be sky-high, and this means overwhelmed postal and shipping companies, and not very many last minute Christmas shopping opportunities.
It's hard to predict what Christmas 2021 will look like, but we're pretty sure it will be very close to the same chaos we all ensured last year. Will you be able to take a photo with Santa this year? Attend your work holiday party? Host a big family for Christmas? In these uncertain times, much will depend on state and local guidelines, the community you live in, the risk level of the location and activity, and everyone's individual situations.
However, large family get-togethers and holiday work parties might need to be modified or cancelled this season, as will most of the traditional holiday events that bring big crowds. This includes gatherings at Christmas markets, visits with Santa, holiday light shows, parades, Christmas plays, concerts and other festivities that are typically planned around this time. The U.S. Centers for Disease Control and Prevention is continuing to advise against large gatherings and is recommending people stick to virtual or outdoor celebrations with COVID-19 safety guidelines, such as wearing masks and social distancing, in place. [ Read more about safety considerations for holiday celebrations at CDC.gov ]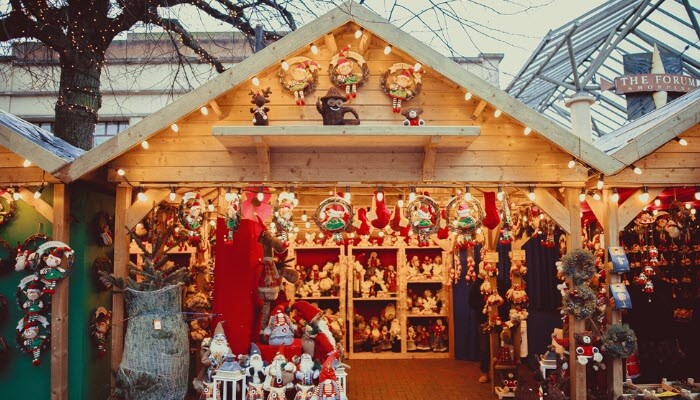 2021 Christmas Shopping Made Easy
Holiday shopping will also be different this year, with October turning out to be the best month to shop for Christmas gifts. Many retailers, with both online and physical locations, are extending their holiday shopping season and are encouraging customers to start Christmas shopping early.
Like last year, many online retailers along with brick-and mortar shops are starting their holiday promotions earlier than in years past, spacing out their specials to try to avoid in-store crowds and long checkout lines. For a number of shops (Personalization Mall included) this means holiday deals are on now — and you should take advantage while you can.
This holiday is shaping up to be one of the busiest online shopping seasons on record, which will have a big impact on USPS, UPS, FedEx and other delivery services. If you don't want to deal with the stress of unexpected shipping delays or expedited shipment costs like last year, don't wait to place your online orders. Shop early and get as much done as you can before December when most people will just be starting their holiday shopping.
The best part is: you don't have to wait for the best deals. You can get all the popular holiday offers, including Black Friday, Cyber Monday and doorbuster deals, early this year.
As always, you should start by creating a holiday budget and a Christmas shopping list. Your budget should include all the gifts you need to get for family, friends, neighbors, coworkers, teachers and everyone else on your list. You should also include expenses for holiday decorations, Christmas cards and stamps, gift wrapping, holiday outfits for the family, your charitable donations, travel costs and anything else you're planning on purchasing. Add a small buffer for incidentals and make sure to track your purchases and expenses so you stay on budget.
Below, you'll find a holiday checklist with approximate dates to help you plan and get everything done on time and on budget.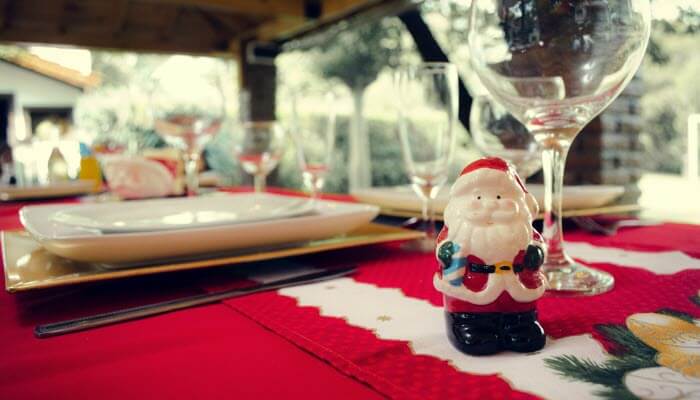 2021 Christmas Planning Checklist
To help you plan and prepare for the most important details of this holiday season, we've put together an updated Christmas planning checklist for 2021 so you can avoid the stress of getting everything done to make this year's holidays cozy and relaxing for the whole family.
12 Weeks to Christmas – October 2nd
Start projects on any homemade Christmas gifts
Take advantage of early Christmas doorbuster deals
10 Weeks to Christmas – October 16th
8 Weeks to Christmas – October 30th
Start Christmas shopping in earnest – Black Friday deals are already here
Talk with your family & decide on when & how you will meet during Christmas
Update the address list for your Christmas cards
7 Weeks to Christmas – November 6th
Order your Christmas cards, address labels & stamps (or craft your own cards)
Check your Christmas supplies & order any decorations you might need
Stock your pantry with nonperishable items, alcohol, baking goods & other essentials
6 Weeks to Christmas – November 13th
Clean, organize and donate items to charity (especially toys & winter clothes)
Make Christmas ornaments & other holiday crafts to decorate with
Order holiday gift wrap, tags, bows & other necessities
5 Weeks to Christmas – November 20th (Thanksgiving Week)
Send out your Christmas cards
Mail your care packages & gifts to family & friends
Order your fresh Christmas tree or visit a Christmas tree farm
4 Weeks to Christmas – November 27th
Get your Advent calendar ready – it starts on Tuesday, December 1st
Put up your Christmas tree and holiday decorations to get in the Christmas spirit
3 Weeks to Christmas – December 4th
Make a gingerbread house, go ice skating, sledding or enjoy a walk in the woods
Finish Christmas gift shopping by placing your last-minute online orders
Wrap presents that are ready & hang up your stockings by the fireplace
2 Weeks to Christmas – December 11th
Plan your Christmas Day menu and test any recipes you're unsure about
Find a creative way to display your Christmas cards
Host a virtual ugly Christmas sweater party with friends & family
1 Week to Christmas – December 18th
Listen to your favorite holiday tunes & finish wrapping Christmas presents
Bake Christmas cookies to share with neighbors, family & friends
Finalize your holiday menu and go grocery shopping
Christmas Eve – December 24th
Make hot chocolate, get the fire going in the fireplace & have a Christmas movie marathon
Enjoy baking, crafting, games or read a Christmas classic (like the Night before Christmas)
Go for a walk or drive to see the neighborhood Christmas lights
Have kids open their Christmas Eve boxes or exchange one small gift
Leave Christmas cookies & milk for Santa (and carrots for his reindeer)
Christmas Day 2021 – December 25th
Wake up to gifts from Santa & exchange gifts with family members
Enjoy your favorite Christmas traditions with family & take memorable photos
Sing Christmas carols or watch a favorite holiday movie & relax with loved ones
Call or zoom with long-distance family & friends
Write thank you notes or make a list of what you received so you can write them later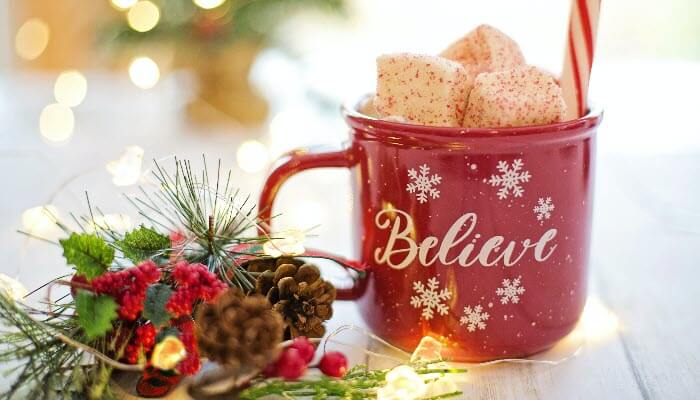 Make This Christmas Merry & Bright
If you tend to get caught up in the hustle, bustle and stress of the holiday season, remember to take it easy this year. 2021 has brought enough stress and worry, so try to focus just on what's really important to you and your family. You can still make Christmas magical for kids and wonderful for those you love with less. Remember, it's the time you spend together as a family and the memories you'll cherish forever that make Christmas merry and bright.
Download a condensed version of our Christmas 2021 checklist & share with those you love.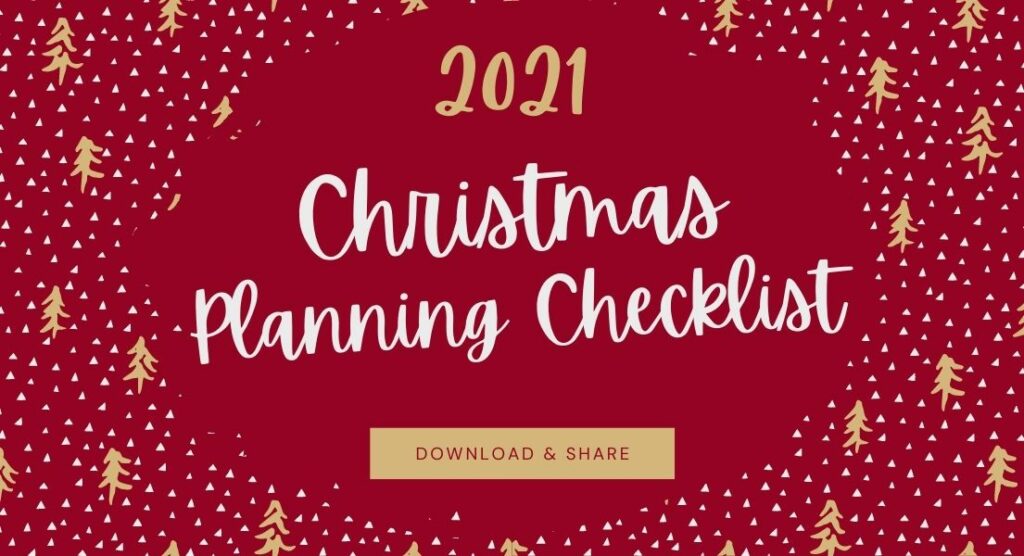 Share your tips for making Christmas 2021 shopping and planning easy and worry-free.