Popping the question brings more events than just a wedding. In the ensuing months (and, in some cases, years), friends and family want to bask in the glow of the happy couple. It's no wonder, then, that the calendar starts to fill up with celebrations like engagement parties, bridal showers (and Jack and Jill parties), and bachelor and bachelorette parties.
Haven't been to a bridal shower in a while? First things first: The accepted term now is "wedding shower," to ensure all forms of future marriages are welcomed. Regardless of what you call it, a shower is an opportunity for partygoers to help the new couple build their life together, says Jamie Mussolini, destination wedding planner and founder of Beachfronts Travel.
10 most-asked wedding shower questions
There's a lot to know about wedding shower etiquette. Here, Mussolini shares 10 tips for wading through the shower waters, plus bridal shower gift ideas for every type of couple.
1. What do showers look like these days?
Wedding showers are no longer just an afternoon tea party with the bride's best friends and close family members. More and more, these events are extravagant affairs, with the guest list consisting of couples. "Some are women-only luncheons or cocktail parties, but in modern days people even have evening showers with a cocktail hour and dinner party," Mussolini says. Themed events, such as a lingerie shower, are still popular, too.
In addition to traditional gatherings for a bride and/or groom, there are also parties for two grooms or two brides. These are more likely to involve guests from both sides of the wedding party and usually include both men and women.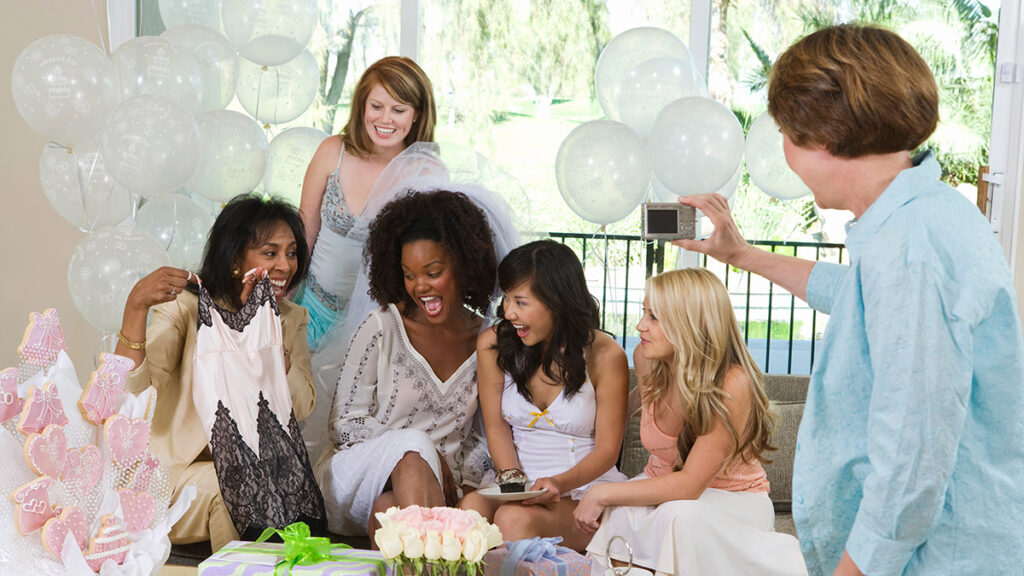 2. How many guests are invited?
Showers aren't the intimate affairs of the past. The total number of guests can range anywhere from 30 to 100 — lean towards the higher end if the event is an evening party.
3. Who throws it?
Almost anyone can throw a shower, from the mother of the bride to the maid of honor and bridesmaid party to even the couple themselves, if they are in a position to pay for it. And who says you have to stop at one? Many brides have multiple showers (just be sure the guest list is different for each). Coworkers may want to host a small party for colleagues to honor the happy couple.
4. Does the bride-to-be still sit on a chair and open everyone's gifts at the event?
Yes! Sometimes gifts will be sent to the address on file with a registry, but a wrapped gift brought to the shower is customary. "The bride or groom opens cards and goes through physical gifts that are there, and usually has a list to say thank you to the guests that have mailed gifts and mentions those items," Mussolini says. And, she adds, don't forget about thank you notes!
For the couple who is just starting out, they need to build their home with basic things.
Jamie Mussolini
Destination wedding planner, founder of Beachfronts Travel
5. What's the price range for a shower gift?
Gifts usually start at $75 per recipient and go up from there.
Mussolini advises shower guests to choose from the registry. "It makes it easy, and then you know that you're giving something the couple really wants," she says. That said, you're welcome to choose anything that you think would make the two of them happy.
6. Should you buy a gift from the bridal shower registry?
Mussolini advises shower guests to choose from the registry. "It makes it easy, and then you know that you're giving something the couple really wants," she says. That said, you're welcome to choose anything that you think would make the two of them happy.
7. What are some typical bridal shower gift ideas?
Mussolini's picks: Bedding, china, kitchenware, monogramed bath towels, cutting boards, custom mugs, custom cake server and knife, personalized coasters, photo frames, bathrobes, luggage, gifts for the wedding day, and small appliances like an air fryer, toaster, mixer, or teapot. "The newest present is a gift certificate toward the honeymoon," she says.
If you're buying for a couple that is already living together, you might want to look beyond everyday essentials. "Think more out-of-the-box for them, with lovely vases, furniture, rugs, or items for hosting their next holiday or festive event," Mussolini says. "But for the couple who is just starting out, they need to build their home with basic things."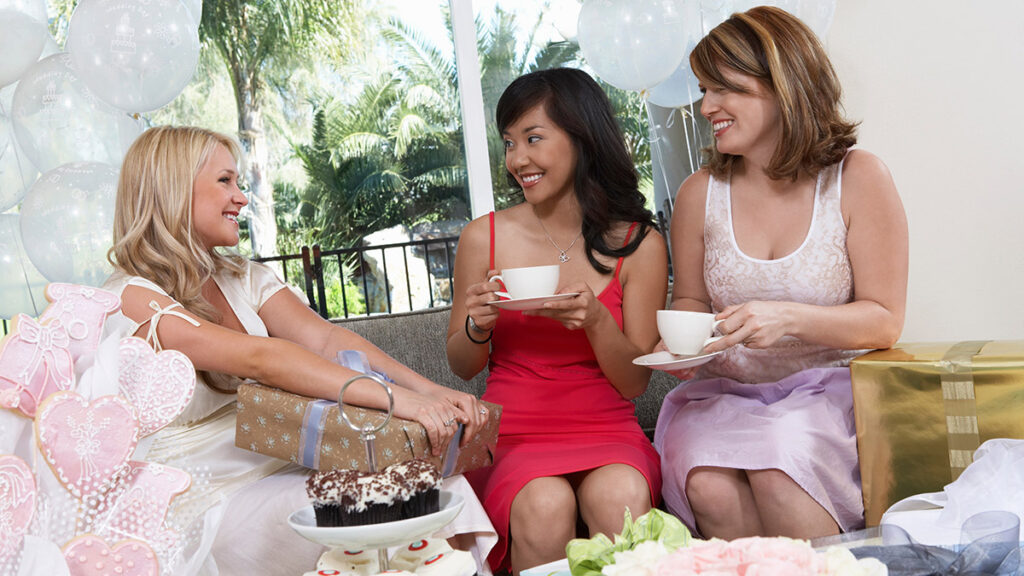 8. Do attendees go in on group gifts?
If there is a larger item the couple really wants, guests will sometimes pool funds to get a group gift.
9. What about cash?
Cash is always acceptable, but often the couple will register for a gift card. Certain sites have the option to contribute to a honeymoon event, such as dinner out or spa treatments, Mussolini says.
10. What if you can't go to the shower? Do you send a gift with your regrets?
Most people usually send a gift or, at the very least, a note expressing their happiness for the couple and that they're looking forward to attending the wedding, if they are able.
Bridal shower gift ideas
There are a lot of choices out there when hunting for a wedding shower gift. Use this helpful guide to help you choose the perfect present for any kind of bride or groom.
Unique choices
Sometimes a couple doesn't know what they need. If that's the case, try a themed present, such as a spa kit, or a gift that keeps on giving all year, like a membership to the Plant of the Month club.
Last-minute picks
Forgot to shop? Order a monthly or quarterly delivery from a trusted purveyor of fine foods, such as Harry & David, and let the recipient know in a beautiful card to expect its arrival. Or send a same-day delivery of a beautiful orchid or flower bouquet to the guests of honor's home. They'll appreciate the gesture of continuing the festivity of the day for a few more weeks when they look at their gift.
Ideas for cohabiters
Engaged couples who have already started a home together appreciate presents on the higher end since they likely have the basics. A gorgeous engraved ice bucket or a custom piece of wall art indicates that they have taken the next step together in their shared lives.
Globetrotter gifts
For their upcoming honeymoon and all the travel the couple will do over the course of their lifetime, a canvas tote bag or duffel will likely last them the length of their marriage. Personalization gives it an added sentimental touch that the duo will carry with them every time they grab it to head to the beach or for a long weekend of leaf peeping.
Bath buys
His and her bathrobes are luxury items that most couples won't purchase for themselves and are happy to have at home (or at the honeymoon hotel!). If you think it's more appropriate for just the bride, try a silky one with "Mrs. New Last Name Here" emblazoned on the back (just make sure to check that the bride is changing her name!). Monogrammed bath towels are plush, classic, and, in this case, earth friendly.
Items for the wedding day
If you're stumped for what to buy, a cake knife and server set is a perfect gift for the couple's wedding reception. (Just be sure to let them know that you'd like to purchase it for them in advance so they know the item is covered for the big day.) Engraved champagne flutes will remind them of sipping bubbly while listening to wedding day toasts.
Holiday-themed presents
A winter hurricane candle holder is a present they can bring out each holiday season, reminding them of you and your thoughtful gift around Christmas and Hanukkah.